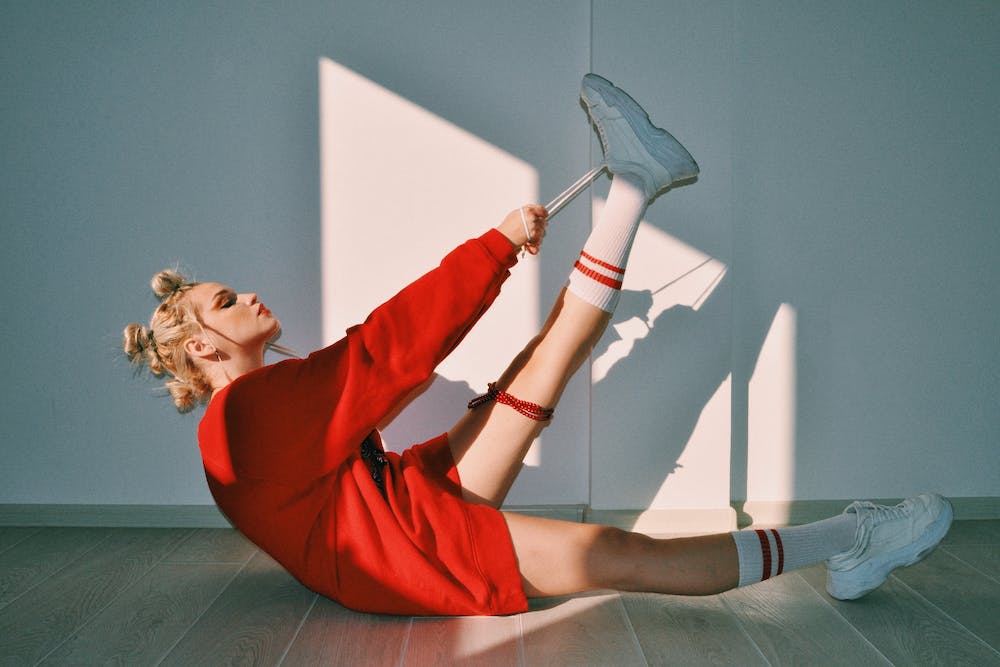 How To Nail Your NFL Fashion - 15 looks
Girlies, unless you've been living under a rock, you know that the NFL has received a little more exposure recently thanks to a certain singer and athlete joining forces. Yes, I'm talking about the pop princess Taylor Swift and American football prince Travis Kelce!  

When it's game day, you don't have to sacrifice style for team spirit. Whether you're cheering for your favorite NFL team at the stadium or from the comfort of your home, these 15 fashion-forward looks will have you winning in the style department.
Panaprium is proud to be 100% independent, free of any influence, and not sponsored. We carefully handpick products from brands we trust. Thank you so much for buying something through our link, as we may earn a commission that supports us.
Cropped Top and Blazer
This combination can help you stay warm while looking stylish. Choose a team-themed cropped top to showcase your loyalty and pair it with a well-fitted blazer that complements your team's colors. 
You can complete the look with some skinny jeans and knee-high boots for an outfit that exudes both team spirit and fashion-forward confidence. Top it off with a cozy scarf in your team's colors to keep the chill at bay.
Check out these gorgeous recycled blazers now.
Skinny Jeans and Boots 
Skinny jeans and boots are a classic choice for game day. Add a touch of fashion to this practical outfit, by donning a cute camisole. Layer with a warm jacket or a stylish trench coat, depending on the weather. 
Consider adding some statement accessories, such as a chunky belt or a beanie, to tie the look together. 
Discover your best pair of Australian-made jeans from this sustainable selection.
Casual Sweater and Miniskirt
A casual sweater paired with a miniskirt is a fun way to mix comfort and style. Choose a sweater in your team's colors to stay warm and show your support. Layering with tights or leggings can add an extra layer of warmth while keeping the look fashion-forward. 
Finish off your outfit with some knee-high boots to keep your legs toasty and ready for cheering on your team.
Take a peek at these beautiful vegan boots.
Sweatsuit 
A sweatsuit is the ultimate choice for cozy game-day comfort. However, that doesn't mean you can't elevate it with some stylish touches. You can jazz it up with trendy shoes, such as chunky sneakers or stylish boots. 
Don't forget to add a pair of smart sunglasses for a fashionable finish. This look keeps you comfortable and warm, especially if you layer it with a faux fur vest.
Here are some super affordable sweatsuits and tracksuits.
Cropped Tee and Cargo Pants
A cropped tee paired with cargo pants offers a relaxed and trendy look that is still at the height of fashion, thanks to the Y2K resurgence.
Finish the look with some lace-up combat boots or sneakers and a beanie to keep your head warm and stylish. This ensemble is all about balancing comfort and fashion while showing off your team pride.
Find out more about how to nail Y2K fashion.
Baggy Tee and Skirt
When you want to combine casual comfort with a touch of fashion, a baggy team-themed tee paired with a stylish skirt is the way to go. The baggy tee provides a relaxed fit that keeps you comfortable, and the skirt adds a feminine and chic touch to the ensemble. 
If it's chilly, you can wear tights or leggings underneath to stay warm and finish the look with your favorite boots or sneakers.
Check out these American-made tees.
All Denim
An all-denim outfit is a classic choice that exudes style. You could wear a denim jacket or vest, and pair it with jeans for a double denim delight. 
Don't forget to accessorize with a team-themed scarf or beanie to complete the look.
Want to know more about how to style Western fashion, then check out this blog.
Flannel Shirt Dress
A flannel shirt dress is a great American staple to help you look great at an NFL game. The warm, soft fabric of a flannel shirt dress makes it perfect for colder game days. 
You can cinch your waist with a belt to add some structure to the outfit and pair it with tights or leggings. Boots or sneakers will complete the look.
Discover these amazing flannel shirts now.
Sporty Chic
Sporty chic outfits are all about blending athletic pieces with high-fashion elements. Opt for a team-themed sports jersey, but pair it with fashion-forward items like vegan leather pants. 
Finish with some stylish sneakers or ankle boots, and you're ready to tackle the game day in style.
If you're wondering if men prefer women in baggy or tight clothing then this is the blog for you.
Your Team's Colors
When in doubt, dressing head-to-toe in your team's colors is a foolproof way to show your support. 
Combine a team-themed sweater or hoodie with matching pants or jeans. Accessorize with a coordinating scarf, hat, and gloves to show your commitment to your team.
Find out how to optimize your sporty fashion style.
Streetwear
Streetwear outfits are all about combining comfortable and trendy pieces. Opt for oversized hoodies or sweatshirts in your team's colors and pair them with joggers or baggy pants. 
Finish the look off with a long coat and don't forget some cool sneakers to complete the street-ready look.
Check out these 20 best affordable streetwear brands.
Oversized Sweater and Jeans
An oversized sweater with classic jeans offers an effortless and warm game-day outfit that is an all-American staple. 
Choose a team-themed sweater for added spirit and layer with a thermal or long-sleeved tee underneath. Complete your look with some ankle boots or sneakers to keep your feet toasty during the game.
If an affordable, ethical, vegan sweater is your jam then look no further.
Hat and Scarf
Accessories play a crucial role in keeping you warm and fashionable on game day, as well as showing which side you're on. 
A team-themed hat and scarf set is a stylish way to stay cozy while showing off your team loyalty. Match them with your outfit for a well-coordinated look.
Check out these sustainable vegan scarfs now.
Your Team Jersey
The classic team jersey is a staple for any NFL fan. Layer it with a long-sleeved tee, camisole, or a turtleneck underneath. 
Pair with jeans or leggings and comfortable boots, ensuring that you're ready for whatever the weather or game throws your way.
Complete your look by getting an organic cotton camisole.
Jeans, Shirt and Cowboy Boots
For a unique and stylish look with a touch of Southern flair, go for jeans, a team-themed shirt, and cowboy boots. 
The combo is perfect for those who want to stay warm and add a distinctive edge to their game-day style. Don't forget a warm hat or beanie to complete the ensemble.
Take a peek at these hot cowgirl disco outfits.
Was this article helpful to you? Please tell us what you liked or didn't like in the comments below.
About the Author: Catriona Jean