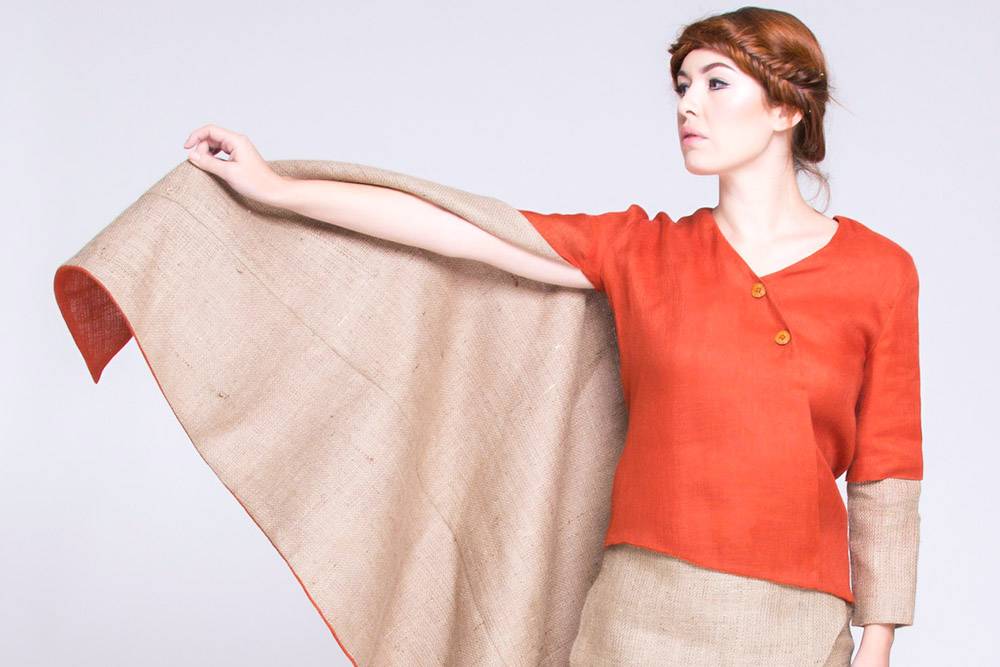 How To Choose The Best Burlap Fabric
Burlap is an excellent natural fabric and environmentally friendly. Also known as jute or Hessian fabric, burlap is a very sustainable material and the longest natural fiber.

The plant-based fabric offers a natural look and hand feel to apparel, footwear, and accessories as well as upholstery, home textiles, decors, and furnishings.

You can commonly find Burlap fabric in packaging material for agricultural products, bags, luggage, and wallets. You can also use burlap for cordage, filters, geotextiles, and decorative items such as canvas, rugs, carpets, and curtains.

But there many different types and qualities of burlap fabrics. Textile manufacturers often blend jute fibers with other materials, natural or synthetic, to make various burlap fabrics.

Burlap is available in a wide range of colors, weaves, weights, strengths, and sizes. You need to pick the right burlap fabric for your application.

To help you avoid mistakes and make better decisions as an informed consumer, here is how to choose the best burlap fabric.


Panaprium is proud to be 100% independent, free of any influence, and not sponsored. We carefully handpick products from brands we trust. Thank you so much for buying something through our link, as we may earn a commission that supports us.

Keep the application in mind.


You can use burlap in a variety of ways. Keep in mind how you plan to use it when making a purchase. The application is a determining factor for choosing burlap fabric qualities.

Since burlap is a natural and environmentally friendly material, it makes an effective protective covering for flowers and crops as a weed barrier.

You can also use burlap as decorative wall hangings, curtains, table runners, lampshades, placemats, banners, pillows, book covers, and tablecloths.

Burlap fabric also makes great sachets, sacks, and shopping bags. It's an excellent material suitable for a wide range of projects, including rustic decorations.


Pick the right burlap fabric blend.


Fabric manufacturers generally make burlap fabric with blends of various fibers. Mixes of jute fibers with polyester or cotton are the most common.

Burlap fabric producers also blend jute with wool, nylon, rayon, acrylic, or polypropylene to make the fabric feel softer and shine.

But you can also find burlap fabrics made of 100% jute fibers. Jute is one of the most affordable natural fibers.

Jute is biodegradable, durable, and easy to wash. But blends with other materials can enhance its properties.

If you need a soft hand feel, prefer cotton blends as pure burlap fabric is often rough and rugged.


Should you require burlap fabric for an exterior application, blends with synthetic materials such as polyester are better.

Synthetic fibers aren't compostable or eco-friendly, but they offer better tenacity, durability, and longevity.

Look for recycled materials if possible, since their impact on the environment is much lower.


Choose the appropriate thread spacing.

Thread spacing isn't that important if you need burlap fabric for home decor, furnishings, upholstery, rugs, curtains, or carpets. You can pick the burlap fabric that looks the best to you or is the cheapest.

However, look for a tighter weave if you plan to use burlap for sacks, filters, apparel, or accessories.

Burlap is durable but also breathable. A smaller spacing between threads not only guarantees a more uniform look but also is less see-through.

Jute fibers are generally 1 to 4 meters long and have a diameter from 17 to 20 microns. And there are many different types of jute fibers, made from different botanical varieties of jute, used in various burlap fabrics.


Burlap fabric length


You can find many burlap fabric lengths available. But pick the right dimensions for your application.

Retailers often sell burlap fabric by the yard, from 1 to 100 yards. You can then choose the perfect amount for your needs.

In other cases, you can buy a whole roll of burlap, from 10 to 50 yards long or so.

Notice the fabric width as well before making a purchase. Commonly, burlap fabric is 12 inches wide, as this size is perfect for various projects.

Some fabric retailers also offer a 60-inch width available in a range of lengths.

Make sure the fabric is easy to cut. It's generally the case with 100% natural and pure burlap.


Burlap fabric odor


Burlap fabric has a distinct odor. Burlap fabric is cheap, versatile, simple, rustic, and elegant, but many people complain about the smell.

If possible, choose a sturdy burlap fabric with a pleasant odor. Burlap does smell, and the strong scent coming from the textile can sometimes be terrible.

If the odor is unpleasant, use the burlap fabric where it isn't as annoying. For example, you can line flower beds with burlap fabric to prevent weeds from growing.


Burlap fabric texture


Burlap fabric has a rough texture. People often avoid burlap in any application that comes in constant contact with the skin.

Burlap is often too rough to be used alone for apparel production. However, many manufacturers are currently developing new softening techniques to make it more comfortable.

Burlap sweaters, pullovers, and jackets are popular applications as they avoid direct contact with the skin.


Pick the right color.


The natural color of undyed burlap fabrics is pale yellowish-gray. The fabric color can vary and depends on the farming and manufacturing processes.

Burlap has the same color as unspun jute fibers. It varies between grey, sand, taupe, beige, ivory, cream, and ecru.

Dyeing burlap is also very easy. Burlap fabric is available in a wide range of colors.

Burlap fabric is often bleached and dyed in many colors and treated to be water-resistant. It accepts all sorts of dyes such as natural, vat, sulfur, reactive dyes, and pigments.

One of its main disadvantages is that its color changes in the sunlight. Burlap has good insulating and anti-static properties, but low UV and sunlight resistance.


Tossa jute vs white jute


The burlap fabric production includes many different processing steps that have been the same for centuries.

Burlap, hessian, or crocus is a woven fabric made from jute fibers.

Jute fibers come from the skin (stem and ribbon) of the jute plants Corchorus olitorius (Tossa jute) or Corchorus capsularis (White jute). The jute plants are annual plants that require lots of rainfall, a warm and humid climate.

They typically grow in tropical lowland areas with humidity above 60% without pesticides or fertilizers. They take about 120 days to grow from April to August.

More than 99% of all jute comes from India, China, and Bangladesh, more specifically near the Ganges Delta, a river delta in the Bengal region of the Indian subcontinent, consisting of Bangladesh and the Indian state of West Bengal.

The largest producer of jute worldwide is India, with about 1.95 million tonnes produced in 2018, according to the Food and Agriculture Organization of the United Nations (FAO).

Pay close attention to where the raw materials come from before buying any burlap fabric.

Historically, the poor villagers of India used to wear clothes made of white jute. They also used it to make ropes, twines, and bags for carrying grains or other agricultural products.

Tossa jute comes from South Asia, and many countries use it for its fiber. Bangladesh is the largest global producer of the Tossa jute variety. The leaves are also an ingredient of many soup-based dishes.


Where to buy burlap fabric
Here are some of the best places to buy burlap fabric:
From: United States
Values: Natural, cheap, fast delivery
Price: $10-$80

Amazon is an American multinational eCommerce company based in Seattle, Washington. The marketplace believes in customer obsession, passion for invention, and operational excellence.

Amazon offers many types of burlap fabrics. Most of them are affordable and made from 100% natural Jute fiber as it has been since history.
From: United States
Values: Natural, vintage, independent sellers
Price: $10-$60

Etsy is an American e-commerce website focused on handmade or vintage items and craft supplies. It offers a wide range of categories, including bags, furniture, and home decor.

Many independents sellers list burlap fabrics on Etsy. The marketplace is very active and widely recognized as the most trusted vintage store.
From: United States
Values: Natural, blends, cheap, better living
Price: $5-$350

Walmart is an American multinational retail corporation that operates a chain of grocery and discount department stores. It sells a large variety of products.

Walmart offers natural burlap fabrics as well as various blends of jute with cotton. The materials are perfect for most arts, crafts, and interior design projects, such as backdrops, matting, costumes, school projects, roman shades, and more.
From: China
Values: Natural, blends, cheap, wholesale
Price: $1-$10

AliExpress is an online retail service based in China and owned by the Alibaba Group. Small businesses in China and other locations sell many types of products through AliExpress.

The platform offers burlap fabrics of all kinds, natural or blended, for the lowest prices. International online buyers often go to AliExpres to find the cheapest products. But you should expect long delivery times.
From: United States
Values: Natural, blends, cheap, colors
Price: $5-$60

eBay is an American multinational e-commerce corporation based in San Jose, California. It offers consumer-to-consumer and business-to-consumer sales through its website.

eBay has many listings of burlap fabrics available in various blends, colors, and prices. The online marketplace offers auction-style sales as well as instant buy shopping.
From: United States
Values: Blends, colors, patterns
Price: $10-$200

Wayfair is an American e-commerce company that sells furniture and home-goods. The online platform offers a large variety of products from thousands of global suppliers.

Wayfair has many deals for burlap fabrics. The textile material is available in many colors, textures, blends, and patterns and sold by the yard. Wayfair offers free shipping and a 30-day return policy. 
Was this article helpful to you? Please tell us what you liked or didn't like in the comments below.