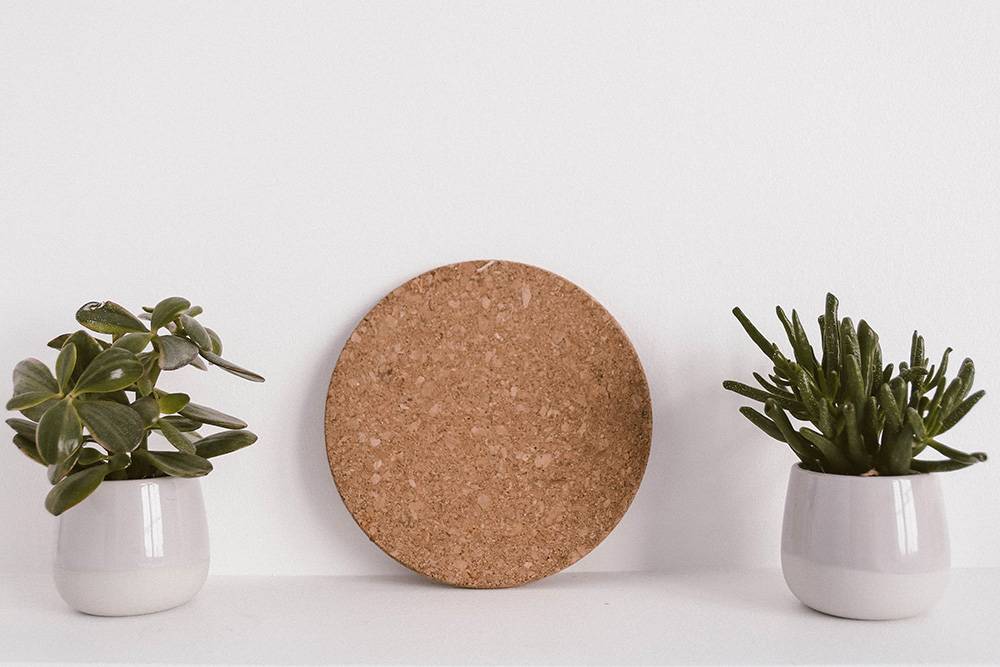 All You Need To Know About Cork Fabric For Sewing
Cork fabric is an organic textile made from natural fibers and often used for sewing. It's a versatile material used in many different applications today, including clothing fabrics in the fashion industry.

Manufacturers harvest the phellem layer of bark tissue from living oak trees to male cork fabric. The material is water and dirt repellent, biodegradable, and can easily be recycled.

About half of worldwide cork production occurs in Portugal. Cork fabric sold for commercial use is commonly composed of a thin layer of cork applied to a woven backing fabric.

Fashion is one of the most polluting industries globally. And consumers are becoming increasingly aware of its disastrous impact on people, animals, and the planet.

So many brands and designers are looking for new types of materials to make eco-friendly clothing. Natural fabrics like cork have a role to play in a more sustainable textile economy.

To help you make more mindful purchasing decisions as a well-informed consumer, here is all you need to know about cork fabric.

In this article:


Panaprium is proud to be 100% independent, free of any influence, and not sponsored. We carefully handpick products from brands we trust. Thank you so much for buying something through our link, as we may earn a commission that supports us.


What is cork fabric?


Cork fabric is a natural textile made from plant-based fibers. It's made of a sturdy, specific layer of plant material, oak tree bark. The phellem layer of bark tissue is used to create cork, a versatile and impermeable material.

Cork fabric is a type of textile made from plant fibers harvested from oak trees. The cork oak tree is native to southwest Europe and northwest Africa.

This natural fabric is very sturdy and durable and capable of lasting for several years. It's lightweight, strong, and comfortable with a soft hand feel.


What material is cork made of?


Cork is a natural material made of a sturdy, specific phellem layer of oak tree bark. Cork is a versatile and water-resistant material composed of suberin, an elastic and impermeable plant-based compound.

Depending on its origin and growth conditions, cork is generally made of complex plant polymers such as suberin, lignin, and cellulose. Cellulose and lignin are major components of plant and wood fiber, respectively.

Manufacturers harvest oak trees once they are 25 years old. They only strip the bark to harvest the cork. The production is sustainable, and the resulting material is recyclable.




What is cork fabric used for?


Cork is a natural material that has been used for thousands of years for floating devices, stoppers for beverages, and many other domestic applications.

Cork is a multifunctional and traditional material that is also 100% eco-friendly and recyclable. Cork fabric is used in many applications and is safe to place in an indoor or outdoor environment.

You can commonly find cork fabric in packaging and insulation material, bags, luggage, wallets, clothing, and accessories. Manufacturers also use cork for gaskets, floor and wall ties, fishing gear, wine bottling, decorative items, and more.

Designers use cork fabric to make innovative and eco-friendly apparel, shoes, and accessories. Cork can also be used to create household textiles, furniture, packaging, and industrial materials.


Why is cork a good material?


Cork is very durable, flexible, and water-resistant. It's a natural and long-lasting material. It has several uses in many different industries and is a very versatile textile.

Cork is an excellent material suitable for a wide range of projects, including home decorations. It's a high-quality textile with many incredible qualities for clothing, footwear, and accessories.

Cork is lightweight, durable, and comfortable with a soft hand feel. It's also 100% natural, biodegradable, and recyclable.

The popularity of cork is rising. Fashion brands and clothing designers use cork to meet consumers' demands for sustainable, ethical, and affordable clothing.

Cork is crucial for the fashion industry and its future. It helps promote a sustainable, local, responsible economy. Cork has a role to play in the development of the ethical clothing industry.


How well does cork fabric hold up?


Cork is a natural textile widely used in high-quality apparel. It's very soft, comfortable, lightweight, long-lasting, and durable. It's a material found in a lot of everyday clothing, footwear, and accessories as a more responsible alternative.

This natural fabric is very sturdy and durable and capable of lasting for several years. It's water and dirt-resistant, strong, and comfortable with a soft hand feel.

Cork fabric for sewing can easily be dyed, cut, and sewn in a variety of styles and patterns. They are many types of cork fabric available in multiple sheens and color options.

Cork is a versatile, durable, natural, and relatively cheap material. It's often backed by other natural fibers such as cotton, hemp, and linen. The laminated, woven textile backing allows cork fabric to be sewn.

Cork fabric is 100% natural and vegan, water repellent, stain-resistant and scratch-proof. Its production is sustainable, and the end material is eco-friendly and recyclable.


Is cork a sustainable material?


All cork products are natural by definition. Cork is a textile made from natural fibers harvested from oak trees. However, cork fabrics have a thin layer of cork that's applied to a woven backing fabric.

The most sustainable backing fabrics are organic and made from cotton, linen, or hemp. Pay close attention to the textile backing when buying cork products and avoid synthetic textiles.

Cork products benefit the natural world and the human environment on numerous levels. They help artisans, weavers in local communities generate income.

Cork products are well-known to have a lower carbon footprint and environmental impact. All cork processing and weaving use natural materials.

Cork is an environmentally friendly fiber, ideal to make sustainable fabrics and fashion textiles. It's a natural, durable, 100% biodegradable, compostable, and recyclable material.

The cork oak tree doesn't require any fertilizers or pesticides to grow, as opposed to cotton. In addition, cork doesn't release microfibers that pollute waterways and the oceans.

Products made of cork also don't generate toxic gases when burnt. They don't pollute the environment and don't make any waste.

Cork is one of the few natural fibers that provide so many environmental benefits. Before purchasing any cork product, make sure to check the origin of the raw materials. Buy products from independent companies using ethical and sustainable production methods.


Is cork fabric washable?


Cork fabrics can be washed by hand with cold water at a temperature lower than 40 degrees Celsius (104 degrees Fahrenheit). It's best to avoid cleaning cork in the washing machine and using the dryer.

Taking good care of your cork items is one of the best ways to ensure that they last longer. Give special attention to cork fabrics, even if they can resist high temperatures.

Before washing cork fabrics, read the care instructions that can be found on the care tag. This way, you can easily determine if the product is washable.

To save water, energy, and preserve the quality of your garment, it's best to use lower water temperatures. It saves energy and preserves fabric quality.

Don't use any chlorine-based or strong detergent when cleaning cork. Use a gentle and natural soap instead.

Do not dry cork fabrics in a tumble dryer either. Even if they have relatively high thermal resistance, the dryer reduces their durability and risk damaging the garments.

A more sustainable way of drying your cork items is to hang them to dry. Place them on a line in fresh air rather than using a dryer. It preserves their quality and saves energy.

You can easily lay cork fabrics down on a towel for a while, then flip them over. Try to avoid hangers. Instead, place cork textiles on a flat surface to help them dry naturally.




Fashion brands using cork fabric
Here are some of the best affordable, sustainable, and ethical fashion brands and clothing designers that make cork products under high social and environmental standards.


Category: Clothing, travel bags, backpacks, totes, purses, handbags, accessories
For: Women, men, children
From: Vancouver, Canada
Values: Organic, B Corp, recycled, give back
Prices: $20-$70

Tentree is an Earth-first fashion brand designing luxurious clothing, handbags, and accessories for a healthy, sustainable world with recycled or organic materials such as cork.

The sustainable brand is B Corp certified and partners with charitable organizations across the world to plant trees and rehabilitate natural ecosystems.

Tentree aims to guide you on your journey and empower you to do your best when it comes to the environment. It already planted over 48 million trees and restored land in over eight countries.

SHOP TENTREE




Category: Sneakers, boots, sandals, heels, flats, shoes, accessories
For: Women, Men
From: Amadora, Portugal
Values: Organic, vegan, recycled
Prices: $60-$80

NAE Vegan Shoes makes sustainable footwear in Portugal. It creates ethical, vegan, and affordable boots, flats, shoes, sneakers, sandals, heels, and accessories using cork.

The shoe company makes many products with GRS certified recycled materials from plastic bottles. It also uses cork, organic cotton, pineapple leather, and polyurethane.

NAE Vegan Shoes is a 100% vegan brand that doesn't use any animal-derived materials in production. It offers high-quality footwear with increased responsibility towards the environment.

Its vegan boots are Oeko-Tex certified, hypoallergenic, antibacterial, and antimicrobial. They are made from natural and recycled materials, offering high comfort and slip resistance.

SHOP NAE VEGAN SHOES




Category: Shoes, boots, flats, sandals, accessories
For: Women
From: NYC, New York, United States
Values: Natural, vegan, recycled
Prices: $60-$260

BHAVA is an innovative women's footwear and accessory brand founded in 2012 by designer Francisca Pineda in New York City.

The sustainable label manufactures vegan, ethical, and environmentally conscious shoes, sandals, flats, heels, boots, wedges, and accessories.

BHAVA uses natural rubber, cork, and REACH certified polyurethane from Italy to make quality ethical and vegan leather shoes in Spain and Mumbai.

SHOP BHAVA




Category: Bags, clutches, purses, wallets, accessories
For: Women, men
From: Barreiro, Portugal
Values: Natural, organic, vegan
Prices: $30-$70

Corkor sells natural alternatives to animal leather accessories. It specializes in vegan, natural, and sustainable bags, purses, and wallets made of cork.

Corkor is a sustainable and vegan brand of cork handbags and purses for women and men. Cork provides a beautiful, vegan, eco-friendly, and high-quality alternative to leather.

Corkor contributes to a better world with cruelty-free accessories made of cork. It avoids leather products completely and prefers using smooth, soft, resistant, and incredibly light cork fibers.

SHOP CORKOR
Was this article helpful to you? Please tell us what you liked or didn't like in the comments below.