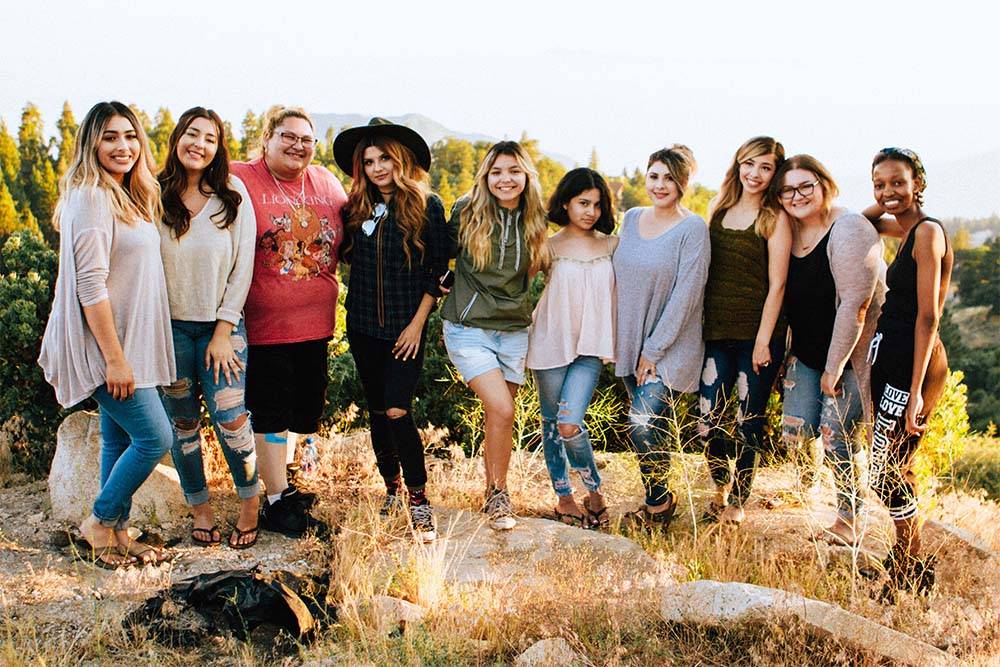 40+ Modern And Cute Outfits For Teenage Girls In 2023
As a teenage girl, you can easily develop a great sense of style and let your personality shine through cute outfits. Find below some inspiration to build the perfect wardrobe for school days or relaxing Sundays.

Fashion is the ultimate form of self-expression. Keep in mind that looking and feeling your best is an achievable goal with the right style tips.

And you don't always have to try to fit in among your peers. What's currently popular isn't necessarily what's best for you.

To help you dress well and maintain your confidence, here are some of the best individual, original, modern, and cute outfit ideas for teenage girls.
Panaprium is proud to be 100% independent, free of any influence, and not sponsored. We carefully handpick products from brands we trust. Thank you so much for buying something through our link, as we may earn a commission that supports us.


1. Modest outfit ideas


A modest outfit is made of less revealing clothes for personal preference. Modest clothing is very feminine and specifically designed to show less skin and an ideal fashion style for teenage girls.




2. Casual look


Put on a casual look appropriate for everyday use. It prioritizes comfort and leisure and makes it simple for you to look stylish. This is a relaxed and informal style and very popular among teenage girls.

Our selection of cute and casual outfit ideas to look fantastic and feel comfortable on the road.


3. Lounge outfit


If you are a homeschooled teenage girl, you might even be able to spend the whole day in your PJs and keep lounging from morning to bedtime. In that case, you should own a few pairs of pajamas and loungewear sets.

To help you make more conscious wardrobe choices as a teenage girl, here are some of the best organic cotton pajamas made under high social and environmental standards.


4. Skater girl outfit


Graphic tees, denim, rompers, sneakers, baggy pants, hoodies, and sweatshirts are the staples of the teenage skater girl outfit. These are functional, loose, and comfortable clothes for maximum freedom of movement.




5. Beachy look


Hanging out at the beach? Then opt for some of the best fashionable beach-style outfits for teenage girls. They feature a wide variety of colors, shapes, and sizes.

Versatile outfits for the beach are colorful or classic, according to your personal preference. They help you transition from beach to street with style.

The best swimwear brands manufacture high-quality, durable, and timeless beach styles using sustainable and transparent processes, as well as ethical production practices.


6. Traditional outfit


Teenage girls can also wear traditional clothing with style. Put on clothes with significant inspiration from your culture, identity, or ethnic group. A traditional style will help you stand out and make your mark showing an important part of history.


7. Trendy teenage look


If you love to follow the latest fashion trends, simply craft a contemporary look with trendy clothing pieces. Trendy clothes are fashionable, up-to-date, and in style and help you express the most recent fashion looks.


8. Pink teen girl outfit


You can have more fun with your teenage girl outfits by putting together a great selection of shapes and colors. Wear a pink outfit to feel young and cute and look great at all times.


9. Feminine winter outfit ideas


You can still dress feminine in the winter by choosing ladylike, cute, and stylish pieces that are also affordable and sustainable. Girly winter outfits help you look charming and feel comfortable during the cold season.

Dress cute and girly this winter with fresh cuts, timeless silhouettes, original shapes, and creative layers. If you need new inspiration to dress feminine this cold season, discover our selection of winter outfits for teenage girls.


10. Sweater dress


A sweater dress is a fantastic outfit idea for teenage girls. Cute, affordable, and sustainable sweater dresses are fashionable and practical alternatives to wear in cold weather and help you look stylish without breaking the bank.

Here are some of the cheapest and cutest sweater dresses that every teenage girl needs to look fashionable and feel comfortable on a budget.




11. Outfit with work boots


As a teenage girl, you want to get stylish shoes that match your skin tone and the outfits you plan to wear. Great footwear is crucial to look and feel your best. Try on work boots that complement your colors and complete the rest of your outfit.

Our selection of ethically made and sustainable boots.




12. Denim jacket


Put on a denim jacket to dress stylishly and enhance the way you look. Pick a handful of layers that you can throw on to craft unique, original outfits and look fabulous in no time.

A classic bomber jacket can improve the dressing style of teenage girls drastically. Layers instantly make any casual outfit more stylish and chic.

Our selection of affordable and sustainable denim jackets.


13. Outfit with baggy pants


Wear lightweight, stylish, baggy pants to feel comfortable and look fabulous. A high-quality pair of baggy pants can instantly transform any outfit.

Make sure you wear the right pair of pants for you according to your shoe height, with the right fit and length for your body type. Oversized and loose-fitted pants don't reveal your shape too much and can be worn by teenage girls.

Our selection of beautiful linen pants that are also comfortable, affordable, and sustainable.




14. Boyfriend denim outfit


Classic clothing pieces like boyfriend jeans don't easily go out of style, are very versatile, and teenage girls can wear them for every occasion. They save you money, improve your fashion style, and stand the test of time.

Simply pair boyfriend jeans from your favorite denim brand with a shirt and a jacket for a cute teenage girl outfit.


15. Teenage rocker girl


Heavily inspired by rock and roll, rhythm and blues, and country music, a rock outfit for teenage girls can be chic, modern, glamourous, edgy, and alternative.

The rock style combines influences from metal, punk rock, and gothic rock with denim jeans, boots, and stylish accessories.


16. Well-dressed outfit


A well-dressed or business casual fashion style typically includes shirts, blouses, and blazers. It's considered casual wear with elements of formal wear.

Check out the best sustainable blazers that help you look stylish and craft well-dressed outfits for teenage girls.


17. Boho teenage girl outfit


Teenage girls can also wear ear boho-chic or bohemian-inspired outfits with summer, casual, modern, and stylish clothing pieces. Simply take inspiration from free spirits, bohemian, and hippie influences, with colorful, natural, and handcrafted clothes.

Interested in building a bohemian-inspired wardrobe? Here is our selection of the cutest and cheapest boho clothing brands that help you create stylish teenage girl outfits.




18. Teenage biker girl outfit


Jeans, boots, and leather jackets are trademarks of the biker fashion style for teenage girls. This style is flashy, glamourous, versatile, and casual. And you don't have to ride a motorcycle to rock it.

Our selection of vegan leather jackets.


19. Back to school outfit ideas


A back-to-school outfit for teenage girls is fantastic to enhance your look and dress well after long summer vacation. It helps you get ready for the new season with an original and unique look.


20. Black and white outfit


If you love contrasts and the difference in luminance and colors in your teenage girl outfits, try on a black and white look. Simply put together mostly white or black pieces according to your preferences.

Black and white outfits are classic and timeless and last beyond the season. They are perfect to enhance the way you dress with style and simplicity.




21. Cute teenage girl dress


Show your personality in a cute dress, whether you like contemporary styles, easygoing, classic pieces, or want to break away from the norm and set new rules, make your teenage girl outfit your own.


22. Midi skirt


Wear a fashionable and stylish midi skirt as an easygoing and effortless solution to craft a cute teenage girl outfit. Midi skirts are calf-length skirts that keep you comfortable and are available in a variety of colors, fabrics, and patterns.


23. Summer outfit ideas


Wear summer wear, cruise wear, vacation clothing, or travel clothes in the summer. They are ideal for traveling and relaxing, on vacation, or during leisure activities.

Summer outfits for teenage girls are perfect to say cool in hot weather. Choose a lightweight, breathable, and comfy summer dress to easily create everyday looks that flatter your figure in the warm season.

Our selection of cute and cheap summer dresses.




24. Floral outfit ideas


Modern and cute clothes made from fabrics with a floral design a perfect to craft stylish outfits for teenage girls. They are usually highly colorful, handmade, and unique for an original and vibrant look.


25. Denim shorts


Denim shorts are very attractive pieces to wear for teenage girls. They are some of the most adorable, stylish, and classic garments you can put on to feel comfortable, young, and cute.

Soft, gorgeous jeans shorts help you look fabulous and feel relaxed whether at school or relaxing. You can pair denim shorts with a tank top or tee for a more laid-back and loose outfit.

Try on a pair of lyocell denim shorts as a cheap and eco-friendly alternative to polluting, regular cotton. Lyocell is a great fabric choice to dress well and sustainably easily.

Our selection of lyocell denim brands that make shorts.




26. Skinny jeans


Wear quality, well-fitting skinny jeans to accentuate your legs and make them appear longer. Make sure you wear them according to your shoe height, with the right fit and length.

The right clothes for your body type make your best features look proportionate and even stand out. Highlighting your most attractive traits is crucial to dress well, especially as a teenage girl.

Our selection of sustainable denim jeans.




27. Vibrant teenage girl outfit


A vibrant outfit for teenage girls is rich, bright, loud, striking, and brilliant. The vibrant fashion style is full of energy, enthusiasm, spirit, and confidence.

Simply wear colorful pieces with an original look, design, and patterns to add an exciting touch to your wardrobe.




28. Sporty outfit with leggings


Activewear, workout clothes, leggings, and gym clothing are perfect for crafting sporty, popular outfits for teenage girls. They are designed to transition from exercise wear to casual wear.

Check out our extensive list of sustainable activewear brands.


29. Classic shorts


Wear classic shorts for a relaxed and laid-back look. Pair them with a tank top and sandals for a modern and cute outfit for teenage girls. Shorts make a very easy-going attire and help you feel attractive.

They are some of the most adorable, cute, and cozy clothing pieces you can wear to look fabulous and feel relaxed every day. Choose either classic and timeless styles or brightly colored shorts to stand out.

Our selection of cute lounge shorts.




30. Sweatshirt for teenage girl


Cozy lounge sweatshirts make great outfits that are versatile, functional, and timeless. They help you look cute and feel comfortable when you want to relax in an effortless outfit.

Our selection of cheap, comfy, and cute sweatshirts.




31. Outfit with a mini skirt


The bottom part of your outfit is crucial to dress attractively. Mini-skirts show off your legs and are one of the best ways to showcase your unique assets.

Combine an informal top like a cardigan sweater or long-sleeve tee with a mini-skirt to create an original, attractive outfit for teenage girls.


32. Outfit ideas with a jumpsuit


Create a fabulous informal look with a stylish jumpsuit. Overalls, rompers, and playsuits are a fantastic addition to any modern teenage girl wardrobe. They are original and functional and help you relax elegantly.

Our selection of cheap and eco-friendly jumpsuits.


33. Formal dress for teen girl


Look cute and charming in stylish, luxury, and chic formal dresses and evening gowns. If you want to be bold and stand out as a teenage girl, wear feminine and fashionable formal dresses that help you look elegant, confident, and smart.

Our selection of formal dresses.




34. Girly outfit ideas


Girly outfits are attractive, stylish, and very feminine. They help you look and feel young and cute. Wear classic, comfortable, and easy-to-wear dresses, skirts, or blouses with lots of features such as laces, flounces, or ruffles.




35. Western aesthetic


Inspired by the Wild West period, the western aesthetic is a country, cowboy, and Wild West fashion style from America. Western outfits are very distinctive and unique with long boots and Stetson hats.




36. Vintage teen girl outfit


Old vintage clothes for teen girls can be found in resale shops, thrift stores, and vintage stores. When an item is at least 20 years old, it is genuinely vintage or antique.

Buy second-hand clothes to save time and money and access a large variety of unique styles that help teen girls relive old trends and craft fabulous outfits that nobody else is wearing.


37. Streetwear outfit ideas


Streetwear outfits for teen girls include casual clothing and sportswear. They are heavily influenced by hip hop, surf skate, punk, and Japanese street culture.


38. Minimalist outfit ideas


Minimalism in fashion is all about simplicity, going back to basics, and wearing your wardrobe essentials. As a teenage girl, you want to remove what is superfluous to make every item in your closet a winner.

Keep things simple and dress realistically without being too complicated to craft a minimalist outfit. Prefer high-quality, classic, and sustainable garments that last beyond the season.

Our selection of affordable, ethical, and minimalist clothing brands.


39. Punk rock teen girl outfit


Punk rock outfits for teenage girls are made of clothes inspired by the music genre. David Bowie is a great inspiration for the punk rock look, known for its bright colors, prints, and jackets.


40. Modern urban outfit ideas


Modern urban outfits for teen girls incorporate contemporary clothing pieces with up-to-date designs. They can be minimalist as well as street-inspired and often associated with today's fast-paced city life.


41. Nerdy geeky teen girl outfit


Nerdy and geeky outfits used to be unpopular and disliked by most teenage girls. Nowadays, nerds and geeks aren't considered overly obsessive or introverted anymore.

The nerdy geeky style is now widespread with a passionate pop-culture community and many fans that dress up and make a maximum impact in the fashion world.
Was this article helpful to you? Please tell us what you liked or didn't like in the comments below.