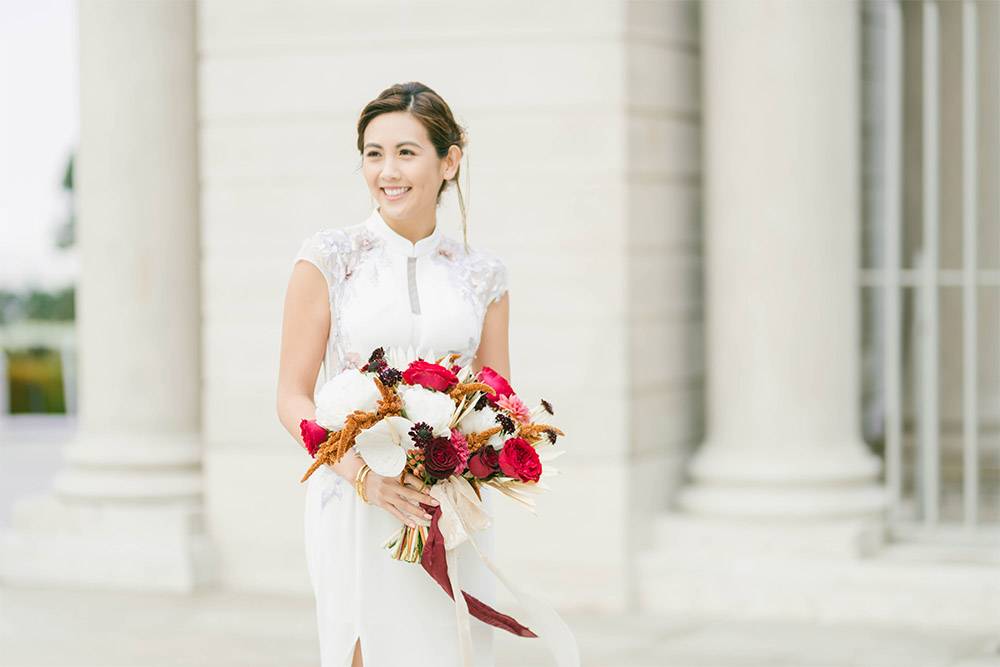 10 Best Affordable And Sustainable Wedding Dresses

The best wedding dresses are comfortable, chic, affordable, and sustainable to make you feel good and do good by people, animals, and the planet before you say "I Do."

Buy from ethical brands that design and manufacture high-quality, durable, and timeless bride attires using environmentally friendly materials, transparent processes, and socially responsible production practices.

Sustainability is now more vital than ever for a better future, especially in the wedding industry. Planning a beautiful experience can be costly, not only for your budget but also for the planet.

Why not make sustainable choices for your wedding to feel great about yourself, contribute to a fairer and greener economy, and the welfare of other people?

If you are interested in eco-friendly wedding or bridesmaid dresses, choose multifunctional, versatile bridal pieces made with sustainable design techniques, simple cuts, clean shapes, and classic silhouettes that scream modernity and sustainability.

I've done a lot of research and hard work for you so that you can buy from any of the below sustainable wedding dress brands, knowing that they operate under the highest social and environmental standards.
Panaprium is proud to be 100% independent, free of any influence, and not sponsored. We carefully handpick products from brands we trust. Thank you so much for buying something through our link, as we may earn a commission that supports us.


Category: Clothing, shoes, accessories
For: Women
From: Los Angeles, United States
Values: Upcycled, made in the USA
Prices: $225-$895

Christy Dawn creates boho-chic, sustainable, ethical, and timeless wedding dresses exclusively from upcycled fabrics. It offers a big collection of vintage-inspired bridal pieces ethically crafted in Los Angeles.

Christy Dawn designs each style with longevity in mind. Every wedding is intentionally timeless and versatile and to tailor to fit petite to extended sizes.

The fashion house aims to make simple, easy-to-wear bridal pieces that will become wardrobe staples you'll cherish for a lifetime. Its wedding dresses are meant to keep you comfortable while preserving the integrity and beauty of the Earth and her people.


Category: Clothing
For: Women
From: Los Angeles, United States
Values: Organic, recycled, made in the USA
Prices: $270-$800

Reformation makes sustainable women's clothing and accessories. It offers a beautiful collection of basics, denim, wedding dresses, and intimates for petite up to extended sizes.

The clothing retailer designs effortless silhouettes that celebrate the feminine figure with the most beautiful and sustainable fabrics possible. It pays attention to minimize its social and environmental impacts.

Reformation uses sustainable materials such as organic cotton, recycled cotton, linen, and Tencel lyocell. It makes some of its clothes with recycled fabrics as well, such as regenerated nylon or deadstock fabrics.



Category: Clothing, accessories
For: Women
From: Northern California, United States
Values: Organic, local, made-to-order, made in the USA
Prices: $640-$1,600

Wear Your Love brings together beautiful fabrics and romantic bohemian wedding dress styles to create exceptional organic bridal fashion for the free-spirited woman.

The fashion company creates made-to-order soft and dreamy dresses that embody effortless beauty and femininity in a classic and understated way.

Wear Your Love is on a mission is to infuse the bridal shopping experience with the new-paradigm ideals of quality, ease, convenience, uniqueness, and ecological-consciousness.



Category: Clothing, accessories
For: Women
From: North Vancouver, Canada
Values: Organic, local, made-to-order, fair, low-waste
Prices: $1,100-$2,300

Pure Magnolia is a fashion designer that creates bridal pieces for the bride who expects more. It aims to make everyone who wears its dresses to feel amazing with pure passion.

Pure Magnolia makes eco-friendly, sustainable wedding dresses in super soft organic cotton and beautiful details. Each bridal gown is tailored to fit your bridal celebration, style, and body.

Pure Magnolia is committed to ethical fashion and designs each wedding dress to be comfortable, beautiful, timeless, and dreamy. It chooses kindness to create the perfect fit while helping the environment at the same time.



Category: Clothing
For: Women
From: New York City, United States
Values: Organic, local, made-to-order, made in the USA
Prices: $2,160-$2,775

The Cotton Bride is an NYC bridal studio specializing in luxurious, cool, organic cotton, and linen wedding dresses. It creates whimsical, chic, luxury, and classic bridal attire with the perfect fit.

The Cotton Bride designs wedding dresses with versatility, breathability, and ease of movement to make you look effortlessly stylish and cool. It believes in grace, simplicity, comfort, and beauty.

Since 2007, the fashion studio offers a wide selection of hand-made, eco-conscious, vegan, and plastic-free bridal pieces for your sustainable wedding.


Category: Clothing, accessories
For: Women
From: London, United Kingdom
Values: Organic, local, made-to-order
Prices: $700-$1,900

Indiebride London is a bridal shop that sustainably produces bohemian and vintage-inspired wedding dresses. It uses organic cotton and ramie to create the perfect bridal gowns for you.

Indiebride London is an ethical wedding dress brand that offers a collection of both long and short dresses as well as tops, skirts, and accessories for the modern bride.

All its dresses and accessories are handcrafted at its studio in London to make your dress unique and your experience easy, fun, and memorable. The brand covers a wide range of styles and welcomes pregnant brides as well.



Category: Clothing
For: Women
From: London, United Kingdom
Values: Organic, recycled, vegan, made-to-order, artisan craft, Zero Waste, Fair Trade, give back
Prices: $900-$1,800

Sanyukta Shrestha is an eco-friendly bridal designer of luxury backless wedding dress and vintage style bridal outfits in the UK. It also empowers women in Nepal since 1998.

Sanyukta Shrestha is a pioneer in sustainable high-end wedding dresses that draws inspiration from nature conservation. It uses natural and sustainable fibers with traceable sourcing to offer luxury with a conscience.

This wedding dress designer has won multiple awards and is world-renowned for her eco-friendliness and sustainable high-end bridal attire that features timeless aesthetics, clean cuts, and daring silhouettes.



Category: Clothing
For: Women
From: Devon, United Kingdom
Values: Organic, local, made-to-order
Prices: $350-$750

Sister Organics is a collection of beautiful wedding dresses made from organic and sustainable fabrics. It makes simple, feminine bridal separates and dresses.

Everything is individually made-to-order to offer non-traditional, fun, and stylish looks. Sister Organics believes that when women work together and support each other, we create a more considerate world.

All wedding dresses are designed with laid-back style and comfort in mind with organic cotton, hemp, and English-made cotton lace.



Category: Clothing
For: Women, men
From: Vermont, United States
Values: Organic, local, made-to-order, vegan
Prices: $1,000-$15,000

Tara Lynn has been outfitting brides and grooms for eco-friendly weddings since 1999. The bridal designer offers custom-made, unique wedding dresses, and bespoke suits made from hemp and organic cotton.

All wedding dresses are made-to-order and eco-friendly. You can request style modifications of all kinds, including special fabrics, trim options, and neckline and silhouette changes.

Tara Lynn Bridal is an outstanding destination to order unique bridal outfits with specialty fabrics, embellishments, lace, or embroidery.



Category: Clothing, accessories
For: Women
From: Bali, Indonesia
Values: Organic, local
Prices: $80-$260

AYA Sacred Wear creates affordable and sustainable wedding dresses using organic cotton and linen. It features garments with magical transformations and universal sizing.

Each bridal piece is designed to be beautiful, comfortable, and 100% organic. The brand offers elegant, boho-inspired kimonos, cover-ups, bridesmaid dresses, shawls, jackets, ponchos, jumpsuits, and more.

Inspired by Mother Nature, AYA Sacred Wear handcrafts and dyes by hand each wedding dress with organic materials. It cares about the planet, the protection of ecosystems and animals.

Doing social and environmental good is easy once you move away from mindless consumption and extravagance to plan a more personal, sustainable bridal celebration.

Besides buying affordable and sustainable wedding dresses brand new from ethical fashion brands, there are other inexpensive options you can consider for your eco-friendly bridal attire.

Your wedding dress is probably the most expensive clothing piece you'll own, and you might only wear it once. That's why you could opt for one of the following solutions.

Swap with friends
Clothes swapping has become a widespread practice over the past few years. It's a great way to reduce clothing waste and have access to unique pieces such as a beautiful wedding dress from friends, family, or people in your area.

Ethical and sustainable fashion designers often work with clothes swapping services that let people wear their clothes for a fee.

And if a friend or sibling has a dress they no longer need, you can borrow it and add one accessory such as a topper to create a unique look that suits you.



Rent your wedding dress
Clothing rental is another solution to expensive wedding dresses. It's an emerging and fast-growing market with lots of affordable and sustainable options.

More and more people resort to renting their clothes to create a stunning outfit for special occasions such as a bridal celebration.

Renting is a fabulous eco-friendly option for your wedding dress since there's a good chance you won't be wearing it more than once.

You can find a boutique in your local area that rents out the perfect wedding dress for you.

Or visit one of these fantastic places that rent clothes online:

Shop second-hand bridal attire
The second-hand market is booming, and luxury resale is an attractive, popular solution to find stylish and unique designer wedding dresses for a fraction of the retail price.

Pre-loved garments are a more affordable and sustainable option than buying new ones. They reduce the need for new resources in manufacturing and divert clothing waste from landfills.

You can shop for pre-owned bridal attire online and have access to a large variety of unique styles from the best designers, some even unworn.

Here are some of the best resale sites to buy and sell second-hand wedding dresses and accessories:


Consumer-to-consumer websites are also great places to shop for used bridal attire. You can find a wide selection of unique wedding dresses in a flawless condition that people have listed. Here are some of them:


You can also find unique bridal pieces at nonprofit organizations offering social services to underserved communities with philanthropy and social well-being in mind.

People generally donate clothes they don't need anymore to charities as a generous gesture. It also takes less time and effort than selling them. Contributions are welcomed and can potentially do a lot of good.

Here are some popular charities and nonprofit organizations that sell pre-loved wedding dresses online:

Make your wedding dress
If you have experience in cutting and sewing garments or have a friend or family member who does, consider making your wedding dress and bridal accessories.

Source soft, breathable, and sustainable fabrics such as organic cotton, linen, jute, hemp, ramie, lyocell, or recycled materials, to design and craft your wedding outfit at home with no extra machinery.

You can find some inspiration from blogs, Pinterest, Instagram, and Youtube, where people post their DIY techniques and outfits ideas to plan your sustainable bridal celebration.
Was this article helpful to you? Please tell us what you liked or didn't like in the comments below.