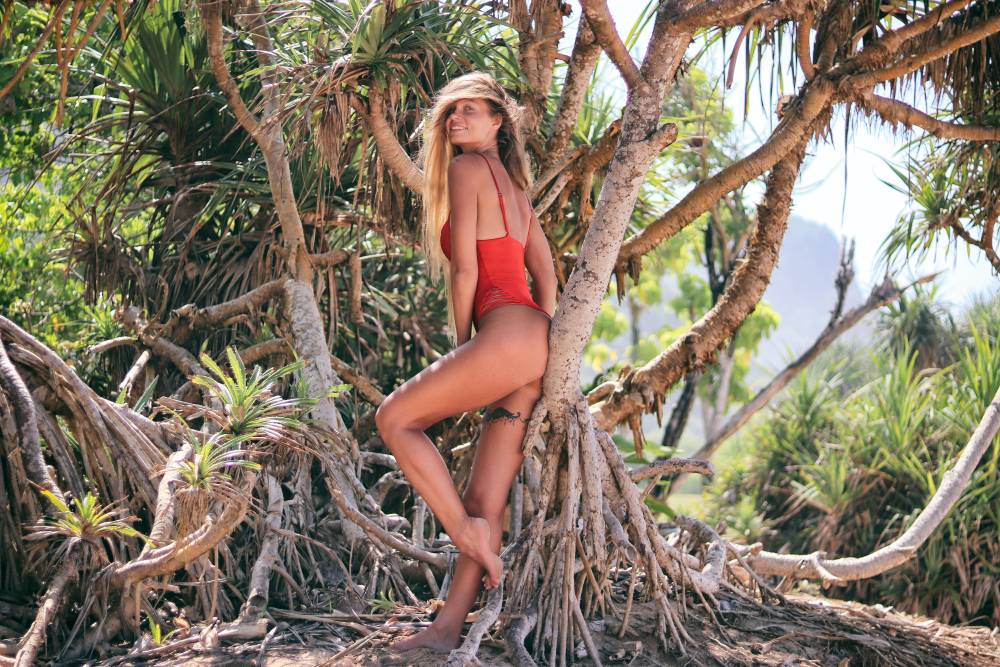 The Truth About Econyl Fabric By Aquafil

Econyl is a regenerated nylon fabric first produced by Italian textile manufacturer Aquafil in 2011. It's an innovative material that encourages sustainability in the global textile and apparel industry.

Econyl is an environmentally friendly recycled nylon 6 fiber manufactured exclusively from regenerated raw materials such as fabric scraps, carpet flooring, fishing nets, industrial plastic, ocean, and landfill waste.

Traditionally, nylon is a synthetic textile made of petroleum-based plastic polymers. It's a very versatile material used in many different applications today, including clothing fabrics in the fashion industry.

Nylon, also called polyamide, is one of the most popular and widely used synthetic fabrics next to polyester. It's very cheap to produce compared to natural fibers but isn't the most environmentally friendly.

Global nylon production keeps increasing and has a catastrophic impact on people, animals, and the planet. Many textiles used in the fashion industry aren't eco-friendly or sustainable.

The fashion industry is one of the largest polluters globally, mostly due to the lack of innovation to make fabrics more environmentally friendly.

Only a very small fraction of the resources used by the global textile and apparel industry are renewable. And only very few fashion brands and designers use recycled fabrics made of regenerated fibers.

Fortunately, nylon is almost infinitely recyclable. It can be recycled, recreated, remolded, and become brand new again to create new products without having to use new resources.

Aquafil has over 30 years of experience in nylon recycling which led to the development of the Econyl closed-loop process in 2011. It's a high-quality and durable fabric with a strong focus on sustainability.

The sustainable fashion movement is growing. More consumers are becoming aware of the clothing industry's disastrous social and environmental impacts.

Increased environmental awareness drives people to demand that brands and retailers improve their sustainability and transparency practices, which pushes textile manufacturers to innovate and develop more sustainable fabrics.


Panaprium is proud to be 100% independent, free of any influence, and not sponsored. We carefully handpick products from brands we trust. Thank you so much for buying something through our link, as we may earn a commission that supports us.

What is Econyl fabric

Econyl fabric is a recycled nylon 6 fabric made of post-industrial plastic waste, old rugs, carpets, textile waste, used garments, fishing nets, and reclaimed marine debris.

It's an innovative and technologically advanced material made with a special closed-loop production process. Econyl regenerated nylon fiber is high-quality, as strong, durable, and flexible as the raw material from oil.

Since its discovery in the 1930s, nylon has conquered the whole world and is found in a multitude of applications today. It's used especially for tights and stockings but also commonly found in tents, ropes, tires, seat belts, sleeping bags, curtains, tennis rackets, and more.

Econyl fabric by Aquafil is used in the textile and apparel industry by many fashion brands and designers. Regenerated nylon fibers are woven into fabrics to create fleece, circular knits, coats, sweaters, sportswear, swimwear, hosiery, shoes, loungewear, underwear, and accessories.

Even though it can be used alone, Econyl is often blended with other natural or synthetic fibers such as spandex or elastane to make it more elastic.


How Aquafil produces Econyl fabric

Econyl fabric is an environmentally friendly Italian yarn made by Aquafil from recycled nylon. Its regeneration process transforms waste into a new fiber that can be used by the fashion or furniture industries.

Aquafil recovers nylon waste normally destined for disposal and transforms is into high-quality regenerated nylon yarn. The company has facilities dedicated to the collection and recycling of nylon materials.

More than 2,800 people worldwide work for Aquafil. Its recycling plants are located in Slovenia, Italy, and in the United States, particularly in Phoenix and Woodland.

Econyl production occurs through a closed-loop process, a locally-based mechanical regeneration system that doesn't require chemicals. It involves the condensation polymerization of a plastic solution.

Discarded nylon materials are first broken down into monomers with high temperatures and steam.

Nylon monomers are then transformed into polymers through a process called condensation polymerization.

The process eliminates water and forms a big repeating molecule to create recycled nylon sheets or ribbons that are then shredded into chips.

Econyl fibers used in the fashion and furniture industries are created through spinning, a process that employs a heated mechanical spinneret with tiny holes to melt solid chips of regenerated nylon.

Nylon chips are melted and extruded through a heated spinneret to form long filaments. The resulting nylon fibers are then ready to be spun into yarns, which are woven into fabrics by textile manufacturers.

The end material is extremely soft, comfortable, flexible, breathable, and quick-drying with excellent moisture control properties.

Econyl recycled nylon is as strong, robust, and durable as virgin nylon. It can be dyed easily and gives the brightest colors.


Econyl fabric properties


Econyl fabric is a unique material with many unique properties. It's generally used in the same applications as polyester in the apparel and footwear industry.

Recycled nylon is strong, elastic, and lightweight. It's a completely synthetic material so it's resistant to attacks from insects, moths, molds, fungi, and many everyday chemicals.

Econyl generally doesn't resist harsh chemicals though. It will melt in phenol, acids, and many others.

Econyl fabric is stiff, has excellent resiliency and tenacity. It's often used in activewear and swimwear because it's waterproof and quick-drying, unlike natural fibers such as cotton or wool.

Econyl fabric isn't breathable like many other synthetic fabrics such as polyester, and acrylic. It's water-repellant and captures heat. It has low absorbency, wicks away moisture, and dries quickly.

Econyl isn't resistant to sunlight or UV degradation. When placed in direct sunlight, the physical and mechanical properties of Econyl will degrade quickly. A UV stabilizer is often added to Econyl fabrics to improve its resistance.

Econyl nylon fiber is also very flammable. Avoid wearing Econyl clothing while cooking, welding, or playing with fireworks.

Econyl fabric is easy to care for. However, it's best to wash it with cold water to save energy and avoid damaging the fabric. If you can, wash it separately by hand with cold water and hang it to dry.


Econyl advantages and disadvantages


Here are some of the best advantages of Econyl fabrics:
Affordable
Lightweight
Water repellant
Easy to dye
Good elasticity
Quick-drying
Easy to wash
Good resilience
Good durability
High tensile strength
Moths, molds, insects, fungi resistance
Good abrasion resistance
Good wrinkle resistance
Moderate chemical protection

Some of the main disadvantages of using Econyl are:
Poor resistance to UV and sunlight
Gathers static electricity
Low thermal stability
Poor heat resistance
Poor absorbency
Low pilling resistance
Low breathability

How sustainable is Econyl


By producing Econyl, Aquafil aims to reduce dependency on oil, carbon dioxide emissions, water, and energy consumption.

Econyl is an environmentally friendly and sustainable fiber as it's based on nylon waste materials that are melted down, regenerated, and restored into polymers without the use of chemicals.

The innovative mechanical process reduces water, energy usage, and carbon emissions compared to conventional nylon production from oil.

For every 10,000 tons Econyl recycled nylon produced, 70,000 barrels of crude oil and 65,100 tons of carbon dioxide equivalent emissions are saved compared to a regular nylon yarn made from virgin polymer.

Econyl regenerated nylon reduces the global warming impact of nylon by up to 90% compared to the material from oil.

Econyl synthetic nylon 6 fibers are manufactured in ISO 9001, ISO 14001, OHSAS 18001, ISO 50001, and SA 8000 certified facilities.
"For more than 50 years Aquafil has been a key player in the production of synthetic fibers, in particular polyamide 6. The continuous search for excellence and innovation, combined with the commitment to sustainability, make it a point of reference for the entire sector."
70% of all electricity and thermal energy used by Aquafil comes from renewable sources. In 2019, the group emitted 58% fewer greenhouse gases annually than in 2016.

Despite these advantages, Econyl is still a synthetic petroleum-based polymer. It's recyclable but not biodegradable or compostable.

Econyl fabrics take hundreds of years to decompose. As nylon breaks down, it releases toxic chemicals and greenhouse gases into the environment.

Econyl fabrics also release plastic microfibers into the environment that pollute entire food chains, kill land and marine wildlife, and endanger human health.


Aquafil certifications for Econyl

Econyl recycled nylon by Aquafil is certified by several independent third-party organizations and meets high standards of quality and sustainability, including some of the most relevant certification standards for textiles.
The Oeko-Tex Standard 100 is one of the world's best-known labels for textiles tested for harmful substances. It certifies high product safety.

If a textile bears the Oeko-Tex Standard 100, customers can be sure that every component has been tested for harmful substances and the product is therefore harmless to the human environment.

The test takes into account many regulated and non-regulated substances, which may be harmful to human health.

The Oeko-Tex Standard 100 also guarantees that the textile product has been manufactured in sustainable processes under environmentally friendly and socially responsible working conditions.
The Registration, Evaluation, Authorisation, and Restriction of Chemicals (REACH) a European Union regulation adopted in 2006 to improve the protection of human health and the environment from the risks that can be posed by chemicals.

REACH applies to all chemical substances, in cleaning products, clothes, appliances, and furniture. Companies that comply with the regulation must identify and manage the risks linked to the substances they use in manufacturing.

Companies need to register their substances. Scientific committees then assess whether the risks of substances can be managed.


How to care for Econyl fabrics
Taking good care of your clothes is one of the best ways to live more sustainably. It extends the life of your clothing and the time you can wear them. It also limits pressure on natural resources, contributes to less waste, pollution, and emissions.

Washing
To save water, energy, and the quality of your garment, it's best to wash clothes made of Econyl in cold temperatures. You can place them in the washing machine but with a temperature lower than 40 degrees Celcius (104 degrees Fahrenheit).

Don't use a strong detergent and make sure the washing speed doesn't exceed 600 revolutions per minute.

It's best to wash Econyl garments in a wash bag or filter to limit the number of plastic microfibers that leak into the sewage system.

Drying
The more sustainable way of drying your clothes is to hang them to dry. Place them on a line in fresh air rather than using a dryer. It preserves the quality of your garments and saves an enormous amount of energy, carbon emissions, and money.

Ironing
It's not necessary to iron your clothes made of Econyl. The material is very flexible and often blended with elastane or spandex to make it even more elastic. If you decide to iron your clothing, select the lowest temperature possible to prevent any damage.


Ethical fashion brands using Econyl


Econyl is an innovative material that combines performance and sustainability. It's drawing interest from leading brands across Europe and North America.

Many fashion companies use Econyl to make circular knit, legwear, intimates, beachwear, and sportswear. It's a perfect fabric choice to design high-quality, accessible, long-lasting clothing, and accessories.

Apparel made of Econyl is not only fashionable and high-performance but also sustainable and ethical. It demonstrates a high level of commitment to sustainability issues.

Here are some of the best sustainable fashion brands that use Econyl recycled nylon:
Was this article helpful to you? Please tell us what you liked or didn't like in the comments below.