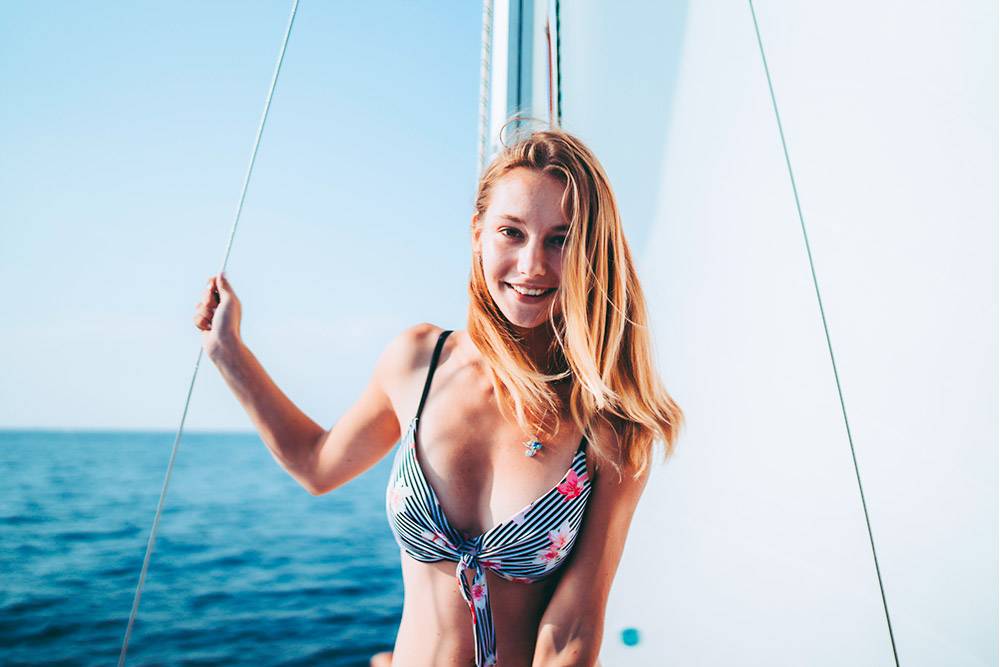 All You Need To Know About Dacron Polyester Fabric
Dacron is a polyester brand name by DuPont, an American fiber manufacturer who first introduced this fabric in 1950 and began making it in large quantities in 1953 at its plant in Kinston, North Carolina.

Polyester is the common name for polyethylene terephthalate (PET). Dacron polyester fabrics are known for their strength, durability, and resistance to abrasion.

Polyester is widely used in the textile and apparel industry to make clothing, footwear, and accessories. It's also found in a variety of domestic products, such as mattresses, pillows, cushions, and upholstery.

Dacron is a thermoplastic polymer material and a member of the polyester family. Polyester is the given name to a group of materials, whereas Dacron is a brand name of polyethylene terephthalate (PET).

Dacron fabric is used to make fibers for clothing, storage containers for food and beverage, thermoplastic resins, and more. Dacron is generally found in the same common applications as polyester in the textile industry.


Panaprium is proud to be 100% independent, free of any influence, and not sponsored. We carefully handpick products from brands we trust. Thank you so much for buying something through our link, as we may earn a commission that supports us.

What is Dacron polyester fabric?


Dacron is a brand of polyester by DuPont. It's a high-quality material with great technical performance. It's strong, durable, provides thermal comfort and moisture-wicking properties.

Dacron is now one of the most recognizable brands of polyester. Many textile manufacturers and brands use Dacron fiber to create high-quality products.

Dacron is a polyester fiber shipped to textile manufacturers making fabrics for many industries, including fashion. It can be used alone to create finished fabrics or blended with other types of fibers.

Dacron fibers are often colored with digital printing sublimation techniques to craft stylish swimwear and activewear, but also pants, shirts, shorts, jeans, blouses, dresses, jackets, and more.

American fiber manufacturer DuPont previously had a huge success with nylon when it first introduced Dacron in 1950. Dacron was the first polyester fiber to reach the consumer market.

The material was revolutionary at the time as it offered amazing properties such as lightweight, durability, and resistance to abrasion, wrinkles, creases, detergents, soaps, and dry-cleaning chemicals.

Dacron was first used in polyester-blends with wool to create suits for consumers. Blends offer the advantage of being cooler in summer and not gathering static electricity.


What is Dacron used for?


Dacron is a very versatile material. It's a common thermoplastic polymer resin of the polyester family.

It's used in a large variety of garments that people wear all year round such as shirts, blouses, dresses, pants, jackets, and undergarments. Many clothing brands commonly use synthetic polyester fabrics for their collections.

Dacron polyester fabric is also found in a wide variety of upholstery supplies and tools with high durability, consistency, and quality.

Dacron is used in fibers for clothing, containers for liquids and foods, and several other domestic products.

Many high-performance fabrics are made of Dacron polyester. They are available in a variety of weights and constructions. They are usually woven with high-count, high-tenacity yarns.

Dacron fabric also performs well as a sailcloth, cover cloth, and other marine uses. It's very durable and available in several versatile shades making it a trusted base material in marine applications.


Dacron is made in many styles suitable for kitesurfing kites, bags, shoulder cases, cleeves, traditional diamond kites, stunt kites, windsurfing sails, hang gliders, and sails for ultralight aircraft.

Dacron is available in many weights and weaves. It's often sold by the yard in a variety of eye-catching, bright colors. It's an all-purpose material used in a wide range of sailboats, windsurfers, and dinghies.


How is Dacron fabric produced?


Dacron polyester fabric is made from synthetic fibers derived from petroleum-based chemicals or petrochemical products. Polyester is also known as polyethylene terephthalate (PET).

The manufacturing of Dacron polyester fibers involves the polymerization of synthesized polymers compounds made from oil-derived materials.

The Dacron manufacturing process begins with a polycondensation reaction between pure terephthalic acid and mono ethylene glycol. Water and excess ethylene glycol are removed by distillation at high temperatures.

PET chips are produced by granulating the resulting polyester solution. Chips are then melted and extruded through spinning to form long filaments of Dacron polyester fiber.

Fibers are spun into yarns, which are woven into fabrics by textile manufacturers. Many different manufacturing processes exist to make high-quality performance fabrics out of Dacron polyester fibers.

Polyester remains the most used fabric in the textile and apparel industry globally. 55 million tons of polyester fibers were produced in 2018 in the world. It represents 52% of global fiber production.

China is the largest producer of polyester worldwide. Half of its polyester is made in the Zhejiang region and a third in Jiangsu.

Polyester has many advantages over natural fibers like cotton. It's affordable, durable, versatile, and lightweight.


Dacron polyester fabric properties


Dacron fabric is a unique material with many unique properties. It's generally used in the same applications as polyester in the apparel and footwear industry.

The typical properties of Dacron fabric are very high tear-resistance and abrasion resistance, long working life, good UV-stability, good bias stability, outstanding durability, no water absorption, and low stretch.

Dacron fabrics are strong, very resistant, easy to clean and care for. They are also fast-drying, moisture-wicking, lightweight, stiff, resilient, and have high tenacity.

Dacron is a fully synthetic material so it's resistant to attacks from insects, moths, molds, fungi, and many everyday chemicals.

Unfortunately, Dacron polyester fabrics have a very negative impact on the environment.


Advantages and disadvantages of Dacron


Here are some of the main advantages of fabrics made from Dacron polyester fibers:
Easy to care and wash
Lightweight
Affordable
Recyclable
Water repellant
Moisture-wicking
Fast-drying
High durability
High tensile strength
High tear resistance
High abrasion resistance
Good resistance to UV and sunlight
Resistance to moths, molds, insects, and fungi
Moderate fire resistance
Moderate chemical resistance

Some of the main disadvantages of using Dacron polyester in textile fabrics are:
Low elasticity
Low breathability
Low heat resistance
Low absorbency
Not renewable
Not biodegradable
Not compostable
Negative environmental impact

How to care for Dacron fabric


Taking good care of your clothes is one of the best ways to live more sustainably. Dacron polyester fabric is easy to care for and wash. But make sure to avoid common mistakes to preserve its longevity.

It extends the life of your clothes and the time you can wear them. It limits pressure on natural resources, reduces waste, pollution, and emissions.

Washing
To save water, energy, and the quality of your garment, it's best to wash clothes made of Dacron in cold temperatures. You can place them in the washing machine but with a temperature lower than 40 degrees Celcius (104 degrees Fahrenheit).

Don't use a strong detergent and make sure the washing speed doesn't exceed 600 revolutions per minute.

Drying
The more sustainable way of drying your clothes is to hang them to dry. Place them on a line in fresh air rather than using a dryer. It preserves the quality of your Dacron garments and saves an enormous amount of energy, carbon emissions, and money.

Ironing
It's not necessary to iron your clothes made of Dacron. The material is very flexible, wrinkle-resistant, and often blended with elastane or spandex to make it even more elastic. If you decide to iron your clothing, select the lowest temperature possible to prevent any damage.


Environmental impact of Dacron


Plastic and textile wastes are quickly becoming a global environmental and social issue.

Every year, more than 300 million tons of plastic are produced, as reported by the United Nations. 8 million tons of plastic are dumped into the ocean annually. Less than 10% of all plastic is recycled.

If current trends continue, our oceans could contain more plastic than fish by 2050. And the plastic industry could account for 20% of the world's total oil consumption.

Raw material sourcing, extraction, and textile fabrication contribute massively to the disastrous environmental impact of fashion. Using synthetic fibers like Dacron harms the ecosystems and the planet.

To create polyester from crude oil, the oil needs to be refined first. Then, it undergoes chemical extraction.

Plastic polymers are created through polymerization. They are them extruded into fibers through spinning before being spun into yarn.

Polyester manufacturing consumes a lot of energy, water, and chemicals. It also releases pollutants and greenhouse gases into the atmosphere and contributes to the global plastic waste and microfiber pollution crisis.

Plastic microfibers into waterways that pollute entire food chains, kill land and marine wildlife and endanger human health.

Synthetic Dacron polyester fabrics are often made from blends of various materials, such as elastane (spandex), nylon, or natural fibers, which makes recycling difficult, not commercially viable, even impossible in some cases.

Polyester isn't renewable, biodegradable, or compostable. It takes hundreds of years to decompose. And as it breaks down, it releases toxic chemicals and greenhouse gases into the environment.


Recycled polyester apparel from sustainable brands


Ultimately, polyester can be recycled, recreated, and remolded and become brand new again to create new products without having to use new resources.

Recycled polyester is a leading example of how the global textile industry works to find solutions to its catastrophic social and environmental impacts.

Recycled polyester isn't the most sustainable fiber but its environmental impact is much lower than virgin polyester made from oil. It's usually made from PET plastic bottles or industrial polyester waste.

Recycled polyester creates up to 35% less waste and reduces carbon dioxide emissions by up to 20%. It consumes up to 62% less energy and 99% less water compared to virgin polyester.

Here are some of the most sustainable brands creating clothes out of recycled polyester:
Was this article helpful to you? Please tell us what you liked or didn't like in the comments below.