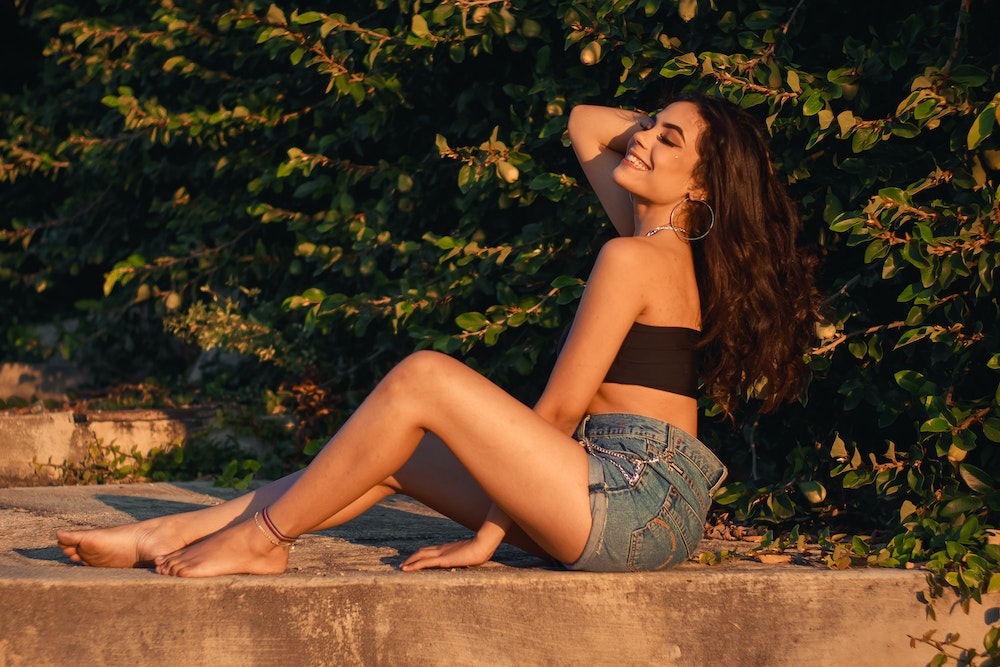 Do Guys Like Leggings Or Shorts Better On A Girl?
As fashion continues to evolve, the age-old question remains: do guys prefer girls in shorts or leggings?
Well, the answer might not be as straightforward as you think. The truth is, different guys have different tastes and preferences when it comes to women's fashion. Some may appreciate the casual and laid-back vibe of shorts, while others might find the sleek and flattering look of leggings more attractive. 
The key is to wear what makes you feel confident and comfortable. So, whether you choose to rock a cute pair of shorts or go for simple leggings, own your style and let your unique personality shine through.
There are countless ways to slay both shorts and leggings, so let's dive into both options and explore some fabulous outfit ideas that are sure to catch anyone's eye.
Panaprium is proud to be 100% independent, free of any influence, and not sponsored. We carefully handpick products from brands we trust. Thank you so much for buying something through our link, as we may earn a commission that supports us.
Denim Shorts and Bardot
For a cute and flirty summer look, pair your favorite denim shorts with a stylish Bardot top. 
This off-the-shoulder neckline adds a touch of elegance to your outfit while maintaining a playful and youthful charm. It's a perfect combination for a day out with friends or a casual date.
Interested to know if guys prefer leggings or jeans more, then check out our blog.
High-Waisted Shorts and Tank
Show off your curves and elongate your legs with high-waisted shorts paired with a simple tank top. This classic and timeless look is perfect for hot summer days and exudes a carefree and confident vibe.
It's ideal for picnics, cute day dates, or just kicking it at a guy's house. Sling on a shirt over the outfit for a day-to-night get-up that is sure to impress.
Here are our top tips for what to wear at a guy's house.
Leggings and Cropped Tee
For a sporty and comfortable outfit, opt for leggings paired with a cropped tee. This combination is perfect for running errands, hitting the gym with your man, or simply lounging around his apartment with style.
The tightness of the leggings shows off your figure, and the cropped tee allows you to show a little skin. Which goes a long way!
If you are wondering if guys prefer jeans or leggings on a girl, then take a look at our blog.
Work Out Co-Ord
If you're heading to the gym, consider wearing a co-ord set featuring leggings and a matching crop top. This cool and coordinated gym outfit will not only impress all the guys at the gym but also keep you motivated to crush those fitness goals.
Consider a fashionable co-ord with sexy cutouts at the side.
Here is our pick of the best yoga and gym leggings. 
Biker Shorts and Blazer
Channel a chic and trendy style by pairing biker shorts with a stylish blazer. This outfit is perfect for casual brunch or a day of shopping, as it effortlessly combines fashion and comfort.
It was a look initially trail blazed by Kim K, and it's still popular amongst the cool kids in 2023.
Here are the 10 best affordable and sustainable bike shorts.
Leggings and Sweater
Stay cozy and stylish with simple black leggings and a bright pullover sweater. Complete the look by adding a cute bucket hat for an extra touch of charm.
This look serves major girl-next-door vibes, meaning it's comfortable yet still hot.
Find your favorite sweater from this stunning selection.
Hot Pants and Sneakers
For a playful and edgy look, wear hot pants with baseball sneakers. This outfit is ideal for dates like music festivals, concerts, or any event where you want to showcase your fun and carefree side.
Wearing something fresh like this fit is sure to guarantee a second date!
Take a look at these sustainable sneakers now. 
Leggings, Tube Top and Denim Jacket
Create a trendy and effortless outfit by pairing leggings with a tube top and a denim jacket. This combo is perfect for transitional weather and allows you to mix comfort with style.
It's an appealing outfit to the opposite sex because it shows just the right amount of skin, and gives off a chilled and cool vibe.
Here are the 20 best affordable denim jackets for you to complete the look.
Co-ord 
Make a bold fashion statement with a co-ord set in a stand-out color like neon yellow. This eye-catching outfit is perfect for making heads turn and showcasing your confident style.
Loud colors let guys know you are confident and know exactly what you want. Go get 'em, tiger.
Discover the best outfits to nail a flamboyant fashion style.
Bold Patterns
Add a touch of vibrancy to your look with a cute short outfit in bold patterns. Whether it's floral, animal print, or geometric designs, bold patterns are sure to make you stand out in the crowd. Wear a bright-colored tee underneath to balance out the look.
Guys appreciate someone who nails a bright and bold pattern.
Embrace your vibrant fashion style with these amazing outfits.
Funky Patterns 
For a unique and artistic look, opt for leggings in funky patterns. Express your creativity through fashion and let your personality shine.
Guys like girls who follow their own personal taste, and if you are an artsy person then let that shine.
Find out the best and ultimate tips for an artsy fashion style.
Sporty 
Nail a sporty and cool-girl look by wearing matching shorts and a track jacket. This outfit is perfect for days when you want to exude athleticism and style.
It's giving streetwear, it's giving hip-hop and it's sexy in a backing-dancer-in-a-music-video way.
Discover these stunning must-have outfits for a hip-hop class.
Ripped Denim Shorts
For a casual and rugged appearance, try ripped denim shorts paired with a cute tank top or graphic tee. Or if it's winter, you could style it with a turtleneck. This outfit is ideal for picnics, or any laid-back outdoor activity.
It's perfect for giving off a casual vibe that shows you are relaxed and fun.
Pick your perfect denim shorts from our selection.
Leggings and Sleeveless Hoodie
Stay comfortable and stylish with leggings and a sleeveless hoodie. This fit is perfect for a relaxed day at home or a casual hangout with a guy.
Choose muted colors to give a sleeker appearance.
Take a peek at these beautiful bamboo leggings.
Shirt and Shorts
Keep it simple and classic with a shirt and shorts combo. This versatile outfit can be dressed up or down depending on the occasion.
It shows you are chill, yet sophisticated, which most guys will appreciate.
Find the best shirt for your cute outfit from these 20 best affordable hemp shirts and tees. 
Leggings and Tracksuit Jacket
For a sexy sporty and chill vibe, go for an oversized tracksuit jacket paired with leggings. Complete the look with a baseball cap for an added touch of athleisure flair.
This look serves a baddie 2023 sporty chicness that will drive the boys mad.

Take a peek at these outfits to wear over a bodysuit.

Was this article helpful to you? Please tell us what you liked or didn't like in the comments below.
About the Author: Catriona Jean