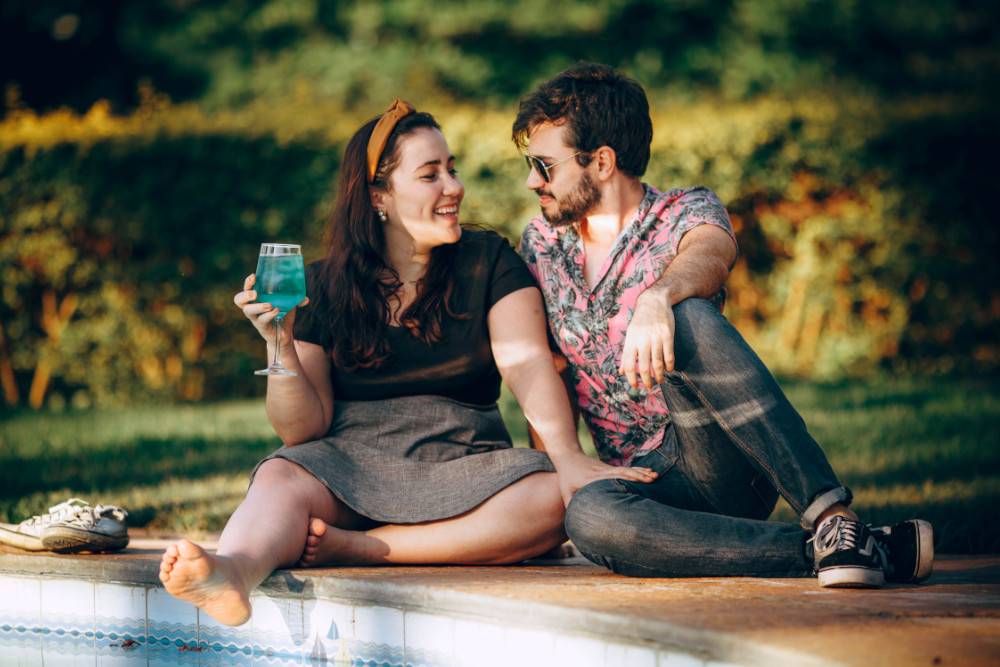 What To Wear To Hang Out With A Guy At His House
Make sure you wear something comfortable and fashionable on a date at his house. Most guys find it attractive when girls dress well and look put together in beautiful, feminine outfits that show confidence.

The best outfits to wear around a men's house are the ones that include the right clothes for you. You can instantly look gorgeous with the perfect combination of shapes and colors that showcase your best features.

Discover some of the best ways to dress well, feel younger, and look hotter when going to a guy's house to hang out. Take inspiration from these original, stylish, beautiful outfits that he'll love.


Panaprium is proud to be 100% independent, free of any influence, and not sponsored. We carefully handpick products from brands we trust. Thank you so much for buying something through our link, as we may earn a commission that supports us.

Cute leggings


You can wear a pair of cute leggings on your upcoming date at a guy's house, especially if it takes place during the day or involves some physical activity.

Stylish and chic leggings or yoga pants are extremely popular clothing pieces designed to transition from exercise wear to casual wear. They make you more attractive as they show that you work out and care for your body.

Here is our selection of super cute and sustainable leggings.


Slim-fit jeans


If you want to dress well and impress a guy when hanging out at his house, don't put on jeans that don't fit right. Otherwise, your risk losing style and elegance. You also might damage the garments and feel uncomfortable.

Don't wear jeans that are too small or too big if your want to look and feel your best. Instead, let go of them and make room for clothing that fits you properly. Guys like girls in figure-hugging jeans.

Avoid tops that are too large, wide dresses, and baggy pants that hide your shape and make your body larger. And avoid clothes that are too tight, especially around your midsection, as they are annoying and unaesthetic.

Here is our selection of well-fitting, organic cotton jeans.


Denim shorts


Denim shorts are attractive to most guys as they are some of the best adorable, cute, and classic clothing pieces you can wear to hang out at his house. Stylish, soft, gorgeous shorts will make you look fabulous and feel younger.

Try pair of classic denim shorts to dress well and show off your best features. They are a staple and the perfect addition to any modern wardrobe to craft cute and comfy outfits for a lounge date.

Here is our selection of adorable and stylish denim shorts.


Short dresses


Wear a short dress to hang out at a guy's house and look fabulous in a stylish and feminine outfit. You can instantly look fantastic if you choose an eye-catching combination of colors and patterns that suits you perfectly.

Pick a classic and versatile dress that improves your attractiveness by giving a particular nuance to your outfits. An affordable and eco-friendly mini or midi dress can make dressing well very easy for you.

You can either go for neutral colors that make your clothes timeless and seasonless or wear vibrant shades of bright colors for an original outfit with a unique vibe.

Here is our selection of short, fair-trade dresses.


Classic shirts


Well-fitting, tailored, classic shirts are a great choice to craft elegant outfits for a lounge date. Choose durable and high-quality pieces like premium shirts that look better and last longer.

Our selection of affordable and sustainable shirts made from hemp will help you look fabulous.


Denim jackets


You can pair a denim jacket with almost anything on a date at a guy's house. Wear classic and attractive layers to add a stylish touch to any outfit for hanging out.

A classic denim jacket can improve your dressing style and make you drastically stand out. It helps you transform a regular outfit into a more charming and original look.

You can throw on a denim jacket to make your casual outfits more modern and versatile and look super cute at his house. And blue denim is a fantastic color to wear while hanging out.

Here is our selection of denim jackets for women.


Crop tops


Crop tops are a staple of the trendy and girly look. They are fantastic clothing pieces to craft fashionable, attractive, modern outfits to wear on a date at a guy's house.

Transform any regular outfit into a more original and unique look with crop tops. They are available in many colors and patterns for fashionistas interested in looking fabulous to hang out.

Check out our selection of beautiful, stylish, and comfy crop tops.




Maxi skirts


Wear a classic and timeless maxi dress to hang out at a guy's house. It's a super cute and simple outfit idea for a casual and original look. Long skirts add a dressy and elegant touch to any date outfit.

Check out our selection of affordable and sustainable long maxi skirts.


Comfy sweatpants


The best style for a lounge date with a guy includes stylish, modern, chic, and effortless sweatpants. Wear sweatpants with crop tops, sports bras, or bikini tops to create the perfect outfit to hang out with a guy.

The best joggers, sweatpants, and track pants are comfortable, cheap, eco-friendly, and ethically made from organic, natural materials. They help you dress well without compromising style and ethics.

Check out our selection of the best sustainable sweatpants.


Jumpers and sweaters


Add a gorgeous, super soft jumper, sweater, or pullover to your house date outfit to dress well and feel great. They are perfect for crafting effortless and comfortable looks to hang out with a guy at his house.

Check out our selection of the best organic cotton jumpers and sweaters made under high standards.




Sweatshirts and hoodies


Cozy sweatshirts and hoodies make versatile, functional, and effortless house date outfits. They help you look cute and feel comfortable when you want to hang out with a guy in an easy-to-wear and modern look.

Here is our selection of cheap, comfy, and cute hoodies.


Summer dresses


To look and feel your best on a summer date night at a guy's house, choose clothes that are breathable, lightweight, and comfortable. Wear a stylish and adorable summer dress that flatters your body with the right fit.

Make sure your date outfit balances your hips, waist, bust, and shoulders. The best summer dresses for women flatter your curves without being too revealing.

Here is our selection of summer dresses.


Lounge shorts


Lounge shorts are some of the comfiest clothing pieces you can use to create lounge date outfits. Stylish, soft, gorgeous shorts make you look fabulous and feel relaxed to hang out with a guy at his house.

Wear loose-fitted lounge shorts with a vintage shirt or sweatshirt for an affordable, effortless, comfortable look. Buy lounge shorts that don't sacrifice sustainability for style, price, quality, or fit.

Check out our selection of the best lounge shorts for women.


Denim dungarees


Denim dungarees and overalls are the ultimate fashion statements to create on-trend outfits to hang out with a guy at his house. They are highly comfortable, easy to wear, and fashionable.

Check out our selection of sustainable dungarees and overalls.


Mini skirts


Wear a fashionable mini skirt as an easygoing and effortless solution to craft a cute lounge date outfit. Stylish short skirts exist in many colors, fabrics, and patterns.

Mini skirts help you dress creatively and look feminine in attractive outfits. Choose lightweight, breathable, and comfy pieces to express your personality, feel confident, and create the perfect look to hang out at a guy's house.

Check out our selection of cute and stylish mini skirts.
Was this article helpful to you? Please tell us what you liked or didn't like in the comments below.