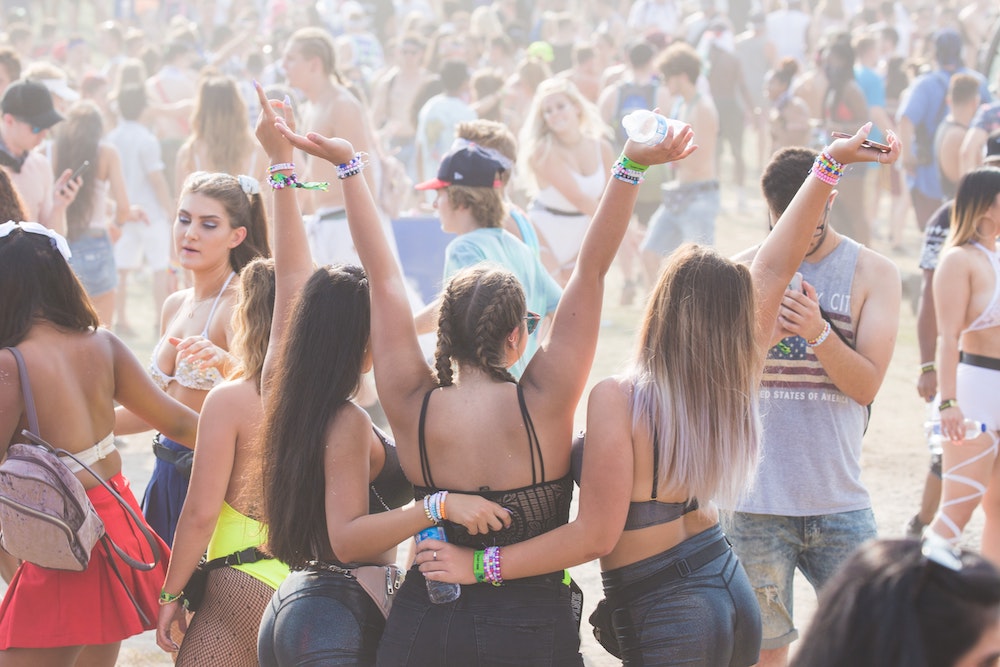 What to Wear to See Pink Floyd: 15+ Great Suggestions
Pink Floyd is one of the most iconic rock bands of the 60s and 70s, with out-of-the-box concept albums, epic guitar solos, extended track times, and awesome light shows. With classic songs such as "Money" and "Shine On Your Crazy Diamond" — a Pink Floyd gig is certainly one that you are going to remember. 
As part of the prog rock and psychedelic movement, they certainly represent the whackier, free-spirited side of the 70s. This makes dressing up to attend one of their concerts a fun and exciting experience. 
If you are looking to get into the spirit of a Pink Floyd gig, then you are in the right place. This guide has all you have to know when it comes to dressing up for one of their brilliant performances. Read on now to learn more. 
Panaprium is proud to be 100% independent, free of any influence, and not sponsored. We carefully handpick products from brands we trust. Thank you so much for buying something through our link, as we may earn a commission that supports us.
Tie-Dye T-Shirts
Pink Floyd is associated with psychedelic sound, making them the poster boys for prog rock in the 70s. If you would like to get in the right mood, then it is certainly worth buying a plain T-shirt before applying some tie-dye yourself. Not only is it a fun activity, but it will make for a very cool T-shirt.

These are the best sustainable tie-dye clothing pieces you'll love. 
Paisley Shirts
For a truly carefree, hippie look, then you cannot go wrong with a paisley shirt, especially if you pair it with some flared pants. Named after a town in Scotland, it is a sure-fire way to look like someone who knows 70s fashion inside out. 
For more related inspiration, here are the best outfits to wear to a 70s disco party. 
Flared Pants
To truly get into the mood of someone who loves Pink Floyd music and the era that they represent, why not look for a great pair of flared pants? They would look especially good if you pair them with a cool jacket and a fancy shirt.

Check out the best sustainable bell bottoms and flare leggings. 
Awesome Sunglasses
Pink Floyd is known for their big, exciting gigs, which often take place outside and in the sun. To make sure that you are protected from its rays, make sure that you are investing in an excellent pair of awesome, wide-rimmed sunglasses.

Learn more with the best affordable, sustainable sunglasses from Australia. 
A Vegan Leather Jacket
For a simple yet effective option that will look stylish and complement anything else you wear, it's certainly worth purchasing a smart leather jacket. For an ethical option, you can find one made completely from vegan leather. 
This is our list of the best affordable vegan leather jackets. 
Blue Jeans
For a comfortable choice that will allow you to easily enjoy the concert, it's best to invest in a pair of jeans. For some color, opt for a bright option and get some organic cotton blue denim jeans. 
Get a good overview thanks to our selection of the best organic cotton denim jeans to wear. 
A Gorgeous Kaftan
Pink Floyd is well-known for taking influences for their amazing songs from all over the world. One way that you can embrace their multicultural bent is by buying yourself a gorgeous kaftan, especially one with a unique pattern on it.

This is our essential list of the best affordable, ethical, and organic kaftans. 
A Graphic T-Shirt
When you go to see one of your favorite bands, a simple way to fit in with the crowd and show your appreciation is by getting a graphic, branded shirt, ideally with the Pink Floyd logo on it. With so many iconic album designs, including Dark Side of the Moon and Animals, you will have a lot of great options to choose from. 
Check out our selection of the best affordable and sustainable graphic tees. 
A Cool Headband
To keep your hair out of the head and to look like a proper hippie in the process, then you should certainly be investing in a cool headband. Look for one that goes well with the rest of your concert-going outfit. 
These are the best affordable and eco-friendly headbands. 
Exciting Bracelets
One smart way to imbue some mystique and magic into your Pink Floyd outfit is by buying some beautiful bracelets. For extra charm, you can layer more than one onto the same arm. 
Check out our essential list of the best affordable and sustainable bracelet brands. 
A Small Backpack
To carry all your things to the concert while also looking great in the process, then it's certainly worth buying a small backpack. Find one that looks cool and fits in with the rest of your outfit. 
We have a great list of the best affordable, ethical, vegan leather backpacks. 
Comfortable Sandals
To fit in with the crowd while also feeling relaxed and casual at the same time, then why not opt for a pair of comfortable sandals? It's worth finding a pair that fit your feet well, before finding the right pair of socks to go with it. 
Learn more via our list of the best affordable, vegan, and sustainable sandals. 
A Casual Kimono
If you are looking to embrace a more alternative side, why not look for a kimono-style dress that will allow you to feel free and easy while also coming across as cool and fancy? It can look particularly great when paired with some awesome hair accessories.

Get more of a sense of what to pick with our list of the best affordable and sustainable kimono robes. 
A Maxi-Skirt
To show off your maximalist, highly expressive side, it's worth buying a long maxi skirt. To truly commit to the vibe of the band, make sure that you pick a variety of awesome colors.  
This is our list of the best affordable and sustainable long maxi skirts. 
Embrace your Weird Side
With 20-minute plus songs, insane guitar solos, and non-traditional instruments and sound recording techniques, Pink Floyd is known for being one of the weirdest, yet greatest, bands of all time. Therefore, when going to one of their concerts, you should certainly be embracing your weird side. 
Are you still stuck for the perfect outfit? These are the best Instagram thrift stores you need to know. 
Was this article helpful to you? Please tell us what you liked or didn't like in the comments below.
About the Author: Redmond Bacon