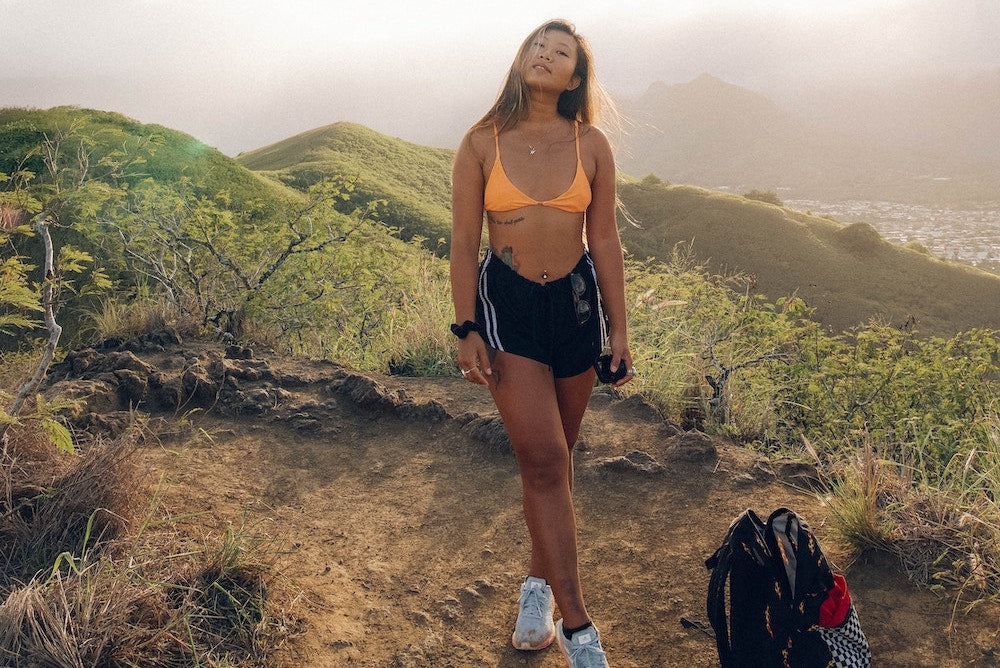 15 Expert Outfit and Packing Tips for Visiting Joshua Tree
Joshua Tree National Park is a unique sight to behold in California. It's a place where the Mojave and the Colorado deserts come together to create breathtaking landscapes and vital ecosystems that can't be found anywhere else. 
Joshua Tree National Park is open year-round for camping, hiking, and exploring. If you're planning your visit, you're probably wondering what to wear and pack for a successful trip. 
Whether planning a day trip or a camping excursion, you want to ensure you pack all the right clothing and supplies. From socks to headgear, we've got you covered in this comprehensive guide. 
So, here are the best tips and tricks for what to wear to Joshua Tree National Park. With these 15+ outfit ideas and tips, you're guaranteed a fashionable, unforgettable trip. 
Panaprium is proud to be 100% independent, free of any influence, and not sponsored. We carefully handpick products from brands we trust. Thank you so much for buying something through our link, as we may earn a commission that supports us.
Lightweight Cotton Shirts
Cotton t-shirts are a must-have staple when packing for Joshua Tree. Whether hiking, camping, or just driving through the park, you'll want to wear a comfy cotton tee. 
Cotton is soft, breathable, and lightweight, making it great for the desert heat. For ultimate comfort, you can wear a classic t-shirt with leggings, hiking shorts, or bike shorts. 
Shop our favorite organic cotton tees made in Canada. 
Breathable Athletic Tank Tops
It gets hot out in Joshua Tree. Breathable athletic tank tops will keep you comfortable and cool as the sun and temperatures rise. 
Choose athletic tank tops with moisture-wicking, breathable fabrics like polyester or Lyocell. 
Check out our guide to the best Lululemon alternatives for affordable, sustainable options. 
Breathable Shorts
Wear shorts to Joshua Tree if you want airflow and flexibility while out in nature. Breathable athletic or hiking shorts are the best options. 
Pair your shorts with a breathable tank top or simple t-shirt, and you're ready to hit the trails or hang out around the campfire. For extra convenience, choose a pair with plenty of pockets. 
Check out our favorite sustainable workout shorts for women. 
Long-Sleeve Shirts
Lightweight, long-sleeve athletic shirts are an excellent option to protect your arms from the sun. 
Get full coverage with a stretchy, thin workout shirt, a sunhat, and leggings. Be sure to stay hydrated and sit in the shade to ensure you don't overheat. 
If you want sustainably-made hiking shirts but don't know where to start, check out our guide on what to look for when shopping for ethical workout clothes. 
Athleisure Wear
Pack your hottest athleisure wear outfit if you want an Instagram-worthy photo. There are plenty of photo ops in Joshua Tree National Park, from the famous Skull Rock to the desolate desert landscape filled with Joshua trees. 
Wear a skin-tight matching set and chunky sneakers or a monochromatic pullover and leggings for a modern vibe. 
There's no shame in dressing up in your high-quality workout duds. Plenty of other people in the park are doing the exact same thing!
Don't miss our guide to the best ethical athleisure wear brands so you can look great without buying fast fashion. 
Sturdy Footwear
We recommend wearing high-quality hiking boots if you plan on hiking more than a few miles while in Joshua Tree. 
Hiking boots are sturdy, durable, and protect your feet from blisters and terrain. Invest in some high-quality boots made with sustainable materials if you plan on hiking in the future. It's a worthy investment. 
Invest in some high-quality vegan hiking boots to carry you through Joshua Tree. 
Hiking Socks
Wear hiking socks to Joshua Tree National Park to ensure your feet stay dry and blister-free. 
Hiking socks cushion certain parts of your feet so they don't get blistered as you walk. 
Also, hiking socks utilize moisture-wicking materials to keep your feet dry and sweat-free. 
Explore our favorite cotton and bamboo socks that work great for hiking. 
Leggings with Pockets
Leggings with side pockets are a fantastic option for Joshua Tree because they're convenient, comfortable, and flexible. 
The breathable, stretchy fabric of leggings gives you freedom of movement as you climb the rocks and traverse the sands of the desert. 
The side pocket is an extra convenient way to hold your phone, granola bar, sunglasses, or anything else you may need quick access to while adventuring. 
Explore our selection of workout leggings with side pockets. 
A Bandana or Kerchief
A bandana or kerchief comes in handy when you least expect it, especially when you're out hiking in the desert. 
Wear a simple bandana around your neck or head to keep the sweat out of your eyes and the sun off your skin. It's also great to carry in case you need an impromptu napkin, hand towel, or tissue. 
Windproof Jacket or Sweatshirt
If you're camping in Joshua Tree, warm outerwear is essential. The desert can get quite chilly at night, even during the height of summer. 
Pack a lightweight puffer jacket, windbreaker, or zip-up hoodie as an extra layer of protection against the desert cold. If it's windproof, even better.
Shop our favorite puffer jackets and sweatshirts to find your perfect fit.  
Wear a Sunhat
The sun can be brutal out in Joshua Tree, regardless of the season. That's why wearing a sunhat is vital to protect your head and face from UV rays. 
You can wear anything from a classic baseball cap to a hiking brim hat that protects your face, ears, and neck from the sun. 
Sunglasses & Sunscreen
Pack your favorite pair of sunglasses and some reef-safe sunblock, and you'll be unstoppable once you get to Joshua Tree.
Wear your sunglasses while hiking or soaking in the sunset at your campsite. 
Regarding sunscreen, we recommend organic, reef-safe brands that are SPF 30 and above. Remember to reapply your sunscreen throughout the day!
Check out our selection of sustainable eyewear brands to find your next favorite pair of sunglasses. 
The Best Time to Visit Joshua Tree
Although Joshua Tree National Park is open year-round, some months are better than others for visiting. 
Summer temperatures can be brutal, with highs above 100 degrees. Therefore, many experts recommend planning your trip for the spring or fall seasons. Specifically, visiting Joshua Tree from March through May and October through November is best. 
If you're interested in seeing California's famous super bloom, Joshua Tree usually has breathtaking wildflowers in bloom from early March to early May. The timing of these blooms depends on several factors, such as winter rainfall and weather conditions. 
Whenever you visit Joshua Tree National Forest, plan accordingly, stay on designated hiking trails, and stay safe!
Supplies for Camping in Joshua Tree
In addition to your amazing wardrobe, you need some essential supplies for camping in Joshua Tree. So, throw your tent in the car and pack up these must-haves:
An insulated sleeping bag. 

A daypack or backpack for desert outings and hikes. 

Headlamps or flashlights for those dark desert nights. 

A reusable water bottle to take along on desert hikes. 

Jugs of water to keep at your campsite. Stay hydrated!

Firewood (buy locally sourced firewood in town before you head into the park).

Snacks and non-perishable food. 
These are just some suggested essentials to bring along with you on your camping trip to Joshua Tree National Park. 
If you forget something, have no fear. There are several camping supply and rental stores in Joshua Tree and Twentynine Palms that you can check out to stock up on what you need. 
What Not to Wear to Joshua Tree
While it's important to stay comfortable and cool during your stay in Joshua Tree, looking fashionable is also a priority. With that in mind, you want to strategize and avoid wearing inconvenient and possibly dangerous things when navigating the desert landscape. 
Avoid wearing these things in Joshua Tree National Park:
Flip flops or other open-toe sandals. 

Restrictive pieces of clothing like skinny jeans, corsets, and non-stretchy shirts. 

Unbreathable fabric like nylon, acrylic, and rayon. 
When planning your outfits, it's essential to use common sense. Prioritize your comfort and safety for the most memorable trip to Joshua Tree possible. Have fun!
Was this article helpful to you? Please tell us what you liked or didn't like in the comments below.
About the Author: Liz Flynn