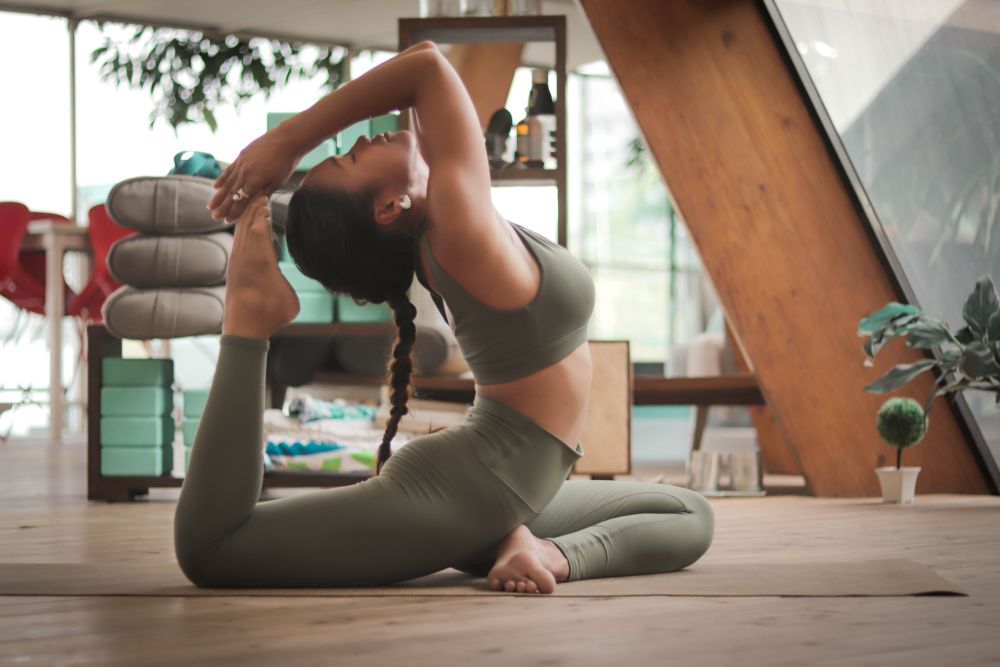 What To Look For In Ethical Sustainable Workout Clothes

To stay fit and healthy, you want to workout more. So how do you keep your motivation to exercise up? By looking for new workout clothes! Of course, you want to buy from an ethical sustainable brand or retailer.

Getting new gym gear is the perfect way to exercise more. To build muscles, increase flexibility or simply strengthen your cardiovascular system.

Regular exercise protects against weight gain, diabetes, high blood pressure, and high cholesterol.

Working out also makes your immune system stronger. Sport is healthy, puts you in a good mood, boosts your self-confidence, gives you energy, and reduces stress.

Excellent sportswear is very important for your training to feel comfortable, confident, and motivated to stay active. Keep a healthy and conscious lifestyle to inspire those around you as well!

You will do good to yourself and your local community by committing to a green, active, and natural way of living.

Here is what to look for in ethical sustainable workout clothes.
Panaprium is proud to be 100% independent, free of any influence, and not sponsored. We carefully handpick products from brands we trust. Thank you so much for buying something through our link, as we may earn a commission that supports us.

Choosing a sustainable sportswear brand to buy from
Anyone who is committed to an environmentally friendly and socially fair lifestyle will also want workout clothes that are ethical and sustainable.

When choosing the right fashion brand to buy from, look for a transparent supply chain, friendly advice, express delivery, and top customer service. These are important qualities that speak for the company.

You might want to avoid fast fashion brands and retailers completely. Read up our definitive list of fast fashion brands to avoid.

Instead, choose to support clothing companies that offer high-quality products being manufactured in a substantially fair, ecological, resource-efficient manner, and that care about exceeding your expectations as a customer.


Sustainable materials for ethical workout clothes
Buy clothes made from high-quality materials that last a long time. If you prefer synthetic materials for your gym gear, look for recycled nylon and polyester-elastane blends with the Öko-Tex certification, which distinguishes social, ecological, and functional added value compared to competitors.

You can also choose natural materials for your sportswear, such as organic cotton.

To get an extensive overview of the certifications to look for, follow our guide on the best eco-certification standards for textiles.
You want to buy items that were produced in a fair, sustainable, economical, and resource-efficient manner, without animal materials.

There is a lot of cruelty going on in the fashion industry. No animal should have to suffer to make stylish clothing.

The best ethical activewear brands demonstrate an ecological manufacturing process that is monitored and made transparent for the end customer.

The main materials used to make each garment should be reusable, recycled, or recyclable.

Fashion brands and retailers should definitely care more about the environmental and social impact of their supply chain.

They should minimize their water and energy consumption, and CO2 emissions with the use of green electricity, climate-neutral shipping, water-saving raw materials, and ecological dyeing process.

Usually, there is also a lot of waste happening during activewear production. Manufacturers and brands should strive to avoid textile waste with innovation and the development of new fabrication processes.



The qualities to look for in eco-friendly gym gear
If you are thinking about buying a new workout outfit, look for the following features:
Sustainably, socially and fairly produced fashion without animal materials
Ecological, significantly economical and resource-efficient manufacturing processes
Water, energy, and CO2-emissions saving supply chain
Reusable, recycled or recyclable garments
Unique and creative design
High-quality sustainable functional textile
User-friendly and affordable

And of course, pick an outfit that matches your current lifestyle! Make sure that it fits you perfectly, makes you comfortable, and confident.

You want to be sure that you will wear it for a long time and that the clothes won't fall out of style.

The best habit you can adopt to be more sustainable with your clothes is to buy less and wear them longer. I can't stress this enough.

If you are into minimalism or want to keep your wardrobe simple, read up our ultimate guide to the minimalist fashion trend.



When buying ethical and sustainable workout clothes, I encourage you to consider a brand based on its values. Environmental protection, care for people, and animals should be the utmost priority of every ethical activewear brand.

Buy from companies that have a positive impact on our world and will constantly work to do something good, helping as many people as possible.

Fashion brands and retailers should do their best to save water, energy, resources, reduce greenhouse gas emissions, support plastic waste collection, and ocean cleaning.

They should also compensate all farmers and workers in the supply chain better, protecting their suppliers, partners, and customers' well-being.

The fashion industry is one of the most polluting industries in the world. Apparel production has roughly doubled in the past 15 years.

Garments are manufactured from large quantities of non-renewable raw materials and are often only used for a short time.

Huge amounts of clothes and various textiles are wasted in landfills or incinerated. Only a fraction of all used textile is actually recycled.

Fortunately, many relevant organizations in the fashion industry, sustainability sector, and circular economy are already collaborating on these issues:
apparel companies,
retailers,
providers of sustainable solutions,
recycling centers,
environmental education centers,
professional associations and authorities,
universities,
research and technology centers,
material manufacturers,
sorting and recycling companies.

Support companies and business models that are more sustainable and resource-saving, that contribute to environmental protection, and promote innovations for sustainability.

It is possible to use business as a force for good, to influence the economy, solve social and ecological problems.

Can you recommend a few ethical and sustainable activewear brands?
Was this article helpful to you? Please tell us what you liked or didn't like in the comments below.