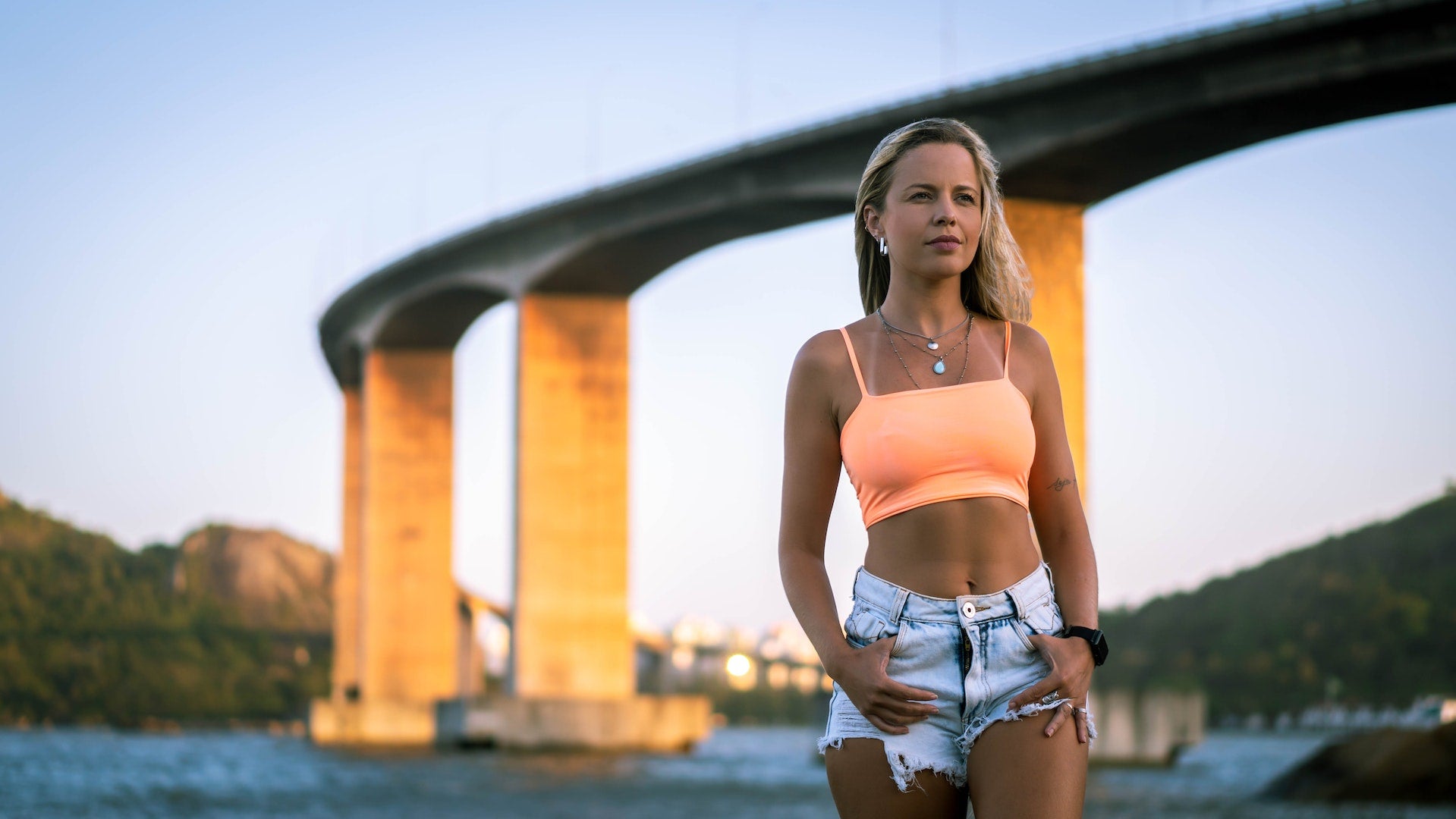 The Ultimate Guide To Petite Festival Outfits - 15+ Ideas
There is a lot of freedom regarding festival attire, which means you usually can go for the colors and designs you like most.

Choosing the perfect festival clothing can be a little bit difficult for petite women because they need designs that suit their body frame.

Nothing to worry about, we are here to help! No matter if you want something super practical, something eye-catching, or a little bit of both, let's go together through the best picks!


Panaprium is proud to be 100% independent, free of any influence, and not sponsored. We carefully handpick products from brands we trust. Thank you so much for buying something through our link, as we may earn a commission that supports us.

Outfits with jeans
If you want a simple but effective outfit that is ready in no time, start with a pair of sustainable jeans.

You can combine them with literally any top of your preference and the result is always a great outfit. Avoid low-rise jeans because they will make your legs look shorter.

Mini skirts
Create an extremely attractive outfit featuring a mini skirt. Complete your look with a crop top or a T-shirt.

For inspiration, check out the best affordable and sustainable mini skirts.


Wear fringe jackets
Fringe jackets scream festival fun!

They are very versatile and can be worn in multiple combinations such as with dresses, denim shorts, jeans, tops, and skirts.

Great news! You can now find affordable vegan leather jackets that are made from animal-free materials. Click here if you want to learn more.



Denim shorts + tank top
If you love laid-back outfits that don't require too much time and effort but look fantastic, wear a pair of denim shorts and a tank top.
This combination is beautiful, comfortable, and never goes out of fashion!

Discover amazing denim shorts made by sustainable brands.




Cute crop tops
Crop tops are fantastic for petite silhouettes because they don't add any unwanted volume to your body.

They are extremely cute and add a young and relaxed vibe to your attire.

Check out our article if you want to learn how to wear crop tops to avoid showing stomach skin.

Crochet clothing
Crochet clothes are standard festival wear. They are super comfortable and everybody loves them!

Fancy a shopping session? Let yourself be inspired by these sustainable clothing brands from Spain.



The best colors
The best colors to wear at a festival are all colors!
Unlike professional situations, where you need to be very careful with the colors and color combinations you wear, festivals allow you unlimited freedom and we think you should take advantage of it.
If you are looking for unique clothing items that will stand out, take a look at these second-hand clothing apps for affordable vintage.

Beautiful blouses
Even if you choose some simple bottoms, such as a pair of jeans, you can instantly make your outfit more interesting with the right blouse.
As a petite woman, you should carefully balance your proportions with the help of your clothes. If you are wearing skinny jeans, you can choose a blouse that adds a little bit of volume to your body. On the other hand, if your bottoms don't have a slim fit, avoid adding even more volume!

Discover the best affordable and sustainable blouses.



Sundresses
Sundresses are proof that comfort and beauty are not mutually exclusive.
The epitome of summer attire for women, and very flattering on petite bodies, sundresses are amazing!

Choose one in the right size for you from a sustainable brand.

Comfortable shoes
When it comes to your festival footwear, comfort is always the most important. If you wear uncomfortable shoes you risk ruining your feet and your day!

The best shoes for you are boots and sports shoes.
Nowadays many brands produce eco-friendly and cruelty-free shoes. Here are the best ethical footwear brands from Australia.


T-shirts and shorts outfits
T-shirts should exist in anyone's wardrobe. They are great clothing items to start your outfits with - you can create endless combinations with jackets, sweatshirts, and hoodies.

Petite silhouettes should avoid oversized T-shirts. Go for regular fits instead.

Purchase beautiful T-shirts from ethical brands.

Open-back dresses
Go for an iconic look with an open-back dress!

Beautiful, modern, and revealing without being too much, open-back dresses are perfect for festivals.

For affordable and sustainable options click here.



Coordinated sets
Coordinated sets are marching sets with the same prints and colors. Skirt and top, shorts and blouse, trousers and tank top - co-ords come in many beautiful combinations.

You can rock a coordinated set as an ensemble, but you can also wear the pieces separately!

Take a peek at these 20 best affordable and vegan clothing brands from Europe.

Hippie fashion
The hippie fashion style provides the best festival wear.
Skirts, floral blouses, bold colors, paisley prints, and patchwork clothing items are just a few of our favorites.
Read our article about the hippy fashion style if you want to find out more.

Jewelry
Complete any outfit with amazing one-of-a-kind jewelry.
You can choose any colors you like, just make sure the dimensions of your jewelry don't overwhelm your proportions.

Here are our sustainable recommendations.

Jumpsuits
If you want a very cool and stylish outfit, choose a jumpsuit. They provide a lot of flexibility and comfort.
The best jumpsuits for petite bodies must fit properly on your torso and waist.

Purchase yours from a sustainable brand.



Summing up
Festivals are some of the most relaxed occasions, that allow you a lot of freedom when it comes to picking attire. Beautiful colors and unexpected combinations are the name of the game!

For your petite body, you should choose well-fitted clothes with elevated waistlines because they help you balance your proportions. To minimize the alterations needed, always buy clothes in the right size for your body.

If you don't own anything sparkling and colorful, there is no need to worry! You can create amazing outfits with the clothes you already have: A sports bra can easily become a top, your work jeans can also be your festival jeans, and the comfy sundress that you usually wear on vacation can be your festival dress with the right accessories.

Remember that going to a festival is all about having a great time and choose your outfit accordingly.
Never push yourself to wear something that is way outside of your comfort zone just because someone says it's fashionable. Instead, go for relaxed, cute clothing items that beautifully highlight your body frame.
If you like our tips, share this article with your friends!
Was this article helpful to you? Please tell us what you liked or didn't like in the comments below.
About the Author: Miruna Dulcea