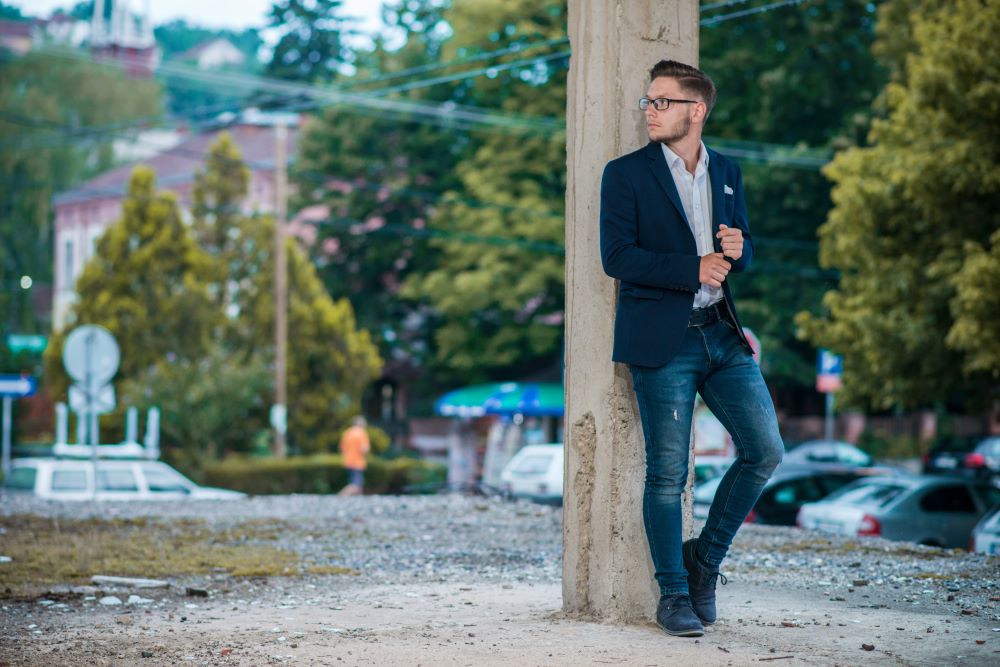 Jeans on Guys: Secrets Behind the Allure
Are jeans attractive pn guys? The short answer is yes, but…
The long answer is that although jeans can look great on guys, it also depends on a multitude of factors. Throwing on whatever pair of jeans you find may work, or may not.  
Here we will explore what makes jeans attractive and what factors don't, from fit, to style, to what you pair them with. 
Panaprium is proud to be 100% independent, free of any influence, and not sponsored. We carefully handpick products from brands we trust. Thank you so much for buying something through our link, as we may earn a commission that supports us.
Fit 
Regardless of the style or color of your jeans, how they fit is an important, if not the most important factor in whether you look good in them or not. 
Jeans come in a variety of fits from skinny to loose and baggy. It is important to choose a fit that will follow your natural shape and silhouette.
Don't choose pants that are so skinny that every part of you is shown off.  On the other hand, jeans that are so baggy that they are following down your waist or dragging on the floor are also not the right fit.
Check out these different denim brands and fits.
Distressed
Distressed jeans can be an attractive choice for you. However, there is a line between natural distress that looks good and so distressed it looks like maybe you should have given up on those pair a long time ago.
Some fading along the butt, thighs, and knees is a good choice. Some holes here and there are also alright, but too many holes or too big of holes can create an unkept and ungroomed look that many people find unattractive. 
Find more jeans here.
Sizing
Knowing your size is essential to looking good in jeans. For shorter or slimmer guys, don't go with a low-rise fit or a fit that is too tight. Not only will the waist not sit on your natural waist, but a smaller fit may make you look even shorter and skinnier. 
For average-size guys, try a slim or regular fit that stretches with you. For larger or broader guys, opt for a higher rise that will offer more stretch around your backside and thighs.  
Learn more about sizing here.
Style 
Despite what you may think, a pair of jeans is a great way to show off your sense of style. With so many different types, fits, and colors, you can show off your personality with a pair of jeans just as easily as any other piece of clothing, and knowing what you like and having style is attractive.
Check out more styles of jeans here.
Trends
Generally, guys are not as quick to adopt new trends compared to women, so not having the latest style of jeans is not a major hindrance. However, if you are still wearing your baggy boot-cut jeans or stonewashed jeans from the early 2000s, you are likely to look more dated than retro.
It is a good idea to see what others are wearing every year, or stick with a classic pair of jeans that fit well, look nice, and highlight your assets.
Try out these jeans.
Fabric 
The majority of denim is made from 100 percent cotton, creating the durable, stretchable fabric we know in jeans.  
If you are looking for a pair that will look great on you for many years, look for selvage on the label, The cotton's edges are woven in such a way as to prevent fraying and hemming. They are usually more expensive but are a worthy investment.
Check out these organic cotton denim.
Skinny 
Skinny jeans can look great on many guys, however, there are exceptions to the rule. With any pair of skinny jeans, you don't want to choose a pair that is so skinny that it restricts your movement and is uncomfortable. 
Jeans that are too tight have been linked to health issues in men, including increased urinary tract infections and weaker bladders.
A well-fitted pair of skinny jeans worn with a jacket or blazer is a great choice to show off your denim, while still creating shape.
Learn more about skinny jeans here.
Baggy 
A baggier pair of jeans is still an attractive option for guys. As with any pair of jeans, make sure they are the correct size and follow the shape of your natural form.  
Contrast baggier pants with a fitted shirt or sweater. Wear a heeled boot with baggier jeans that flare out or try rolling up the ends and wearing sneakers or loafers. 
Care 
Some women have said that seeing men in clean, well-cared-for clothing is almost as attractive as the clothing themselves and shows a self-sufficient and mature man. 
To keep your jeans in great condition for many years to come, wash them inside out in cold water with mild detergents. Consider hanging them to dry versus putting them in the dryer.
Learn more about washing your jeans here.
Color 
Jeans can look good in all colors from white, to classic navy, to black. A darker pair is easier to style for more occasions, from casual brunch to a nice dinner in the evening. 
Lighter and brighter colors can make more of an impact and can still have a place in your closet. Jeans that have bright-colored stitching or embellishments are not generally found attractive to the public. Save these wild accents for a pair of shoelaces or other smaller accessories instead.
Check out these colored jeans.
Casual
A rugged, well-worn pair of jeans are great for a casual look. Pair with a nice shirt or sweater and a pair of shoes and you will look laid back without looking rumpled.
Discover more jeans here.
More Formal
Jeans can even be worn on nice occasions too. Paired with the right shoes and a sports jacket and dress shirt, you are ready for a nice dinner or dance. 
Just make sure to leave them behind for formal events like a wedding.
Check out these dress shirts.
Confidence
At the end of the day, one of the most important parts of looking great in jeans is feeling confident in them.
A well-fitted pair of jeans that match your style can make you feel great, look great, and give you that boost of confidence in your day. And what is more attractive than a confident man?
Learn more about how to feel confident here.
Shoes 
Footwear is a great way to dress down or dress up your jeans, depending on the occasion. As well, many women notice a man's choice of footwear first, before their outfit. 
For a casual occasion, opt for a pair of sneakers or boat shoes. These look great with a fun pair of socks, or with no-show socks that show off your ankles.
For dressier occasions, jeans look great with dress shoes or nice boots. A boot with a slight heel will also help lengthen your denim-clad legs.
Discover these shoe options.
Tops 
Jeans can easily be dressed up with a crisp dress shirt or polo shirt. For a casual event, a well-fitted t-shirt always works, or a long sleeve with sleeves rolled up.  
For colder weather, sweaters pairs nicely and will make you look warm and approachable at your next event.
Try out these shirts.
Try out these sweaters.
Accessories
Accessorizing with your jeans is a great option to show off your style and personality. Wear your favorite chain or rings with your next pair of denim or wear a stylish watch. 
Check out more accessories here.
Was this article helpful to you? Please tell us what you liked or didn't like in the comments below.
About the Author: Shelby Bonner