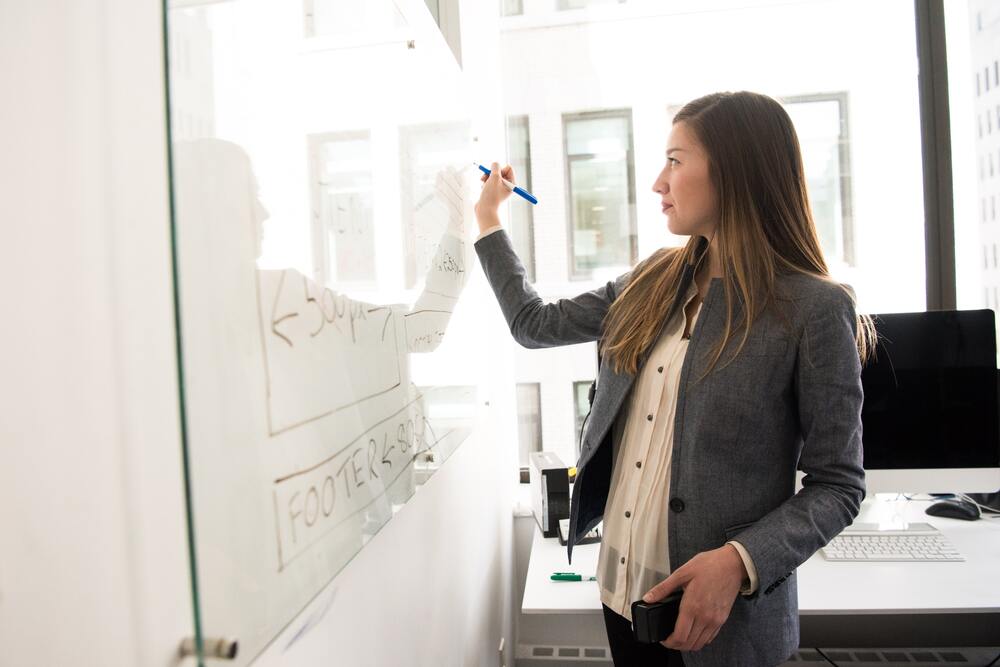 15+ Easy & Cute Ways To Dress As A Teacher
It might be challenging for a teacher to choose attire that looks professional and friendly to the learners. How you dress can significantly impact how others perceive you. As such,  teachers must dress elegantly and decently without appearing out of place since they are role models to students. Also, dressing well will increase your confidence and earn you more respect from your colleagues and students.
That said, you don't have to wear expensive outfits to look nice. Besides going for the latest trends, you can also sub in some of the attires you already have with new ones. For example, a formal pair of pants or a midi-skirt with a semi-formal shirt or blouse is a comfy option for teaching. Ensure the pants or skirt fit well and can stretch so as not to restrict your movement. 
To help you understand what I mean, this guide looks at the top cute and professional outfits you can wear as a teacher.
Ready to explore our golden tips? Please fasten your seat belt; let's dive in.
Panaprium is proud to be 100% independent, free of any influence, and not sponsored. We carefully handpick products from brands we trust. Thank you so much for buying something through our link, as we may earn a commission that supports us.
A long sleeve top and a knee-length skirt
For a more polished look, pair a dark-colored skirt with a long-sleeved blouse in a brighter color. The long sleeves make you feel comfier. The classic V-neckline style flatters all body types and makes you look more beautiful.
Ensure your skirt touches at least the knees to fit the school environment. Besides, ensure the long-sleeved top is not excessively low-cut or reveals so much of your arm.
Maxi dress
Wear a maxi dress if you want a lovely autumn look. It covers you well and keeps you comfortable all day long. You can pair it with high heels, a handbag, a necklace, bungle, or earrings, and apply pinkish lipstick. 
Here is our selection of 15 top affordable maxi dresses made in the USA under high social and environmental standards.
Blazers
A blazer offers a simple yet professional way to remain warm during winter. The classic one-button silhouette and two-flap pocket design add an attractive finishing touch.
This outfit is ideal for college professors and high school teachers when worn over a pullover sweater. Pair it with tailored skirts, dresses, trousers, and high-heeled shoes.
 20 Best Ethical And Sustainable Blazers You'll Love.
Mini dress and cardigan
A mini dress is appropriate for teachers who want a uniquely elegant look. Most of these dresses stretch; hence they complement all body shapes. They are also extremely comfortable to wear throughout the day.
Pair this dress with an open-front cardigan and classic booties for a casual fall style. Besides, you can boost your appearance by pairing the dress with a long cardigan and a slender python belt. On a chilly morning, wear this dress with a flannel jacket with flats or heels for a complete look.
Black pants
As a teacher, a pair of black pants is a must-have, and it can be daily wear if you compliment it with other clothing accessories. Its slightly cropped flare makes it trendy while allowing you to remain professional.
It has two back pockets to keep essentials like keys, cards, cash, and a smartphone. The pair of pants is stretchy; thus, it flatters all body sizes and shapes. Match it with a statement blouse, jacket, designer bag, and heels for an elegant look.
Another option to dress up your black pants is adding a cardigan and a white blouse. Then match it with designer shoes, a quilted bag, a watch, and a lovely hairstyle to give your clothing a vibrant pop.
Shackets
A shacket is the perfect classroom outfit if you are looking for a classic look. It is a fantastic fall necessity for both weekdays and weekends. They are available in various colors, lengths, and materials, providing something to fit every taste and preference.
They are lightweight and soft, making them cozy all day. Pair your shacket with dark jeans, a dress, or a skirt, and then tone it with a classic bright blouse, a handbag, a necklace, earrings, and heels or flats.
Midi dress
A midi dress is another elegant teacher's outfit. It is a perfect option to wear during spring and summer. Go for one with a round neck, puffs short sleeve, swings A-line style, and a high elastic waist.
Though loose, this midi dress is comfortable and fits all body types. The adjustable waistline will perfectly cover your belly and remain comfy. Match it with a woven bag, necklace, bangle, earrings, and high heels.
Jean/denim jacket
Layer a jean jacket on a sleeveless top or dress for an immediate classroom style. Most jean jackets are lightweight and slightly stretchy, allowing them to flatter various body shapes.
Also, go for one that features two decorative flap pockets with button detailing and side pockets (convenient for holding cellphones and keys). Pair your jean jacket with a midi skirt, dress, trousers, or a basic blouse and flats.
Check out our selection of 20 best affordable denim jackets every woman needs.
Long-sleeve blouses
A long-sleeve blouse is another outfit to keep your feminine style in the classroom. Whether it is puffing sleeves, frills, or lace, it undoubtedly belongs in your teaching closet!
Long-sleeve blouses are trendy and come in various styles, allowing you to pick the most elegant design. You can match your blouse with a black legging, or a fitting skirt, and black boots for a classy yet effortless look.
Checkout our honest beautiful, versatile, and high-quality performance leggings.
Formal black skirt suit
Most female and male teachers have formal suits or dresses with blazers in their closets. However, you should never wear a dress suit for a whole week since this can be boring. A formal skirt suit is an ideal option to wear whenever you want to attend a school event or dance.
These suits are stretchy, soft, and comfortable to spend with throughout the day. Pair your skirt school with designer heels, a watch, earrings, and a designer bag for a unique sharp look. You will feel confident enough to convey your points without trying too hard.
Athletic outfits
Ensure you have athletic outfits if you teach physical education or gym. Also, if you are going out for school sports, consider a tracksuit with comfy sneakers.
The outfit is skin-friendly and will keep you warm on cold days; hence ideal for wearing during spring and winter. The tracksuit is suitable for everyone and easy to dress up and down. Match it with a watch, sunglasses, a necklace, and earrings for a stylish look.
Polka dot midi skirt
A midi skirt is another perfect outfit for teachers. It features a high-elastic waist and attractive hem for various body types. The vintage polka dot print skirt will match everything. It is ideal for camisoles and shirts. A matching coat is an excellent choice when it is cold outside.
That will make you appear extremely lovely and elegant. Pair it with a handbag, booties, a bangle, a long-sleeve blouse, and a denim jacket on a chilly day. If that does not work for you, match it with a rattan bag, a sleeveless camisole, a watch, a hoop earring, and braided slides during a hot day.
Skinny jeans
If the school allows, skinny black jeans are a classroom attire you should have in your wardrobe. Ensure it is super stretchy so that you can be comfortable and doesn't lose shape all day.
Match it with your favorite white blouse or top, a bangle, a handbag, a necklace, earrings, and any shoes. You will look and feel fantastic in these trendy, adaptable, simple, stretch modern slim jeans.
Check out our selection of the top 15 best affordable, sustainable, Australian made jeans.
Vegan leather jacket
.
A vegan leather jacket is fashionable, affordable and sustainable  clothing for various settings,  including the classroom. They are comfortable to wear and come in an array of colors, such as black, blue, red, brown, green, and white, allowing you to pick your favorite hue with a clean conscience.
The zipper and pockets make the leather jacket perfect for winter, fall, or spring days. It goes well with a white tee or shirt, black or jean trousers, a handbag, bangle, boots, or sneakers for a casual yet trendy look. You can also blend it with a gorgeous dress and boots for an elevated look.
12 Best Affordable Vegan Leather Jackets In 2023.
Designer clothes
Designer clothes are also ideal for teachers. You can go for  high-waisted and bejeweled dresses with sequins, clutch purses, leather booties, and minimal metallic accessories. Most designer clothes will give you a distinctive look and boost your confidence in your career.
20 best affordable designer clothing brands.
Cardigans
Cardigans are another wardrobe essential for teachers. They are lightweight, breathable, comfortable in the classroom, and easy to wear. Most cardigans have a loose fit, open front, drape shoulder, long sleeve, solid colors, and shawl collars, giving them a charming and unique style.
Knitted cardigans are perfect for daily, autumn, and winter wear. They are super cozy to changing weather. You can easily pair your cardigan sweater with tees, top tanks, dresses, shirts, jeans, leggings, a bangle, a necklace, a handbag, and ankle boots to complete a vintage, elegant look.
Printed pants
Patterned office pants are another wonderful option to spice up your school wardrobe. Printed pants are soft, stretchy, and comfortable to wear every day. Pair it with a plain color shirt or sweater for a brief appearance when you're late.
You can also pair it with a camisole, denim jacket, earrings, a long hairstyle, a necklace, and heels. Besides, wear your printed pants with a full-neck pullover, a front-open cardigan, a handbag, a watch, and booties.
Corduroy jackets
Corduroy jackets are great outfits for teachers. They are lightweight, soft, and comfortable to wear from season to season. The trendy button-down is an excellent choice for fall, spring, and winter everyday wear.
You can match this corduroy jacket with various top tanks, blouses, skirts, leggings, jeans, jeggings, sneakers, or heels. You can also add a designer handbag, earrings, and necklace for an outdoorsy look. Corduroy jackets are ideal for school trips.
Beige trousers
Beige trousers are stylish and professional while still friendly to students. The dress pants have a relaxed fit through the thighs and hips, with straight legs that curve gently at the bottom to tone and flatter the figure. They also have functional front and rear pockets to store a few essentials.
They offer versatility and comfort to all ladies throughout the day. Wear a casual top such as a jacket and a shirt to soften the "professional" feel, although they also look great with heels or boots and a white button-down. Layer your beige trouser with a tank top or bodysuit in summer or spring, or wear it with a blazer or sweater if the temperatures are cool.
Monochrome black attire
Another classy outfit for a teacher is wearing black over black, especially if you teach senior students. This is a simple yet fashionable outfit after a long night of marking papers. The drawstring waist offers optimal comfort for all-day wear.
The long pants and long sleeves provide warmth during cold days. Wear a black top, a pair of black pants, a handbag, a necklace, earrings, a bangle, and white sports shoes. You can decide to break up the hue by wearing a gold belt and other shiny accessories.
Bodysuit tops
Many people wonder if bodysuit tops are ideal for teachers. Yes! Bodysuit tops are the perfect outfit for a stunning school look. It is a terrific wardrobe staple and easy to dress up and down. The long sleeve bodysuit is classic and a great option for curvy people.
It is not too tight; thus, comfortable to wear every day. You can wear it with anything, such as high-waist jeans, skirts, joggers, denim jackets, coats, and sweaters. Pair it with slim jeans, a handbag, sneakers, a necklace, and earrings for a great look.
15 best affordable and sustainable bodysuits.
Turtleneck sweaters
Turtleneck sweaters are another teaching staple outfit and wardrobe favorite for many teachers. They are ideal for wearing on a chilly day since they keep your body warm while providing a stylish look.
The sweaters feature smart drop shoulders, long sleeves, and stretchy fabric, offering a relaxing experience. Match it with jeans, leggings, skinny pants, boots, sneakers, a handbag, a necklace, and earrings.
Conclusion
Teachers must dress up beautifully and uniquely. You should not wear one outfit style from season to season. Be creative and change your dress code based on the weather and trendy fashions on the market. However, ensure whatever you wear is comfortable to allow movement and better interactions with students. The above 15+ ideas are an excellent place to start..
Was this article helpful to you? Please tell us what you liked or didn't like in the comments below.
About the Author: Dinushka Breaker Gunasekara