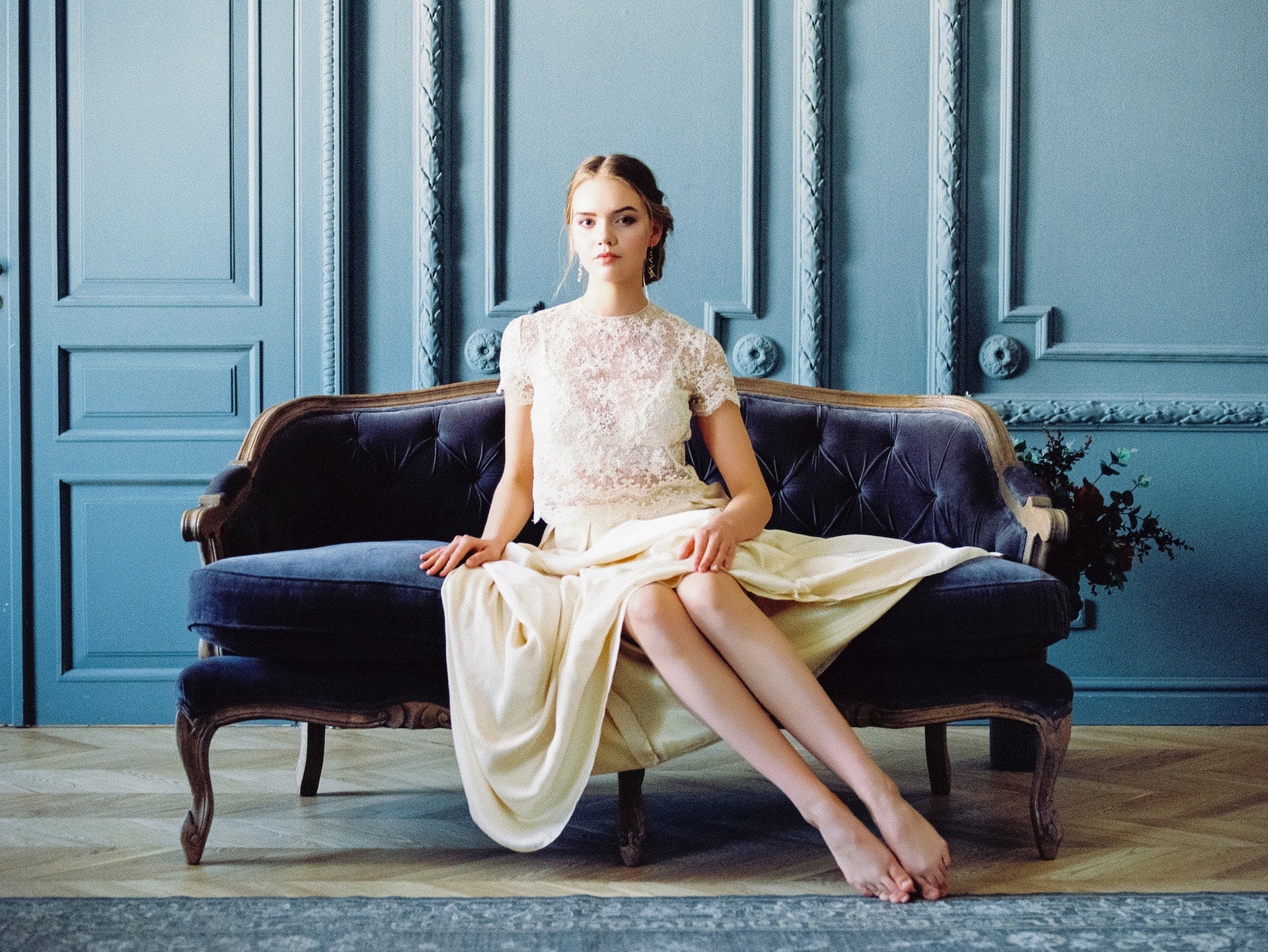 20 Tips For A Great Romantic Fashion Style Wardrobe
Do you like feminine clothes, pastel colors, and lightweight materials? Are you detail-oriented when it comes to your outfits? Then the fashion style that fits you best might be the romantic fashion style.

Take inspiration from our beautiful suggestions for a wonderful romantic style wardrobe and read until the end to discover our extra tips!


Panaprium is proud to be 100% independent, free of any influence, and not sponsored. We carefully handpick products from brands we trust. Thank you so much for buying something through our link, as we may earn a commission that supports us.

Beautiful midi skirts
Choose a beautiful midi skirt that highlights your waist and wear it with your favorite blouse.

They are extremely feminine and versatile and you will be able to create many outfits with yours.

Take a look at our sustainable recommendations here.




Lightweight materials
Ethereal materials are a must for any romantic fashion style lovers.

They will help you look stylish and feminine - two key qualities associated with the romantic fashion style.

Choose sustainable and ethically made clothing items from the best brands.


Puff sleeves
Tops and dresses with voluminous sleeves are essential for a romantic fashion style wardrobe!
They are girly and playful and can add a very interesting touch to your whole outfit!

Make sure your beautiful blouses come from ethical brands.

Pink
The color pink is considered to be very feminine and therefore it is a perfect fit for the romantic fashion style. You can wear an all-pink outfit or just one pink piece, integrated into a pastel or neutral-colored look.

Either way, the result will be fantastic!

Don't forget that by purchasing clothes from sustainable brands you help them grow and you help the planet.


Cute leggings
Leggings were initially designed to be worn to the gym, but because of their high comfort and versatility, they have gained a lot of popularity as streetwear.
They are celebrity-approved and you can create a romantic outfit by adding a blouse made from a lightweight material.

Discover the best affordable bamboo leggings.

Embellishments
Embellished tops or dresses are dreamy and romantic. They look gorgeous on any body type and you need no further accessories.

Find amazing clothing items to match your romantic fashion style wardrobe, made by these sustainable European brands.


Mini dresses
If you want to showcase your legs, choose a mini dress, in a pastel color, made from a beautiful material.
Make sure its texture is not a heavy one and wear your beautiful dress with heels or ballet flats.

You can now buy stunning sustainable dresses.


Midi dresses
Midi dresses are also great clothing items to consider buying when putting together your romantic capsule wardrobe.

They are very versatile, and you can wear them in most cases, both at work and during your free time.

Choose sustainable dresses made under high social and environmental standards.



Maxi dresses
Maxi dresses will always be fashionable and if you choose the right color and material they can be great for your romantic fashion style wardrobe.

For special occasions, maxi dresses are always good and they can save you a lot of decision-making time.

There are now many ethical and sustainable brands that produce beautiful dresses, and we recommend always choosing them over fast fashion.




Floral prints
Floral prints come with a young and joyful vibe and they can be worn in many combinations.
Choose a cute floral cardigan from a sustainable brand to add interesting, spring-like details to your look.



Jeans
Jeans are one of the most popular clothing items in the world. They are practical, versatile, and timeless and you can successfully create your romantic outfit with them.

Buy your next pair of jeans from an eco-friendly brand.

Blazers
Blazers are usually formal or semi-formal attire, but this doesn't mean they can't be fun!

A pink blazer will be the spot of color your outfit needs!

Check out our list of recommended ethical and sustainable blazers.

Peplum
Peplum tops are the cutest!

It can be a peplum blouse or a peplum jumper - any of them will make your appearance sweet and feminine.

Buy affordable jumpers from a sustainable brand.



Color block
Color block style is fashionable and can be super fun to wear. It is extremely uplifting and pleasant to look at, especially if the colors are close to each other on the color wheel - for example wear combinations of red and orange shades, red and pink shades, or blue and green shades. Don't forget to choose pieces with feminine details, such as puff sleeves or cute collars!

Buy ethically made clothes from one of these brands.




Crop tops
Crop tops are very cute and modern.
The best crop tops for the romantic fashion style are light-colored and made from materials with feminine details.

Let yourself be inspired by our sustainable crop top recommendations.

Oversized collars
Oversized collars are an eye-catching detail to any outfit.
They bring together Victorian and early school years influences and add a very playful touch to your look.

Don't forget that your clothes can now be both affordable and sustainable.



Bows
Whether it is a blouse that ties with a bow or maybe a beautiful dress, just make sure that you have at least one in your wardrobe!
Bows are chic and romantic and will always be stylish.

Take a look at these beautiful and ethical clothing brands.




Polka dot prints
Polka dot prints are very attractive. They are available in a variety of colors, but as a romantic fashion style enthusiast you should always go for white or pastels, and cute sleeves.

Make your choice sustainable and buy beautiful items from one of these awesome brands.




Off-shoulder tops
Off-shoulder tops are amazing choices for the warm weather!

They showcase your shoulders in a very flattering way, and if you want to add to their romantic vibes, you should always choose a top with frills rather than one with sharp cuts.

Take inspiration from our best sustainable tops recommendations that you can wear with jeans.


Cami tops
Cami tops are simple, yet effective items that any lady should own.
They are very easy to wear in a lot of flattering combinations and therefore they are perfect for the romantic fashion style, especially if you choose colors such as pink, coral, lilac, grape, light blue, or white.

Don't miss our article about the best organic cotton sustainable camisoles!



Bell sleeves
Blouses with bell sleeves are beautiful and can be worn with jeans, skirts, or trousers. They are very versatile and bring a romantic vibe to your outfit.

And in case you need more advice about versatile clothing, we've got you covered with our article about sustainable and practical clothes.



Extra tips for the perfect romantic fashion style wardrobe


Try to avoid straight lines, sharp edges, oversized clothes, rough materials, avant-garde jewelry, and geometric prints - all of these kill your outfit's romantic vibes!

Instead go for cute details such as bows, rounded necklines, clothes that emphasize the waist, puff sleeves, beautiful lightweight fabrics, delicate jewelry, and soft pastel colors.

Always buy sustainable clothes, made with high quality in mind, that you will be able to enjoy for a long time, and avoid fast fashion trends that go out of style overnight and are made of poor-quality fabrics.

If you liked our tips, share them with your friends!
Was this article helpful to you? Please tell us what you liked or didn't like in the comments below.
About the Author: Miruna Dulcea