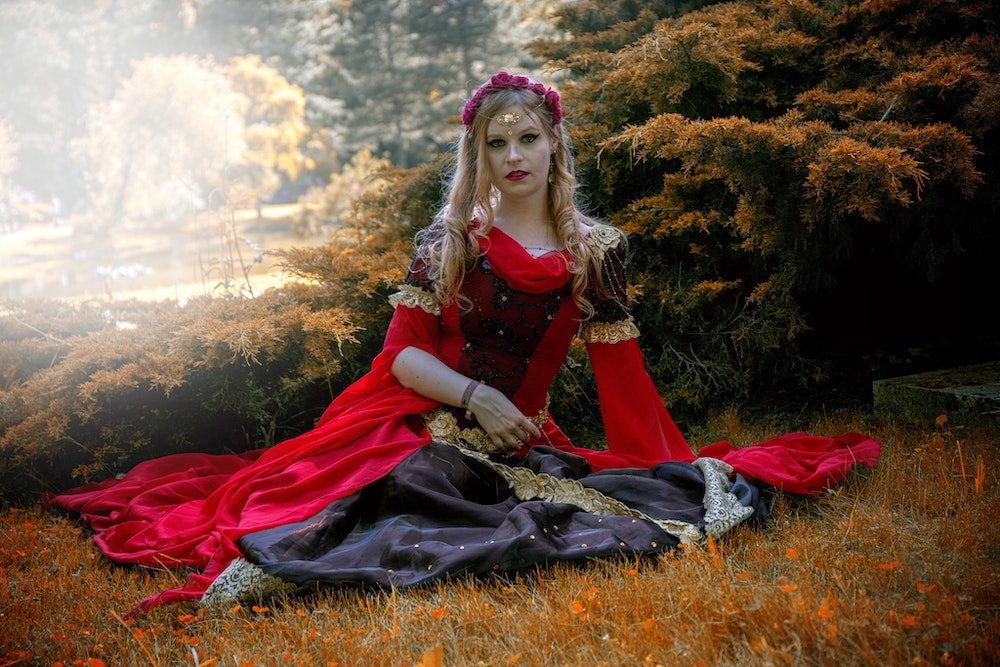 15+ Fantastic Outfits to Wear to the Renaissance Fair
A Renaissance fair is an outdoor festival full of fun, food, and games. Each Renaissance fair is loosely themed around the Renaissance and Medieval periods, giving visitors the perfect opportunity to dress up and be in character. 
You're not required to dress in costume when attending a Renaissance fair, but it's a lot of fun!
If you're looking for inspiration for what to wear to a Renaissance fair, look no further. We've put together plenty of ideas to help you plan the best Renaissance fair outfit possible. 
Here are a few outfit ideas and guidelines to get your creative juices flowing. 
Panaprium is proud to be 100% independent, free of any influence, and not sponsored. We carefully handpick products from brands we trust. Thank you so much for buying something through our link, as we may earn a commission that supports us.
Check the Time Period
Before planning your outfit, it's important to do a little research and check out the fair's website. 
The Renaissance spanned about three centuries, so some festivals focus on a specific period. For example, some Renaissance fairs focus on 16th-century Elizabethan England, while others celebrate all things Renaissance. 
You're not required to dress within the fair's time period. But, many people like to use that information as a starting point for their outfits. 
Also, some fairs have specially-themed weekends, such as "Pirate Weekend" or steampunk-themed events. These special weekends can be a fun opportunity to branch out and get creative with your look. 
Pick a Persona
After researching your festival's time period and dress code, it's time for the fun part: picking your outfit!
The world is your oyster when choosing a style for the Renaissance fair. We recommend picking a persona and planning your outfit from there. 
You can plan a historically accurate outfit specific to the fair's time period. For example, you can be a town peasant, a noblewoman, or even a queen. 
If historical accuracy isn't your thing, don't be afraid to veer off into the fantastical. Fairies, sorceresses, elves, and pirates are standard fantasy-inspired costumes at the Ren fair. 
A Linen Dress
A linen dress is one of the most versatile pieces you can wear to the Renaissance fair. There are a ton of different cuts and silhouettes that can work for so many different costume styles.
For example, you can create a Renaissance peasant look by pairing a linen dress with a corset or simple cloak and some lace-up boots. Or, you can wear a simple linen shift dress as the base layer of a more elaborate outfit. 
No matter what look you go for, make sure your dress is floor or ankle-length to fit the period. Check out our selection of sustainable linen dresses.
A Fairy or Elvish Gown
Try dressing as a fairy or elf if you prefer a hint of fantasy in your Renaissance fair look. These two styles are extremely popular at Renaissance fairs, so don't be afraid to go all out!
The perfect fairy outfit involves plenty of tulle, layers, glitter, and soft colors. A sleek bodysuit paired with a colorful tutu skirt is perfect for that ethereal look. Dressing as a fairy also requires cute accessories like fairy wings and a glittery crossbody bag.
You can easily look like an Elvish queen by wearing a floor-length gown with bell sleeves and nature-inspired embellishments. Think royal jewel tones like emerald green, light blue, or deep burgundy. Don't forget fun accessories like fake pointy ears and a delicate chain belt. 
An Off-the-Shoulder Blouse
A flowy off-the-shoulder blouse is an excellent option if you want a sultry, sexy vibe. A Renaissance fair outfit doesn't have to be conservative if you don't want it to be!
A boho-inspired blouse with a tight corset and a full skirt makes the perfect Renaissance maiden outfit. Just make sure your blouse is a neutral or earth-tone color. 
Finish off your look with a flower crown or braids, and you'll turn the heads of all the lords and ladies in no time. 
Shop our favorite sustainable blouses.
A Corset
A Renaissance fair is the perfect place to wear a corset. You can go all out with a historically accurate corset that lifts and compresses everything to new heights, or you can wear a looser and more comfortable one. 
A corset is an excellent choice if you want to dress as a queen or noble. You can find some great modern-day corsets made with luxurious fabrics, elaborate embroidery, and detailing worthy of any Renaissance royal.
Here are some of our favorite sustainable corsets. 
A Cloak
A voluminous cloak is a must-have for almost any Renaissance Fair outfit. It goes with anything, and it will keep you warm if the weather is on the cooler side. 
Choose a loose-fitting, flowy cloak that matches your outfit. There are various types, from floor-length dark brown cloaks to short hooded ones. 
If you're dressing as a traveler or peasant, an earth-tone cloak is best. However, for noble and royal outfits, choose a cape in a brighter color that matches your dress. 
Dress in Layers
Classic Renaissance style involves lots of layers, so plan accordingly. Think thin, breathable layers so you don't overheat in the warm festival weather. 
Start with a long maxi skirt or linen dress, and layer it with a corset, overskirt, or a simple vest. Top the whole look off with a black or brown cape, and you're good to go. 
You can also layer your look with sheer tights, chain belts, and other fun accessories to give your Renaissance fair outfit more pizzazz. 
Long Skirts
Long skirts are essential for any Renaissance fair outfit. A full ankle or floor-length skirt cinched at the waist is best for a historically accurate look. 
Renaissance fairs usually occur during spring and summer, so make sure your maxi skirt is made of cool, breathable material like cotton or linen. 
A long skirt is also an excellent option because it matches with anything. Wear yours with a wide belt, corset, off-the-shoulder blouse, or lace-up shirt for the ultimate Renaissance maiden or peasant look.
Explore our selection of maxi skirts for some outfit inspiration. 
A Lace-Up Shirt
A lace-up shirt fits the Renaissance theme while remaining cool, comfortable, and affordable. A top with a lace-up neckline looks best with a full maxi skirt or Renaissance pants. 
A boho-inspired linen or cotton top looks great on all body types and is easy to accessorize with a corset or vest. Most lace-up shirts feature bell or cuffed long sleeves, which are perfect for the Renaissance fair. 
Check out our favorite linen tops for all body types. 
Wide-Leg Pants
If skirts and dresses aren't your thing, you can wear loose-fitting, wide-leg pants to create a Renaissance fair look. Most boho or harem pants work perfectly. The best Renaissance pants use breathable fabric, like organic cotton. 
Wear high-waisted, wide-leg pants with a simple cotton tunic or tank top. You can also create a pirate look with a swashbuckling vest and wide-brim hat. No matter what you choose, make sure your Renaissance pants are comfy and relaxed. 
Explore our favorite boho pants to get started. 
A Vest & Overcoat
Wear a vest and overcoat to the fair if you prefer a more masculine, swashbuckling Renaissance look. A vest or overcoat works well for pirate, poet, and peasant outfits alike. 
A vest is easy to wear over a lace-up shirt or linen tunic. Go for earth tones like brown, black, or sage green. You can even coordinate your vest and overcoat with your Renaissance pants for an upper-class, noble look.
Check out our selection of affordable jackets and coats for inspiration. 
Earth Tones
Natural dyes were common in the Renaissance, so focus on rich earth tones and muted colors when planning your fair outfit. Colors like brown, beige, rust, and blue work best. 
A beige linen dress with a rust-colored corset or forest green overskirt creates the perfect Renaissance look. You can also wear a brown lace-up top with an earth tone skirt or pants.
Explore our favorite boho clothing brands for the best earth tone outfit options.
Fantastical Hair Accessories
No Renaissance fair outfit is complete without cute hair accessories. You can wear anything from a jeweled headband to a regal crown. 
You can also wear a simple hat if the fair is taking place outside in the hot sun. Avoid a modern-day baseball hat and go with something period-appropriate like a bonnet or straw hat instead. 
No matter what you choose, make sure your hair accessories feel comfortable and go with the theme of your outfit.
A Crossbody Bag
Your bag at the Renaissance fair can make or break your outfit. You don't want all of your hard styling work to fall victim to an out-of-place designer handbag. 
A small crossbody bag in a neutral or earth tone color is best. This style of bag won't draw attention away from your outfit. Instead, it's a simple way to carry around your modern-day fare while remaining comfortably close to your body. 
We recommend shopping for a vegan leather bag to complete your outfit. It will complement your Renaissance look without sacrificing the environment. 
Comfy Boots
Boots are the best footwear for the Renaissance fair. A pair of comfy boots are durable and easy to match with any outfit. 
Go with vegan leather Chelsea boots or knee-highs for a modern Renaissance look. You can also wear vintage-inspired brown lace-up boots for a more historical vibe. Boots made of vegan leather or canvas are best because they protect you from dirt, grime, and gravel on festival paths. 
Check out our selection of the best vegan leather boot brands. 
Durable Shoes
You will spend hours walking around on gravel, pavement, and packed dirt at the Renaissance fair. Therefore, a pair of durable, comfortable shoes is essential. 
If boots aren't your thing, you can wear flats, espadrilles, and even tennis shoes. No matter what you choose, we recommend closed-toe shoes for the ultimate level of comfort and safety. 
From comfy flats to recycled sneakers, explore our selection of American-made shoes. 
Was this article helpful to you? Please tell us what you liked or didn't like in the comments below.
About the Author: Liz Flynn