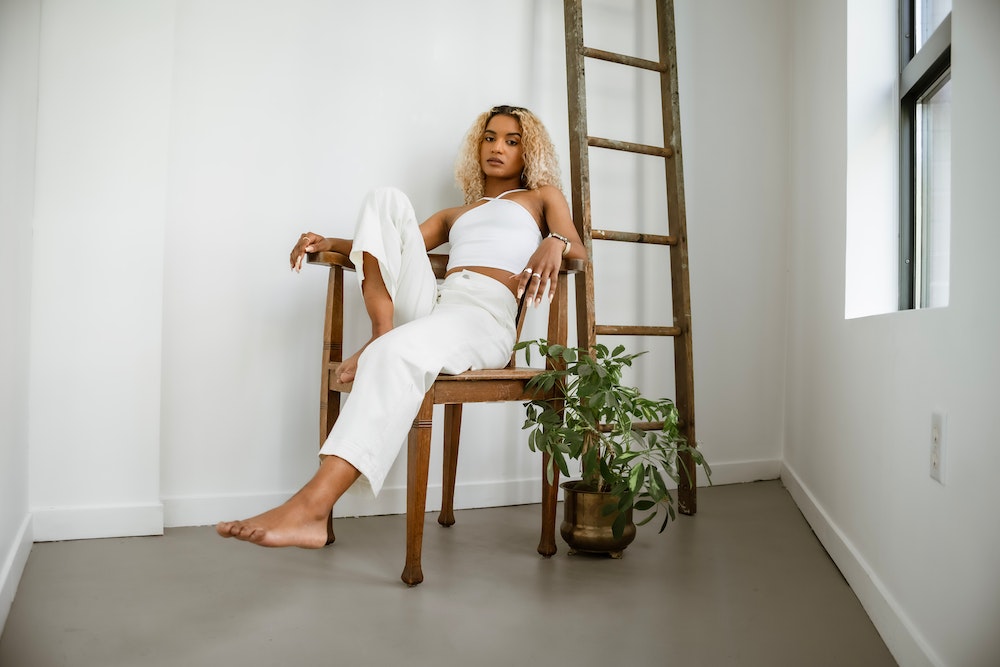 White Pants: 40 Best Outfits For Women In 2023
White pants are incredibly stylish because they exude a sense of elegance and sophistication. They create a clean and fresh look that can be easily dressed up or down for various occasions. 
Additionally, white pants offer a versatile canvas to experiment with a wide range of colors, patterns, and styles, making them a timeless and fashionable choice for any fashion-forward woman.
Whether you're dressing up for a special occasion or aiming for a chic and casual look, white pants are a go-to choice that can elevate any fit.  
In this 2023 style guide, we've compiled 40 outfit ideas that will inspire you to make the most of your white pants with confidence and flair.
Panaprium is proud to be 100% independent, free of any influence, and not sponsored. We carefully handpick products from brands we trust. Thank you so much for buying something through our link, as we may earn a commission that supports us.
Cropped Pants and Tank
This fit is great for summer or trips away. Pair white cropped pants with a tank in a contrasting color like rust or terracotta for a trendy vacation look. 
Complete the outfit with stylish gladiator sandals for an effortlessly chic ensemble.
Check out the 40 ultimate outfits for blue pants.
Linen Pants Suit
Embrace the elegance of a linen pants suit by choosing an olive-colored crop top to complement your white pants. 
This sophisticated outfit is perfect for a day at the office or a special occasion.
Take a peek at this stunning linen suit selection.
Tube Top and Kimono
 For a bohemian-inspired outfit, style your white pants with a tube top and a flowy kimono in a beautiful print. 
This combo exudes laid-back charm and is perfect for beach days or festivals.
Find your favorite kimono here.
Jeans and Bomber
Give your white jeans a street-style edge by pairing them with a trendy bomber jacket. 
This look is perfect for casual outings or running errands in style.
Discover the 16 best quality recycled jackets you should wear.
Satin Suit
Channel your inner Sharon Stone with a sleek white satin suit. 
Whether you wear it for a formal event or a night out, this outfit will make you stand out in the crowd.
Want hot tips on how to dress at work, then look no further.
Jeans and Cropped Shirt 
For a summery flair, wear white cropped jeans with a cropped shirt and a white tube top underneath. 
Add a pair of strappy heels to elevate the look for a night out with friends.
Check out these stunning cropped top outfit ideas now.
Crochet Sweater
Stay on-trend with a loose-knitted crochet sweater, one of 2023's hottest summer trends. 
Pair it with white pants for a chic and comfortable outfit perfect for breezy days.
Discover the best organic sweaters here.
Cut Out Pants and Cute Top
Embrace the bold style of the TV show Euphoria with cut out pants and a crop top. 
If you're feeling daring, this look will make a powerful statement.
Find more hook-up fashion tips here.
Camisole Bodysuit
Simple and classic, what's not to love? 
Choose soft colors like lilac or baby blue for your camisole bodysuit to create a dreamy and romantic outfit when paired with white pants.
Grab a cute camisole from this selection.
Tied Crop Top
This fit is feminine and cute.
Select a crop top with a girly pattern, like 1970s-style flowers, to embrace a bohemian vibe that's perfect for festivals or outdoor events.
Embrace bohemian fashion by checking out this guide.
Tied Shirt
Opt for a white shirt that ties above the navel to achieve chilled and arty vibes that are effortlessly stylish.
Take a peek at these lovely hemp shirts. 
Trench Coat
This is a classic wardrobe staple for any fashionista.
Layer your white pants with a classic trench coat for a timeless and sophisticated look that's perfect for any season.
Check out these stunning sustainable trench coats.
Corset
Wear a corset on its own or layer it with a baggy white shirt to maintain a casual yet alluring aura to slay this hot 2023 trend.
Cute corset alert, right here.
Oatmeal Turtleneck 
For a chic autumn look, pair your white pants with an oatmeal-colored turtleneck that adds warmth and style to your outfit.
Discover the best turtlenecks in our guide.
See-Through Shirt
It's sultry and sensuous!
Wear a see-through white shirt over a white vest for a fashionable and subtly sexy outfit.
Here are more hot ideas on what to wear under a see-through shirt.
Matching Tank 
Create a cohesive look with a matching white tank top to complement your white pants for an effortless and monochromatic ensemble.
Find your favorite tank from our selection.
White Vest and Sneakers 
Achieve a sporty and laid-back vibe by pairing white pants with a comfortable white vest and stylish sneakers for a chic athleisure look.
This look serves casual girl-next-door vibes.
Complete the look with a pair of sustainable sneakers.
Loose Fit Tee 
Baggy and oversized is one of 2023's hottest vibes.
Keep it casual and cool with a loose-fitting white tee that effortlessly pairs with white pants for a relaxed and stylish outfit.
Tempted by tomboy fashion, then this blog is for you.
Crop Tank Top
Embrace warm weather with a cropped tank top that complements your white pants, perfect for beach days or outdoor adventures.
Check out these super cute cropped tops now.
Striped Shirt Dress
Exude CEO-at-a-picnic vibes with a chic and playful striped shirt dress that pairs beautifully with white pants.
You could add a touch of glam by wearing it with a gold belt.
Fancy finding out how to dress charismatically in Dubai then take a look at our blog.
Poncho 
Embrace countryside hikes with a cozy poncho that adds a touch of boho charm to your white pants ensemble.
Pair with hiking boots – another 2023 fave.
Lean into Western- inspired fashion.
Spaghetti Strap Camisole
Create an all-white statement by pairing white jeans with a delicate camisole, a chic and minimalist combination.
You will look cute, casual and stunning in this fit.
Here are the 15 best Australian made jeans.
Vegan Leather Jacket
Add an edgy twist to your white pants outfit by throwing on a sleek leather jacket, a perfect choice for a night out or a casual day.
There are different styles of vegan leather jackets, so you can pick one that suits your vibe.
Fitted Blazer 
Achieve a polished and sophisticated look by layering your white pants with a fitted blazer for a professional and chic outfit.
Interested in finding the ideal blazer for your outfit, then check out this selection.
Tee and Bucket Hat
Choose a furry bucket hat to rock peak 2023 vibes when paired with a simple white tee and white pants for an effortlessly trendy look.
Get inspo for your fave skater looks from our guide. 
Cargo Pants and Black Tank
For date night, pair white cargo pants with a black tank top and a cute handbag.
You can't go wrong with this chic and stylish ensemble.
Here are the best outfits to wear to a comedy show date.
Long Blazer
Elevate your white pants with a long blazer for a chic and contemporary outfit perfect for the office or evening events.
Shop for a sustainable blazer to complete your look here.
Crop Shirt, Heels and Shades
Embrace both class and sass with a cropped white shirt that pairs beautifully with your white pants for a trendy and flirty look.
Add cute heels and a pair of sexy sunnies to make this fit slay.
Complete your look by picking the best shirt for you.
Scarf Top
This is a stunning nod to '70s fashion. 
A scarf top is a beautiful makeshift top created by tying a scarf around your white pants for a bohemian-inspired outfit.
For more tips on how to embrace 70s fashion, look no further.
Sweats and Sports Bra
Rock a hip-hop-inspired look by pairing white sweatpants with a sports bra and a stylish baseball cap.
Hip-hop fashion is a dominating 2023 trend.
Backless Camisole
Add an elegant twist to a classic look with a stunning backless camisole that pairs beautifully with white pants.
It's the perfect way to add subtle glam!
For more backless outfits, check out our blog on what to wear while you get a back tattoo.
Tracksuit Jacket
Retro fash is major at the moment.
Embrace an '80s throwback by adding a tracksuit jacket to your white pants for a cool and sporty touch.
Here's how to dress like it's the '80s wearing normal clothes.
Long-Sleeved Bodysuit
Flash your hip bones with a trendy long-sleeved bodysuit in an eye-catching color like neon orange ala Kim K.
Check out these 15 hot outfits to wear with a bodysuit.
Canvas Shirt
Achieve hot workwear and streetwear vibes with a chic canvas shirt layered over your white pants.
With a touch of masculinity, it's a fashion-forward look.
Take a peek at these 15 best USA made shirts.
Headscarf and Shirt
Display a not-so-quiet luxury style by pairing a white shirt with a stylish headscarf for an effortlessly chic and sophisticated outfit.
This look is major in 2023.
Discover more flamboyant fashion ideas now.
Pussy Bow Shirt
Nail timeless elegance with a white pussy bow shirt that adds a touch of femininity to your white pants ensemble.
When it comes to fashion, Italians do it best – check out this stunning shirt selection.
Baggy White Tee
Achieve a chilled, elegant, and sophisticated look with a baggy white tee.
Pair with chunky black boots for an edgy flair - the chunkier, the better.
Take a peek at this guide of what to wear at a Korn concert.
Cardigan
Stay cozy and stylish. Wear a cardigan that complements your white pants for a chic and comfortable outfit. 
Pick a color that goes with your skin tone or eyes and you are set to go.
Check out these amazing cardigans now.
Fitted Sweater
Add a touch of refinement and warmth with a fitted white sweater that pairs beautifully with white pants for a classic look.
Discover the best sweater for your outfit from our selection.
Tucked-In Linen Shirt
Choose a linen shirt in earthy or jewel tones and tuck it into your white pants for a trendy and effortless outfit. Happy styling!
We compiled this list of linen clothing brands from Australia, just for you.
Was this article helpful to you? Please tell us what you liked or didn't like in the comments below.
About the Author: Catriona Jean