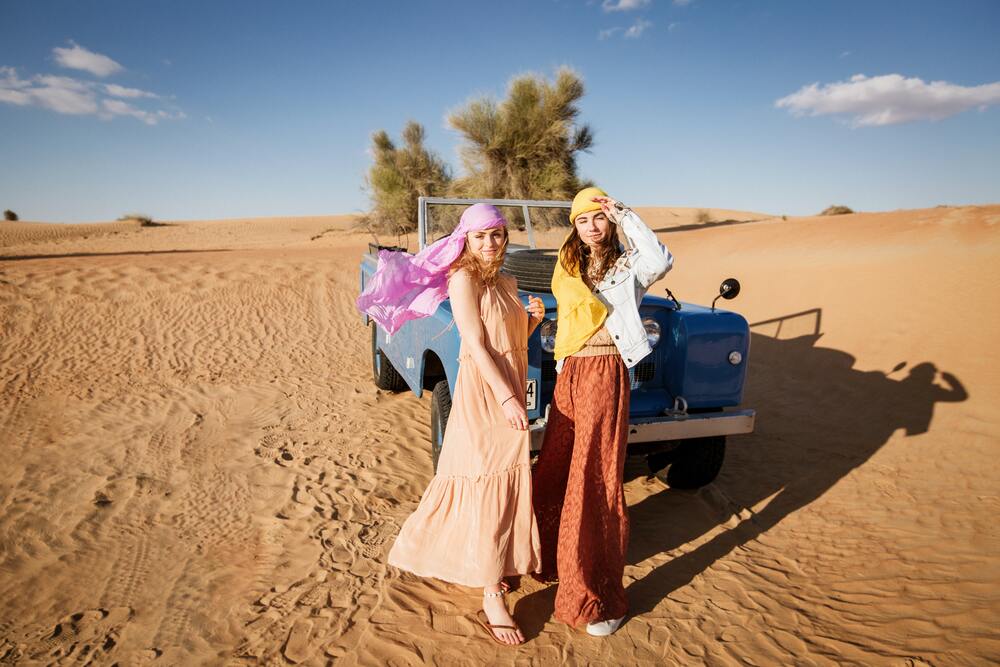 How To Dress Charismatically In Dubai
A flourishing metropolis in the middle of the desert, Dubai is a place where old traditions and modern luxury coexist. It's crucial to be aware of local dress standards in Dubai since clothes deemed decent elsewhere may not be appropriate in this great city of contrasts.
Due to the hot and humid weather, dressing conservatively is not only a respectful thing to do but also a practical need in Dubai.
Are you curious about what you can wear in Dubai? This comprehensive guide will help you understand Dubai's cultural norms, dress rules, everyday clothes, fashion advice, and recommended outerwear, innerwear, and accessories for men and women.
Whether in Dubai for business or on vacation, dressing appropriately is essential for creating a good impression and making the most of your time there.
So let's take a look at how to dress in Dubai.
Panaprium is proud to be 100% independent, free of any influence, and not sponsored. We carefully handpick products from brands we trust. Thank you so much for buying something through our link, as we may earn a commission that supports us.
Denim jacket
Even in warmer months, bringing a light jacket or sweater for the cooler evenings is essential. You may dress up a dress by layering it with a light denim jacket or wear it casually throughout the day with jeans or slacks.
Here are some of the best affordable denim jackets that every woman needs.
Leggings or tights
Wearing tights or leggings underneath a dress or skirt is recommended since covering one's legs is considered respectable in many religious establishments and rural areas. Similarly, wearing a long tunic or dress over leggings or tights is stylish and practical.
Check out our selection of the best affordable and organic bamboo leggings.
Ballerinas
If you walk long distances, I recommend you choose flat or low heel shoes.
For your next lengthy stroll, go for a lightweight shoe. Ballerinas let you walk easily without considering how many kilometers you've gone. Wear them barefoot in the summer and with tights in the winter.
High-waisted pants

Women can also wear high-waisted jeans or dress pants in Dubai. Combine them with a blouse or shirt tucked for a polished yet put-together look. If you don't fancy blouses, you can wear a sleeveless shirt as long you cover it up with a cardigan or jacket.
Maxi dress
 
A maxi dress is another great attire women can wear in Dubai and fit right in without turning heads. Choose soft, breathable sustainable materials to make you feel comfortable all day.
A great maxi dress can complement your style and come in many shapes, colors, and patterns. They are versatile enough to wear with heels on a night out or sandals throughout the day.
Here is our selection of the best affordable maxi dresses.
Maxi skirts
Wear a maxi skirt to cover your legs. You will look well dressed up, making them ideal for daytime wear. A loose and airy long skirt will keep you comfortable in hot weather while also helping you to follow cultural modesty rules.
It will be necessary while visiting mosques or holy locations where you will want to keep your legs covered. Wear them with a thin cardigan for a chic and cozy ensemble. Here is our selection of the best maxi skirts for women.
Wide-leg pants
Wide-leg pants are the wardrobe staple that will make you feel extra. Also known as palazzo pants, they are a favorite summer season style because they are loose and flattering in light, lightweight fabrics that are comfortable in even hot weather.
And the best part? They are flattering on all body shapes. Whether you have thick thighs, big busts, or slim waist, you can't go wrong with these wide-leg pants in Dubai.
Knee-length shorts
You can't visit Dubai without mentioning the famed Dubai Desert Safari. The journey on the golden sands among the enormous dunes is one of the most thrilling sensations in Dubai. You can wear knee-length shorts if you plan on going for one.
They're appropriate for both men and women. Women can also wear knee-length skirts. Also, because you might trek often, I recommend you wear flip-flops if possible. Avoid sandals and shoes since they can carry a lot of sand.
Sandals
Sandals are the footwear of choice in Dubai since they are stylish, functional, and comfortable. Go for ones with a thick sole for extra protection and stability. Protect yourself from the intense sunlight in Dubai by bringing along some shades.
Check out our selection of affordable, vegan, sustainable sandals.
Sunscreen
Because temperatures in Dubai can hit as high as 40 degrees Celsius, don't forget to pack an SPF sunscreen. Apply it regularly throughout the day, even walking around open-air areas or relaxing on the beach.
Closed-toe shoes
In Dubai, for ladies, I recommend you go for closed-toe shoes if you are shopping. Open-toed shoes can be unpleasant and unsanitary in the hot heat, sand, and dust. Choose a pair of sneakers or flats since they are lightweight, flexible, and airy.
Cooling towel
When you combine the scorching desert heat with the urban jungle of a metropolis, you get a pretty hot combo. A cooling towel is a fantastic way to cool off while exploring.
Drape one over your shoulder, neck, or head to cool yourself and keep the sun at bay. I usually bring one in my daypack if I go exploring somewhere hot or have a vigorous activity scheduled.
Jumpsuit
Dubai is famous all over globally for its wild parties and luxury nightlife. You'll want to look your best, and an eye-catching jumpsuit is ideal for most situations.
If you're unsure how to dress modestly, this outfit will cover your legs, and you can easily throw a thin shawl or sweater over your shoulders for additional coverage.
Here are some of the best affordable and sustainable jumpsuits.
Lightweight slacks
 
Lightweight pants paired with a button-down shirt or polo shirt with short sleeves are appropriate attire for daytime activities for men. Walking around the city is best done in closed-toe shoes like loafers or sneakers, while sandals and flip-flops are acceptable at the beach or pool.
On chilly evenings, it's wise to have a lightweight jacket or blazer that may be dressed up or down.
Business attire
The business attire in Dubai is typically more formal than in other places, so keep that in mind if you're applying for jobs there. This may require formal attire, such as long-sleeved shirts, pants, and shoes.
Depending on your company's culture, ties and suits may also be mandatory attire. If you are unclear about the dress code for an event, it is best to overdress rather than underdress or ask.
Abaya
Since Dubai is a predominantly Muslim city, female visitors must dress appropriately. This necessitates at all times keeping your shoulders and knees covered.
Even if an abaya isn't required, it's smart to carry a light cardigan or scarf if you need to cover yourself. Similarly, loose-fitting garments are preferable in hot weather because they allow air to circulate freely.
The thobe
Men traveling to Dubai are welcome to dress traditionally by donning thobes. The thobe is a loose-fitting, floor-length robe accessorized with a ghutra (a headscarf) and an agal (a thin, black rope).
Because of their low weight and high level of comfort, thobes are a popular option in warm climates. A kandora, a similar garment worn widely in the United Arab Emirates, is another option—finish the look with dress shoes.
Watches

Whether you wear a traditional leather strap or a sleek metal bracelet, a timepiece can elevate even the most casual outfit. It's also helpful for keeping track of time while out and about in the city or at a business meeting.
Check out our selection of affordable, vegan, eco-friendly Apple watch bands here.
Bikini and swimsuit

Swimwear of any kind is permitted on both beaches unless they are made of see-through material. Women can wear any one-piece swimmers, burkini, or sports suit they like, while males can wear nearly anything they want as long as it is classy.
It's also worth noting that men should choose loose slacks over tight swim pants or swim shorts. Our selection of the best affordable and sustainable bikinis made under high standards is here.
Scarf
When visiting Dubai's religious places, a scarf is another helpful item to have on hand. You may use them as a coverup for your head and shoulders or as a stylish accent to complement your attire.
Here are some of the best ethical, vegan, and affordable scarves.
Jewelry
When it comes to jewelry, the possibilities are practically limitless. However, remember the cultural dress code and avoid wearing anything too bright or exposing. Keep your jewelry simple and subtle so as not to draw undue attention to itself.
Belt
Belts are a great accessory; you can use them for practical and aesthetic reasons. A sleek leather belt may make an outfit appear more put-together, while a brightly colored belt can liven up an otherwise monochromatic ensemble.
Belts, like jewelry, should be chosen with cultural standards in mind, so don't go overboard with bling or expose too much skin. For inspiration, check out these affordable, vegan, and ethical belts for men and women.
Hat
A hat is an easy way to block the sun while you're out and about in the city. You may dress up your attire with a wide-brimmed sun hat or go for a more relaxed vibe with a baseball cap. Just don't wear any caps that include hateful messages or images.
Sunglasses
Not only can sunglasses shield your eyes from the sun's glare, but they also serve as a stylish accessory. Choose from timeless frames like aviators and wayfarers or modern options like round and cat-eye shapes.
Here are some of the best affordable and sustainable sunglasses.
Backpacks
Instead of carrying a formal purse, a backpack might be a terrific option for a more relaxed outing. A leather rucksack can dress up an outfit, while a sportier one is great for a day of urban exploration.
If you are interested in cheap, cruelty-free, and sustainable backpacks, check out these 14 best affordable, vegan, and eco-friendly backpacks.
Do women cover their hair in Dubai?
Not really. Ladies don't need to cover their hair in Dubai. However, you might be required to do so in some worship places. But these places usually have some attire that you can borrow to cover up.
General tips on what to wear in Dubai
Dressing cautiously and modestly is recommended when visiting Dubai's many religious sites. Women should dress modestly by covering their hair and wearing loose-fitting garments that conceal their arms and legs.
Men should dress conservatively by wearing long sleeve shirts and trousers. Women visiting mosques should dress modestly and cover their bodies with a black abaya.
The need for modest attire is less strict in public places like parks and shopping centers. Men can wear shorts and T-shirts but should cover up as much skin as possible.
Skirts or shorts should be at least knee-length, and women should not wear anything too skintight or exposing. Wearing exposing or skimpy swimwear anywhere other than the beach or pool is forbidden.
Companies and industries have different standards for appropriate office attire. However, staff members should always dress appropriately and in a businesslike manner.
Women can wear dresses, skirts, or pantsuits, while males should wear business suits or collared shirts with dress pants. Dressing modestly and adequately is essential in the office, and employees should avoid wearing revealing apparel.
In general, people visiting Dubai would do well to keep their attire conservative and avoid displaying skin. This demonstrates appreciation for the customs and values of the area. Visitors may create a good impression and feel more at ease in the city's many environments by wearing them correctly.
Preview Of the 20 typical attire options for men and women in Dubai
In brief, Here's what to wear in Dubai depending on the occasion, event, and location:
Traditional Arabic Clothing:
Thobes for men
Abayas for women
Workplace attire:
Business suits for men
Long-sleeved shirts and pants for women
Casual attire:
Polo shirts and khakis for men
Maxi dresses and skirts for women
Evening attire:
Tuxedos and formal suits for men
Evening gowns and cocktail dresses for women
Beach attire:
Swim shorts and rashguards for men
Full-coverage swimsuits and coverups for women
Athletic attire:
Lightweight and breathable fabrics for men
Modest sportswear and hijabs for women
Religious site attire:
Modest and covered clothing for men
Complete coverage of abayas and hijabs for women
Festival attire:
Traditional Emirati clothing for men and women
Flowy kaftans and thobes for men and women
Western wear:
T-shirts and jeans for men
Sundresses and skirts for women
Cultural celebrations:
Traditional attire specific to cultural celebrations
Dressy attire with conventional elements for men and women
Wrap-Up
Adherence to cultural standards and dressing sensibly when visiting Dubai is crucial. Modest attire requires women to avoid exposing too much skin around the neck, shoulders, and knees.
Women often wear Abayas, Maxi dresses, Palazzo pants, kaftans, and modest swimwear. Wearing scarves, closed-toe shoes, and comfortable walking shoes are advisable.
Men should wear pants, a button-down shirt with short sleeves, closed shoes, and a light jacket. Avoid wearing shorts in public and choose lightweight pants made from breathable materials like chinos or jeans. Men's apparel often consists of Thobes, Kanduras, and other traditional forms of Arabian dress.
Wearing sun protection accessories, including hats, sunglasses, and scarves, is advised for both sexes. Accessories such as jewelry, watches, belts, and purses are beautiful ways to improve an outfit.
Remember that Dubai enforces a strict dress code in public places and religious institutions. In addition to demonstrating appreciation for the local culture, dressing for the climate and terrain will make sightseeing easier and more enjoyable.
Was this article helpful to you? Please tell us what you liked or didn't like in the comments below.
About the Author: Dinushka Breaker Gunasekara