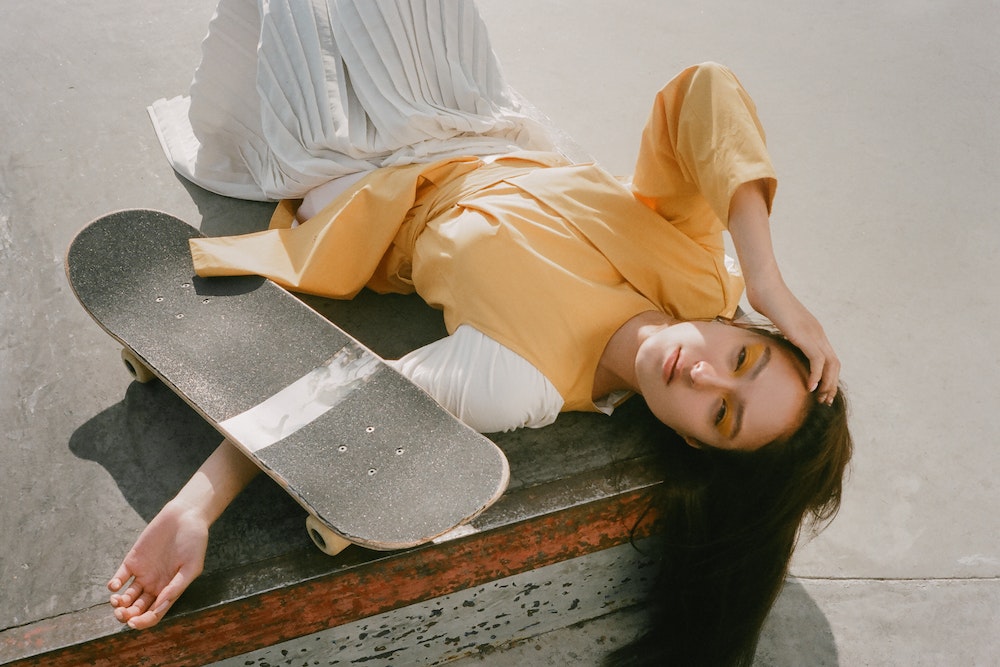 Ultimate List Of Hot Skater Fashion In 2023
Skater fashion for women is known for its cool, laid-back, and edgy aesthetic, and there are so many ways to integrate its style. 
Whether it be for a hot date, chilling at the skatepark, or out shopping with friends, we have the skater style to suit almost any occasion. 
Check out these 20 different styles of skater fashion for women that are hot in 2023:
Panaprium is proud to be 100% independent, free of any influence, and not sponsored. We carefully handpick products from brands we trust. Thank you so much for buying something through our link, as we may earn a commission that supports us.
Streetwear Skater
With its loose fits and cool attitude, streetwear and skater style go hand in hand.
Embrace the urban skater aesthetic with baggy jeans, oversized hoodies, and skate shoes.
Check out the 20 best affordable and sustainable streetwear brands.
Punk Skater
This look is the regular skater look's edgier little sister. It's less traditional and has more of an attitude.
Combine elements of punk fashion with skater style by incorporating studs, plaid skirts, band tees, and combat boots.
Take a glance at our list of the best ethical punk brands around.
Retro Skater 
Every corner of fashion leans into nostalgia, and skater style is no different.
Channel a retro vibe with high-waisted Mom jeans, vintage band tees, and classic skate shoes.
We've compiled a list of the 10 best affordable and sustainable Mom jeans brands around.
Sporty Skater
Skater style is technically a sporty look, and you can lean further into the athletic vibe with your outfit to give it that added pow.
Opt for athletic-inspired pieces such as leggings, crop tops, and sneakers for a sporty and energetic ensemble that will have you looking game.
Check out our pick of the 10 best affordable and organic bamboo leggings here.
Grunge Skater
Skating culture peaked in the 90s, so you could channel that era even more by going a little grunge.
Embrace the 90s grunge aesthetic by styling ripped jeans or hot pants, flannel shirts, beanie hats and chunky boots.
Check out these sustainable and cool grunge brands here.
Feminine Skater 
Although traditionally a masculine sport, in the last twenty years, women have been more involved in skating, from actual competitions, to pop culture – Avril Lavigne, I'm looking at you.
Add a feminine touch to your skater style with checked miniskirts, skater dresses, floral prints, and pastel colors to turn up like the ultimate skate chick.
Here you can find our ultimate guide to pulling off the skater chick aesthetic.
Thrift Store Skater
Skaters are notoriously make-shift, so don't be afraid of things not matching when pulling off your look.
Show off your creativity by mixing thrifted clothes from different eras and styles and you will look like the Gen Z queen of the skatepark.
Have a look at these online thrift stores that are killing it on Instagram right now.
Edgy Skater
We all know that skaters are cool, facts. You could embrace the edgier skater style by adding a few key items to your outfit.
Experiment with edgy elements like leather jackets, ripped tights, and studded accessories for a bold and rebellious vibe.
Stay sustainable with this amazing selection of vegan leather jackets. 
Pin-up Skater  
Skating fashion doesn't have to be edgy or boyish.
Get inspired by the pin-up fashion of the 1940s, with retro-fitted tops, denim shorts and vintage sunglasses. Take it one step further and add a quiff to your hair and a touch of red lipstick. 
Have a glance at the 20 best affordable and sustainable denim shorts.
Tomboy Skater
By its very nature, skating is a tomboy sport, and it's a style that when pulled together can make you look casual and hot, ala Billie Eilish.
Embrace a tomboyish style with oversized flannel shirts, cargo pants, and skate shoes for a laid-back and chilled appearance.
Find more attractive tomboy outfit ideas here.
Colorful Skater
Skating fashion doesn't need to be muted colors and subtle tones.
Inject vibrant colors into your skater outfits with neon accents, tie-dye prints, and bold accessories – the more playful the better!
Check out the 20 best sustainable tie-dye clothing pieces we know you'll love.
Minimalist Skater
Sometimes less really is more.
Keep your outfit simple and clean with monochromatic outfits, streamlined silhouettes, and understated skate shoes.
Keep yourself on the right track by checking out our minimalist fashion guide.
Boho Skater
Boho-chic has made a huge comeback in the past year, and the good news is you can incorporate it into your skater outfit without it looking jarring. 
Combine bohemian elements like flowing maxi skirts, crochet tops, and floppy hats with your skater wardrobe for a delightful boho-skater fusion.
Complete your look by checking out some of the most affordable USA-made boho brands. 
Vintage Skater
For a skater look that screams authenticity, go vintage shopping. 
Hunt for vintage skate tees, retro jeans, funky sunglasses and old-school skate shoes to create an authentic vintage skater style.
Here is our list of the 10 best affordable online vintage stores in Europe.
Artsy Skater
Skating is a free and expressive sport – and there's no reason why your style can't reflect that.
Express your artistic side with graphic tees featuring artwork, paint-splattered jeans, and statement accessories.
If you're not sure where to start, have a look at our guide to artsy fashion.
Skater Chic
It feels like it should be a total mismatch, but the contrasting styles of skater and smart work really well if styled in a thoughtful way.
Add a touch of class to your skater gear with tailored blazers, sleek sneakers, and structured bags for a more polished and sophisticated look.
Find your favorite blazer from our list of the best ethical and sustainable blazers.
Hip-Hop Skater
This look is Skater 101 and can be pulled off with effortless style and ease.
Blend hip-hop influences with skater fashion by wearing baggy jeans, oversized jerseys, and high-top sneakers.
Get inspired by hip-hop fashion by taking a look at our must-have outfits for a hip-hop class.
Preppy Skater
Maybe you wouldn't automatically think of pulling the opposing looks of skater and preppy together, but merging these styles can create a head-turning ensemble.
Combine preppy elements like collared shirts, pleated skirts, and loafers with your skater pieces for a preppy-skater fusion style that will look cute and fun.
Build the look by checking out this list of super cute tennis skirts.
Summer Skater
This style is perfect for chilling outdoors with friends, or even going on a date.
Embrace the summer vibes with flowing sundresses, denim shorts, and sandals for a laid-back and carefree skater look.
Check out our list of 20 cute and cheap summer dresses.
Festival Skater
Take inspiration from celebrities at Coachella and other happening music festivals for this eye-catching and fun look.
Integrate boho and skater elements together for a festival-ready style with fringe tops, denim cutoffs, and wide-brimmed hats. You could even add a bit of face glitter for that extra sparkle.
Looking for more festival inspiration, then check out our Burning Man outfit blog.
Was this article helpful to you? Please tell us what you liked or didn't like in the comments below.
About the Author: Catriona Jean