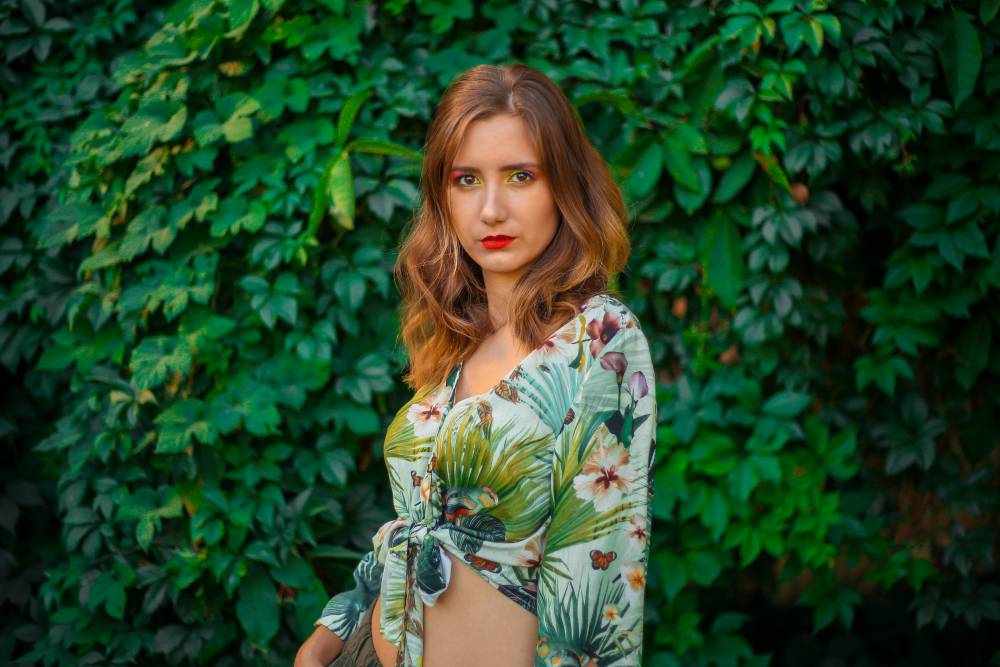 The 10 Wonderful Rs of Sustainable Fashion
Getting into sustainable fashion can be quite challenging. It's easy to feel overwhelmed and have no idea where to start when you are trying to live sustainably.

The 10 simple and practical Rs of sustainable fashion helps you easily build a sustainable and ethical wardrobe. They are a great place to begin your sustainable fashion journey and quit fast fashion.

If you want to invest in higher quality pieces that fit you perfectly, it's time to become familiar with the 10 Rs for sustainable fashion. You probably already know about the 3 Rs, Reduce, Reuse, Recycle, but a few more Rs are important as well.

Our global fashion consumption keeps increasing and causes major disasters. Fashion is one of the largest polluters globally.

The global apparel and footwear industry accounts for 8% of the world's carbon emissions, as reported by the Fashion Transparency Index. If the trend continues, emissions are expected to grow by 50% by 2030.

The Global Fashion Agenda reports that more than 80% of all clothing produced ends up in landfills to decompose or be incinerated globally. More than 16.9 million tons of used textile wastes are generated every year in the United States alone, according to the Environmental Protection Agency (EPA).

The fashion industry has a catastrophic impact on the environment. We need to rethink completely how we produce and consume clothes to prevent irreversible damage to people, animals, and the planet.

If you are new to conscious or slow fashion, don't try to change everything at once. Just a few simple steps in the right direction help tremendously.

Progressively over time once you feel comfortable, you can incorporate more sustainable practices into your daily routine. Use the 10 Rs of sustainable fashion to build a beautiful and functional wardrobe that also respects people and the environment.


Panaprium is proud to be 100% independent, free of any influence, and not sponsored. We carefully handpick products from brands we trust. Thank you so much for buying something through our link, as we may earn a commission that supports us.

1. Reduce


The most sustainable garment is the one you already own. The first step to sustainable fashion is to buy fewer clothes overall. It not only leads to less clutter in your closet but also saves money, and the planet.

The overproduction and overconsumption of cheaply made clothing aren't sustainable. It's time to move away from excessive consumerism to save natural resources, water, and energy.

Buying less also means sending less waste to landfill. It reduces pollution and greenhouse gas emissions caused by production and transportation.

Try to prioritize quality over quantity. Get pieces of clothing that last longer and can be worn beyond the season instead of trendy high-street fashion.

By reducing the number of clothes you own, you can easily start to live more sustainably. Today, Americans buy five times more clothing than they did in 1980.

Clothes are only worn for around a quarter of the global average in America, according to Euromonitor. The rise of fast fashion over the last 20 years made us consider clothing as a disposable commodity.

It's perfectly possible to look stylish with less. Only purchase what you truly need, and garments that are essential to your wardrobe. One great way to do so is to build a capsule wardrobe.

With about 30 to 40 high-quality and versatile pieces, you can mix and match to create many different outfits that look fabulous. It's a minimalist approach to fashion.

Oftentimes, less is more, and owning less is a great feeling. Plus, you can easily improve your fashion style over time by focusing on the essentials that you make feel and look great.

Read through my minimalist clothing list for inspiration.

You can look amazing wit ha minimal wardrobe. It's entirely part of the concept of sustainable living and many people are happy and successful with it. It saves time, money, space, people, animals, and the planet.

Reduce isn't the most fun R of sustainable fashion but it's one of the most effective. Be a conscious consumer and reduce what you buy. It's the best way to decrease the impacts of your fashion choices.


2. Reuse


Another simple R of shopping for sustainable fashion is Reuse. Wear the pieces in your closet longer and take good care of them. Consider buying second-hand clothing.

Consumers all other the world choose second-hand clothes as an affordable solution to sustainable fashion. Buy second-hand clothes either at thrift, vintage, resale, consignment stores or at online marketplaces.

You can easily find cheap, stylish, and unique pieces there to build an ethical and sustainable wardrobe.

Highly popular places where people around the world list items that you can reuse are:

Some great online marketplaces to buy high-quality used fashion are:

You can also visit many brick-and-mortar locations around the United States to find high-quality used clothing:

You can also buy second-hand items from your friends and family. Why not organize a swap party over the weekend? It's a very fun activity to set up a pop-up shop at your house and invite your friends over.

You can refresh your wardrobe with new looks and get rid of the clothes you don't wear. Search for clothing swap groups in your area on Meetup if you don't have any friends in your size to trade clothes with.

Take good care of your clothes to ensure that you can reuse them often:
Buy high-quality clothing,
Wash them in lower temperatures,
Hang them to dry, 
Try to remove stains right away. 

A survey from Barnardos reveals that women in the United Kingdom wear an item seven times on average. 33% of women who responded to the survey consider clothes become old after wearing them fewer than three times.

You can save money, time, and resources if you wear your clothes longer, especially if they still fit you and are in great condition. The average expectancy of clothes is more than two. So explore the clothes you have in your closet before buying anything new.


3. Recycle


Recycling is a great way to keep your clothes out of landfills. The average American throws away 70 pounds of clothing every year. And more than USD 500 billion is lost due to a lack of reuse and recycling each year, as reported by the Ellen MacArthur Foundation.

You can help solve the textile waste problem by discarding your used clothes responsibly. Less than 1% of all textile waste is recycled into new clothes globally. You can of course sell or donate your old clothes, or recycle them.

If your style or size changed and you'd like to sell your used clothes, visit one of the numerous places listed above where you can buy and sell second-hand clothing.

You can donate clothing to for-profit companies that sell your clothing contributions and may donate a portion of their profits to charitable causes.

You can also donate clothes in good condition to homeless and women's shelters, family service agencies, immigrant support groups, and churches. Blankets, towels, and linens can go to animal shelters in your local area.

Research non-profit organizations and charities on Charity Navigator or CharityWatch to learn more about them.

Some amazing non-profit organizations and charities to donate your clothes to are:

Or you can ask following charities to collect your used clothes in a house-to-house visit:

When your used clothes cannot be sold or donated, you can recycle them. To do so, join textile recycling programs from towns, councils, cities, fashion brands, and retailers that collect and recycle clothing.

Or you can drop off your clothes at organizations that have direct relationships with textile recyclers such as:

Or visit RecycleNow to find out what you can recycle at home or in your local area.

Recycling clothing is one of the best things you can do as a conscious consumer. You extend the life of clothes and ensure your closet lives a full life.

Reduce, reuse, and recycle are the first and most crucial steps toward sustainable living. The first 3 Rs help you move away from fast fashion and mindless consumption.

When you need to update your old wardrobe, why not look for second-hand fashion? You can find extraordinary pieces that nobody is wearing, more than you can imagine.

Even pre-loved high-end luxury designer items can be found on resale platforms. Or visit thrift stores, charities, and consignment shops for your everyday tees, jeans, and jackets.


4. Repair


Whenever possible, repair and reuse your clothes instead of buying new ones. Always try to repair your clothing and shoes before getting rid of them.

Try to take better care of the clothes you already own. It has a huge impact on the environment, ecosystems, and the planet. Plus, it saves money and helps your budget.

As much as you can, make your clothes last longer and repair them to a possible extent. It becomes a lot easier to do once you quit fast fashion. Clothes sold in high-street malls are so cheap, they aren't worth repairing.

Why bother fixing broken buckles, holes, loose threads, missing buttons, snagging zippers, when garment construction is so poor and new items are so affordable?

Many people don't bother repairing because they are accustomed to fast fashion. They consider clothing as a disposable commodity. It's time to choose higher-quality pieces and move away from fast fashion.

Taking better care of the clothes you have makes a huge difference in building a more sustainable future. If you can't repair yourself, find local tailors and cobblers and develop good relationships with them.

But you can also learn how to sew and do it yourself. Instead of buying a new replacement immediately, try to fix things first.




5. Repurpose


You can cut and sew used garments and other textiles to create new items of higher value. Try to get creative with your old clothing. You can find amazing ideas for old textiles on Youtube, Pinterest, or Instagram.

If you take the time to give a new purpose to old items, you can make something truly exceptional and unique. It's an outstanding way to preserve the environment and reduce waste.

Make clutches, bags, totes, wallets, cleaning rags, pillowcases, filters, or new garments instead of throwing old clothes away. You can even shred used clothing and other textiles into materials for insulation, carpet padding, yarn, and other uses.

Many apparel brands also sell repurposed clothing that requires almost no additional resources to produce and reduces textile waste ending up in landfills.

JJ Vintage reuse, recycle, and repurpose old clothes, mostly from Nike, into unique and stylish pieces.

Temporary reuses old clothes to create new items with unique patterns instead of producing more waste.

Zero Waste Daniel transforms fabric scraps into unisex apparel.

The Renewal Workshop is making the planet healthier by turning discarded clothing and textiles into Renewed Apparel.

Try to get creative with your closet before getting rid of unwanted clothes. There are easy ways to repurpose many items in your wardrobe. It gives a new life to old items in your wardrobe and extends the time they are being used.

Repurposing or upcycling are outstanding ways to minimize the impact of fashion on the environment.




6. Rethink


It's time to rethink the way we produce and consume clothes. Making conscious wardrobe choices not only helps the planet, people, and animals but also helps you save money and improve your fashion style.

Our fashion addiction and excessive consumerism are extremely damaging to the environment. Let's think twice about the consequences of our purchase decisions.

More mindful clothing choices preserve the Earth and decrease textile waste, water, air, and soil pollution, hazardous chemicals, and carbon emissions.

Simply rethink how you buy clothes to promote sustainability in fashion. It's useless to have a closet full of clothes that you don't wear. Only buy clothing that you genuinely like and plan to wear for a long time.

When out shopping or surfing online for your next purchase, ask yourself some important questions. Prefer clothes that are long-lasting, versatile, and timeless.

Don't buy clothes that are too trendy and fall out of style quickly. Make sure you already have something to wear them with and that you truly need them. Rethink before you add another item to your closet.


7. Research


Do your research. Do a bit of work and research your favorite fashion brands once you know what to look for. Make better clothing choices and change the apparel industry by supporting sustainable fashion brands.

Before you buy something new, take the necessary time to research the brand's website for more information about factories, materials, policies, and values.

Compare clothing brands and try to find the best ones for you that meet your size, style, and ethics. Search for brands that are truly sustainable and not greenwashing.

Many fashion brands need to improve and take greater responsibility toward the environment and the workers in their supply chain, be more transparent about production, pay fair wages, and get relevant certifications.

Others are already doing a lot of things right and do better by the planet, people, and animals. Inspect each label and find out what it's doing to lower its social and environmental impacts.

You can use ethical fashion brand directories to discover new brands and sustainable clothing pieces you didn't know about. Many directories rate fashion labels on their activities for environmental protection, social justice, human rights, community involvement, and animal welfare.

Visit the sustainable fashion brand directory from Panaprium that rate fashion labels on their sustainability practices and hold them to the highest standards of quality, transparency, and accountability.

Or do some research with other ethical fashion brand directories such as:

8. Replace


Replace your cheap clothing pieces with durable, sustainable, and high-quality items. Check the fabric quality of clothes before buying them whenever you can.

Be more mindful of your purchasing decisions and opt for more sustainable alternatives. Choose more environmentally friendly, biodegradable, cruelty-free fabrics.

Look for natural and organic materials, such as linen, hemp, jute, ramie. If you need to buy synthetic fabrics, choose recycled materials such as rPET, regenerated nylon, or regenerated cellulosic fibers like lyocell, modal, and cupro.

Many sustainable fashion brands use the best materials available today. They pick fabrics that are high density, stretch-resistant, tight, without irregularities or defects.

Replace the garments in your closet that wear out with well-made, enduring, and long-lasting pieces.

You can buy high-quality fashion that is also eco-friendly, fair, ethical, and sustainable at the following stores:

9. Rent


Rent new clothes to refresh your wardrobe instead of buying them. It's the better option, especially when you need new items for special occasions such as parties or during pregnancy.

The clothing rental market is on the rise. It's another solution that promotes sustainable fashion. It's an emerging and fast-growing market. Some companies even offer a subscription for customers wanting to renew their clothes more regularly.

Rental businesses and fashion libraries are opening up all over North America and Europe. Many designers partner with rental companies to offer consumers the possibility to wear their clothes for a fraction of the price.

Clothing rental is one of the most practical and sustainable solutions to ever-changing trends in the fashion world. Today, lots of options are available to suit each ethical fashion lover's needs.

Renting clothes is a more environmentally friendly alternative to buying into fast-moving fashion trends. It increases the number of times the average piece of clothing is worn before it becomes too old.

Here are some excellent clothing rental companies:
For Days sells and swaps tees, tanks, dresses, sweaters, and joggers made of organic cotton.
Rent the Runway rents designer dresses and accessories, from Mother of Pearl, Mara Hoffman, Jason Wu, Loeffler Randall, and more.
My Wardrobe HQ (UK) rents contemporary and luxury womenswear fashion.

10. Rebuild
Rebuild is the last R of sustainable fashion. It's left for interpretation. It can mean rebuilding your entire wardrobe or participating in the transformation of the global fashion industry.

Think of creative ways to rebuild the local economy. Why not shop for sustainable clothing at local sales, garage sales, fashion fairs, fashion shows, auctions, flea markets, farmer's markets, and town markets?

You don't have to rebuild your entire closet from scratch. Just change your behavior for the better with small steps. You can build a sustainable wardrobe over time by taking action every day and living more sustainably.

Even the smallest things contribute to the transformation of the current wasteful fashion system into a more inclusive, circular, and regenerative one that benefits everybody.
Was this article helpful to you? Please tell us what you liked or didn't like in the comments below.