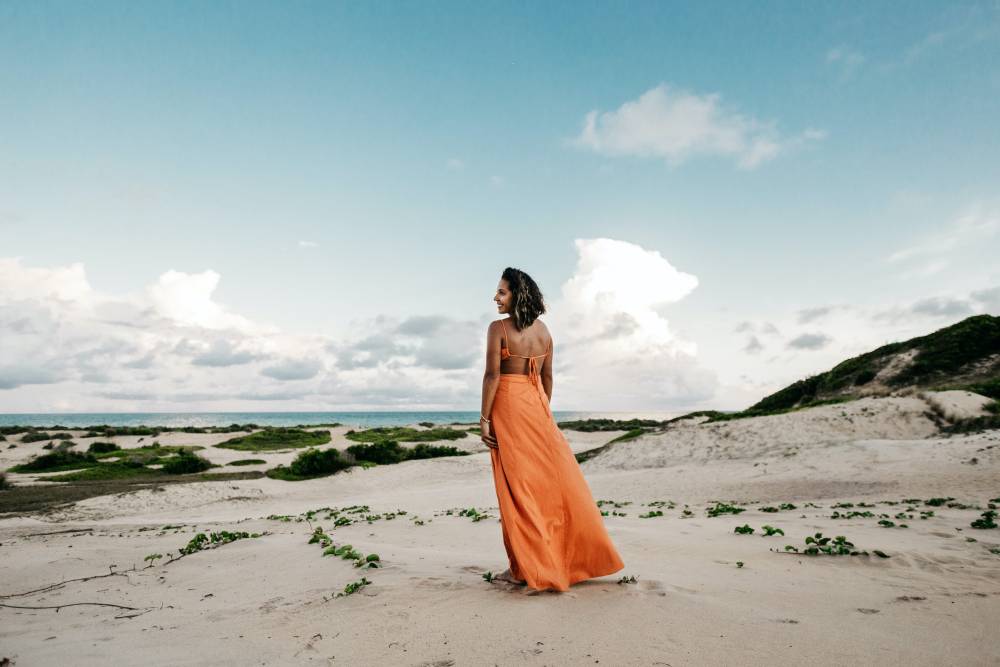 6 Fashion Brands That Are Greenwashing

Many businesses are still greenwashing today to appeal to conscious consumers, even in the fashion industry. The market for ethical and sustainable products is growing rapidly, creating new opportunities for green fashion houses.

Fashion brands and retailers are greenwashing by claiming that their clothing lines have a lower impact on the environment when in reality their activities remain highly polluting.

The fashion industry is one of the largest polluters globally. Toxic chemicals in dyes, fertilizers, herbicides, pesticides, and fabric treatments poison the air, water, and soil. They are very damaging to your ecosystems and human health.

Fashion brands want to be seen as eco-friendly when they are not. This marketing practice is called greenwashing. It's an easier option to solicit consumers' trust and make more profits without improving manufacturing processes.

The fashion industry has a disastrous impact on the planet, the people and the animal living on it. It contributes massively to climate change by releasing enormous quantities of greenhouse gas emissions each year.

Today's consumers are starting to realize that the overproduction and overconsumption of cheaply-made clothing isn't sustainable. They demand more ethical and eco-responsible clothes.

40% of consumers are now choosing green products over other options in America, as reported by Cone's Green Gap 2008 survey.

Globescan's latest Greendex study also reports that the demand for sustainable products is a global trend happening all around the world.

As the demand for green products rises, many fashion companies continue to greenwash. They aren't able or willing to deliver on what eco-aware consumers are expecting.

Other products being greenwashed include food, automobile, consumer electronics, personal care, and cosmetics.

Today, businesses still make misleading claims about the environmental impact of their products or services. They want to differentiate from the competition by declaring a more economical use of resources.

The ultimate goal is to increase sales and position brands in a better light. In many cases, protecting the environment isn't a priority.

Consumers often make emotional decisions when buying clothes. Fashion companies are greenwashing by tapping into the good conscience of consumers.

Adopting green practices in business is a profitable strategy since consumers are willing to pay more for eco-friendly products. Fashion brands are greenwashing to gain a favorable public image and higher profit margins.

They claim environmental benefits often with no supportive data. A common practice is to classify entire garments into the natural, bio, organic or recycled category when it concerned only a portion of the used fibers.

TerraChoice Environmental Marketing published a study in 2009 about greenwash. Within 2,219 products making green claims, 98% of them were guilty of greenwashing.

Companies don't present any information regarding how much water and energy was saved, how big the reduction in greenhouse gas emissions is, how the raw materials are produced.

Businesses are greenwashing by only showing what consumers want to see. They aim to increase sales without considering the environment and the welfare of people first.

Fashion companies often use unverified labels or phrases with no inherent significance. They don't want to invest time and money in textile certification standards. 

Deceptive claims hide what is going on behind the scenes. Claiming a product is 100% organic without any supportive evidence or audit from third parties is misleading.

It's also illegal and unethical. The United States Federal Trade Commission (FTC) has developed "Green Guides" in 1992 (revised in 2012) together with the Environmental Protection Agency (EPA) to help businesses avoid misleading claims.

The FTC and EPA have warned about this global phenomenon many times to protect consumers from unfair and deceptive practices. Some companies finally stopped making misleading claims after FTC complaints.

Unfortunately, there are too many fashion brands that are greenwashing to list them all. Here are 6 of them.

Panaprium is proud to be 100% independent, free of any influence, and not sponsored. We carefully handpick products from brands we trust. Thank you so much for buying something through our link, as we may earn a commission that supports us.


1. H&M Conscious collection
H&M is a very popular fast-fashion brand. It's a Swedish retail company that produces clothing cheaply for all ages. It's the second-largest global clothing retailer, just behind the Inditex Group, Zara's parent company.

As of November 2019, H&M operates more than 5,000 stores in 74 countries. The company also has other individual brands with separate concepts in addition to the H&M brand.

H&M launched a green clothing line called Conscious collection in 2019. The company used more environmentally friendly materials such as organic cotton and recycled polyester to make new garments.

H&M had to apologize to consumers for the promotion of its Conscious collection as demanded by the Norwegian Consumer Authority (CA). It was illegal marketing.

H&M used deceptive tactics and vague sustainability claims to advertise their new clothes and make themselves appear more environmentally friendly.

The Norwegian Consumer Authority (CA) in collaboration with the Norwegian Broadcasting Corporation (NRK) claimed that H&M breached Norwegian marketing laws. H&M mislead consumers by using colors, symbols, and statements portraying its collection more sustainable than it is.

H&M recycling program is another example of greenwashing. Only a small portion of textiles can be recycled. Recycling is a very complex and resource-intensive process, especially when various fibers are blended to enhance fabric properties.

H&M claims to use old textiles to make new clothes but it isn't entirely possible. H&M also offers 15% off your next in-store purchase for every bag of textiles you drop off.

But encouraging people to buy more clothes made with unethical and unsustainable practices isn't beneficial to the environment.


2. Boohoo and wool
Boohoo is a young, inclusive fast-fashion retailer launched in 2006. They produce 500 new products every week inspired by the latest trends. The brand appeals primarily to college students and is highly active on social media.

In 2019 Boohoo announced banning all wool from their future collections before reversing their decision a few hours later.

Boohoo published the following revised statement:

"We are committed to ensuring the wool used in our supply chain comes from good husbandry and meets high levels of animal welfare. We will continue to use wool as a sustainable material."

Wool production has a disastrous impact on the environment. The farming and processing of wool pollute air, soil, and water, producing greenhouse gases and wastes.

More than 95% of all wool in the world comes from mass production. Wool isn't ethical, or animal-friendly. It's a cruel fiber and very unsustainable, contrary to popular belief. Unfortunately, many people still believe that wool is an environmentally friendly material.

"It would be absurd to replace wool, a natural material, with plastic fibers which do not degrade, are made from fossil fuel and may end up polluting the ocean."

 - Phil Stocker, Chief Executive Officer of the National Sheep Association




3. & Other Stories' production facilities
& Other Stories is a brand that offers clothing and accessories for women. It operates 70 stores in 17 countries in Europe, Asia, and the United States. It originally launched in 2013. Today, its parent organization is H&M.

& Other Stories use imagery and wording of artisanally-produced garments created in Swedish, French, and American ateliers under labor protection laws. In reality, only the design of & Other Stories' products take place in Paris, Stockholm, and Los Angeles.

The fashion brand employs production facilities in faraway countries where labor is extremely cheap, such as China and Bangladesh. It shares the same abusive practices and sweatshop-like work environments as the fast fashion retail giant H&M. 


4. Primark and child labor scandals
Primark is an Irish fast-fashion retailer with headquarters in Dublin, Ireland. It offers a diverse range of products in over 370 stores across 12 countries.

Primark can sell mass-produced clothing at very low prices because it employs workers in the poorest countries. Many cases of child labor and forced labor were reported in Primark's factories.

Primark is taking steps in the right direction to minimize its environmental footprint. They joined the Sustainable Apparel Coalition (SAC) to improve their supply chain sustainability. Primark is now also a member of the Ethical Trading Initiative (ETI) to ensure living wages and normal working hours.


5. ASOS' Responsible edit
ASOS is a British online fashion and cosmetic retailer. The website was created in 2000 in London. Today, ASOS sells its range of clothing and accessories as well as more than 850 other fashion brands.

The fast-fashion giant introduced more sustainable materials in its product portfolio. A new collection called Responsible edit use recycled materials to:
"reduce crude-oil use and greenhouse gases,
help lower the impact on the planet and keep things circular. "
In reality, only a small portion of materials are recycled and made from renewable resources. Many textiles remain highly damaging to the environment and human health. 


6. Zara vague sustainability claims
Zara is a Spanish apparel retailer based in Arteixo in Galicia. It's part of the world's largest apparel retailer, the Inditex group. Zara operates 2259 Zara stores in 96 countries in the world.

Zara launched many eco-friendly collections over the years such as "Join Life". It pledged to stop using toxic chemicals by 2020 to manufacture its clothing.

Much like H&M Conscious collection, using materials like organic cotton, recycled wool, and Tencel isn't enough to have a significantly lower environmental impact.

The large majority of Zara business activities remain disastrous to the planet.




The demand for environmentally low-impact products is expected to rise over the coming years. Conscious consumers desire products that are better for the environment made by companies they believe in, without misleading claims or excessive marketing messages.

It's easier said than done but fashion brands have to use accurate communication to remain credible. Businesses that are greenwashing risk to damage their reputation. And consumers are very likely to punish them for it with fewer purchases.

Sustainability is a very complex and large topic. It isn't black and white or easy to practice. Everyone has some responsibility for the catastrophic social and environmental impact of fashion.

But deceptive environmental claims should be a concern to all organizations, especially in the fashion industry. They hurt the industry as a whole and encourage consumers to not trust sustainability claims in the future.

We have to accelerate sustainability efforts drastically. As consumers., we have to recognize the impacts of our purchasing decisions on the planet, people, and animals living on it.

And fashion brands have to assume a positive role in society and contribute towards a more sustainable industry.

Have you observed other cases of greenwash recently?


Was this article helpful to you? Please tell us what you liked or didn't like in the comments below.