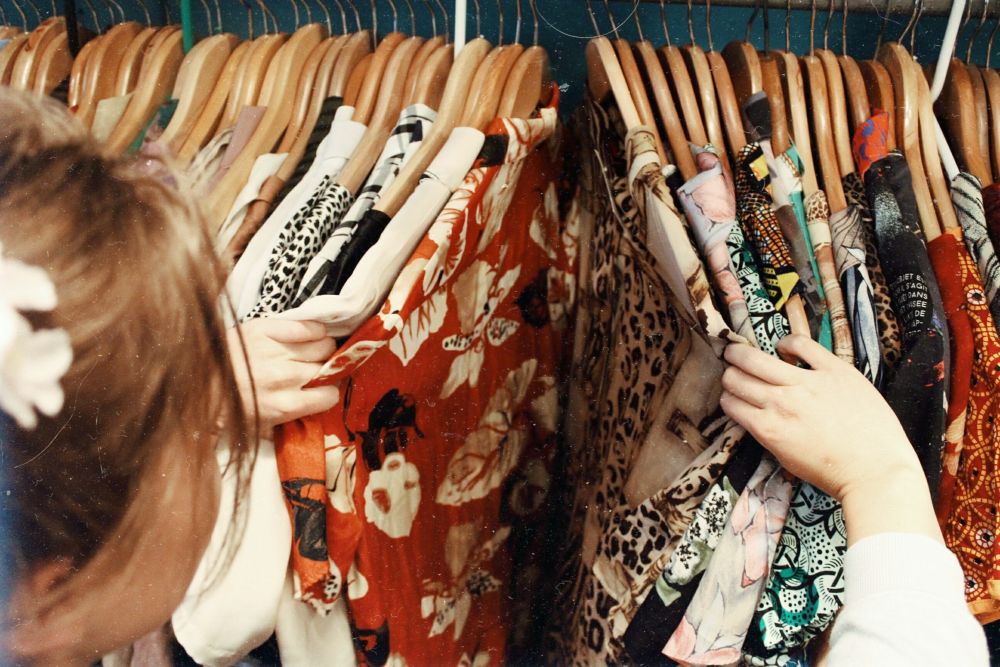 Top 10 Solutions To The Fast Fashion Industry

The fast fashion industry has some huge economic, social, and environmental issues that need solutions. It's not sustainable to push disposable and cheap trendy clothing to high-street stores every week.

The fast fashion industry has been growing very rapidly for the past 20 years. It answers consumers' demand for new stylish and affordable clothes frequently.

Fast fashion encourages consumers to buy more as it makes clothes disposable. They are worn just a few times before being replaced with new trends almost immediately.

52 new seasons for new collections have replaced the more traditional 2 to 4 seasons. Fast fashion companies like Zara make more than 1 million garments every day.

Consumers are being influenced to buy constantly by social media personalities, buying recommendations from friends and family, and the latest trends from runway shows.

Our fashion addiction is extremely damaging to the environment. In the meantime, fast fashion brands and retailers are slow to make efforts toward more sustainability in the industry.

Overproduction and overconsumption have led the fast fashion industry to become one of the largest polluters in the world. We have reached record high textile waste, clean water, air, and soil pollution by hazardous chemicals, and increasingly high carbon emissions.



"Zara alone churns out 850 million clothing items a year. You can imagine the size of the toxic footprint it has left on this planet, particularly in developing countries like China where many of its products are made."

 - Li Yifang, Greenpeace Activist
Large quantities of water are consumed every day for clothing, in farms (plant growth), garment factories (dyeing and finishing), and at home (washing). Textiles production (including cotton farming) uses around 93 billion cubic meters of water annually, according to the Ellen MacArthur Foundation.

The fast fashion industry also employs farmers and workers in the poorest countries under unsafe working conditions. It violates human rights daily and causes the death of cotton farmers, factory workers, and billions of animals each year.

As consumers, we have the power to drive change. It begins by changing our shopping habits, boycotting unethical fashion brands, and switching to conscious clothing.

Read up our complete guide on how to quit fast fashion for transitioning to sustainable fashion.
"Urgent action is needed to ensure that current material needs do not lead to the over-extraction of resources or the degradation of environmental resources, and should include policies that improve resource efficiency, reduce waste and mainstream sustainability practices across all sectors of the economy."

 - United Nations Economic and Social Council, Progress Towards The Sustainable Development Goals (2019)
Here are the top 10 solutions to the fast fashion industry.

Panaprium is proud to be 100% independent, free of any influence, and not sponsored. We carefully handpick products from brands we trust. Thank you so much for buying something through our link, as we may earn a commission that supports us.

1. Buy less fast fashion
"The most sustainable garment is the one we already own."

 - House of Commons Environmental Audit Committee, Fixing fashion: clothing consumption and sustainability report (2019)
It's fun to buy new clothes. But we have to start thinking about the consequences behind our purchasing decisions.

Fast fashion is the worst. The social and environmental impact of cheap clothing is horrible.

If we want to save energy, water, and lives, we should rethink our excessive consumerism.


2. Buy higher-quality clothing
Buy clothes less often and higher quality. This is the most sustainable practice to adopt when giving up on fast fashion.

Start caring more about quality to influence large brands and retailers to change their business models, producing less often with better quality.

Prefer clothes that you know won't go easily out of style and will last you a long time. Clothes that are durable, comfortable, and fit your lifestyle perfectly.

Keep and wear your clothes longer. It's better for your budget and the environment! Prices tend to increase with quality. But higher-priced items also give a chance to factory workers to be paid better.




3. Buy from ethical fashion brands
Many fashion brands make conscious clothing trying to minimize their social and environmental impact.

The prices are still high when you look for something else than basics.

Price is the biggest hurdle we have to overcome to make sustainable fashion more popular and accessible to more people.
Read up my ultimate guide on how to check if a fashion brand is ethical.


4. Shop second-hand clothing
You can find affordable and unique pieces at your local thrift store, resale shops, or online marketplaces.

Second-hand clothing is gaining popularity. You now have the opportunity to create a great look from used clothes all around the world.

Buying old clothes is amazing for your budget and the planet. You prevent the consumption of more resources because there is no need to produce another garment.

At the same time, you prevent used clothing from ending up in landfills to decompose or be incinerated, emitting toxic gases or carbon into the atmosphere.

Read up my guide on how to get rid of unwanted clothes where I list some excellent places to buy and sell second-hand clothing.



5. Rent your clothes for special occasions
"The benefits of renting fashion are wide-ranging. Not only can renting clothes be a more environmentally friendly alternative to buying into fast-moving fashion trends, but consumers can also save space in their homes. Fashion rentals can fulfill temporary fashion, such as clothing for women during pregnancy, while some fashion rental companies are tapping into demand for more niche and everyday fashion products such as streetwear."

 - Samantha Dover, Mintel Senior Retail Analyst
Clothing rental is an emerging and fast-growing industry. Especially during pregnancy or for parties, renting is the better option. Some fashion rental companies offer a subscription for customers wanting to renew their wardrobe more regularly.

Fabulous places to rent clothes for a special occasion are:
My Wardrobe HQ, the UK's first fashion rental marketplace, a leading destination for renting and buying contemporary and luxury womenswear fashion.
Rent the Runway online service that provides designer dress and accessory rentals in the United States, from Mother of Pearl, Mara Hoffman, Jason Wu, Loeffler Randall, and more.


6. Swap pieces with friends and family
Clothes swapping is something you can organize with your friends this weekend.

It's now a very popular practice. It's also fun and environmentally friendly!

Swap some clothes hanging in your closet with your friends and family to renew your wardrobe, instead of heading to the nearest mall.


7. Reuse, repurpose, and up-cycle
Some clothes are very difficult to recycle. In particular, fabrics made from blends of very different materials don't recycle very well, such as polyester blended with elastane in athletic wear.

You want to avoid this type of material as much as possible. When buying sportswear look for materials that have already been recycled.

Be sure to keep these clothes the longest time possible and don't throw them away! Instead, reuse, repurpose, and up-cycle.

You can turn them into cleaning rags or bags. Or you could learn to sew and make new clothing pieces from old material.


8. Donate your unwanted clothes
Think about donating your old clothes. You contribute to saving the planet while helping people with clothes they may need more than you do.

You can do a quick online search for your local options. Be sure to contact them first and ask what type of clothes they accept.

Amazing organizations to donate your clothes are of course Goodwill and Salvation Army.


9. Choose natural organic materials
Whenever possible, look for natural fabrics with organic certifications. Fabrics made from natural and organic fibers have the least social and environmental impact.

Buy clothing made from materials such as organic cotton, organic hemp, linen or jute.


If you are unsure of what to look for on the labels, check out my article on the best eco-certification standards for textiles.
Synthetic fibers such as recycled polyester or nylon require less water than cotton but have a higher carbon footprint.

The fabrication of regenerated fabrics such as rayon, lyocell, or modal isn't always eco-friendly, consumes lots of energy and chemicals.


10. Make yourself heard
To change the fast fashion industry, we have to make some noise.

We have to raise awareness of unsolved issues and unseen problems. Every step counts to make a difference on a global level.

It's a challenge but it's worth fighting to defend the Earth, animals, and human rights.

Support companies that use business as a force for good. And boycott those that don't care much about their social or environmental impact.

Ask fashion designers, brands, and retailers #WhoMadeMyClothes, in which country, in what kind of environment, and under what work conditions.

Show that you care not only about price and style but also how your clothes are being made.

Simply asking questions and expecting a reliable answer helps a lot already.

And don't beat yourself up if you aren't a 100% conscious consumer tomorrow. Start your journey somewhere and continue to progress toward sustainable living.

Where are you in your ethical fashion journey currently?


Was this article helpful to you? Please tell us what you liked or didn't like in the comments below.