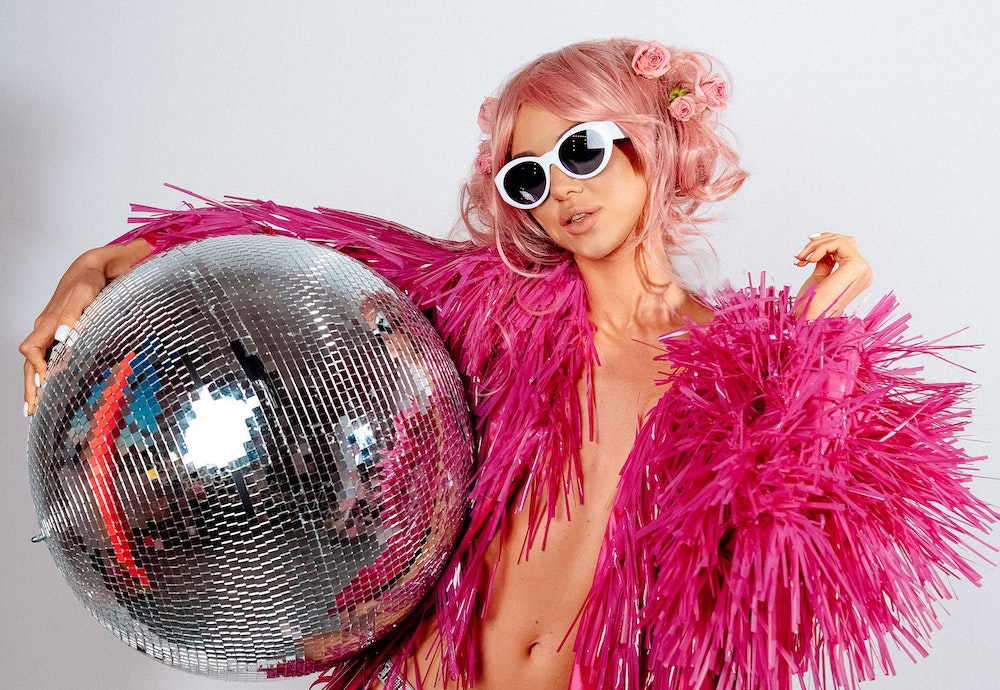 15+ Groovy Outfits to Rock at a '60s Disco Party
The 1960s was an era marked by groundbreaking music and cutting-edge fashion. There's no better way to combine those two things than with a fun '60s-themed disco party. 
What do you wear to dance the night away at a '60s disco party? The options seem endless, but we've got you covered.
Dress your best in bold patterns, mod silhouettes, and plenty of shimmer and shine. 
Grab your disco ball and get your groove on with these 16 outfit ideas for your next '60s disco party.
Panaprium is proud to be 100% independent, free of any influence, and not sponsored. We carefully handpick products from brands we trust. Thank you so much for buying something through our link, as we may earn a commission that supports us.
Fabulous Jumpsuits
A jumpsuit is a fun and comfortable outfit to wear to a '60s disco party. 
Wear a one-piece jumpsuit with bell bottoms and funky patterns to really get into the groove of things. Finish off your look with platform sandals and bold jewelry.
Check out our selection of fabulous cotton jumpsuits.
Bell Bottoms
Bell bottoms are a must-have if you want a retro '60s look. This silhouette was all the rage in the 1960s and '70s, so it's perfect for a themed disco party.
Wear high-waisted bell bottoms with a crochet top, flowy blouse, or bandeau top for a fun, flirty look. 
Explore our selection of sustainable bell bottoms and flare leggings.
A Cute Crochet Top
Crochet is having a moment right now, but it was originally popular back in the 1960s. Wear a cute handmade crochet top for the ultimate '60s disco party look.
Crochet tops are perfect for summer and outdoor parties. Crochet your own front-tie crop top, or buy a one-of-a-kind handmade top from an independent artist.
Here are some favorite tips and tricks on how to style crochet clothing.
A Halter Top and Mini Skirt
A halter top and mini skirt make a sizzling hot look for a '60s disco party. 
Create a sultry monochromatic look with a stretchy black halter and pencil skirt. Pair a metallic mini skirt with a patterned halter top for a more lively and dynamic vibe. 
Of course, be sure to wear your platform go-go boots.
Don't miss our selection of affordable mini skirts.
Tie-Dye 
Tie-dye clothing is a fantastic way to dress up for a '60s disco party. It's on-theme, it's creative, and it's a ton of fun to wear.
Wear a sheer tie-dye top with a mini skirt and go-go boots, or go all out in a completely tie-dye maxi dress and matching headband.
Explore our favorite sustainable tie-dye clothing pieces.
A Fringe Top
Some may think that fringe only works for '70s-inspired fashion, but that's simply not the case. You can totally rock a fringe top for a '60s disco party.
Wear a delicate fringe blouse with bell bottoms and platform sandals, or create an eclectic Western look with a fringe button-up and a sequin skirt.
Brightly Colored Tights
Bring a pop of color to your disco outfit with a colorful pair of sustainable tights.
You can wear just about any color to create a stunning 1960s-inspired outfit. From baby blue to bright yellow, you can't go wrong. 
Pair your colorful tights with a mod mini dress and chunky heels for a glam look.
Explore our favorite eco-friendly tight brands.
Sequins and Glitter
Sequins and glitter are a big part of any disco party. Get into the spirit with shiny fabrics, fun dresses, and bold accessories. 
You can wear anything from a completely sequin gold dress to a simple glitter handbag. 
You can go as loud or as understated as you like, depending on your personal style. Just remember to have fun with it and let loose!
A Babydoll Dress
A babydoll dress is a perfect '60s silhouette that is comfortable and flattering. 
Wear a cute babydoll dress with colorful tights, platform sandals, and big hoop earrings for a fun and groovy look. 
Check out our selection of fun and sexy summer dresses for the perfect babydoll silhouette.
A Daring Bodysuit
A '60s disco party is the perfect opportunity to wear something sexy and daring, like a revealing bodysuit.
Bodysuits come in various cuts and silhouettes, so choose what you feel most comfortable in. Wear an off-the-shoulder look with thigh-high boots or a mesh bodysuit with a plunging neckline. 
Make sure to accessorize with plenty of shimmer, glitter, and sequins.
Shop our selection of the best sustainable bodysuits.
Groovy Prints and Patterns
The '60s were all about self-expression, so your disco party outfit should stand out from the crowd. Don't be afraid to lean into an eclectic mix of prints and patterns.
Paisley, tie-dye, geometric patterns, and bold floral prints are all fantastic options. 
Wear a sheer paisley dress for a relaxed boho vibe, or go all-out with a checkered babydoll dress.
Bell Sleeve Tops and Dresses
Bell sleeves are a fun detail you can wear to a '60s disco party. 
Wear a flowy, sheer top or a bell sleeve mini dress for the ultimate hippie-inspired look.
Many sustainable boho brands offer tops and dresses with bell sleeves that work perfectly for a retro disco party.
Retro Mod Dresses
Mod fashion was all the rage in the 1960s. Rock this look for your next '60s disco party with a retro mod dress.
For a mod disco dress, think short hemlines, plenty of color blocking, and a minimalist silhouette. It's even better If you can find a print with a geometric pattern.
For more fashion tips and outfit ideas, check out our guide on how to dress like the 60s.
Go-Go Boots
Nothing screams "1960s" quite like go-go boots. Complete your '60s disco party outfit with a pair of these iconic boots.
The key to rocking this look is making sure your boots go up to your knees and have a chunky heel. 
White vegan leather is the most classic look, but don't be afraid to wear other bright colors that compliment your disco outfit.
Explore our selection of the best vegan knee-high boots.
Platform Sandals
If go-go boots aren't your thing, you can wear platform sandals to complete your '60s disco party outfit. 
Chunky platform sandals look amazing with colorful tights, babydoll dresses, and jumpsuits. It's a versatile shoe option that will have you dancing the night away. 
Check out our selection of sustainable and vegan heels and sandals.
Oversized Sunglasses
Wear oversized sunglasses for a groovy flower child vibe. 
Oversized sunglasses with round rims look amazing with bell bottoms, a fringe top, and so much more. Accessorize your look with beaded jewelry and hoop earrings.
Check out these top sustainable eyewear brands to find your perfect pair.
Was this article helpful to you? Please tell us what you liked or didn't like in the comments below.
About the Author: Liz Flynn