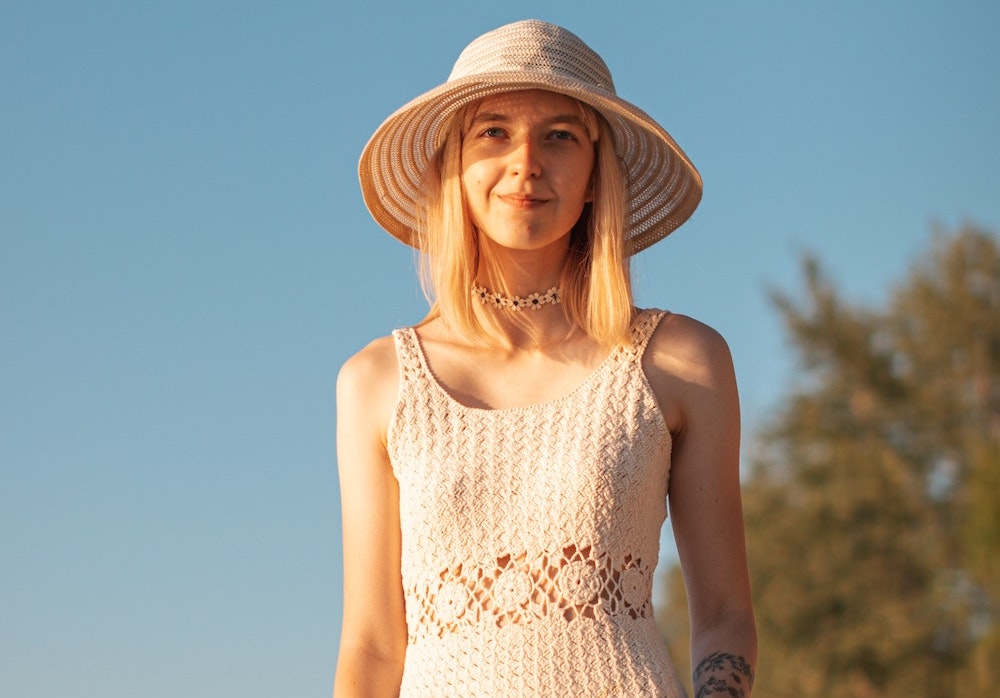 What Do You Wear Under a Crochet Dress? (15 Cute Ideas)
A crochet dress is a must-have for any summer wardrobe. It's a fun piece to wear if you love a retro, carefree aesthetic. 
Crochet dresses can vary in look and feel based on the type of stitches and yarn used to create them. There are so many different styles of crochet dresses, from lacey cover-ups to bell-sleeve minis. 
Because many designs are slightly see-through, it can be hard to figure out what to wear under a crochet dress. 
Whether you made it yourself or purchased it from your favorite sustainable brand, we have the best tips and tricks for what to wear under a crochet dress. 
Panaprium is proud to be 100% independent, free of any influence, and not sponsored. We carefully handpick products from brands we trust. Thank you so much for buying something through our link, as we may earn a commission that supports us.
A Bodysuit
You can't go wrong with wearing a bodysuit under a crochet dress. A bodysuit provides full coverage while remaining comfortable and flexible.
The type of bodysuit you wear under your crochet dress is entirely up to you. There are shapewear bodysuits that provide compression and smoothing.
If that's not a concern, organic cotton or hemp bodysuits have a more relaxed fit while revealing just enough. Plus, bodysuits come in a huge variety of colors.
Plenty of affordable and sustainable bodysuit brands offer diverse sizes and cuts, making it easy to find the perfect one to wear as a base for your crochet dress.  
A Bathing Suit 
A crochet dress is an excellent cover-up for a day at the beach. Wear your favorite swimsuit underneath a crochet dress for a carefree, summery look that easily transitions from day to night. 
A crochet dress is bound to look chic and elegant, whether over a slinky one-piece or your favorite bikini. Accessorize your crochet dress with an oversized beach bag, sunglasses, and your favorite sunhat. 
Explore some of our favorite recycled bikinis and one-pieces that look great under a crochet cover-up. 
A Slip Dress
A slip is a classic piece to wear under a crochet dress. This option provides full-body coverage and lets the crochet stitches of your dress shine through. 
A slip dress is lightweight and short, so you won't feel overheated or uncomfortable while wearing it. We recommend investing in a slip dress with sustainable fabric like cotton sateen or Tencel. 
To find the best slip dress, check out these USA-made lingerie brands. 
High-Waisted Briefs
Try wearing high-waisted briefs underneath your dress if you want a cheeky edge to your retro crochet look. 
We don't mean old-fashioned granny panties. Instead, there are a ton of cute, high-waisted underwear options that provide a vintage silhouette with a modern edge. 
Nowadays, high-waisted briefs provide full tummy coverage with just the right amount of cheeky bottom coverage. Choose black high-waisted boyshorts for an edgy contrast, or wear a pair of briefs that match the color of your dress for a more elegant vibe. 
Are you looking for the perfect pair of high-waisted briefs? Check out our selection of organic cotton underwear brands. 
Bike Shorts
If you don't want to wear high-waisted briefs under your crochet dress, try a pair of trusty bike shorts. 
Bike shorts are form-fitting, so you don't have to worry about your crochet dress snagging on anything. Plus, the tight fabric slims like shapewear, creating a flattering silhouette. 
Bike shorts come in various colors and styles, but we recommend high-waisted black shorts. They're affordable, versatile, and comfortable. You can't go wrong with using them as the base for your crochet outfit. 
Explore some of the best sustainable bike short options to get started. 
A Bralette
A bralette looks great under a crochet dress. It's an easy way to look and feel chic, sexy, and edgy while wearing your favorite handmade creation. 
You can go with a simple solid-color bralette to match the color scheme of your outfit. Or, add some edge with something sheer and lace-trimmed.
Whatever style of bralette you choose, make sure you feel confident and comfortable while wearing it. 
Our favorite sustainable and affordable bralettes look good under any crochet dress or top. 
A Sports Bra
A sports bra is the perfect undergarment for a crochet dress because it provides complete coverage without distracting from your overall carefree look. 
In addition, a sports bra is a nice in-between if you don't feel comfortable in a bralette but want less coverage than a tank top. 
A simple black or beige sports bra works well with any crochet dress, from barely-there minis to traditional silhouettes with more coverage. 
Check out our selection of sports bras that are sustainable and won't break the bank. 
Nude Underwear
Nude underwear is one of the best things to wear under a crochet dress. Choose undergarments that match your skin tone to create a seamless, barely-there look underneath. 
We recommend nude underwear with crochet dresses that have tighter stitches. That way, you won't have to worry about showing off anything you don't want to while wearing your super-cute handmade outfit. 
If you want a new set, check out our master list of organic underwear brands. 
A T-Shirt
Wearing a t-shirt underneath a crochet dress is a cute way to dress up your outfit. A shirt looks best under a tank top or spaghetti strap crochet dress. 
You can't go wrong with a classic white t-shirt because it matches any color, style, and crochet stitch.
However, don't be afraid to branch out to brighter, bolder colors. Choose a shirt that matches your favorite color in the yarn, or go for a monochromatic look with a perfectly coordinated shirt and dress. 
Explore our selection of hemp shirts to get a little outfit inspiration. 
Brightly Colored Clothes
A crochet dress is fun, flirty, and playful. Don't be afraid to explore color options other than plain black or beige. You want to turn heads in your crochet outfit, after all. 
A bright red slip dress or a matching set in a bright primary color are excellent options for creating an edgy, modern look with your crochet dress.
If you want to go all out, play around with bralettes and bodysuits in off-the-wall neons and pastels. 
If you love bright colors but are wary of synthetic dyes, check out these brands that only use non-toxic dyes in their clothing. 
Leggings
Wearing leggings under a crochet dress provides more coverage and the ultimate level of comfort. 
Leggings work best if your crochet dress has a lot of holes in its design or the cut is super short.
Black or colorful leggings provide leg coverage and solve the tricky business of choosing the right underwear to wear underneath your dress. 
Check out our favorite organic cotton leggings. 
A Tank Top
A tank top is easy and affordable to wear under a crochet dress. A tank top is best if your crochet dress has sleeves because it won't be too noticeable underneath. 
Plus, when you wear a tank top, you can wear your usual bra without worrying about everyone seeing it through the holes in the crochet fabric. 
Pair your tank top with comfortable bike shorts or high-waisted briefs, and you're good to go. 
Shop our selection of affordable cotton tank tops to find the perfect fit for your crochet dress. 
Tights

Tights are a great option if your crochet dress has tighter stitches and isn't as see-through. 
A pair of sheer black tights look great under a crochet dress because it adds dimension to your outfit. Plus, tights help keep you warm if you wear your crochet dress during colder weather. 
Don't be afraid to experiment with colorful hosiery, too. A bold pair of bright tights that matches your crochet dress is a fun way to express yourself and turn heads. 
Here's our selection of the best eco-friendly tights out there. 
A Camisole
A camisole is an excellent option if your crochet dress has thin straps and revealing stitches. The spaghetti straps and tight fit allow for more coverage without looking frumpy and boxy. 
Also, a camisole is easy to match to almost any type of fabric or yarn. You can choose a nude color that blends in behind-the-scenes or a shade that perfectly matches your dress. Either way, it's bound to look beautiful.  
An organic cotton camisole is an excellent option because it's breathable and versatile. 
A Bandeau
If you don't want intrusive straps distracting from the look of your crochet dress, wear a bandeau. 
A bandeau is an excellent option if you don't mind showing a bit of skin underneath your dress. It's the perfect option for a summertime look by the beach or out with friends. 
Pair a neutral bandeau with nude-color shapewear or bikini bottoms for a relaxed and chic look. You can also choose a brightly colored bandeau with contrasting high-waisted briefs for an edgy, retro vibe.
Plenty of sustainable underwear brands offer affordable, comfortable bandeau bras. 
Was this article helpful to you? Please tell us what you liked or didn't like in the comments below.
About the Author: Liz Flynn