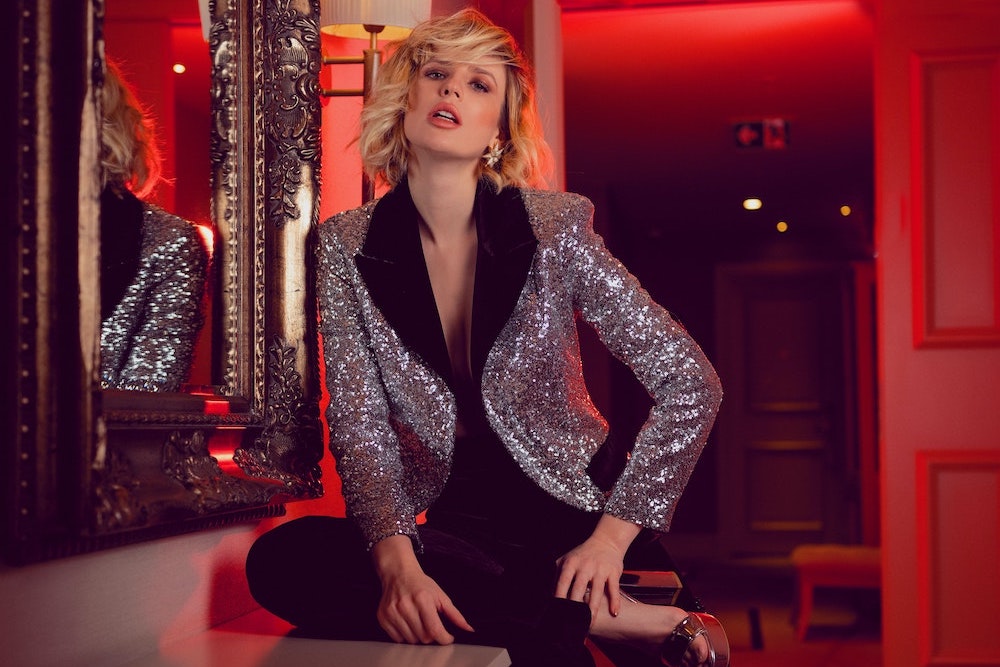 15+ Daring Outfits to Wear to The Rocky Horror Picture Show
Since its release in 1975, The Rocky Horror Picture Show has drawn millions into its cult following. Many people in the Rocky Horror fandom love attending midnight showings of the film. 
These midnight showings are famous for their audience participation, creative costumes, and "anything goes" attitude. Most of these midnight events involve fans recreating the film as it plays on the screen behind them. It's a rollicking good time. 
Whether you're considering attending your first midnight Rocky Horror screening or a veteran attendee, you know that your outfit is the perfect opportunity to express yourself. 
Dressing in costume isn't required to attend a midnight showing of The Rocky Horror Picture Show. But we have plenty of outfit ideas if you want to dress up!
Here are 16 daring outfit ideas guaranteed to be a hit at The Rocky Horror Picture Show.
Panaprium is proud to be 100% independent, free of any influence, and not sponsored. We carefully handpick products from brands we trust. Thank you so much for buying something through our link, as we may earn a commission that supports us.
A Corset
Dr. Frank N. Furter, played by Tim Curry, is the most straightforward look to reproduce if you have a flair for the dramatic. Recreate the mad scientist's steamy look with a form-fitting corset. 
You can stay true to Frank N. Furter's original look with a lace-up corset or take a modern approach with a bustier, demi cup, or Gothic-inspired one. Add a dash of red lipstick and a bold pearl necklace to complete your look. 
Feel both comfortable and sexy in our selection of sustainable corsets. 
Lots of Sequins
Almost every character in Rocky Horror has some glitter and glam. None more so than Columbia, a devoted employee of Dr. Frank N. Furter. 
Columbia's vaudeville-esque outfit is easy to recreate with a sequin blazer, corset, and top hat. If you can find shorts or pants covered in sequins, go for it. The more sequins and glitter, the better. 
If you don't want an outfit entirely covered in sequins, you can create a Rocky Horror-inspired outfit with subtle touches of glam. For example, wear a sequin dress with black heels, or pair a fun sequin skirt with a black mesh top and a sleek blazer.   
If you don't have any sequins or glitter in your closet, don't worry. Plenty of free fashion apps allow you to shop second-hand and vintage apparel for the perfect Rocky Horror outfit. 
A Top Hat
Top hats are a signature accessory for The Rocky Horror Picture Show. They're a fun way to add some pizzazz to any creative outfit. 
Complete a Columbia-inspired look with a sequin top hat, or wear one with your favorite dress. You can even wear a fun top hat with your regular outfit. 
Many fans get creative and wear hats in various sizes and colors to capture the fun-loving, campy vibe of the movie. 
Explore these sustainable hat brands to find the right fit.
Fishnet Stockings
Fishnet stockings add a sexy element to any Rocky Horror outfit. Fishnets are an excellent way to show off a bit of leg and feel confident walking into the theater. 
You can emulate the famous Frank N. Furter by wearing fishnets with a form-fitting corset and black heels. You can also wear stockings underneath a dress or denim shorts for a more casual look.  
Be sure to shop eco-friendly brands for a new pair of fishnet stockings. 
Black Heels
Black heels go with pretty much any Rocky Horror outfit. Black heels elevate your look, whether you go all out with your costume or just wear a casual pair of jeans. 
Wear black heels with fishnet stockings, a corset, and a sleek blazer to add more sexy sizzle to your look. Black heels also look great with a dress, bodysuit, or sequin matching set. 
Whatever pair you wear, make sure they're comfortable enough for dancing the "Time Warp." 
Shop our selection of sustainable heels to find the perfect pair for your daring outfit. 
A French Maid Costume
Magenta is a popular character in The Rocky Horror Picture Show. So if you want to dress up as the world's most famous housekeeper, all you need is a French maid costume and a little creativity. 
You can easily alter a traditional French maid costume to make it your own. Add accessories like sunglasses, boots, and a top hat to get in the free-for-all spirit of the film. Tease out your hair and add heavy eye makeup to complete this Magenta-inspired look. 
Building a Magenta-inspired costume doesn't have to cost an arm and a leg. You can easily use a little black dress as the foundation of your look and accessorize with an apron, fishnets, and gloves. 
A Pink Dress
If a daring, skin-baring look isn't your thing, don't worry. You can still dress up! A cute pink baby doll dress is perfect if you want to emulate Janet, played by Susan Sarandon.
Pair a light pink dress with a white cardigan and flats, and you're ready for your close-up. You can wear any style, from a classic wrap dress to flowy maxis. Add some light makeup in shades of pink and nude for an ethereal, feminine effect.  
Check out our selection of casual summer dresses for shopping inspiration.  
A Sweater & Slacks
There are plenty of Rocky Horror-inspired looks for the fellas, too. Guys (and gals) can dress up as preppy, clean-cut Brad, played by Barry Bostwick. 
You only need tailored slacks, a collared shirt, and a crew neck sweater for this look. The overall vibe you're going for is wholesome, put-together, and preppy. 
If you want to fully commit to looking like Brad, throw on thick-rimmed glasses and a windbreaker. 
Explore our favorite sustainable men's clothing brands for affordable, stylish basics that work well for this costume idea. 
A Vegan Leather Jacket
The Rocky Horror Picture Show is known for its edgy vibe and punk-inspired costumes. Embody that energy with a vegan leather jacket. 
You'll fit right in with a vegan leather jacket over a poofy pink dress, corset, or bodycon dress. You can also pair your jacket with simple jeans and a t-shirt if you want to dress up without standing out.
Don't be afraid to mix feminine elements, like sequins and lace, with the more masculine vibe of the jacket. Rocky Horror is all about disrupting the status quo and bending the norms of gender. 
Check out our list of the best vegan leather jackets on the market. 
A Wig
Attending a midnight Rocky Horror show is an excellent opportunity to wear a fun wig. Go all out with bright colors and out-of-the-box hairstyles. 
The Phantoms, or background characters, wear a multitude of different wigs in the movie, so embody that energy with your wig choice. Bright red, platinum blonde, and neon green are just a few styles that fit right in when attending a film screening. 
Don't be afraid to play around with the style of your wig. Add some hair clips or scrunchies for a more dynamic look. 
An All-Gold Outfit
When attending a film screening, some dress up as the movie's namesake, Rocky. You'll need an all-gold outfit to "rock" this look. 
In the film, Rocky only wears a pair of skimpy gold boyshorts. Naturally, most people adapt the original costume to provide more coverage. 
Gold leggings, metallic bodycon dresses, and shiny gold shirts are all perfect options for a Rocky-inspired outfit. Anything with gold sequins will also do the trick.
You can wear anything from a shiny gold bodycon dress to metallic boyshort underwear. It all depends on your level of comfort and daring. 
Elaborate Makeup
So you've created the perfect Rocky Horror Picture Show outfit. Now, it's time for the makeup. 
Don't hesitate to go all out with your makeup. Glitter, bright eyeshadow, and extreme blush are all options when crafting your look. Heavy eyeliner and dark neutral shades of eyeshadow are also excellent options for a more sultry look. 
Don't forget to top off your fabulous makeup look with some bold hair accessories. 
Mix and Match
Midnight showings of The Rocky Horror Picture Show are all about creativity and expressing yourself. So, don't be afraid to get a little funky with your outfit. 
Anything goes when it comes to dressing up. Mix and match patterns, colors, and pieces from your closet that you usually wouldn't wear together. 
You don't have to base your outfit on a specific Rocky Horror character. Wear whatever you want, and the audience will embrace you with open arms. 
Outrageous Accessories
Finding the perfect accessories for your Rocky Horror outfit is outrageously fun.
Wear heart-shaped sunglasses, a glittery party hat, or brightly colored tights to emulate The Phantom backup dancers in the movie. Boas, bowties, gloves, fake pearls, and jewels are also options. The main objective is to have fun and be creative. 
Explore our selection of affordable sunglasses, tote bags, and sustainable jewelry to get your creative juices flowing. 
Jeans & A T-Shirt
You don't have to show up in costume to enjoy a late-night screening of Rocky Horror. Midnight screenings are famous for welcoming anyone and everyone. 
So, if you don't feel like dressing up, you don't have to. Instead, you can show up in something as simple as your favorite pair of jeans and a comfortable t-shirt. 
No matter what you wear to The Rocky Horror Picture Show, make sure it's comfortable enough to dance in. You'll be on your feet doing the choreography to "Time Warp" before you know it. 
Explore our favorite black denim jeans and the best hemp t-shirts. 
What Not to Wear
Anything goes when dressing for The Rocky Horror Picture Show. Well, almost anything. There is one thing you should avoid wearing to any screening of this cult classic. Wearing this item will immediately reveal you as a Rocky Horror virgin. 
The one Rocky Horror taboo is stripes. Don't wear them! 
According to lore, movie crew members were accidentally caught on film during one scene. According to the legend, these crew members were wearing striped shirts. So, avoid wearing stripes unless you want to get booed out of the theater. 
Was this article helpful to you? Please tell us what you liked or didn't like in the comments below.
About the Author: Liz Flynn