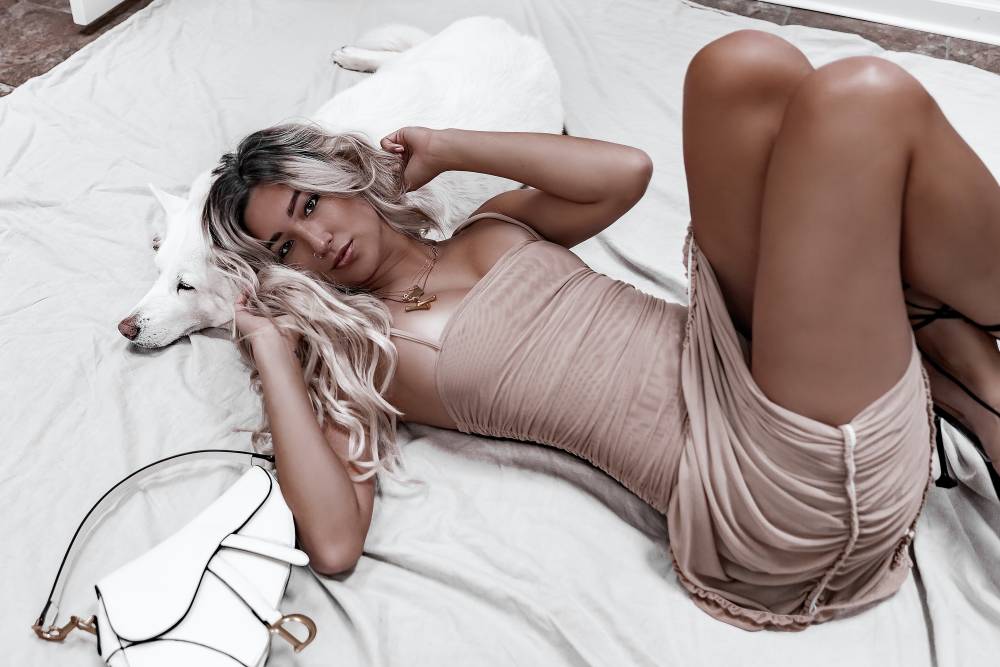 5 Epic Ways Luxury Will Ultimately Solve Fast Fashion

Consumers all over the world are becoming more conscious despite the rise of fast fashion over the last 20 years. They are turning to luxury fashion to move away from excessive consumerism.

The global textile and apparel industry employs more than 300 million people in the world, a lot of them in the poorest countries across Southeast Asia.

Fast fashion was created to answer the growing consumers' demand for seasonal trends and affordable clothing. It's everywhere, a global and highly successful phenomenon.

A massive amount of cheap clothing is being designed and produced at lightning speed and pushed to high-street stores every week. But fast fashion has catastrophic social and environmental impacts.

Retail giants constantly compete on a global scale for the mass-market. They release new lines faster at increasingly cheaper prices. Pricing battles lead to pressure on manufacturers and suppliers to provide the best value. They force inhumane working conditions in overcrowded garment factories.

The ecological damage done by fast fashion is also disastrous. The overproduction and overconsumption of cheaply made clothing generate pollution, waste, and carbon emissions.

The fashion industry is one of the largest polluters globally. It's responsible for more than 8% of all carbon emissions globally each year, almost as much as the total for the whole of Europe.

It's also the second-largest consumer of the world's water supply. The fashion industry produces 17-20% of all wastewater worldwide. And only 20% of globally produced wastewater receives proper treatment.

If the trend continues, the fashion industry's greenhouse gas emissions are expected to increase by 50% by 2030, increasing its contribution to climate change drastically.

The oil industry is the world's first polluter. But fashion comes second. Especially fast fashion causes irreversible damage to the planet.

Consumers around the world choose luxury brands over fast fashion as they offer many advantages. Instead of considering clothing as a disposable commodity, luxury pieces are designed and distributed for longevity.

Today, plenty of luxury fashion brands focus on sustainability, especially those with a strong online presence such as Selfridges, Browns, Matches Fashion, and Net-a-Porter.

Their customers demand more transparency, accountability, and sustainability. And businesses are driven to include sustainability in their strategy.

More than 60% of customers want to shop sustainably and 90% want to buy less, but better, according to Selfridges. 60% of shoppers at Matches Fashion are trying to live as sustainably as possible.

Prominent luxury fashion brands such as Chanel, Ralph Lauren, and Prada recently signed the Fashion Pact, a mission lead by the Kering Group and given by French President, Emmanuel Macron, and to Heads of State at the G7 Summit in Biarritz, to stop global warming, restore biodiversity, and protect the oceans.

The Kering Group is the parent company of the global luxury brands Gucci and Yves Saint Laurent. It recently appointed British actress and activist Emma Watson as Chair of its Sustainability Committee.

The Fashion Pact aims to reduce greenhouse gas emissions and improve sustainability in the fashion industry.

"This Fashion Pact is about saying: We have acknowledged the 21st century's environmental issues, and we are taking our responsibility through collective action and common objectives."

 - François-Henri Pinault, Kering Chief Executive Officer, emailed to the New York Times
Can luxury fashion brands make a difference, address social, economic, and environmental concerns? There are still doubts about that. But it's very encouraging to see many fashion brands taking their sustainability initiatives to the next level.

Here are 5 surprising ways how luxury fashion brands might ultimately solve fast fashion issues.
Panaprium is proud to be 100% independent, free of any influence, and not sponsored. We carefully handpick products from brands we trust. Thank you so much for buying something through our link, as we may earn a commission that supports us.


1. Luxury fashion is becoming more ethical


The ethical clothing market has increased by over 20% in value within the last year. More and more consumers realize the impact of fast fashion.

Sustainable consumerism is on the rise and supports eco-friendly fashion brands, those that create clothes ethically and from organic or recycled materials

Luxury brands usually offer higher quality pieces that are made to last. Even if they are more expensive, they ultimately serve our budget and our planet better. Customers spend more money upfront but save more money in the long-run.

Fashion brands and designers in the luxury market now prioritize quality, environmental awareness, and socially fair practices. The quality over quantity approach is important to make fashion more ethical and sustainable.

Many conscious consumers now boycott brands that show no welfare standards, encouraged by non-profit organizations, A-list celebrities, and social media personalities.

Many designer luxury brands like Versace and Furla have decided to stop using real fur completely in their new collections since March 2018.

Many other prestigious brands already avoid real fur, including Armani, Calvin Klein, Gucci, Michael Kors, and Vivienne Westwood.

Ethical consumerism is growing as people want to buy from designers and brands that they believe are doing their best to protect people, animals, and the planet.

Stella McCartney is a prominent English fashion designer and pioneer of sustainable fashion. She created one of the first socially conscious luxury brands. She believes that fashion can be luxurious without using leather or fur. She is one of the luxury designers that has preached and practiced sustainable luxury from the start.

"We are agents of change. We challenge and push boundaries to make luxurious products in a way that is fit for the world we live in today and the future: beautiful and sustainable. No compromises. Each decision we make is a symbol of our commitment to defining what the future of fashion looks like. From never using leather or fur and pioneering new alternative materials to utilizing cutting edge technologies, pushing towards circularity, protecting ancient and endangered forests, and measuring our impact with ground-breaking tools."

 - Stella McCartney, British fashion designer


2. Sustainability is shaping luxury fashion


Quality in luxury often means higher prices but now also involves sustainability. Shopping for expensive clothes made of better materials not only helps the environment but also workers in the supply chains.

Sustainability is one of the biggest challenges today, especially in the fashion industry. Fast fashion is destroying the planet and ecosystems at an alarming rate.

Luxury brands are more and more following a conscious approach to fashion. They produce high-quality, durable, and eco-friendly garments that customers can wear for a long time.

They make conscious efforts to answer consumers' demand for style, quality, price, and sustainable practices.

From dress shoes to formal dresses, simple, stylish, classic, and timeless products are everywhere in luxury fashion. Clothing pieces don't follow the most recent trends and last beyond the season.

As consumers adopt environmentally-friendly habits and move away from wasteful consumerism, luxury fashion brands adapt and promote buying less but higher-quality pieces, which is much more preferable to fast fashion.

Sustainability used to be a niche trend rather than the foundation of a proper luxury brand. Today, sustainability is cool and hip. Sustainable luxury clothing has even attracted major prizes and investors, accelerated by the sudden spotlight on environmental issues.

The fast fashion industry is slowly adopting more sustainable practices as well. Retail giants such as Zara, H&M, and C&A have started sustainable collections to answer consumers' demand for more sustainable products and ethical manufacturing.

However, the share of eco-friendly collections among mass-market's fashion clothing is not substantial for most retailers. H&M has under 10% of its product range dedicated to its conscious collection.


3. Consumers are quitting fast fashion


Consumers around the world choose luxury over fast fashion for sustainability reasons, even when both fast-fashion and luxury fashion brands pledge to reduce greenhouse gas emissions and promote sustainability in the industry.

They realize that the fashion industry could account for a quarter of the world's carbon budget by 2050 if the trend continues. They decide to buy less but better.

Luxury brands are coming together to tackle the environmental crisis our planet is facing and consumers notice. They promote sustainable consumption to consumers and use business as a force for good.
"It's all about leading the way as a business, as well as showing customers how to make more sustainable choices, and we back that up with action."

 - Daniella Vega, Selfridges Director of Sustainability
"Every bit counts when it comes to our planet, so I hope they [designers] can all come together on this journey - it's not a trend nor a race."

 - Ida Petersson, Browns Buying Director
The climate crisis is becoming a bigger issue every day. To combat climate change, sustainable fashion has a key role to play.

People still love fast fashion because it provides instant gratification. But the shift toward high-quality and long-lasting clothing from renowned fashion brands is happening quickly.

At the start of the sustainable fashion movement more than 20 years ago, sustainability was something rare and expensive. And so it gained massive appeal.


4. Luxury brands are adopting new business models


The rise of online retail encourages luxury brands to focus their attention on e-commerce sites. They chose to promote sustainability more in online stores.

Consumers' demand for sustainable products is growing and the luxury fashion market is adapting rapidly. Brands now curate conscious collections and make them easily accessible to customers. Browns Buying Director Ida Petersson reveals:

"It's there to help guide our customers and also to allow them to make an informed choice without having to spend hours searching through the respective brand's manifesto."
Net-a-Porter launched a new platform called Net Sustain that highlights brands that meet at least one of 8 attributes regarding sustainability. It offers customers the choice to invest in exceptional fashion and beauty products that have been consciously crafted.
"Our aim is to give a voice to the brands that are truly making positive changes by providing them with a platform to highlight their best practice."

 - Elizabeth von der Goltz, Net-a-Porter Global Buying Director
The platform criteria take into account human, animal, and environmental welfare. And they follow many of the fashion and beauty industries' internationally recognized best practices.




5. Luxury fashion is improving supply chains


Since the catastrophic Rana Plaza garment factory collapse in 2013, consumers realize that their fast fashion addiction kills people and animals.

Fast fashion brands and retailers that put pressure on clothing manufacturers to keep labor extremely cheap cause disastrous death tolls.

Unfair and unsafe working conditions are rampant in fashion supply chains. They lead to abuse, poverty, and catastrophic accidents. Conscious shoppers are slowly shifting away from fast fashion toward ethically-made clothing.

Sustainability and ethical manufacturing are becoming the new normal, not a trend. As we enter a new decade, the fashion world is about to change.

The difficulty lies in many factory workers in East-Asian countries rely on fast fashion to survive. The fashion industry needs new infrastructures and business models.

Fast fashion isn't going anywhere anytime soon but more and more brands are adapting. While fast fashion brands don't care about who, where, and how their clothes are made, luxury brands do.

Every step of a garment journey, from raw material sourcing to designing, manufacturing, and distribution is important to guarantee customers a high-quality and durable product.

Luxury brands train their employees well. They also value experience in the workplace. They not only care about the impact of their processes on the environment but also feel responsible for the welfare of their employees and the workers in their supply chain.

Ultimately, consumers have the power to drive change in the fashion industry. By consciously choosing where and what they buy, they can help transform the currently wasteful industry into a more regenerative, inclusive, and circular one.


Was this article helpful to you? Please tell us what you liked or didn't like in the comments below.