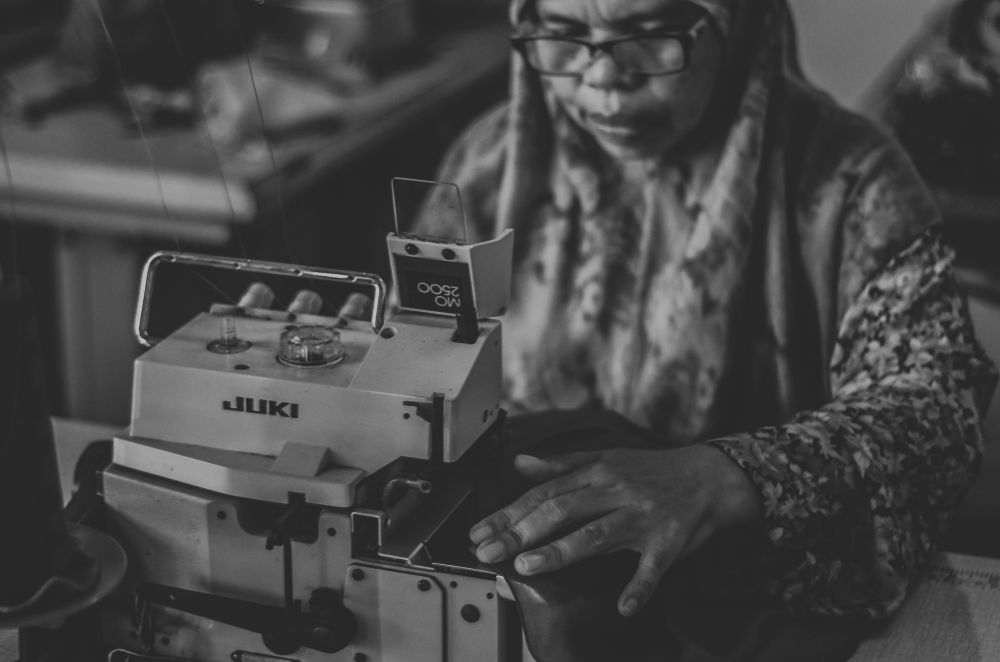 13 Fashion Brands That Still Use Sweatshops In 2023
It's hard to believe, but many fashion brands are still using sweatshops. Child labor and modern slavery cases are still being reported, particularly in Asian developing countries such as Bangladesh, Indonesia, Sri Lanka, and The Philippines.
Clothing brands use these inhumane manufacturing methods to cheaply produce low-quality and disposable clothing for high-street stores.
For consumers that are new to ethical fashion, it's difficult to keep track of how and where your clothes are being made.
Read up our guide on
how to check if a fashion brand is ethical
if you are having this issue.
Many governments have been trying to abolish human rights violations, but some sweatshops manage to run illegally.
Many clothing brands, sporting goods retailers, and high-street chains are still breaking the law when it comes to labor rights.
Many factory workers are paid below the legal minimum wage, forced to work long hours in unsafe environments, don't have access to healthcare or paid leaves.
Workers won't resist for fear of their contracts being terminated. Many young women work in garments factories, being sexually abused, and forced to abort their pregnancy.
Many international fashion brands and retailers spend billions to audit their factories on corporate social responsibility. But many shocking issues and unseen problems remain as audits are conducted by people with no intimate knowledge of the factories.
The impact of clothing production on the planet is disastrous. But many fashion brands don't support environmental protection and animal rights as much as they should.
Every company should work toward treating its employees and the environment better. Unfortunately, many brands still employ sweatshops and fail to sufficiently consider the environmental impact of their products and manufacturing processes.
It's truly frightening. There are no better schools for children in some small towns. Many of them believe that they are better off being employed in farms or factories to nourish their future.
As consumers, we have to only support companies that pay their employees a decent living wage, ensure reasonable work hours, food service, healthcare, and free time with no child labor or forced labor.
Here is the list of fashion brands that still use sweatshops.
Panaprium is proud to be 100% independent, free of any influence, and not sponsored. We carefully handpick products from brands we trust. Thank you so much for buying something through our link, as we may earn a commission that supports us.

Aeropostale
Aeropostale is one of the largest American retailers of casual apparel and accessories.

The company is known to use sweatshops for the fabrication of its clothing items. It has been involved in child labor scandals as well.

The majority of their production factories are in Asia and Central America, in countries like Sri Lanka and Vietnam.

Even if they claim to defend human rights, they are still sending children to work in their cotton farms in Uzbekistan.


Adidas
Adidas creates shoes, clothing, and accessories. Adidas is the second-largest sportswear manufacturer in the world after Nike.

Adidas has been using sweatshop workers and child labor to make its products cheaply and grow into a multinational corporation. Overseas sweatshops are a common thing in the functional apparel sector.

Sportswear also undergoes many chemical treatments to make it more durable, flexible, colorful, or water-repellant. These fabrication processes destroy ecosystems, pollute water, and endanger the health of garments workers.

Thankfully, Adidas is getting better at disclosing its suppliers and subcontractors and is one of the few major activewear brands doing something to address forced labor in many countries.

ASOS
ASOS is a British online fashion and cosmetic retailer, selling over 850 brands on its website as well as its clothing range and accessories.

ASOS uses child labor in Turkish factories and implements sweatshop-like production lines in their warehouses.

ASOS conducts audits to address forced labor, but they aren't comprehensive enough. ASOS has no transparency regarding its direct suppliers and makes little progress to ensure a decent living wage in its supply chains.




Disney
The Walt Disney Company, also known as Disney, the American multinational mass media and entertainment conglomerate, also makes lots of clothing and toys.

Disney's products available in stores are made in sweatshops using child labor.

Disney breaches local labor laws, oppresses Chinese workers, forces staff to do three times the amount of work they should, and drives them to suicide.


Forever 21
Forever 21 is a fast-fashion retailer headquartered in Los Angeles. Many consumers already boycott Forever 21 because of their use of sweatshops.

Forever 21 makes a third of its clothing in the United States. But they are currently being accused of using sweatshop-like factories, underpaying their workers, and having no compensation for overtime.

Forever 21 also employs children in cotton farms in Uzbekistan. Children are taken from school to work on farms, neglecting their education.




GAP
GAP is an American clothing and accessories retailer founded in 1969 headquartered in San Francisco.

GAP is well-known to have used child labor in the past. Today, GAP continues to make clothing in sweatshops in countries like Bangladesh, Cambodia, India, Indonesia, and Sri Lanka.

GAP is making progress on transparency, but there are still cases of inhumane treatment of workers being reported.

Workers continue to protest against GAP because they have no union rights, work over 16 hours a day, and are paid half of the minimum wage in India. Young women are still being physically and sexually abused in GAP factories.


H&M
H&M is a Swedish multinational retail company known for its fast-fashion clothing for men, women, teenagers, and children.

H&M is still using sweatshop-like work environments to make its products. Even if H&M is trying to make progress, they are failing to meet their goal of paying a living wage to all of their employees.

H&M has been caught in scandals many times over. Factory workers in Bangladesh are forced to work in unsafe conditions to make H&M clothes. And children in Myanmar continue to work for them.




Nike
Nike is an American multinational corporation that designs, manufactures, and sells footwear, apparel, equipment, and accessories worldwide.

Nike has been accused of practicing child labor many times over the years. They have used many unethical practices to become the top-selling activewear brand in the world.

Many Nike factories aren't monitored externally by labor rights experts. Nike doesn't care much about the men and women who work for them.

Nike keeps creating a culture of discrimination and sexual harassment. They don't feel responsible for the human rights violations happening daily in their factories.


Primark
Primark is an Irish fast-fashion retailer with headquarters in Dublin, also operating in the United States. Primark uses sweatshops to make very low-price clothing.

Many consumers are now boycotting Primark, but the brand is still expanding. Primark has been involved in child labor and modern slavery scandals before.

Primark is making some progress in improving its manufacturing practices, but it's not enough. They aren't paying a living wage to all of their workers.

Primark doesn't control its supply chain effectively enough to prevent human rights violations. They are also not transparent enough in their activities to improve health and safety in their factories.

Uniqlo
Uniqlo is a Japanese casual wear designer, manufacturer, and retailer. Uniqlo is a fast-fashion brand that used child labor in the past. They now use forced labor to manufacture their products in Asian developing countries.

Factory workers making Uniqlo clothing are forced to work excessively long hours with very low wages, seven days a week.

The company uses cheap labor from Bangladesh, Indonesia, and China, where workers are barely paid enough for their daily expenses.

The United Nations have guiding principles for companies to prevent, address, and remedy human rights abuses committed in their supply chains. But Uniqlo doesn't care at all.


Urban Outfitters
Urban Outfitters is a multinational lifestyle retail corporation headquartered in Philadelphia, Pennsylvania. They also own Anthropologie and Free People.

Urban Outfitters uses sweatshop-like work conditions in their garment factory. There maintain poor working conditions and low wages to benefit from a higher profit margin on their products.

Child labor controversies involving Urban Outfitters occurred many times in the past. Urban Outfitters keeps wasteful practices and provides very little evidence to verify their claims about their social and environmental impact.




Victoria's Secret
Victoria's Secret is an American designer, manufacturer, and marketer of women's lingerie, womenswear, and beauty products.

They use sweatshops in Jordan, Bangladesh, and Sri Lanka to manufacture their products. Their workers aren't paid enough and work more than 14 hours a day.

Many cases of child labor, sexual abuse, and physical assault were reported in cotton farms and garment factories working for Victoria's Secret.

The brand makes very little to no progress towards ensuring good work conditions. And it audits only very few of its factories.




Zara
Zara is a Spanish fast-fashion retailer making clothing, accessories, shoes, swimwear, beauty, and perfumes. The biggest fashion group in the world, the Inditex Group, owns Zara along with Bershka, Massimo Dutti, Oysho, and more.

Zara used to employ Turkish sweatshops in Istanbul, where workers were forced to work without being paid.

Modern slavery and child labor cases involving Zara in Brazilian factories were previously reported.

Zara now cares more about its suppliers with higher transparency and worker empowerment initiatives. But the brand still doesn't pay a living wage across its supply chain.
There are too many fashion brands that use sweatshops, forced labor, and child labor to list them all. It's shockingly disgusting that brands still employ people in unsafe work conditions.

To find out which brand isn't making enough effort, read up our definitive list of 89 fast fashion brands to avoid.

As consumers, we should be aware of how the products we buy are being made. With some research, we can prevent the abuse going on in farms and factories in developing countries by not supporting those that violate human rights.

Thankfully, more fashion brands are working to solve these issues. Social and environmental sustainability is becoming a priority before economic growth.

We have to buy clothing from ethical brands promoting renewable energy, reducing water and chemical usage, using sustainable materials, and treating workers right.

Let's support companies that don't use sweatshops at all. It's the more ethical choice we can make to lower the demand for cheap fast fashion and improve work conditions in garments factories.

All farmers and workers across the supply chain should have access to living wages, normal working hours, skills training, healthcare, paid leaves, food service, and unions protecting their rights.

Child labor and forced labor have no place in a developed and civilized society.

It's easy to say that we should ban sweatshops altogether, but it's not an easy issue to solve. People are still relying on garment factories to earn enough money for themselves and their families living in developing countries.

The fashion industry has a terrible social and environmental impact. Progress has been made but it's not nearly enough.

The growing trend for sustainable fashion is a great thing. More publications such as Vogue, Marie Claire, The Guardian, Glamour, and Eluxe cover sustainable fashion. But the large majority of what's being covered in magazines isn't ethical.

Fashion brands producing goods for cheap and paying their workers next to nothing are numerous. People being employed at very low wages for long hours (up to 100 hours a week) and under poor conditions shouldn't be a thing anymore. It has to stop.


References:
Was this article helpful to you? Please tell us what you liked or didn't like in the comments below.