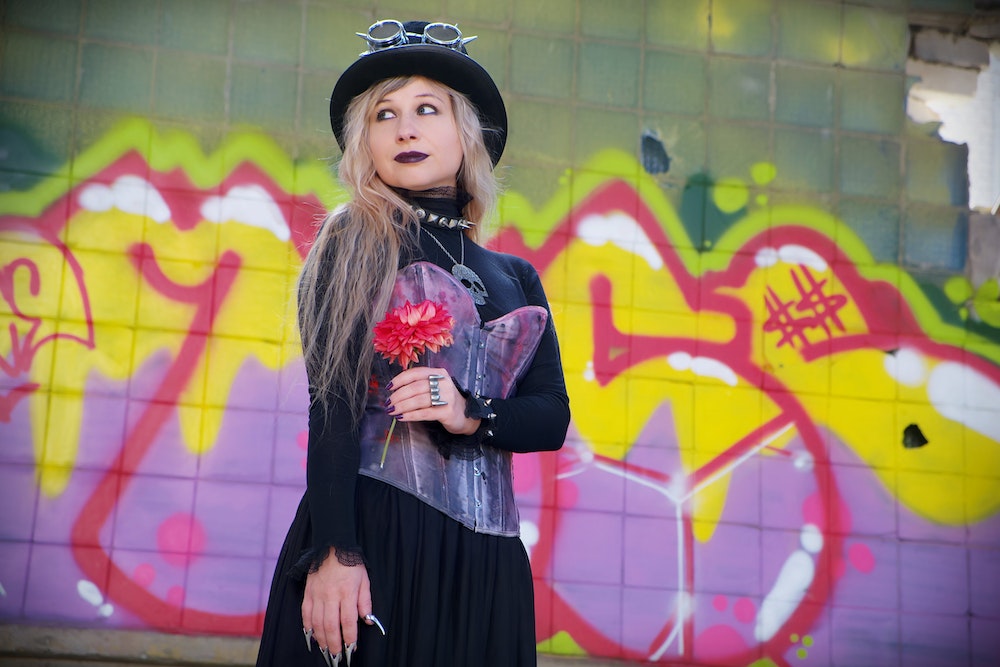 Beetlejuice On Broadway: 15 Ultimate Looks To Slay
Heading to Broadway to catch Beetlejuice: The Musical is the perfect excuse to unleash your inner goth, punk, or quirky self. If you're unsure of what to wear, or you need a helping hand in the styling department then you have come to the right place.
The show is loud, fun, zany and silly all at once. That means you can dress however you please and nobody will blink an eye. That being said there are specific items and looks that will help you fit into the crowd at Beetlejuice.
With its darkly comedic and eccentric themes, it invites you to express your individuality through your outfit, so this is an opportunity that you should grab with both hands!
From mesh dresses to striped suits to campy costumes, there are many looks to help you do the show justice.
Panaprium is proud to be 100% independent, free of any influence, and not sponsored. We carefully handpick products from brands we trust. Thank you so much for buying something through our link, as we may earn a commission that supports us.
Mesh Dress
A mesh dress adds an edge to your outfit, and it's an ideal choice for a show like Beetlejuice. Combine it with platform boots and bold makeup for a striking appearance. 
Make the audience scream for your style by adding accessories like studded jewelry.
Check out these edgy concert outfits now.
Corset Dress
If you've read my other blogs, you will know how major corsets are right now. Lucky for you, you can incorporate this stunning trend when seeing Beetlejuice. 
A corset dress exudes gothic allure. Top it off with long gloves for extra impact, and you'll channel Lydia Deetz's style in no time. Bewitch the crowd with your eerie elegance in this hot-to-trot look.
Find your best corset from our selection of the 10 best affordable corsets.
Grunge
Grunge is always in style for Beetlejuice enthusiasts. Think flannel shirts, ripped jeans, and combat boots for a look that's both edgy and comfortable. 
This vibe is ideal for the more casual thespians, who want to nod to the show's vibe, but don't want to go full hog. Unleash your rebellious spirit.
Here are the 10 best sustainable grunge brands that we know you will love.
Vegan Leather Pants and Boots
Vegan leather pants and boots are an excellent choice for those wanting a more ethical but stylish alternative to leather. 
The hot baddie vibe is perfect for the show's spirit. Stay cruelty-free and creepily chic in a slick, biker-chic-themed fit.
Discover your ideal pair of luxurious vegan leather pants right now.
Striped Jumpsuit
Emulate the iconic look of Beetlejuice himself with a black-and-white striped jumpsuit that will have people stopping to take your pic.
Add colorful accents for an extra touch of personality. Channel the ghost with the most, and let the stripes mesmerize.
Take a peek at these 20 best affordable and sustainable jumpsuits now.
Preppy Goth
Blend preppy fashion with a gothic twist for a major look that will have people in awe of your vibes.
Think dark colors, Peter Pan collars, tailored blazers, high-waisted pants and classic pieces with a darker edge to nail this tried and tested look.
This look will ensure that you're dressed well for a night of fun at the theater.
Check out these 20+ top goth girl looks now.
Black Suit
A classic black suit is a timeless choice. It's sharp, sophisticated, and versatile for a night at the theater. 
Pair with a pair of nice brogues to keep it smart, or opt for a casual sneaker to dress the look down.
This look, suitable for all genders, will prove that black is the new black.
Discover these 20 sustainable suits for men and women right now.
Gothic Prom Dress
For those of you wanting to serve extra, a gothic prom dress is a surefire showstopper that will have heads turning.
It combines elegance and darkness in a way that suits the Beetlejuice aesthetic perfectly. 
Be the dark prince princess of the night in this fab 80s look, and don't be afraid to take it too far.
Check out these formal dresses from this gorgeous selection.
Genderqueer
Beetlejuice is camp and fun. That's why it's the ideal show to express your genderqueer identity through your outfit. 
Combine masculine and feminine elements to create a look that reflects your unique self. Be yourself – unapologetically and you will be the bell of Broadway.
Want to get tips on how to shine at a Dolly Parton concert, then look no further.
Vegan Leather Jacket
A vegan leather jacket is a cool and cruelty-free choice that is just right for an evening out to the theater.  
Pair it with your favorite dark outfit for a chic appearance. Slay the style game while supporting animal rights.
Find your ideal vegan leather jacket from our 2023 hot picks.
Black Mini Dress
A black mini dress is a classic option to see Beetlejuice. It's timeless, sexy and simple, what more could you want?
Elevate the outfit with 2023's shoe of the year, the cowboy boot, for a trendy twist. It's time to kick up your heels and strut your stuff.
Take a peek at these hot black slip dress outfits.
Camp Costume
Go all out with a camp costume reminiscent of the Day-O dinner scene. 
Wigs, exaggerated makeup, and elaborate accessories will make you a true showstopper. Camp it up and enjoy the spotlight at this once-in-a-lifetime theater experience.
Fancy finding out what to wear to see Kinky Boots?
Striped Pant-Suit
A striped pantsuit provides a modern and stylish look that nods to the zany character of Beetlejuice. 
It's bold, daring, and perfect for those who love making a statement. Stripes never looked so sinister, so why not get involved?
Complete your fit by grabbing some recycled pants.
Cardigan and Mini Skirt
A cardigan and mini skirt combination adds a touch of cute charm with a hint of darkness. It's playful yet mysterious and ideal for those wanting to feel comfortable but look hot.
Embrace your inner goth and go for dark colors to really fit into the show's aesthetic.
Discover the best cardigan for you from our hot selection.
80s Dress
Bring a touch of the 80s into your outfit. Think bold patterns, vibrant colors, and statement accessories for a retro-inspired look that complements the show's quirky spirit. 
Travel back in time and rock those retro vibes for an outfit that deserves a standing ovation.
Here are some 80s disco party outfits to dance the night away.
Was this article helpful to you? Please tell us what you liked or didn't like in the comments below.
About the Author: Catriona Jean