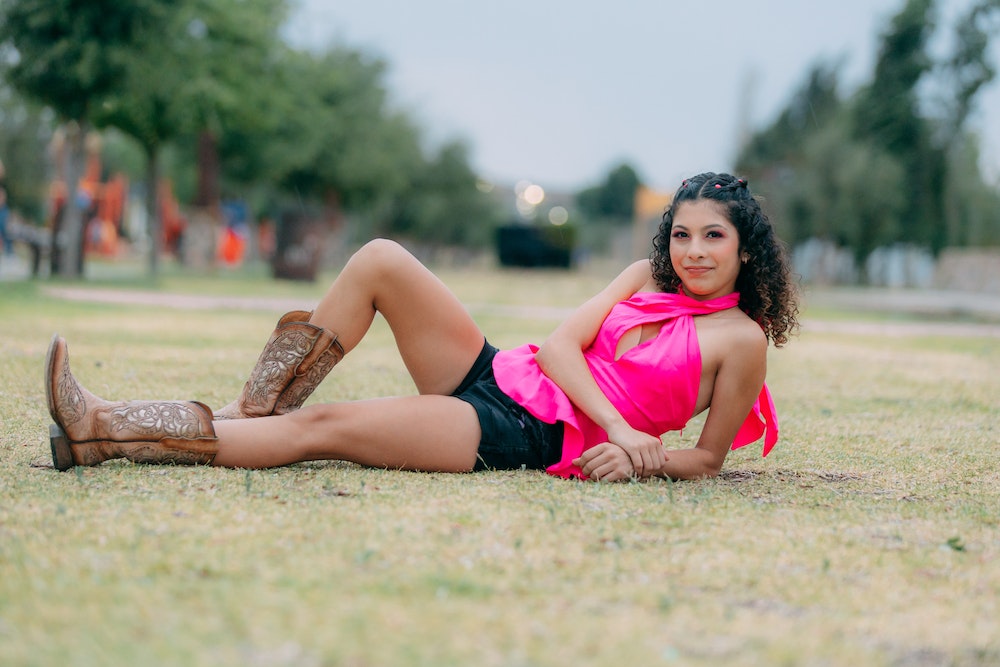 How To Shine At A Dolly Parton Concert: 15 Looks
When it comes to country music legends, nobody shines as brightly as Dolly Parton. Known for her iconic style, powerhouse vocals, and heartfelt songs, Dolly's concerts are not just musical events; they're celebrations of self-expression and individuality. 
If you are wondering what the best thing to wear to one of Dolly's concerts, then this blog is for you. To truly enjoy a Dolly Parton concert, you'll want an outfit that reflects her vibrant personality and timeless country charm. 
Here, we've curated some top fashion ideas that will help you embrace your inner country star and stand out at the next Dolly Parton concert.
Panaprium is proud to be 100% independent, free of any influence, and not sponsored. We carefully handpick products from brands we trust. Thank you so much for buying something through our link, as we may earn a commission that supports us.
Metallic Mini-Dress
Dolly enjoys all that glitters, so why not kick off your Dolly Parton concert experience with a touch of dazzle?  
A metallic mini-dress will catch the stage lights and add some glitz to your night. 
Pair it with statement boots and you'll be ready to dance the night away.
Check out these awesome vegan leather boots right now.
Cowgirl Chic
Lean into the Western aesthetic by wearing cowgirl-themed items.
No country-inspired outfit is complete without a cowboy hat. Whether it's a classic brown Stetson or something more colorful and bedazzled, your cowboy hat is a nod to Dolly's Tennessee roots.
Find out more about embracing Western fashion style.
Double Denim
Channel Dolly's classic style with a double-denim ensemble. A denim jacket paired with jeans or hot pants is effortlessly cool and pays homage to the country icon's love for denim.
Top the look off with cute pumps, or comfy sneakers to allow you to sing and dance the night away.
Take a peek at these sustainable denim shorts.
Floral Print Midi Dress
Embrace Dolly's feminine side with a floral print midi dress. This timeless piece exudes charm and pairs perfectly with cowboy boots or a denim jacket.
Dolly pioneered the soft girl aesthetic, which is now being embraced by the likes of Miley Cyrus, Dolly's goddaughter, so why don't you?
Check out how to look cute in a midi dress.
Accessories
Every fashionista knows to never forget to accessorize! 
Load up on bracelets, necklaces, and statement earrings to add some sparkle to your outfit. Dolly herself is known for her love of accessories, so go all out, don't hold back, and if in doubt ask yourself this: what would Dolly do?
Find your fave hair accessories from this hot list.
Shirt Dress
A shirt dress is both comfortable and chic. Tie it at the waist and pair it with knee-high boots for a look that's equal parts stylish and country-inspired.
Opt for a bright color, such as Dolly pink, and you will be sure to fit right in.
Check out how to dress at a hoedown.
Denim Corset and Shorts
For a daring outfit that still captures Dolly's essence, try a denim corset with high-waisted shorts. This ensemble showcases your curves and gives a nod to Dolly's iconic style.
Corsets and denim items have both been reigning trends in 2023, so you will slay in this outfit.
Discover these sustainable corsets now.
Lacey Sundress
Dolly Parton's music often carries a sense of nostalgia, and a lacey sundress embodies that sentiment perfectly. 
It's the kind of outfit that can make you feel like you're dancing in a field of wildflowers.
Pair with a nice pair of sneakers and carry a cute bag. 
Here is our selection of these amazing sundresses that we know you'll love.
Bardot Top and Skirt
Bring a touch of romance to the concert with a bardot top and skirt combo. This ensemble exudes elegance and pairs beautifully with cowboy boots or ballet pumps.
This look has been showcased by the likes of Kylie Jenner all summer, so that means we know it's hot right now.
Check out these gorgeous '70s-inspired outfits.
Flowy Dress
A flowy dress captures the essence of Dolly's music. Opt for a dress in a bright color or vibrant pattern to stand out in the crowd.
Pair with comfy flats and a red lip for an extra wow factor.
Here is some fantastic fashion with a satin dress.
Pink Pantsuit
Dolly is known for her love of all things pink, therefore a pink pantsuit is a playful homage to her signature color. 
Go for a bold shade of pink to channel her fearless spirit.
Take a peek at these hot outfits for a night out in Vegas.
Sequin Dress
Shine like a country star with a sequin dress. Dolly's concerts are known for their glitz and glamor, and a sequin dress will ensure you're part of the spectacle.
Opt for a matching blazer for a super glittery vibe.
Here are our top tips for nailing disco fashion style.
Miniskirt and Shirt
Get playful with a miniskirt and a classic shirt. Tie the shirt at your waist and add some fringe for that extra country flair.
This look is great for those who don't like going OTT, but still want to serve cute vibes.
Find your perfect hemp shirt from this stunning selection.
Flares and Crop Top
Flares are a timeless staple of country fashion, and a personal fave of Dolly's from the beginning of her career.
Pair them with a crop top for a look that's equal parts boho and country chic.
Here is our blog on the best boho brands in the USA.
Camp
Embrace Dolly Parton's campy side with an over-the-top outfit that's bold, vibrant, and unapologetically you. 
Think glitter, feathers, and lots of bling!
Find out more about flamboyant fashion here.
Was this article helpful to you? Please tell us what you liked or didn't like in the comments below.
About the Author: Catriona Jean