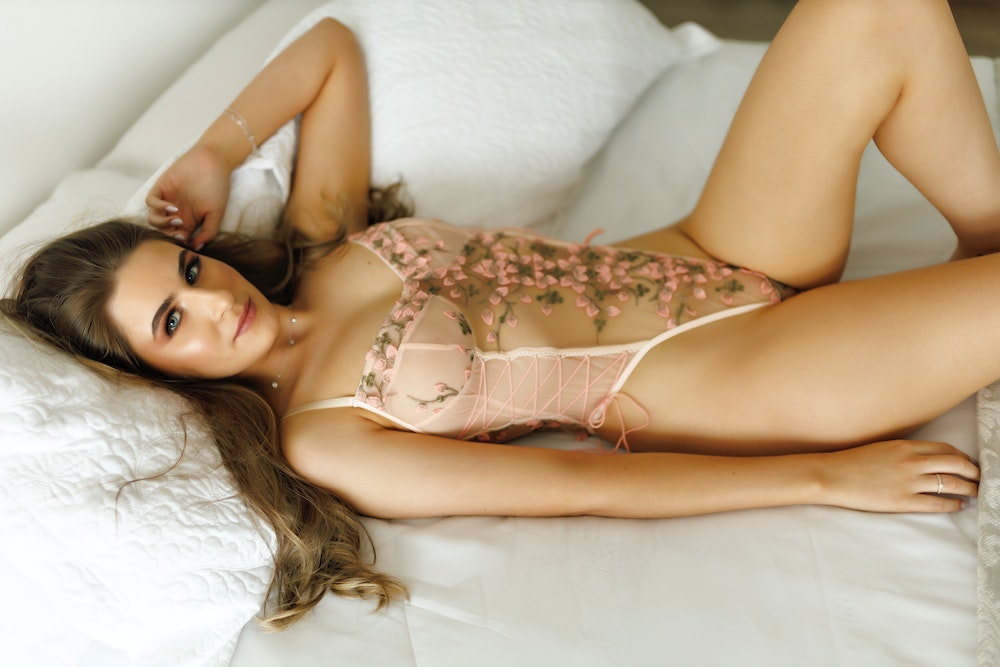 Ultimate Lingerie Guide For Petite Women: 15+ Tips
Choosing lingerie as a petite woman can be daunting – but you have come to the right place for advice on this topic.
When picking your ideal lingerie, it's vital to take into account the style, fit, shape and fabric of your chosen items. You want to avoid lingerie that drowns your smaller figure and wear garments that help to accentuate all of your good bits.
Choosing the right lingerie is all about embracing your unique body and expressing your personality. Whether you prefer casual comfort or alluring elegance, there is lingerie out there that will make you feel like the small but perfectly formed goddess that you are. 
We have compiled this list of the hottest 15+ things you can wear to ensure you look your best. From boy short briefs to beautiful bodysuits, there is something to suit your vibe. So, petite girlies, go ahead and indulge in these fabulous lingerie options designed to complement your beautiful figure and boost your confidence.
Panaprium is proud to be 100% independent, free of any influence, and not sponsored. We carefully handpick products from brands we trust. Thank you so much for buying something through our link, as we may earn a commission that supports us.
Casual Sports Set
A casual sports set is an ideal option for a petite frame. Opt for sporty bras and briefs with minimal detailing.
The sports set will help to enhance your natural curves while keeping you comfortable during your daily activities.
Check out these 10 best affordable USA-made underwear brands.
Balcony Bra
A luxurious balcony bra offers just the right lift and support and is ideal for smaller women. 
It provides a flattering shape for petite frames while adding a touch of elegance to your lingerie collection. 
Want to know how to impress your husband on your wedding night, then look no further.
Corset
Everyone who has even half a finger on the pulse of today's trends, knows that corsets have been on every fashion lover's rotation this year. And underwear is no different!
Corsets are fantastic for elongating a smaller frame and creating the illusion of a bust and a waist. Therefore they are a dreamy option for smaller-framed women. Pair with fishnets for a gothic glam look.
Take a peek at these cute corset brands.
Tank and Briefs
If casual and cool is your style, then try pairing a tank top with briefs for the ultimate easy going vibe.
This is a simple and attractive choice for the laid back fashionistas. Look for designs that provide a snug fit, ensuring you feel confident and sexy all day long.
Discover the 20 best affordable and sustainable tanks now.
Cute Details
Adding a little something-something isn't just reserved for petite gals. However with a smaller frame, you can choose to wear lingerie with a bit more flair without it looking OTT.
Embrace lingerie with delicate bows, straps, and other intricate details. These additions draw attention to your petite physique and add a splash of feminine charm to your overall look.
Have a look at these stunning 10 best organic bras.
Bodysuit 
Bodysuits are versatile and can be a petite woman's best friend. They create a seamless, elongated silhouette that's oh-so-flattering. With neater proportions, why would you not try out this sexy option? 
Choose a bodysuit in a style that reflects your personality, whether it's sweet and innocent, daring, or funky.
Find your perfect bodysuit from this amazing selection. 
All-Black
When in doubt, go for all-black lingerie. It's timeless, elegant, and universally flattering. The monochrome look will add an air of sophistication to your lingerie collection, whether it's for everyday wear, or something a little more special.
It's especially good for smaller frames because it lets the underwear be the focal point, drawing attention to all the right places.
Here are the 20 best alternatives to Victoria's Secret.
Lacey Set
No matter what your shape, a lacey set exudes sensuality and femininity. Petite gals can go a little further with detail, because it will look less in-your-face.
So why not opt for a lacy lingerie sets that embraces your curves and makes you feel like an absolute goddess? 
Here are 15+ amazing outfits to wear to sleep with your boyfriend.
Ruffled Underwear
Mary Antoinette and the soft girl aesthetic is having a major moment in 2023. You can introduce it into your wardrobe in a subtle way by wearing ruffled underwear. 
Ruffled underwear adds a playful touch to any lingerie collection. The frills can create an illusion of curves and add a bit of fun to a petite woman's intimate apparel.
Discover these outfits to wear to a Renaissance Fair.
Flowy Shorts
Flowy shorts offer comfort without sacrificing style. They are perfect for lounging around the house or wearing under loose pants or skirts.  
Women with a smaller frame may feel more comfortable in flowing fabrics and if so, then this is the ideal underwear choice for you.
Take a peek at this ultimate hook-up fashion blog, just for you.
G-String
You may have heard that the 2000's are back with a vengeance. And with that era's style resurgence comes the unforgettable whale tail. 
The good news? A G-string offers minimal coverage while elongating your legs, so it's an excellent choice when you want to showcase your petite figure. And you don't have to sport it above your jeans, it can stay discreetly tucked away. There are many different styles and fabrics to choose from, you don't have to sacrifice comfort for looking hot.
Check out these 20+ organic and biodegradable underwear brands now.
Babydoll
Babydolls are flattering for petite women, as they often feature empire waistlines that create the illusion of longer legs. They also have a playful, flirty vibe that's hard to resist.
Pick one in a gorgeous soft pastel for a feminine touch. Or lean into a seductive vibe by picking darker tones like espresso or black.
Here are the 8 best affordable Scandinavian brands.
Low-Rise
The low-rise pantie doesn't suit everyone, however smaller framed women can get away with this shape much more than others.
Opt for low-rise panties and minimalist bras to avoid overwhelming your frame. This style sits comfortably on your hips and provides a flattering fit. Experiment with colors to match your mood.
Take a peek at these super cool plant-dyed underwear brands.
Bold Lingerie
She may be small, but she is mighty! Don't be afraid to experiment with daring fabrics, bold colors or patterns.
Head-turning lingerie can make a petite frame pop and exude confidence, proving that some of the best things really do come in small packages.
Check out this hot list of 2023's best organic bamboo underwear brands.
Animal Print
Animal print lingerie is fierce and fashionable. It's a bold choice that demands attention and highlights your petite figure.
Whether it be leopard, zebra, tiger or snake, an animal print looks amazing on a petite frame, because it doesn't look over the top. Unless you want it too that is.
Discover the 20 best organic cotton underwear brands.
Boy Shorts Briefs
Boy shorts briefs offer fuller coverage while maintaining a flirty, feminine appeal. They are comfortable and stylish, perfect for everyday wear.
You could go full tomboy and pair with a crop top or tank, or lean into your inner goddess and pick a pair with bow or lace detail. Whatever your style, there is a boy shorts brief option out there for you!
Take a peek at these Danish underwear brands that you need to know about.
Was this article helpful to you? Please tell us what you liked or didn't like in the comments below.
About the Author: Catriona Jean