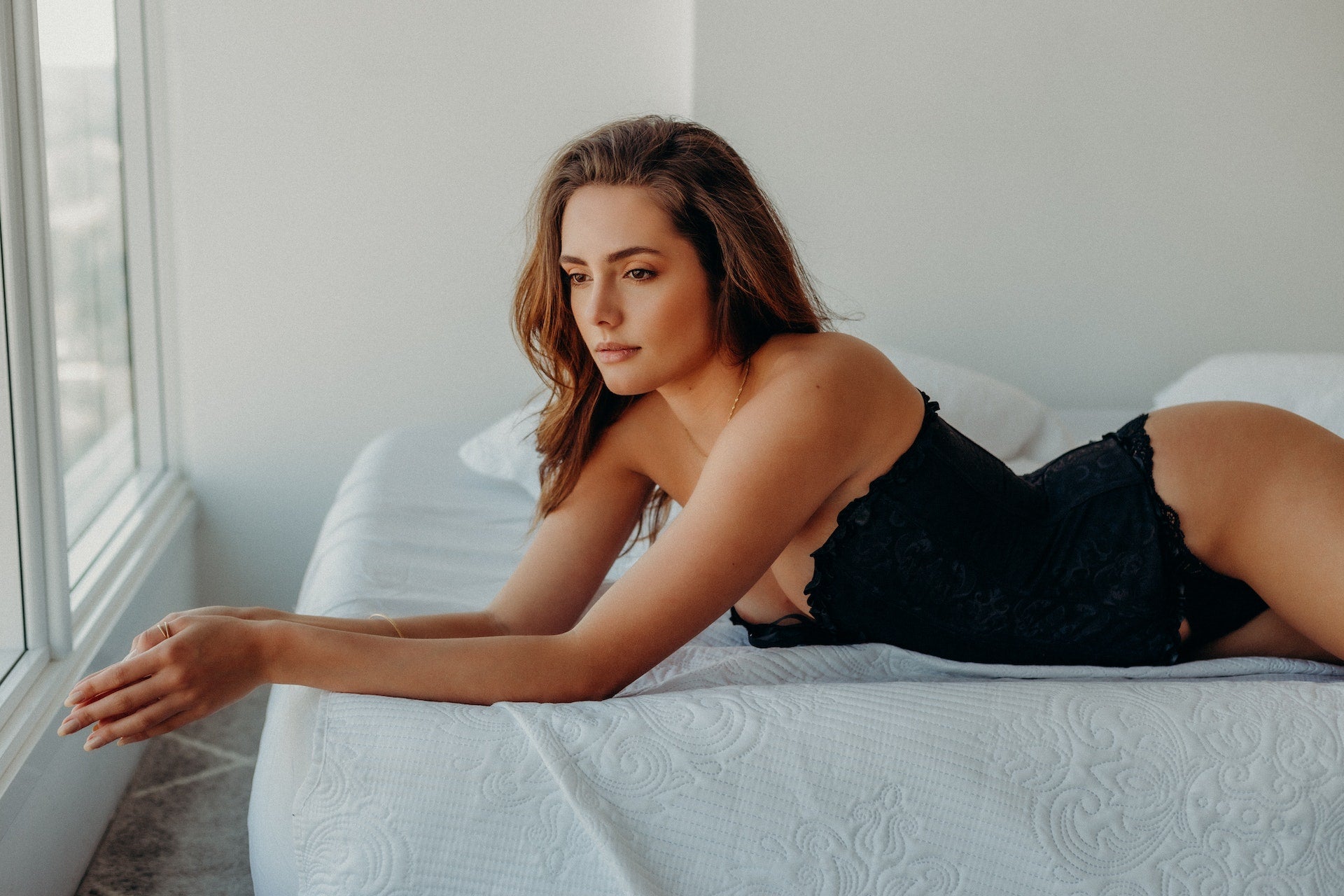 15+ Amazing Outfits To Wear To Sleep With Your Boyfriend
Sometimes it is a little bit difficult to decide what to wear, especially if feeling overwhelmed with emotion because you are going to spend time with your boyfriend.

We've got you covered with an extensive list of recommendations, so keep reading to discover the most beautiful and sexy outfits you can wear to turn your boyfriend on!
Panaprium is proud to be 100% independent, free of any influence, and not sponsored. We carefully handpick products from brands we trust. Thank you so much for buying something through our link, as we may earn a commission that supports us.

Tight clothes
Tight clothes will showcase your body lines in a very attractive manner, that is why, if you want to dress sexy, you should include some tight clothes in your outfit. Think about which one of your body parts you want to highlight, and choose a tight top, or tight bottoms.

You should, however, make sure that your tight clothes are not too tight - you want to be comfortable, to be able to move unrestricted, and to have the possibility to take off your clothes effortlessly.


Choose sustainable clothing items made under high-quality standards by one of these brands.



Cute babydolls
Babydolls are very cute, feminine, and timeless adult apparel items that your boyfriend will love. They are also very comfortable if you choose the right size for your body.

The material can be either thicker, or see-through, depending on how much you want to reveal.

Make your choice sustainable and purchase from one of these brands.


Wear red
Red is the color of passion and seduction.
Make a statement and wear lingerie in this bold and beautiful color to seduce your boyfriend.

Take a look at these cheap and ethical alternatives to Victoria's Secret and buy from one of them.


Pastel colors and white
Wear pastel colors and white if, on the other hand, you want to go for a very young and innocent look.
Lingerie in these colors is very cute and guys love it.

Discover our recommendations in this article.


Beautiful matching sets
A beautiful matching set can be all you need if you are looking for a sexy outfit to impress your boyfriend.

They are very attractive and flattering and they can now be sustainable!




Bodysuits
Comfortable, fashionable, and versatile, bodysuits are perfect for spending time with your boyfriend.
They are sexy and interesting and they will show that you put an effort into your attire.

Purchase sustainable bodysuits made by ethical brands.


Robes
Robes are also a gorgeous idea!

You can wear them over your favorite lingerie set or with nothing underneath! Either way, your choice will be fantastic and your boyfriend will love it!

Take a look at our article about the best affordable and sustainable robes and bathrobes.



Deep-cut tops and dresses
Deep cuts reveal your cleavage and guys find them highly attractive!
It is our recommendation to wear a deep-cut blouse or dress if you want to grab your boyfriend's attention in no time.

Buy your clothes from an ethical brand that works with high-quality materials.



Mini dresses
If you don't want to appear directly in your underwear in front of your boyfriend, but you still want to wear a sexy outfit, you should wear a mini dress.

Take a look at our guide for sustainable, sexy, and casual dresses.

Fishnet tights
Fishnet tights can add the erotic final touch your outfit needs.

They also come in a lot of pretty colors, so it is very easy to choose a pair of fishnet tights that will match your lingerie or other clothes.

If you want to buy beautiful and sustainable tights, we've got you covered with an article about the best eco-friendly hosiery brands.


Heels
Spice things up in the bedroom with a sexy pair of heels!
Even if you do not normally enjoy wearing heels, you should consider having a pair for this context alone, and that is because guys usually love these sorts of details.

Here are our vegan and sustainable recommendations.

Corsets
Corsets are highly fashionable and attractive.
They highlight your upper body features in a very sexy manner, so you should definitely consider one if you love the femme fatale look!

Here are our sustainable recommendations.


Cute pajamas


Do you want a relaxed outfit that allows you to feel natural and look hot without any effort? Choose a pair of cute pajamas because they are the definition of a relaxed outfit and they will allow you to look great and feel great as well.

Discover our sustainable recommendations.

Tank tops
Tank tops are another great option. You can wear them with your favorite bra underneath or without any lingerie.

Check our sustainable recommendations if you need shopping inspiration.


Regular underwear
You don't have to wear the fanciest underwear to look hot. Of course, erotic underwear with lots of details such as lace and embellishments is great, but your regular, comfortable underwear can be as great!

A lot of people are minimalists when it comes to their clothing, and if you are one of them, you shouldn't wear something that feels like too much.
You can wear everyday underwear and still be extremely sexy. Just make sure you choose flattering pieces, in the right size for your body.

Start shopping ethically from one of the 20 best organic cotton underwear brands in 2023.


Cami dresses
Cami dresses are very beautiful and versatile and they look amazing on any woman!

When in doubt about what to wear when hanging out with your boyfriend in a very intimate context, a cami dress can be a perfect choice that will look fantastic.

Buy yours from an organic underwear brand.


Oversized shirts
Wear an oversized shirt (or even better, one of his shirts) with nothing or just sexy lingerie underneath! This is incredibly sexy and guys like when their girlfriends wear their clothes.

For ethical shopping inspiration, check out our article.



Summing up
There are a lot of outfits that guys find highly attractive and it is entirely up to you to go with something very fancy, or with something rather simple. None of the two directions is better than the other, you have to figure out what works for you!

Always choose an outfit that makes you feel sexy, because when you radiate confidence, you instantly become even more attractive to your boyfriend as well.

Never forget that clothes in the right size for your body are the most flattering. We recommend purchasing only from sustainable brands that work under high-quality standards - this way you take care of the environment and also of yourself by making sure that your clothes' fabrics are gentle with your skin.
If you like our advice, share this article with your friends!
Was this article helpful to you? Please tell us what you liked or didn't like in the comments below.
About the Author: Miruna Dulcea