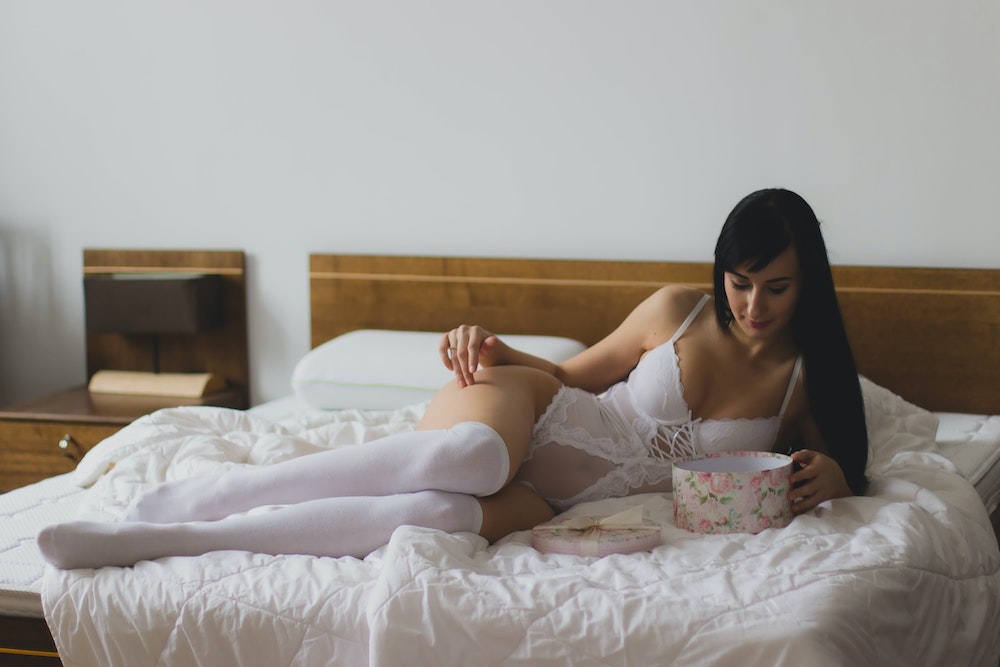 How To Impress Your Husband: 15 Wedding Night Fashion Tips
Your wedding night is a special occasion filled with love, passion, and anticipation. 
It's a time to celebrate the beginning of your journey as a married couple and create cherished memories. One of the exciting aspects of this unforgettable night is choosing the perfect attire to impress your husband and set the mood for an intimate and romantic experience. 
Lucky for you – and him– there's a range of alluring and captivating lingerie options, ensuring that you feel confident, beautiful, and empowered on your wedding night. From sweet and sensual babydolls to daring thong bodysuits, there is something special for every individual style and preference.
Panaprium is proud to be 100% independent, free of any influence, and not sponsored. We carefully handpick products from brands we trust. Thank you so much for buying something through our link, as we may earn a commission that supports us.
Babydoll
When it comes to choosing the perfect attire for your wedding night, a babydoll is a delightful option that effortlessly combines sweetness with sensuality. 
The delicate, flowy fabric skims your curves, creating an enchanting silhouette that is both alluring and comfortable. Opt for romantic details like lace trimmings or sheer panels to add a touch of elegance and feminine charm. The babydoll is sure to captivate your husband's attention and set a romantic tone for the night ahead.
Check out the 10 best affordable and sustainable wedding dress brands.
Thong Bodysuit
For a more provocative and daring choice, consider a thong bodysuit that accentuates your curves in all the right places. 
The form-fitting design and minimal coverage create an irresistibly seductive look that will leave your husband breathless. Choose a bodysuit in luxurious fabrics like satin or lace for an added touch of elegance. This alluring piece of lingerie is perfect for creating an intimate and passionate atmosphere on your wedding night.
Take a look at these stunning bodydsuits.
Lacey Lingerie Set
Elevate your wedding night ensemble with a lacey lingerie set that exudes classic elegance and a hint of seduction. 
The intricate lace details and delicate patterns add a touch of femininity and sophistication. Opt for a matching bra and panty set or a bralette with a high-waisted brief for a vintage-inspired look. The combination of lace and delicate fabrics will make you feel irresistibly beautiful and leave your husband in awe.
Find the 10+ affordable lingerie brands made in the USA.
Silky Night Dress
Indulge in the luxurious and sophisticated charm of a silky night dress on your wedding night. The smooth and delicate fabric glides over your body, creating an effortlessly elegant and sensual look. 
Choose a night dress with delicate straps, a plunging neckline, or a thigh-high slit to add a hint of allure. Opt for a style that flatters your figure and makes you feel like a goddess. This timeless piece of lingerie will make you look and feel utterly glamorous as you celebrate your special night.
Here are the 20 best designer wedding dress brands you can rent.
Lingerie that Compliments Your Hair
When selecting your wedding night lingerie, consider options that complement your hair color and enhance your natural beauty. 
For brunettes, jewel tones like emerald green or sapphire blue can create a stunning contrast. Blondes can embrace pastel hues or soft neutrals to enhance their radiant glow. Redheads can opt for rich and warm colors like burgundy or deep purple. Choosing lingerie that harmonizes with your hair color will captivate your new hubby's attention.
Here are 15+ amazing outfits to get your man's heart racing.
Artistic Flair
Infuse your wedding night ensemble with an artistic flair by selecting lingerie that embraces embellishments, fringe, and intricate details. 
Whether it's delicate beading, playful tassels, or embroidered designs, these artistic elements add a touch of uniqueness and make a bold statement. Explore lingerie pieces with unexpected details that showcase your individuality and captivate your husband's imagination. Embrace the artistry of design and let your lingerie reflect your vibrant personality.
Want to find out more about flamboyant fashion style then look no further.
Bralette and Kimono
For a relaxed yet undeniably sexy look, consider pairing a bralette with a cute kimono. 
The bralette's comfortable yet supportive design highlights your natural curves, while the kimono adds an elegant and romantic layer. Choose a bralette in a flattering color or with intricate lace detailing. Pair it with a satin or silk kimono adorned with delicate prints or embroidery. This combination strikes the perfect balance between comfort and style, creating an effortlessly sexy and stylish ensemble that is sure to impress your husband on your wedding night.
Look at these gorgeous affordable and sustainable kimonos.
Sexy High Heels
Complete your wedding night attire with a pair of sexy high heels that not only elevate your height but also your confidence and glamour. 
Opt for heels in a style that complements your lingerie, such as strappy stilettos, elegant pumps, or seductive platform heels. Choose a color that coordinates with your ensemble, whether it's classic black, enticing red, or a metallic hue. The right pair of heels will not only make you feel empowered but also add a touch of allure to your overall look.
Grab yourself a pair of sexy vegan high heels.
Racy Bodysuit and Stockings
For a daring and provocative choice, opt for a racy bodysuit paired with stockings. 
The combination of a form-fitting bodysuit that showcases your curves and the sensuality of stockings creates a mesmerizing and seductive effect. Choose a bodysuit with intricate details like cutouts, sheer panels, or lace embellishments to heighten the allure. Complete the look with thigh-high stockings that add an extra touch of sexiness and sophistication. This captivating ensemble is perfect for igniting passion and leaving a lasting impression.
Find out more about how to dress for your husband in bed.
Eye-Catching Undies 
Flaunt your confidence and express your personal style by choosing eye-catching undies in your favorite color.
Whether it's a vibrant red, a bold jewel tone, or a playful pastel, selecting lingerie in your preferred hue allows you to embrace your individuality and make a statement. Choose styles that flatter your body shape and highlight your best features, such as high-waisted briefs, cheeky panties, or intricate lace thongs. Wearing undies in your favorite color not only makes you feel empowered but also adds a personal touch to your wedding night ensemble.
Check out these 20+ organic biodegradable underwear brands.
Comfortable Underwear
While lingerie is often associated with provocative and elaborate designs, it's important to prioritize your comfort and confidence on your wedding night. 
Opt for comfortable underwear that makes you feel at ease in your skin. Look for soft fabrics, seamless construction, and a fit that enhances your natural shape. Comfortable doesn't mean sacrificing style, so choose underwear with flattering cuts, delicate lace trims, or subtle detailing that adds a touch of elegance. Feeling comfortable allows you to fully embrace the intimate moments with your husband, ensuring a truly memorable and enjoyable experience.
Take a peek at these affordable and sustainable underwear brands.
Sheer Black Lingerie
For a timeless and seductive look, sheer black lingerie is a go-to choice. 
The translucency of the fabric creates an alluring and tantalizing effect, revealing glimpses of skin while leaving much to the imagination. Choose a bra and panty set, a babydoll, or a teddy in sheer black fabric to evoke an air of mystery and sophistication. This understated yet captivating lingerie choice exudes confidence and sensuality, making it a perfect option for your wedding night.
Check out these 10 best naturally dyed underwear brands.
Push-Up Bra
Enhance your feminine curves and create a captivating décolletage with a push-up bra. 
Choose a bra with padded cups, underwire support, and adjustable straps to ensure a comfortable and flattering fit. Select a style that complements your desired level of cleavage, whether it's a subtle lift or a more dramatic push-up effect. A push-up bra not only enhances your natural assets but also boosts your confidence, making you feel irresistible on your wedding night.
These are the 5 best Danish underwear brands around.
Black Underwear with Red Stitching
Add a touch of passionate detail to your wedding night ensemble with black underwear featuring red stitching. This combination of colors creates a visually striking contrast that symbolizes both elegance and passion. 
Choose panties, briefs, or thongs with intricate red stitching or accents to draw attention to your curves and add a seductive flair. This bold and alluring choice of lingerie is sure to ignite the flames of desire and create an unforgettable experience with your husband.
Here are the most attractive outfits that guys think are hot. 
Corset and Suspenders
Channel vintage elegance and seduction with a corset and suspenders. The corset cinches your waist, accentuates your curves, and provides a sculpted silhouette. 
Pair it with matching suspenders and stockings to create a timeless and sensual look. Choose a corset with delicate lace, satin ribbons, or intricate boning for an extra touch of sophistication. This classic lingerie ensemble is perfect for invoking a sense of old-world romance and captivating your husband's attention.
Get a stunning corset from our top selection.
Was this article helpful to you? Please tell us what you liked or didn't like in the comments below.
About the Author: Catriona Jean