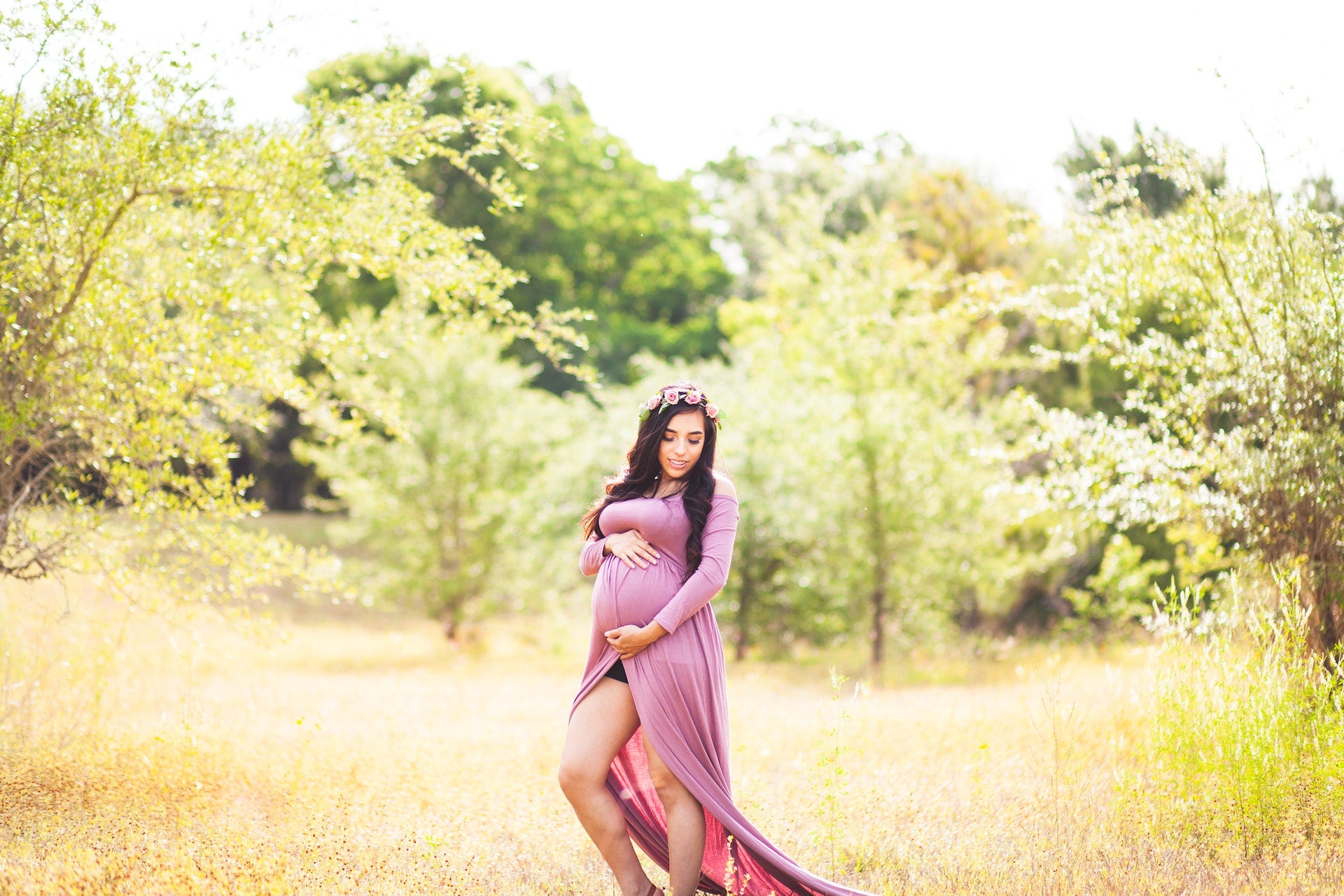 The Best Maternity Clothes For Petite Women - 15 Looks
For petite women, pregnancy can be very difficult in terms of fashion. That's because sometimes it is hard to find maternity clothes in petite sizes, and the regular sizes are not always flattering on petite silhouettes.

The best petite maternity clothes should mix comfort with style while being affordable and easy to find.

We have compiled a list containing the most amazing petite maternity clothes. Keep reading and let yourself be inspired by it.
Panaprium is proud to be 100% independent, free of any influence, and not sponsored. We carefully handpick products from brands we trust. Thank you so much for buying something through our link, as we may earn a commission that supports us.

Stylish and comfortable
The most important quality of a maternity outfit should be comfort. If you feel good and relaxed, chances are you will be in a great mood!
There is no need to sacrifice style to achieve this. You can easily put together amazing outfits that are cozy and fashionable.
Wear a cute skirt with a tank top and a soft sweater.
Click here to discover the best affordable and sustainable skirts.





Sweater dresses
Sweater dresses are cute and practical alternatives to wear during the cold months. You will instantly look stylish while feeling warm and cozy.
Sweater dresses never go out of fashion and they look flattering on women of any age and body type. They are must-haves for a fashion lover!
Discover 20 affordable and cute sweater dresses you need to own.



Sundresses
If it's hot outside, a sundress is all you need!
Forget complicated outfits and overwhelming details, and go for a simple, yet stylish sundress that comes from an eco-friendly brand.

Overalls
Overalls are fantastic outfit ideas for pregnant women!
Apart from being very comfortable, they are extremely easy to wear while performing your usual daily tasks.
Get a loose fit that feels great and won't be too tight if you gain weight, but avoid oversized designs because they look bulky on petite silhouettes.
Take a peek at the best ethical and sustainable overalls.

Underwear
We often say that underwear is as important as our outfits. Great underwear will provide support and comfort, while poor-quality underwear can ruin your day!
For pregnant women, underwear is important at all times: At work, at home, when shopping, and during health checks.
Interested in more tips? Read our article about the best ways to dress for your ultrasound appointment.

Leggings
Leggings are cute and nothing compares to the comfort they provide!
Many pregnant women choose to wear leggings throughout their whole pregnancy because they are easy to wear and to match with other clothes.
Create a fantastic outfit with leggings and a cute blouse.
Discover the best organic cotton and bamboo maternity leggings.
Maternity bodysuits
Maternity bodysuits are different from regular bodysuits, as they don't constrict your tummy area.
They are very comfortable and look attractive on petite women.
Click here to learn more about the best maternity clothing essentials.

Photography session outfits
Many pregnant women choose to have photo sessions to immortalize the joys of maternity, as well as the growing baby bump.
For this special occasion, maxi dresses are a very common choice.
This is a moment that will last you forever, and that your family, including your children, will most likely see.
Choose a beautiful, fancy dress, that you will love looking at years from now.
Luxury fashion labels that sell maternity clothes are now sustainable and affordable.



Coats
If it's cold outside, you need a coat to protect your body. Petite women should choose coats that don't add too much volume to their silhouettes.
Don't forget that you can look like a fashion expert by creating layers in your outfit! Cozy knitwear, scarves, cardigans, and coats look fantastic together.
Just mind your body proportions and avoid any oversized clothing items.
Discover the best affordable and sustainable winter coats.



Sleepwear
The best maternity pajamas are sustainable and comfortable. They must be made from materials that are gentle with your skin.
We all know that good quality sleep is important for both you and your baby.
Luckily, many maternity brands offer organic pajamas for nursing moms.



Sweatpants
Sweatpants are great if you exercise, but also as loungewear. They are stretchy and cozy, ideal for any relaxed, casual outfit.
You can wear sweatpants in many combinations, with tank tops, blouses, T-shirts, shirts, hoodies and sweatshirts.
For shopping inspiration, take a look at these 20 best affordable and sustainable maternity brands.



Hoodies
Warm, fashionable, and very comfortable, hoodies are great for relaxed occasions such as running errands, meeting your friends, shopping for groceries, or going for a walk.
Even if you stay at home and you need a soft extra layer, hoodies are a great choice.

Take a look at our sustainable recommendations.

Pants
Create beautiful and stylish outfits with pants.

As a petite woman, you should choose a well-fitted pair of pants that is comfortable. You can wear pants on a variety of occasions and in many combinations with cute and cozy tops.
Click here to read more about the best affordable maternity pants.




Off-shoulder designs
Who says maternity clothes can't be attractive?
Choose an off-shoulder blouse or dress if you want to highlight your best features and feel sexy.
Let yourself be inspired by these European clothing brands that sell sustainable fashion.

Swimwear
Nowadays many maternities swimwear brands sell affordable and high-quality swimsuits made from eco-friendly materials.
Both one-piece suits and two-piece suits look flattering on petite bodies. Make sure to avoid designs featuring horizontal stripes and frills because they tend to overwhelm your petite proportions by visually adding a lot of unwanted volume.
If you are looking for swimwear with a slimming effect, choose plain black or vertical stripes.
Take a look at our selection of the 10 best sustainable maternity swimwear brands.

Summing up

Maternity clothes for a petite woman are no longer as difficult to find as they used to be. With our tips, you can dress cute and stylish, while feeling comfortable.
We recommend wearing relaxed outfits on a daily basis. Soft and stretchy materials that don't constrict your body in any way will always be cozy.
There is no need to sacrifice style. Many sustainable brands focus nowadays on creating comfortable and fashionable clothes for pregnant women.
Because you have a petite body, you should avoid anything that can overwhelm your proportions, such as oversized designs, boxy clothes, and large prints. Instead, focus on well-fitted clothing items that highlight your best features.
If you like our article, share it with your friends!
Was this article helpful to you? Please tell us what you liked or didn't like in the comments below.
About the Author: Miruna Dulcea