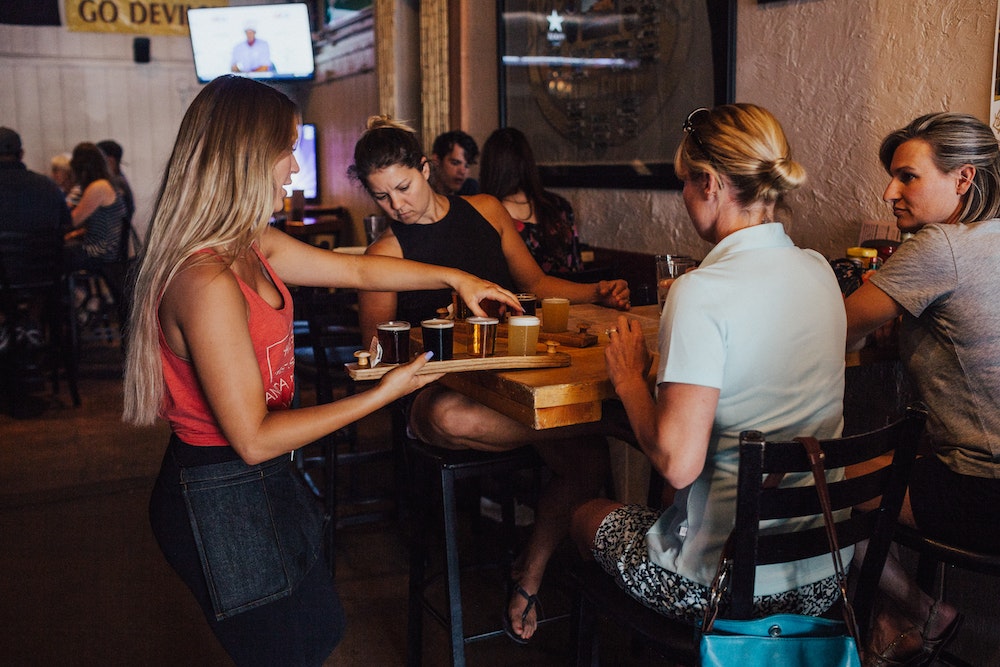 How to Dress for Hooters Job Interview in 2023: 15+ tips
Hooters is an all-American institution, famed for its food and welcoming waitstaff. If you're gearing up for a job interview at Hooters in 2023, be prepared for a place that combines hospitality, personality and professionalism. 
To make a lasting impression, it's crucial to strike the right balance between looking your best and showcasing your friendly, approachable side. When dressing for your job interview, it's best not to look overly formal, but you also shouldn't feel the need to go overboard with skimpy clothing or cleavage. 
Clothing that shows that you are a fun, fit, natural girl-next-door is important at Hooters. So pick shapes that flatter your figure, don't be afraid to show a bit of personality, and lean into 2023's smart-casual aesthetic.
Hooters value a natural and friendly image. When preparing for your interview, opt for a look that's approachable and easygoing. Keep your hair away from your face, wear minimal makeup, and consider covering any visible tattoos if possible. This creates a polished appearance that aligns with the Hooters brand.
Remember, a Hooters interview is not just about what you wear; it's about who you are. So, be yourself, showcase your unique qualities, and leave a lasting impression on your potential employers. 
Panaprium is proud to be 100% independent, free of any influence, and not sponsored. We carefully handpick products from brands we trust. Thank you so much for buying something through our link, as we may earn a commission that supports us.
Relaxed Shirt
Traditional button-up shirts are seen as somewhat dated for job interviews these days, especially for a hospitality role like Hooters. Instead, consider opting for a relaxed shirt that combines business with a touch of cuteness and fun. 
This choice shows that you're taking it seriously while exuding personality, a quality that is highly valued in Hooters staff.
Discover these incredible Italian-made shirts for men and women from our selection.
Color Pop
Inject some vibrancy into your interview outfit with a pop of color. It could be a brightly colored top or an accessory that adds a lively touch to your ensemble. 
A little splash of color can convey energy and enthusiasm, which aligns with the Hooters brand.
Check out these 40 outfits for a vibrant fashion style.
Sundress
The soft girl aesthetic is ruling in 2023. Sundresses are a versatile option that combines comfort and style. 
Opt for a sundress that is tasteful and suits your body type. Pair it with a neutral cardigan or denim jacket for a polished look.
Find your perfect sundress from our top picks.
Blazer and Graphic Tee
As you know the blazer is an enduring trend for 2023. For a more casual yet chic approach, consider pairing a blazer with a graphic tee. 
There are so many ways to slay this look, so play around with a cut that makes you feel comfortable. This combo is trendy and expressive, demonstrating your ability to mix professionalism with personal style.
Check out these awesome recycled blazers, just for you.
Casual Pantsuit  
A well-fitted pantsuit can strike the perfect balance between professional and comfortable. Choose a suit in a flattering color that complements your complexion and personality.
Make sure to keep things casual with a pair of nice sneakers, or jazz the outfit up with a cute tee, so as not to look overly formal or overdressed for your Hooters interview.
Check out these classy outfits for white pants.
Vegan Leather Pants and Shirt  
Vegan leather pants are a trendy option that adds a touch of edge to your outfit. Pair them with a stylish blouse or button-up shirt for a contemporary look that still conveys professionalism.
You will look powerful and hot in this look that slays at any time of the day.
Take a peek at these stunning outfits to wear with black pants.
Peplum Top
A peplum top can add a feminine flair to your outfit while maintaining a sophisticated appearance. Combine it with well-fitted slacks or a skirt for a polished ensemble.
This will allow you to show a little bit of skin, without giving an unprofessional vibe.
Ever wondered if guys like women in revealing clothes, then we have the answer for you.
Tank and Smart Pants  
Opt for a classic tank top paired with smart, tailored pants. This pairing is timeless and comfortable, suitable for a Hooters interview.
This fit will let your prospective hiring manager know that you are a candidate worth taking on.
Find out how to dress for a bank interview in 2023.
Floral Prints 
It's important to be approachable, friendly and charming when working at Hooters. Floral prints are perfect for giving off this vibe. 
These tried and tested prints are feminine and soft and show that you are the type of girl who would fit right into the team.
Here are the 15 best outfits to wear over a midi dress.
Shirt Dress
A nice classy shirt dress exudes elegance and sophistication, without being too formal. This option combines professionalism with a touch of femininity.
Pair with a cute pair of heels, boots or sneakers to look your best.
Fancy finding out how to dress like a charismatic woman in Italy, then check out our blog.
Jeans and Turtleneck
In the colder months, a pair of well-fitted jeans and a turtleneck can create a relaxed yet put-together look. 
This outfit choice shows that you're comfortable and stylish, and you don't feel the need to flash your skin. Plenty of time for that, when you get offered the job!
Take a peek at these best affordable and ethically made turtlenecks.
Cigarette Pants and Tank 
Cigarette pants paired with a simple tank top create a sleek and modern silhouette. 
This look is chic and professional and will show Hooters that you are the right gal for the job.
Discover the 12 best outfits to wear to a University interview. 
Skinny Jeans and a Camisole
Skinny jeans have taken a bit of a beating over the last couple of years. However, there is a time and a place for them. They are flattering and figure-hugging, which can help you shine.
Pair your skinny jeans with a cute camisole for a stylish choice. Add a cardigan or blazer for an extra layer of sophistication.
Here are the 12 best organic cotton camisoles, we know you'll love.
Maxi Dress and Chunky Boots 
Maxi dresses are effortlessly stylish and comfortable. Pair one with chunky boots for a trendy, bohemian-inspired look.
You will look feminine and approachable, which is exactly what Hooters are looking for.
Find out more about the 12 best affordable maxi dresses in the USA.
Skirt and Tee
A skirt paired with a basic tee can be a cute and casual outfit choice for your Hooters interview. Add some personality with accessories like a belt or statement jewelry.
Lean into colors that suit your skin tone and hair, or go for a metallic vibe if you want to show more of an edge.
Here are 40 easy gray skirt outfits just for you.
Let Your Personality Shine! 
Ultimately, the key to dressing for a Hooters job interview in 2023 is to let your personality shine through. 
Be confident, friendly, and approachable, and choose an outfit that reflects these qualities. Combine style with comfort to ensure you're ready to tackle any question that comes your way.
Check out this ultimate guide to dressing for a bartending interview.
Was this article helpful to you? Please tell us what you liked or didn't like in the comments below.
About the Author: Catriona Jean