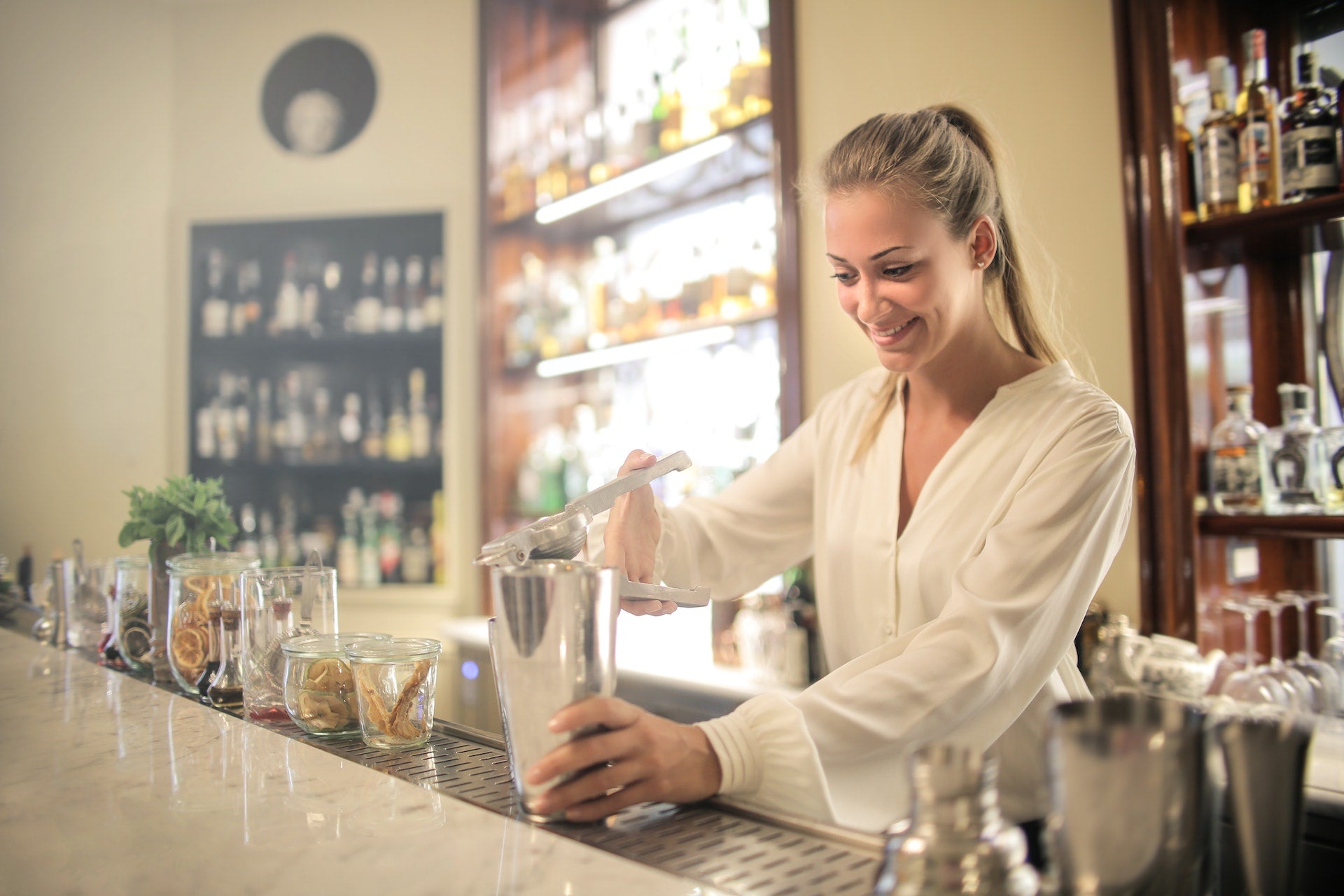 The Ultimate Outfit Guide For Bartending Interviews
Job interviews sometimes come with a lot of pressure. Choosing the perfect outfit for the occasion usually just adds more to that pressure.

While an inappropriate outfit can lower your chances of success, a great outfit can help you land the job!

The best outfits for future bartenders must be stylish, professional, and practical.
As a source of inspiration, here is our outfit guide for bartending interviews.
Panaprium is proud to be 100% independent, free of any influence, and not sponsored. We carefully handpick products from brands we trust. Thank you so much for buying something through our link, as we may earn a commission that supports us.

Blazers
Blazers are always safe choices for professional situations.

Even if you are wearing a casual outfit, such as a simple top and a pair of jeans, you can dress it up by adding a blazer.

Discover the best sustainable hemp blazers for women and men.

Shirts
Shirts are classy clothing items that never go out of fashion. A beautiful shirt that fits you nicely, will always make a great first impression.

Purchase yours from a sustainable brand.



Blouses
Women can replace shirts with cute blouses. Make sure to choose a comfortable material and a multifunctional design.
Here are our sustainable recommendations.

Smart casual outfits
When we are talking about a smart casual outfit, we mean something neat and stylish, without being too formal. This style works great for most bartending job interviews.

The type of outfit that you should wear depends a lot on the type of establishment you are going to. A pub requires different attire from a fancy restaurant. 

Either way, you can create amazing outfits with sustainable clothes that come from ethical brands.

Jeans
Can you wear jeans when going to an interview? The answer depends again on the type of establishment you are going to.

If you are interviewing for a five-star restaurant that also has a bar, then jeans are out of the question. On the other hand, if you want to work at the local pub, jeans are ok. Our recommendation is however to dress them up - for example, wear them with a shirt instead of a T-shirt.

Take a look at these amazing jeans that come from eco-friendly brands.

Trousers
Trousers might be the perfect interview bottoms.
They look professional, they come in a wide range of colors so there is a lot to choose from, and they are very easy to match with other elegant clothes, such as shirts and blazers.

Let yourself be inspired by our article about the 20 best organic cotton trousers in 2023.



Suits
If your interview is taking place in a high-end establishment, the best thing you can wear is a suit.

Elegant and professional, they show that you are taking your career opportunities seriously.

Purchase amazing suits from sustainable brands.



Dresses
Be cute and feminine - choose to wear a dress!
There are so many options out there, and every woman can find a dress that fits amazingly.

Make sure your length of choice is midi, because mini dresses are often regarded as too revealing and unprofessional, and maxi dresses can be uncomfortable in a bar because of their volume.

Buy an adorable dress that increases your confidence from an eco-friendly brand.

Colors
The colors of your clothes are almost as important as the clothes themselves. Show that you know how to dress appropriately by wearing colors such as white, black, dark blue, nude, gray, and brown.

More often than not, customers judge a business based on the appearance of the employees. This is why candidates need to wear outfits that are proof of their ability to dress as expected.
Check out these ethical brands that work under very high-quality standards, and purchase your interview clothes from one of them.




Shoes
The best shoes to wear as a future bartender are elegant and comfortable.
Remember that you will need to spend many hours wearing the same pair of shoes, and a lot of that time you will be standing. High-quality shoes that allow you to keep your feet healthy are a must in this profession.

Choose a pair of beautiful and comfortable vegan leather shoes.

Shoes to avoid
Never wear heels to a bartending interview.
As mentioned above, as a bartender, you need to move a lot and spend a lot of time wearing the same pair of shoes. Wearing heels is, in this case, a disaster.
You should also avoid wearing running shoes because although they are comfortable, they are unprofessional and too laid-back for work.

Suitability is one of the most important criteria when it comes to choosing the perfect interview outfit, and it should always come first.

Midi skirts
Midi skirts are fashionable and versatile clothing items that look fantastic with shirts and blouses.
There are also many beautiful styles to choose from - A-line, pleated, high-waisted, and pencil skirts are the best for interviews.

Check out these sustainable midi skirts and find the best one for your silhouette.

Well-fitted clothes
Try and avoid wearing clothes that have a loose fit. They are comfortable, but they aren't elegant and professional. Very tight clothes never showcase your best features, and they are also very uncomfortable.

Well-fitted clothes are the best clothes that you can wear when you're going to job interviews.

Read our article featuring the best tips for an elegant fashion style if you want to learn more about timeless and versatile outfits.

Jewelry
Wearing jewelry as a bartender is accepted, but not always encouraged.
The reasons behind this are the very unlikely, but possible risk that you lose your jewelry in customers' drinks, as well as the unhygienic character of some jewelry materials, specifically the difficulty in sanitizing them.

This is why we recommend keeping the amount of jewelry that you wear to a minimum.

If you love jewelry, we have great news: There are many sustainable brands on the market to choose from.

Hair accessories
If you have long hair and get the job, you will most likely be asked to put your hair up. It is a great idea to show your awareness of this and present yourself on the interview day with your hair tied up.
Be a conscious consumer and purchase your hair accessories from ethical brands.



Summing up
Finding the perfect outfit for a bartending interview becomes a piece of cake if you follow a few ground rules.
Avoid very bright colors, attention-grabbing patterns, outfits that are too relaxed, and clothes that don't fit properly.
Try to wear classy, timeless clothes. They are always elegant and appropriate for interviews.

If you worry about being overdressed or underdressed, go for a simple combination that always meets the dress code - a dark-colored pair of trousers and a shirt.

Remember that your attitude is always very important when it comes to interviews.
Show that you are knowledgeable and interested in the position and don't forget to smile!
If you like our tips, share this article with your friends!


Was this article helpful to you? Please tell us what you liked or didn't like in the comments below.
About the Author: Miruna Dulcea