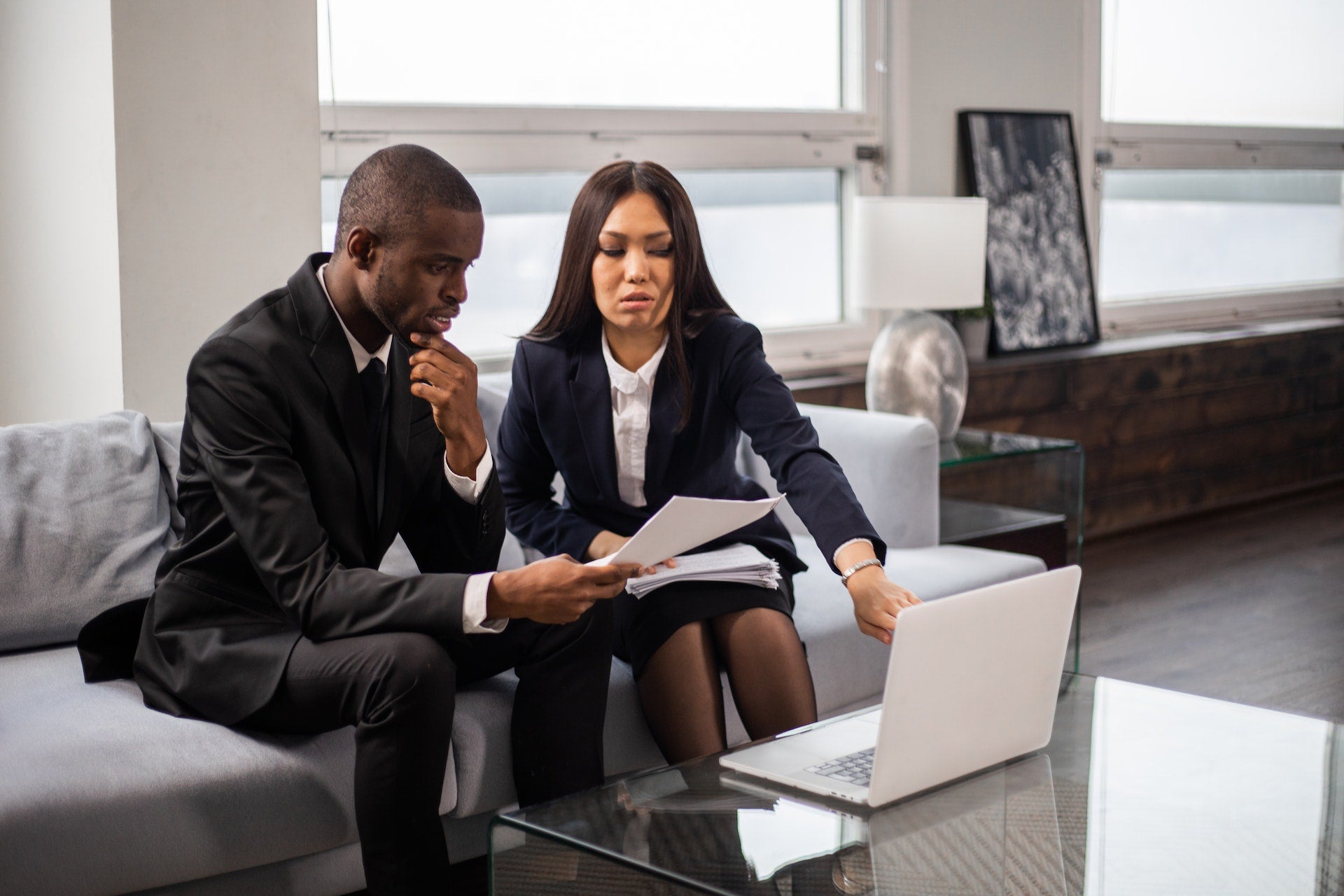 How To Dress For A Bank Interview In 2023
We all know how important clothes are when it comes to interviews.
An excellent first impression increases your likelihood of success and facilitates the whole process.

Your attire is the first thing that the interviewer notices, and it speaks about you before you do.

A great outfit for a financial services job interview is elegant and appropriate. It reflects your interest in the job, as well as your understanding of the rules and expectations in the industry.

It may sound difficult, but we are here to help! We have compiled a list of recommendations suitable for such an occasion. Keep reading to discover the best outfits you can wear to a bank interview.
Panaprium is proud to be 100% independent, free of any influence, and not sponsored. We carefully handpick products from brands we trust. Thank you so much for buying something through our link, as we may earn a commission that supports us.

White shirts
White shirts are the epitome of work attire.
You can't go wrong with one in an environment that requires elegant outfits. Banks are no exception.

White shirts give you a clean and crisp look, they can easily be matched with any other colors, and they look professional.

Both women and men can wear white shirts. Discover the best ethical button-up shirts for a dressy look.




Trousers
Trousers come in handy when you want to create elegant and versatile outfits.
They never go out of fashion, and if you choose a sustainable, well-fitted pair made of high-quality materials, you will be able to enjoy it for a very long time.



Suits
Wearing a suit for a bank interview is a no-brainer!
Suits are extremely stylish and elegant and they always look professional.
Even better, you can now purchase affordable and sustainable suits for both women and men.

Blouses
Women can replace classical shirts with blouses.

These modern alternatives look gorgeous with skirts and trousers.
Our best tip for you regarding blouses is to avoid the ones that feature all-over prints or very bright colors.
Check out our sustainable recommendations.

Conservative colors
Create a professional outfit that features conservative colors such as black, white, gray, ivory, blue, and dark green. These are usually very safe choices that guarantee an elegant outfit.

Try to avoid very bright colors because they are regarded as distracting in a professional environment.

Let yourself be inspired by our list of the best 200 sustainable clothing brands in Europe for 2023.



Blazers
If you're not used to wearing suits and they seem too much for you, choose to wear just a blazer instead.
Women can wear blazers with dresses, white blouses and skirts, or trousers, while for men we recommend trousers in a similar color, maybe a few shades lighter or darker, or in black.

Match the color of your blazer to the rest of your outfit, if you want to be elegant and stylish.

Take a look at our sustainable recommendations.




Midi skirts
If you want an outfit that is both business-appropriate and feminine, wear a cute, white blouse and a midi skirt.
Midi skirts look flattering on any body type, they are suitable for a variety of occasions, and they can be worn all year round.

Purchase yours from an eco-friendly brand.



Pencil skirts
Pencil skirts are practical and versatile clothing items that can be worn with various blouses and shirts.
Create a professional look with a sustainable and affordable pencil skirt.

Ballet flats
Ballet flats are popular for their comfort and versatility. Classy and timeless, this type of shoes is a practical alternative to heels.
There is no need to wear uncomfortable shoes during your bank interview.
Purchase affordable and comfortable ballet flats from sustainable brands.

Dress shoes for men
To complete their interview outfit, men must also wear elegant shoes.
Remember, sports shoes are not an option!

Purchase beautiful and cruelty-free formal shoes from sustainable brands.



Well-fitted clothes
Probably the best tip we can give you, that will instantly make you look more polished, is to wear well-fitted clothes.

You want to look like you are serious about your professional future, and great clothes, in the right size for your body, can help a lot. On the other hand, clothes with a loose fit are too relaxed for a professional environment.

Purchase amazing outfits without breaking the bank from one of these 20 affordable designer clothing brands.



Tights
If you decide to wear a skirt, add a pair of sustainable tights to make your outfit look professional.
Avoid bright colors because they will have the opposite effect.

Jewelry
Keep it simple when it comes to jewelry and choose a delicate necklace or a minimalist pair of earrings.
Read our article about the 15 best fair trade jewelry brands you need to know.



Coats
If it's cold outside, you can make your elegant outfit complete with a beautiful coat.
Make sure to choose a conservative color that looks fantastic with your other clothes.

Discover affordable jackets and coats made by sustainable brands.

Belts
Belts are beautiful and timeless accessories that hold up your clothing while making your outfit look elegant.
If you choose to wear a suit, don't forget to accessorize it with a vegan leather belt.



DOs and DON'Ts
If you want to create the best outfit for a bank interview, make sure not to wear outfits that look too laid back.
Always avoid jeans, T-shirts, sports clothes, sports shoes, clothes that are too revealing or too tight, oversized clothes, statement accessories, bright colors, and attention-grabbing prints.
If you want a very clear picture of what is expected from you in terms of attire, go to a bank and look at the employees. Notice their clothes, shoes, and jewelry.

Show that you are taking the interview seriously by wearing a professional outfit. Always choose the right shoes, that are elegant and comfortable.
Follow the other tips in this article for a great outfit! Remember, although they have a very important role, your fashion choices aren't everything - you need to arrive on time, be prepared for the questions that may come up during the interview, follow the rules, and show a lot of interest in the position.

We wish you the best of luck and strongly encourage you to share this article with your friends, who might also benefit from our tips!
Was this article helpful to you? Please tell us what you liked or didn't like in the comments below.
About the Author: Miruna Dulcea