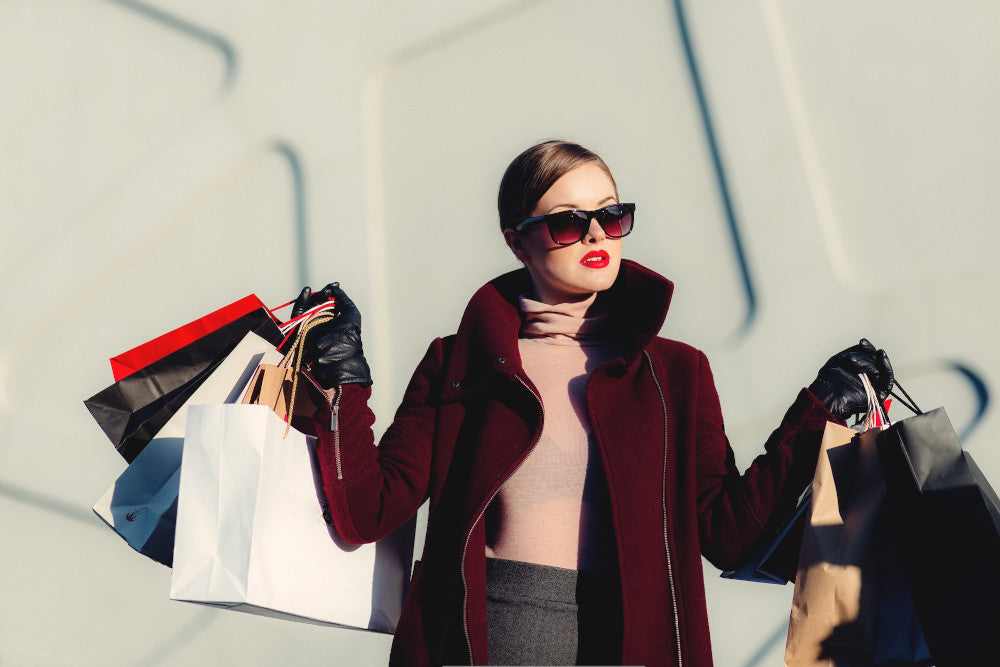 How to Dress Like a Charismatic Woman in Italy
The key to dressing like an Italian woman when you visit Italy is to wear tailored, smart-casual or dressy clothing rather than more American staples like athleisure or ragged jeans. Most European countries stick to a slightly more formal dress code than America, and traditional cities in Italy like Rome may have even stricter standards than the rest of the country.
One thing to keep in mind when dressing like an Italian woman is the old adage "less is more." Stick to a few nice, tailored pieces that fit you well instead of anything too flashy. Jeans and a top work well, as do sundresses paired with practical sandals. Comfortable footwear is a must as many of the streets in older Italian cities have cobblestone paving.
If you want to fit in instead of sticking out as an obvious tourist, avoid wearing super-revealing clothing like low-cut dresses. Instead, look for clothing that fits you close enough to show your shape without sticking to you like glue. Skirts and shorts both look fine when paired with nice tops, but avoid anything with extra-short hemlines.
Panaprium is proud to be 100% independent, free of any influence, and not sponsored. We carefully handpick products from brands we trust. Thank you so much for buying something through our link, as we may earn a commission that supports us.
Tailored Clothing
One of the best ways to dress like an Italian woman when you visit Italy is to wear tailored clothing with tapered seams that outline your silhouette. Most store-bought clothes have a sort of one-size-fits-all design that may fit your size, but not your individual body shape.
If you can't afford custom-made clothing designed precisely to fit you, an affordable alternative is to buy good-quality off-the-rack clothing and take it to a professional tailor for minor alterations. A good tailor can adjust pants, skirts, dresses, shirts, and jackets to fit your shape.
You can find more ways to dress like an Italian woman on a budget by checking out 20 easy tips to dress well for cheap here.
Sophisticated Style
Besides wearing tailored clothing that fits your individual body, another way to look like an Italian woman is to wear a sophisticated clothing style. This could mean buying a few high-quality pieces from famous brands, but it can also mean selecting garments made with quality fabrics.
One of the best ways to pick high-quality fabrics is to rub the cloth between your fingers. Cheaper synthetics often have a coarser texture, while quality fabric like organic cotton or linen will feel luxurious and soft. 
These kinds of clothes do tend to cost more, but keep in mind that you can buy just two or three classy pieces and wear them for years if you take care of them properly! For example, you can learn how to wash 100% cotton safely here.
Solid and Neutral Colors
Another way to look Italian when you visit Italy is to dress primarily in neutral shades or solid colors. Now, this does not mean that you should never wear a striped blouse or a cute printed sundress! But most of the time, your outfits will look more classy when they feature solid shades. Black and cream or linen also tend to look especially European. 
Plus, you can easily put together a sophisticated capsule wardrobe if you focus on solid-color garments that match each other. If you need help planning a capsule wardrobe, check out the 12 best free capsule wardrobe apps here!
Streamlined Blouse
Two or three streamlined, fitted blouses that outline your shape without revealing too much will pair perfectly with tapered pants, a midi skirt, or even nice jeans to give you multiple perfect Italian outfits.  
Finding a blouse that looks fitted and not too tight may prove challenging. Make sure you check to see if the shoulder seams line up with the tips of your shoulders. If the blouse has darts in the front, the ends of the darts should point directly at the fullest parts of your bust. When in doubt, buy a good quality blouse that fits a tad loosely in the bust and waist, and take it in for alterations.
You can find the 15 best affordable, ethical, and sustainable blouses here.
Fitted Pants
Like a streamlined blouse, fitted pants will help you look more like an Italian woman for your trip to Italy. This can mean buying pants with tapered legs that go from a wider to a more narrow shape down the length of your leg. 
But it can also mean wearing more wide-legged or flared pant styles that fit perfectly around your waist and thighs, without leaving an obvious indention because they dig into you, or sagging because they fit too loosely.
You can find the 20 best organic cotton women's trousers here.
Tapered T-Shirt
For more casual days during your trip to Italy, you can certainly wear a nice T-shirt. Look for fitted T-shirts with tapered side seams, ideally in a soft fabric and a solid color. This will pair well with a nice sweater or blazer, depending on whether or not you need to smarten up the outfit.
If you need to add a few new tees to your wardrobe before your trip, check out this list of the 20 best American-made T-shirts for men and women.
Linen Trousers or Dress
Many parts of Italy get extremely hot and humid in the summer, so if you plan to visit during the hotter seasons, you should add several linen pieces to your travel wardrobe. Linen is a natural fabric that has an airy, breathable texture. Wearing linen dresses, slacks, trousers, or tops will keep you cool and less sweaty during your tourist excursions!
You can read more about the advantages of linen fabric for clothing here.
Flowy Sundress
Another great way to stay cool while looking like an Italian woman is to pack several flowy sundresses for your trip. Look for dresses in fun colors and patterns, and pick styles that highlight your feminine shape without revealing too much. Generally speaking, the Italian style is classy but not too conservative.
You can find the 15 best affordable sundresses made in the USA here.
Blazer
For days visiting shops, museums, or cathedrals, you can elevate your style to a more sophisticated look by layering a blazer over your outfit. A smart, tailored blazer in a solid color will look great with many dresses, with a blouse and slacks, or even with jeans and a nice T-shirt!
In fact, a blazer is a great choice for transitioning from formal to casual settings, because it pairs well with so many different outfit styles. It has the formal shape of a suit without the professional vibe of an actual matching suit jacket, pants, and tie.
Take a look at the 20 best ethical and sustainable blazers that you'll love here.
One Nice Dress
Even if you need to make do with clothing you already own for most of your travel wardrobe, try to splurge on one nice, high-quality dress to wear out to dinner during your trip to Italy. Nothing will make you look more like an Italian woman than the perfect dress made out of quality material that fits you like a glove.
There is no one right style of dress. Pick the dress style that flatters your figure best such as an A-line, sheath, or a wrap dress. Look for dresses from quality brands made out of natural fabrics.
As a pro tip, you can often find this perfect dress much more affordably by buying it second-hand and then paying a tailor to alter it for you. Find out how buying second-hand clothes is an ethical practice here!
Comfortable Sandals
A great way to look classy while remaining comfortable during your trip to Italy is to wear comfortable sandals. Save your heels for special nights out instead of everyday wear. Even casual shoes like ballet flats may not feel comfortable enough during your trip!
Many Italian cities have such a long history that they actually have streets made out of cobblestones instead of pavement. This makes walking in heels quite challenging!
Instead, plan to wear comfortable sandals that you can walk in all day long, like these 15 best affordable and vegan sandals.
Walking Shoes
Another great footwear choice for your trip to Italy is walking shoes. Yes, they don't look as cute as sandals or heels, but your feet will thank you! Plan at least a couple of tourist outfits featuring pants that will look good with your sturdy walking shoes. 
You can find a list of the 12 best brands for sustainable sneakers in Europe here.
Sweater
Italy does not see a lot of terribly cold weather even in the winter, with average January temps of 40℉. Still, you should plan to bring warmer pieces with you if you visit during the winter, like several cozy sweaters and a classy winter coat. Pullover-style sweaters can pair well with jeans, or with a skirt and boots for a dressier style.
Check out this list of the 10 best affordable and ethical sweater brands before you buy cozy knitwear for your trip!
Midi Skirt Vs Shorts
While there is no rule stating that Italian women do not wear shorts (and, in fact, you will undoubtedly meet women wearing shorts when you visit Italy!), it is true that you will find a midi skirt both more practical and more classy. If you wear short shorts they tend ot cling to you and grow damp with sweat in unfortunate places on hot days. Obviously, this does not present the sophisticated air of an Italian woman!
Instead try looser, more breathable midi skirts. You can pair a skirt with a blouse for a dressy style, or with a T-shirt and sandals for a more low-key vibe. Check out the 15 best affordable and sustainable midi skirts here.
Maxi Dress and Cover Up
Another great way to stay cool and classy during the hot Italian summer is to wear an elegant maxi dress and bring a cover-up to protect yourself from the sun or any sudden breezes. Maxi dresses come in many different styles ranging from the casual, soft jersey knit version with spaghetti straps to the colorful flowy rayon style that may have ruffled sleeves, side slits, or other design features.
Find the perfect maxi dress for your trip to Italy in this list of the 15 best affordable maxi dresses made in the USA.
Wrap Dress
Another perfect dress style to try during your trip to Italy is a wrap dress, with a front that crosses over itself and secures at the waist with a tie or belt. Like maxi dresses, you can find wrap dresses made in many styles, with longer or shorter hemlines and different kinds of sleeves.
If you don't feel sure what style of summer dress will work best for you, try browsing a helpful list like this collection of 20 cute and cheap summer dresses for women.
White Pants
Wearing white pants can also create the cool, classy style you want to aim for when you visit Italy. White or linen pants can pair well with many different styles of tops and jackets, and it provides a nice contrast to any darker-colored top or blouse.
You can also pair your white khakis, jeans, or slacks with a striped button-up shirt for a very European vibe. Take a look at this list of the 15 best ethical button-up shirts for a dressy look.
Sun Hat
Whether or not you plan to visit any beaches in Italy, you absolutely need a sun hat for your trip! You will love the rich golden sunlight but you will also feel overwhelmed by it if you don't take the proper precautions. 
If you do visit the beach, find suggestions for your beachwear here.
Sunglasses
No matter what time of year you plan to visit Italy, definitely pack sunglasses! You will want to protect your eyes from the rich sunlight during tourist trips around Rome or Milan, as well as any countryside excursions to see olive trees or vineyards.
You can find the 15 best affordable and sustainable sunglasses to consider here.
Swimwear
You will almost certainly need swimwear for your trip to Italy as well, either for a beach or for the pool at your hotel. Look for a swimsuit that looks good on your body, whether that means the trending rockabilly-style high-waisted bikini or a one-piece with elegant cut-outs. 
No matter what style you pick, make sure to bring an elegant cover-up or wrap to drape over your shoulders as you lounge on a towel in the sand.
Check out the 80 best affordable and sustainable swimwear brands here.
Was this article helpful to you? Please tell us what you liked or didn't like in the comments below.
About the Author: Hannah Cobb