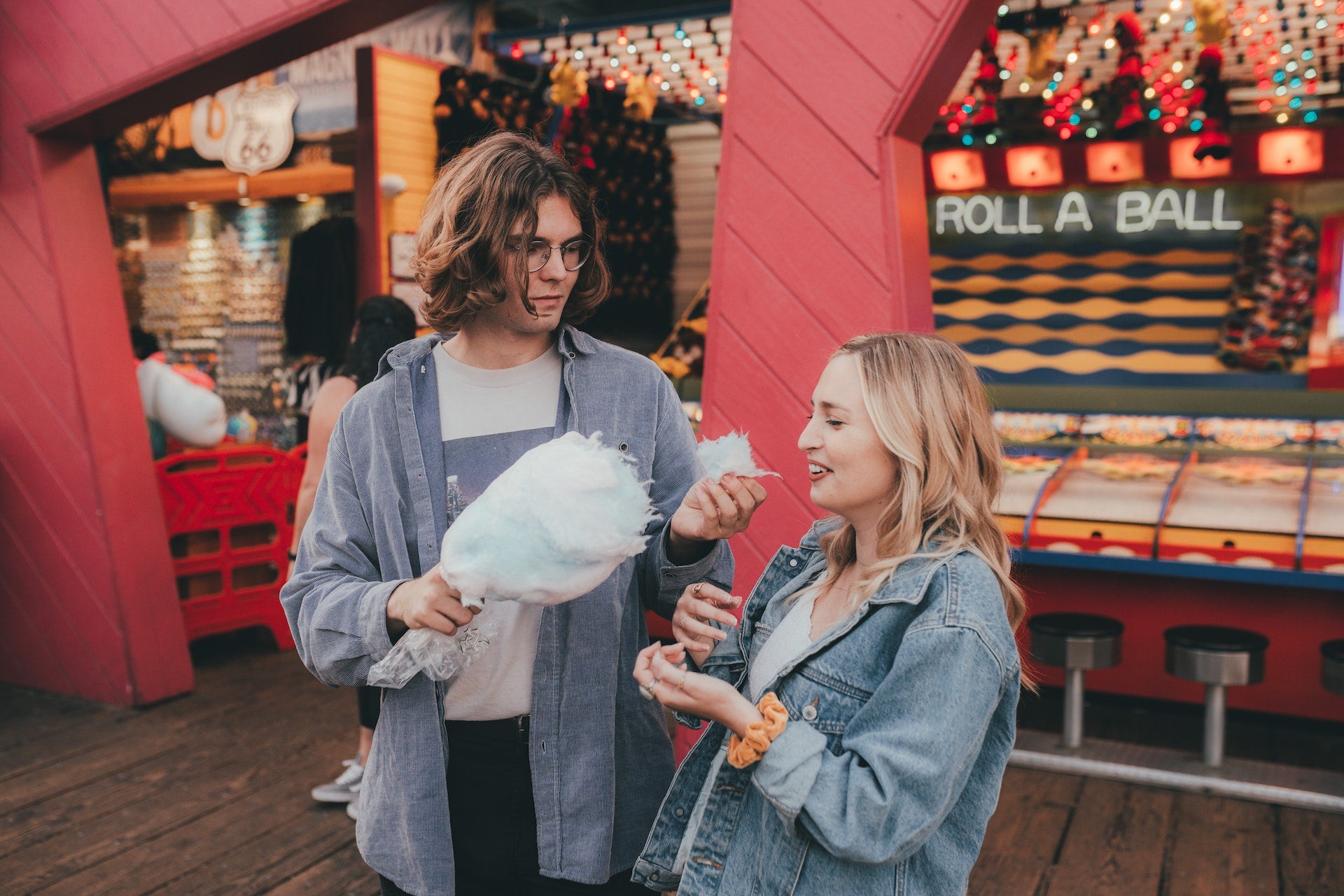 The Best Amusement Park Outfits For An Awesome Date
Amusement parks are awesome! They offer something fun for everyone - rollercoasters, competitions where you can win prizes, cotton candy, caramelized apples, scary houses, magicians, and endless pictures.

If you are invited to a date in an amusement park, the perfect outfit to wear makes you feel comfortable and cute and, at the same time, has the right fabric and colors to highlight your best features.

In this article, you will find some awesome outfit suggestions that can help you dress cool and have fun on your date, so enjoy being inspired by them and choose the one that appeals to you the most.
Panaprium is proud to be 100% independent, free of any influence, and not sponsored. We carefully handpick products from brands we trust. Thank you so much for buying something through our link, as we may earn a commission that supports us.

Cute denim shorts
Ideal for every summer casual outfit, denim shorts are an easy grab, they match a wide range of tops and T-shirts and add a young feeling to any outfit.
You just can't go wrong with them!

Check out these affordable denim brands if you need a new pair of shorts this summer.



Denim dresses
Consider them a long-term investment, because denim dresses never go out of fashion. They are very stylish and extremely popular and guys love them as they give an effortlessly chic vibe.
Here are some of the best Italian designer brands from which you can buy a stunning denim dress.



Patchwork jeans
If you love the boho style, then patchwork jeans are a great option.
Make sure to pick the right size for you and pair them either with a floral top for the whole boho look or a monochrome one if you want the focus to be on your beautiful jeans.

Shop for sustainable boho style from one of our recommended brands.

Mini skirts


Every modern girl's wardrobe should have one since they are always a hot choice for a date.

If you are comfortable showing off your beautiful legs, then do not hesitate and go for a mini skirt.
Check our sustainable suggestions.



Summer dresses

Elegant, feminine, comfortable.
Choose one in your favorite color from a sustainable brand and go have fun!

Floral dresses
If you want a dress with a romantic print, flowers are a gorgeous, feminine choice that will soften our features and are the perfect girly outfit to hang out with a guy at an amusement park.

Check out our organic dresses 2023 selection.



Polka dot dresses

Super fun to wear, cute, with an overall childish, but not immature feeling, a polka dot dress is great when spending a summer day with a guy at the amusement park.
It matches the vibes of the place excellently and makes your appearance super cute! Guys will love your outfit for sure!


Cut-out dresses
Incredibly modern, cut-out dresses are very attractive as they reveal unexpected parts of your skin, without being vulgar.

They represent a gorgeous choice that will make you both look adorable and feel comfortable.

Don't forget to pick one from a slow fashion brand.

Pleated skirts

Cozy and lightweight, pleated skirts are a very stylish alternative that looks great on every woman.
They are super feminine and offer endless possibilities in terms of tops and blouses.

Take a look at our ethical skirt selection here.



Crop tops
Crop tops are the epitome of young and modern summer outfits.
You can wear them with denim shorts and your cutest date outfit is ready in no time.
If you don't want to show off your abs but still love crop tops, then match them with high-waist jeans or pleated skirts!

Check out our list of ethical brands that produce beautiful crop tops here.

Tank tops

In case you are looking for a very relaxed outfit, that will show your confident and easygoing personality, try wearing a simple tank top.
Your date outfit will be very cool and modern.

You can now shop for sustainable tank tops, made from organic cotton.

Puff sleeve tops
If elegance is your thing, and no matter where you go, you want your appearance to be super fashionable, we recommend wearing a puff sleeve top at your amusement park date.
They look fantastic and extremely stylish!

Colorful trousers
In case you are not a fan of exposed legs, but you still want a very fashionable piece of clothing, then a pair of colorful trousers is an awesome choice to wear on your amusement park date!

Fun and in a bold color, they are very cute and will not go unnoticed! Make sure to choose the right size for you, so that you can be comfortable throughout the whole date.

Check out our selection of the best organic cotton trousers you can buy in 2023.



Cute jumpsuits
Jumpsuits represent another cute and easygoing outfit.
You can go as colorful as you want since you do not have to pair it with any other clothes.
Statement pieces for summer, jumpsuits allow flexible, unrestricted movement, they are very modern, and unique, since most people do not gravitate towards them.

Jewelry
Accessories are the final stylish touch to a woman's outfit.
For your amusement park date outfit, we recommend a beautiful necklace with a stone pendant, in a color of your choice.

You can now shop for sustainable quality jewelry.


Bow headbands
Happy and colorful, headbands are the perfect hair item to accessorize a casual date outfit.
No matter what the length of your hair is, they look fantastic and can successfully add a pop of color to your look.

Choose from the ethically made hair accessories that we recommend here.

Sunglasses
Sunglasses are both a fashion accessory and a necessity for your long-term eye health.
Make sure you choose your eyewear from a sustainable brand that works with respect for nature and focuses on durability.



Shoes
Make sure to pay enough attention to the shoes you will wear on your amusement park date. They should be pretty, but also comfortable.

Check the weather conditions in advance - if it is sunny go for eco-leather sandals, ballet flats, or sneakers. In case of rain, rubber boots are an awesome choice.

Here are some brands that produce amazing vegan footwear.



Extra tips
You are going to spend a few good hours with your date and you want to be as stylish and as comfortable as possible.

Take any type of protection necessary: sunglasses and sunscreen if it is sunny, proper footwear, and a jacket if it rains.

Many of the above-recommended outfits can be paired with tights and a cool jacket or cardigan if your weather app announces a gloomy day.

Make sure everything is the right size. This way, your clothes will help you show your best features.

In conclusion, follow our tips for a great amusement park date outfit and check a little bit in advance to nail the perfect combination for a successful date .

Have fun and don't forget to share these tips with your friends who might also benefit from them.



Was this article helpful to you? Please tell us what you liked or didn't like in the comments below.
About the Author: Miruna Dulcea