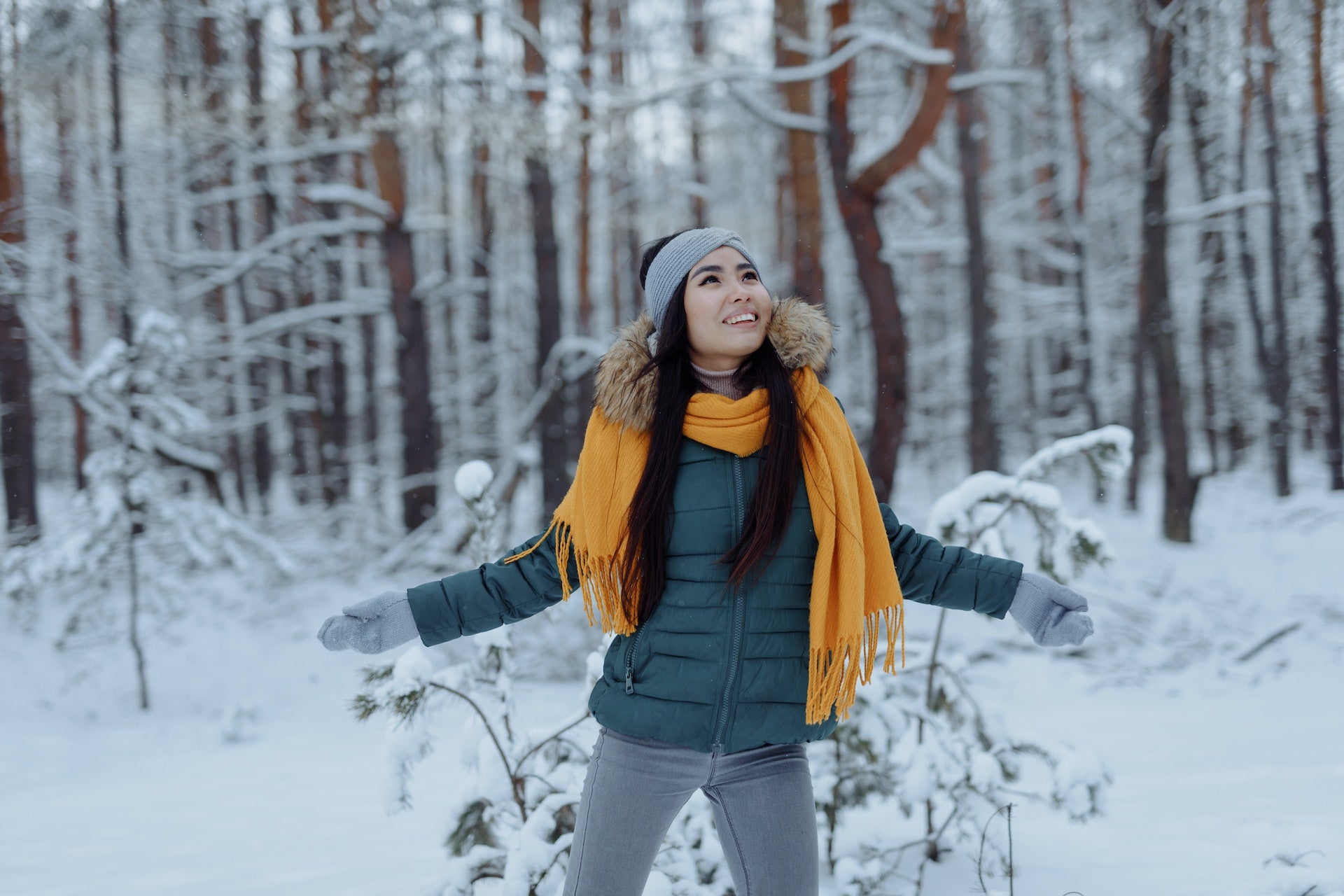 The Best Winter Clothes For Petite Women In 2023
Winter is just around the corner and in most countries of the world temperatures will drop considerably.

And because the selection of clothes available is not as wide as it is in the case of the other seasons, it is quite difficult to put together the perfect outfit that is both beautiful and comfortable.

Petite women struggle even more with finding the right sizes, materials, and cuts to create gorgeous outfits.

We have made a list of 15 clothing items that should be in your wardrobe if you are a petite woman who likes to dress fashionably.

Stay warm and be stylish this winter with our best recommendations.
Panaprium is proud to be 100% independent, free of any influence, and not sponsored. We carefully handpick products from brands we trust. Thank you so much for buying something through our link, as we may earn a commission that supports us.

Skinny jeans
Skinny jeans look great on any body type, they can be worn with almost anything and are suitable for many occasions.

They are amazing for petite silhouettes because they don't look bulky, which is extremely important during winter when you're going to wear a lot of layers that will add volume to your body.

Purchase a beautiful pair of jeans from a sustainable brand.




Leggings
Let a comfortable pair of leggings be your best friend this winter!
Initially designed for sports, leggings have made a big transition and become very trendy everyday wear.

T-shirts, shirts, sweaters, cardigans, and hoodies - they all look fantastic with leggings.

Read our article to discover amazing leggings made by ethical brands.



Basic clothes
Basic clothes should be the foundation of a stylish and functional wardrobe. You should own simple, but comfortable items such as tank tops, T-shirts, and long-sleeved tops.
Choose colors that work great in any combination - some good examples are white, black, and nude. Avoid prints and logos and go for natural or recycled materials that are gentle with your skin.

Basic clothes may sound boring, but they are great pieces to start any outfit with. They can be worn all year round both as garments and undergarments. During winter, you can wear a tank top or a T-shirt under your sweaters, hoodies, and cardigans. They will keep you warm and comfortable.

Here you can find an extensive list of the 20 best basics you need to have in your wardrobe.




Sweaters
Sweaters are beautiful, they have cozy textures and they look great with skirts, jeans, and leggings.

For petite women, we recommend avoiding extremely oversized sweaters, as they can look bulky.

Vegan sweater brands that use eco-friendly materials? Yes, please!



Cardigans
Cardigans are great alternatives to sweaters.
They are available in many colors and textures, but we recommend a neutral color that will easily look great in many combinations.

Check out these beautiful and sustainable cardigans.




Winter coats
If you live in a country where it is cold during winter, you need to have at least one high-quality winter coat in your wardrobe.

Waist- and knee-length coats are gorgeous for a petite woman because they cover and protect your upper body without overwhelming your proportions.

Choose a beautiful color that you love and you will wear gladly for the next few years. Let yourself be inspired by these sustainable and affordable winter coats.

Sweatshirts
Soft and comfortable, sweatshirts are amazing clothing items for those who love the sporty fashion style.
Purchase a cozy sweatshirt from a sustainable brand and wear it with skinny jeans or leggings.

Hoodies
Hoodies are amazing and they never go out of fashion!

The latest 2023 trends teach us to pair hoodies with elegant winter coats, creating a relaxed, yet bold and fashionable outfit that will not go unnoticed.

If you love cozy clothes, buy a sustainable hoodie for the upcoming winter. You can wear it with a basic T-shirt underneath and a pair of jeans.

Boots
We can't talk about winter outfits without mentioning boots!

Once it starts to snow you need to switch from your usual shoes to a pair of comfortable boots that will protect your feet, while keeping them warm and comfy.

Discovered the 18 best affordable vegan leather boots in 2023.

Tights
Petite women look amazing in mini skirts.

If you want to wear girly-girl outfits such as dresses and skirts, but you worry about the cold temperatures, we've got a solution for you: Sustainable tights.

They enhance your style and confidence by allowing you to wear your favorite clothing items, no matter how cold it is outside!

Blazers
For those who work in an office and need to wear something elegant, a blazer is always a no-brainer.
Wear yours with cute basics that feel comfortable and protect you from cold.

Check out these recycled blazers for an elegant outfit.

Beanies
The need to wear beanies if you spend time outside during extreme winter temperatures is self-explanatory.

What we can tell you is that beanies are multifunctional and versatile, very fashionable, and they look extremely cute.
Choose to buy yours from an eco-friendly brand.

Scarves
Scarves are amazing winter accessories that can beautifully complete your outfit. You can either match them to the colors you are already wearing or you can  choose a contrasting color.

Scarves are cozy and protect your neck and chest from cold.

Take a look at these 15 best affordable, ethical, and vegan winter scarves.

Mini skirts
Mini skirts create the illusion of longer legs, and that is why they look awesome on petite bodies. They're great if you have a date!

Purchase yours from a sustainable brand and add a pair of tights to protect your legs during winter.

Bodysuits
Lingerie is as important as clothes when it comes to amazing outfits.
A bodysuit is a great foundation for a cold-weather outfit. 
Bodysuits can be styled with ease and they look fantastic because they hug your curves providing both protection and a seamless look.

Here is our article about the best affordable and sustainable bodysuits.

Summing up
To have amazing outfits it is very important to choose the right fit and style for your body type, and this has very little to do with the kind of fashion style you usually prefer.

Clothes that have a slim fit tend to look more flattering on petite bodies, while bulky clothes that feature too much material usually have the opposite effect, adding to a petite body's proportions, and making you look shorter. 
This is why we recommend petite women to always avoid loose-fit clothes, especially multiple oversized items worn at once.


Purchase sustainable clothes that are made from very high-quality materials.
Try to look for patterns that are easy to match with each other, if you want to create a very versatile winter wardrobe.
If you like our tips, share this article with your friends!
Was this article helpful to you? Please tell us what you liked or didn't like in the comments below.
About the Author: Miruna Dulcea