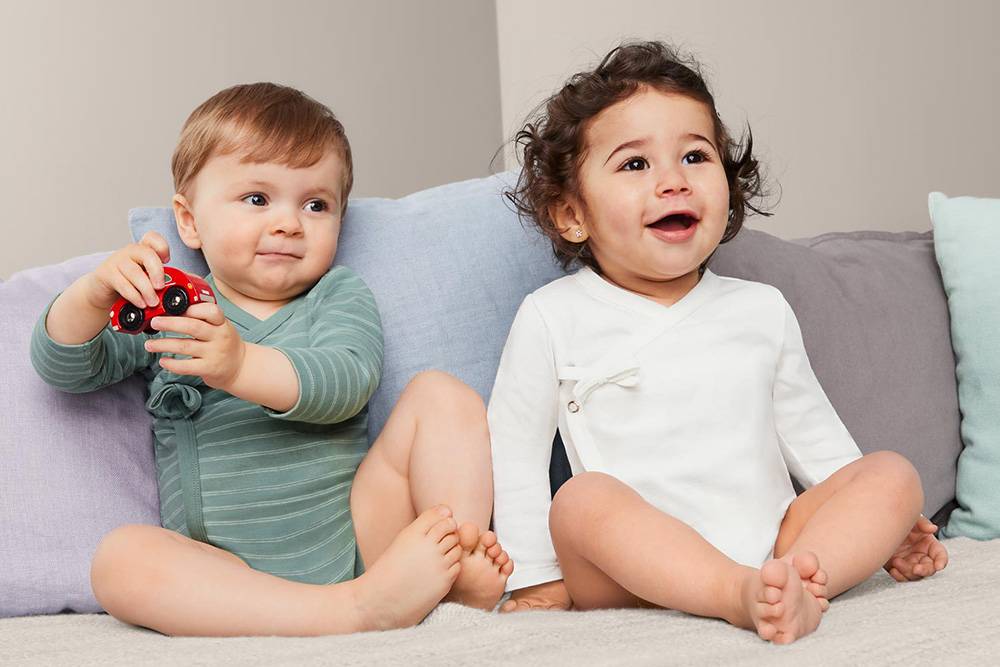 Tchibo Affordable And Sustainable Baby Collection

German retail chain Tchibo now offers sustainable clothing collections for babies and kids under the label "We care for you." Practical, durable, and ethical fashion pieces are one of the best items to buy as a parent.

Sustainable, socially and ecologically produced children's clothing is essential to protect the health of your children and the environment. Fair and long-lasting fashion pieces are healthy for the skin and the planet.

Tchibo offers sustainably produced children and baby clothes for rent since 2018. It uses GOTS-certified organic cotton to guarantee both comfort and conservation of resources.

The Global Organic Textile Standard (GOTS) is a leading, widely recognized certification standard that guarantees sustainable processes, environmentally friendly, and socially responsible conditions.

Since September 2020, the clothing retailer also offers two collections per year and seasonal products in the sustainable baby and children's wear category.

Increased environmental awareness and health issues related to toxic fabrics drive many fashion brands to make organic cotton clothes. Tchibo is one of them.

In 2018, the non-profit organization Textile Exchange ranked Tchibo the third-largest buyer of organic cotton worldwide for the third time in a row.

The German company operates more than 1,000 branches, over 21,200 retail depots, and national online shops in eight countries. In 2016, Tchibo received the title of Germany's most sustainable company.

"As a family business, Tchibo is committed to the merchant virtues of commitment, fairness, and honesty. With our actions today, we always take responsibility for future generations. We are delighted to be placed in the "Leaders Circle". At the same time, we think it is high time to act courageously. We are therefore committed to continuing to purchase raw materials and materials with integrity and fairness."

- Nanda Bergstein, Director of Corporate Responsibility at Tchibo
Sustainability is one of the biggest challenges that the fashion industry is facing today. Gigantic clothing labels are betting on organic cotton to appeal to conscious consumers and regain their trust.

Certified organic cotton has been in the center of sustainable practice in the global textile and apparel industry for a while. And giant fashion retailers are the largest buyers of organic cotton worldwide.

30.3 million tons of cotton are produced each year globally, according to the data of the Food and Agriculture Organization of the United Nations (FAO).

Unfortunately, conventional cotton production destroys biodiversity and soil fertility. It creates health problems and kills wildlife because it uses toxic chemicals.

Cotton farming consumes 4% of worldwide of nitrogen and phosphorous fertilizers, 16% of all insecticides, and 7% of all herbicides, according to the Global Fashion Agenda.

Organic cotton is much better than conventional cotton because it's non-GMO and grown organically, without the use of hazardous herbicides, pesticides, or fertilizers.

By growing organic instead of conventional cotton, farmers can potentially save 218 billion liters of water and 92.5 million kg of carbon dioxide, according to the Textile Exchange.

About 80% of all organic cotton is grown with water form rainfalls, which reduces pressure on local water sources.

Ethical and sustainable apparel made of organic cotton keeps hazardous substances often found in regular clothing away from you and your family.

The most ethical baby clothing companies create collections of cute, comfortable, and conscious sleepwear, underwear, jumpers, and bottoms from natural and organic fabrics.

They focus on ethically and sustainably making everyday essentials for babies, toddlers, and children that are healthy and safe, pure, and high-quality.

Tchibo's sustainable baby clothing collection ranges from USD 10 to 20 in the sizes from 50/56 up to 120/128 and is available at tchibo.de.

Or discover our carefully curated selection of the most affordable and sustainable organic baby clothing brands.


Was this article helpful to you? Please tell us what you liked or didn't like in the comments below.