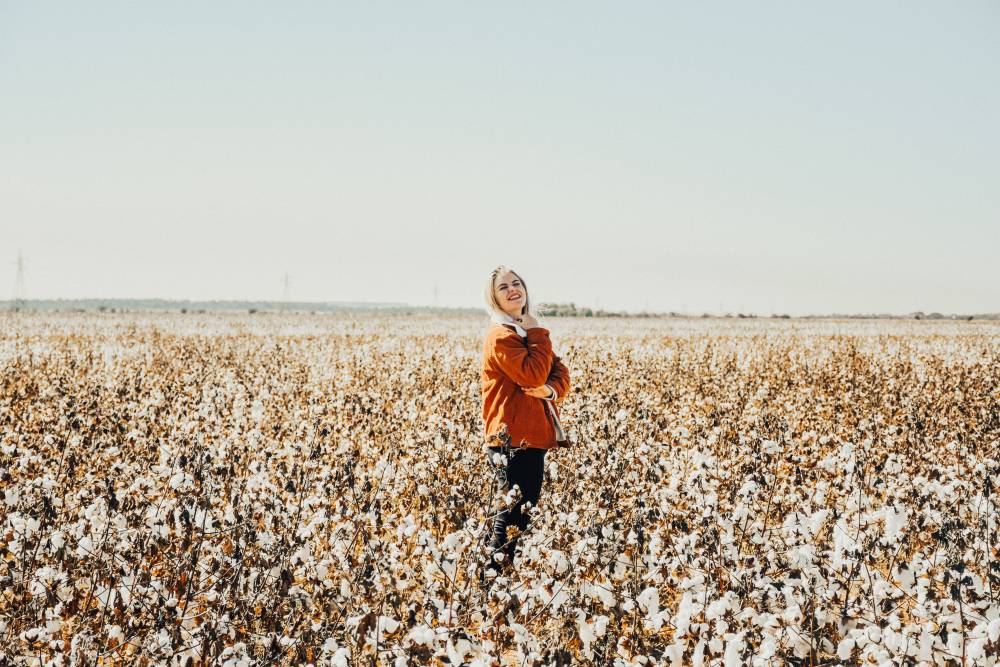 Everything You Need To Know About GOTS Certification
The GOTS certification or Global Organic Textile Standard is one of the most widely recognized organic standards in the world. It's a great textile standard ensuring the best manufacturing conditions for a product.

Certification standards are important, especially in the global textile and apparel industry, to guarantee that clothes have been produced with sustainable processes.

When shopping for organic products, choose items that have been audited externally and verified according to the highest standards such as the GOTS certification.

Certifications and quality marks guarantee that textile products have been manufactured under environmentally friendly and socially responsible working conditions.

When it comes to the organic content of clothing, the Global Organic Textile Standard confirms a responsible use of resources and processes that have the least possible impact on people, animals, and the planet.

Here is everything you need to know about the GOTS certification, one of the best certification standards for textiles.


Panaprium is proud to be 100% independent, free of any influence, and not sponsored. We carefully handpick products from brands we trust. Thank you so much for buying something through our link, as we may earn a commission that supports us.

GOTS certification in short


The GOTS certification guarantees the following:
at least 70% certified organic fiber content
environmentally friendly production and processing processes
no toxic inputs such as heavy metals, aromatic solvents, and more
good work conditions and social compliance in the entire supply chain
fully traceable products in the entire value chain

The GOTS certification applies to the following textile products:
organic garments, clothes, and final textile products
organic accessories
organic home textiles
organic fabrics
organic yarns
organic components

The GOTS certification concerns products with the following contents:
using 95-100% organic fibers (Organic)
using 70-94% organic fibers (Made with organic)

The GOTS 'Organic' label grade guarantees the following:
95% minimum of certified organic fibers (EC/NOP/NPOP/IFOAM)
5% maximum of non-organic fibers

The GOTS 'Made with organic' label grade guarantees the following:
70% minimum of certified organic fibers (EC/NOP/NPOP/IFOAM)
30% maximum of non-organic fibers

The GOTS certification doesn't apply to leather goods.

In blends, the GOTS certification permits the following fibers up to 30%:
natural fibers (e.g. hemp, linen, wool, silk, mohair, etc.)
sustainable regenerated fibers (lyocell, proteins-based fibers from Organic, FSC, PEFC, recycled materials)
sustainable synthetic fibers (GRS, RCS, SCS certified recycled polyester, polyamide, polypropylene, polyurethane, elastane)

In blends, the GOTS certification permits the following fibers up to 10%:
virgin and regenerated synthetics (e.g. viscose, modal, polyamide, elastane, polypropylene)
stainless steel

For socks, leggings, yoga wear, and sportswear, restricted fibers are allowed up to 25%.

The GOTS certification doesn't allow the following fibers:
conventional cotton
virgin polyester
asbestos
carbon
silver
chromium
nickel
chlorinated plastics
conventional angora hair
material from endangered animals, plants, timber

Organic and conventional fibers of the same type cannot be mixed in the same product.



What is the Global Organic Textile Standard (GOTS)


The Global Organic Textile Standard is an internationally recognized and world's leading standard for the processing of textiles made from organically produced natural fibers.

The GOTS certification was first introduced in 2006. It guarantees that textile products are as ethical, sustainable, and environmentally conscious as possible.

The GOTS label has strict guidelines and certification processes. It includes ecological and social criteria, backed by independent certification of the entire textile supply chain.

To become GOTS certified, raw materials, intermediates, final textile products, and accessories must meet stringent limits regarding unwanted residues.

Any producer of raw materials, processor and textile manufacturer, distributor, importer, brand, or any player of the textile sector can receive the GOTS certification.

The Global Organic Textile Standard covers the processing, manufacturing, packaging, labeling, trading, and distribution of all textiles made from at least 70% certified organic natural fibers.

The GOTS label grade 'organic' guarantees a minimum of 95% certified organic fibers.

The GOTS label grade 'made with organic' guarantees a minimum of 70% certified organic fibers.



The aim of the GOTS certification


The GOTS certification aims to define globally recognized requirements that ensure the organic status of textiles. It verifies the harvesting of the raw materials and manufacturing processes.

This organic standard guarantees environmentally and socially responsible products to provide a credible assurance to the end consumer.

It allows textile processors and manufacturers to export their organic fabrics and garments with one certification accepted in all major markets.

GOTS is an active contributor to sustainable development. It pushes organic textiles to become a significant part of everyday life, enhancing people's lives and the environment.

It promotes organic production, a system of farming that maintains and replenishes soil fertility without the use of toxic, persistent pesticides, and fertilizers.



The GOTS organization


GOTS is comprised of four reputed member organizations, namely OTA (USA), IVN (Germany), Soil Association (UK), and Japan Organic Cotton Association.

The Soil Association is a founder member of GOTS and a quarter owner of Global Standard gGmbH, which manages the GOTS certification.

The GOTS Founding Organizations contribute to the GOTS, together with further international stakeholder organizations and experts.

They offer their respective expertise in organic farming and environmentally and socially responsible textile processing.

The GOTS Founding Organizations are backed up by stakeholder-based decision bodies and technical committees.

They are soliciting participation by international stakeholder organizations in the ongoing process of review and revision of the GOTS certification.



What does it mean to be GOTS certified


Only textile products that consist of at least 70% organically produced natural fibers can be certified according to GOTS.

Before buying any organic clothing, look for the GOTS certification. It's one of the best ways to make sure that the product has been manufactured according to the highest standards.

It's internationally recognized as the toughest organic textile standard because it goes far beyond verifying the organic farming process to include every step of the value chain.

The growth in organic fiber consumption demands unified processing criteria applicable to the global textile and apparel industry. And the GOTS certification has demonstrated its practical feasibility since its first introduction in 2006.

Through third-party verification, the GOTS certification guarantees full traceability, social compliance, certified organic content, and environmentally friendly production processes for textile products.

Organic fibers must be certified by international or national standards such as:

Additionally, any paper or cardboard used in packaging material, hang tags, swing tags, etc. must be post-consumer recycled or certified by FSC or PEFC.

The GOTS certification limits the use of hazardous bleaches, dyes, auxiliaries, and other toxic chemical inputs during the production process of textiles.

All chemical inputs must meet certain environmentally relevant and toxicological criteria such as toxicity and biodegradability.

The GOTS certification doesn't allow heavy metals, formaldehyde, aromatic solvents, functional nanoparticles, chlorine bleaches, phthalates, PVC, carcinogenic amine compounds, genetically modified organisms (GMO), and their enzymes.

A functional wastewater treatment plant is mandatory for any wet-processing unit involved. An environmental policy including target goals and procedures to minimize waste and discharges is necessary.

Full records of the use of chemicals, energy, water consumption, and wastewater treatment, including the disposal of sludge must be kept.

And all processors and manufacturers must meet minimum social criteria based on the international labor standards of the International Labour Organization (ILO).



GOTS approved certifiers


Entities that wish to become GOTS certified are requested to contact an appropriate GOTS approved certification body.

Each applicant may choose its certification body. And all GOTS approved certifiers are entitled to offer related inspection and certification services worldwide.

All companies participating in the GOTS certification scheme need to work in compliance with all criteria of the standard.

Some of the GOTS approved certifiers are:

GOTS certified organic cotton


Organic cotton is much better than conventional cotton because it's non-GMO and grown organically, without the use of hazardous herbicides, pesticides, or fertilizers.

The processing, dyeing, treatment, and finishing of garments are some of the dirtiest and most chemically intensive steps in clothing production.

People exposed to toxic chemicals are subject to life-threatening health problems. It's more important than ever to choose organic.

80% of all organic cotton is grown with water form rainfalls, which reduces pressure on local water sources.

By growing organic instead of conventional cotton, farmers can potentially save 218 billion liters of water and 92.5 million kg of carbon dioxide.

The annual global production of organic cotton reached 107,980 tons in 2016, according to the Textile Exchange.

Unfortunately, it's only a small portion of global cotton production. 30.3 million tons of regular cotton are produced each year globally, according to the Food and Agriculture Organization of the United Nations (FAO).

Organic cotton must be grown and certified to a standard approved by the International Federation of Organic Agriculture Movements (IFOAM).

There are currently two independent organic certifications for organic cotton:
Organic Content Standards (OCS)
Global Organic Textile Standard (GOTS)

In 2016, there were 3,661 and 4,642 facilities certified to OCS and GOTS respectively. Most of them in India, Bangladesh, China, and Turkey.

Organic cotton includes Fair Trade organic and CmiA organic cotton. It only makes up about 3.3% of the total preferred cotton production.

The preferred cotton segment is made of the following:
Organic cotton
Cotton made in Africa (CmiA)
Better Cotton Initiative (BCI)

GOTS certified sustainable fashion brands


Conscious consumers shopping for sustainable and environmentally friendly clothing choose organic cotton.

Unfortunately, only a few fashion brands create clothes out of organic cotton. And even fewer of them sell clothes that are GOTS certified.

To help you make conscious purchasing decisions as an informed consumer, here are some of the best sustainable fashion brands offering GOTS certified clothing:
Was this article helpful to you? Please tell us what you liked or didn't like in the comments below.