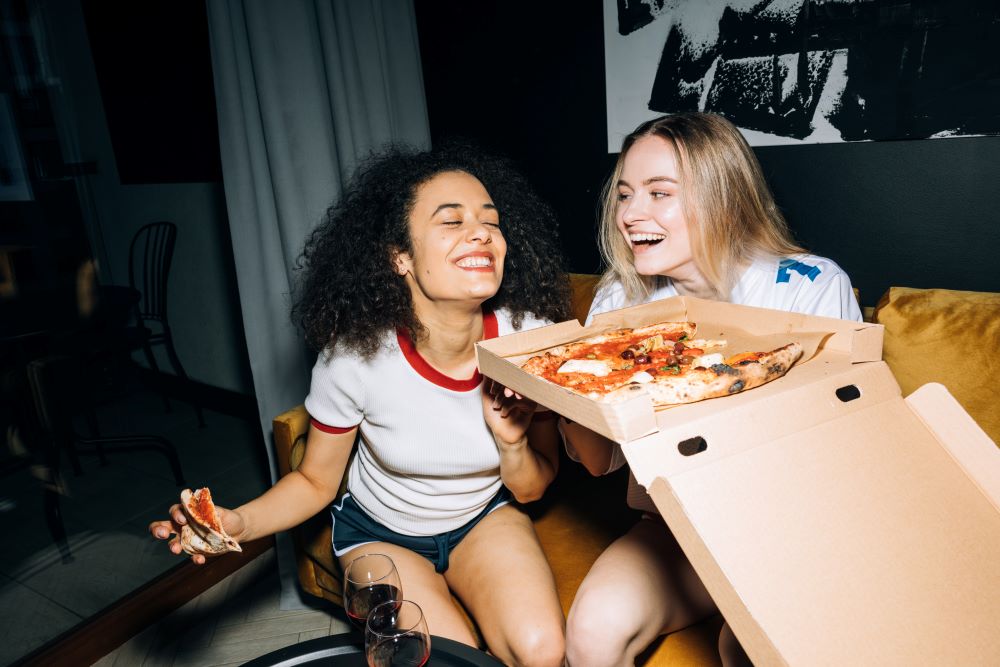 17 Best Essential Outfits for a Fun Pizza Party
Attending a pizza party is all about indulging in delicious slices, savoring every bite, and enjoying great company. But what should you wear to this casual and fun gathering?
Your attire should strike a balance between comfort and style. Which will allow you to embrace the pizza experience fully while looking effortlessly cool.
In this guide, we will explore 17 essential outfit items, each with suggestions and practical tips to help you make the perfect fashion statement at your next pizza party.
From graphic Tees that pay homage to your favorite food to comfortable footwear and accessories that add a touch of personality, we have got you covered.
So, let's dive into the world of pizza party attire and ensure you are dressed to enjoy every cheesy, saucy moment!
Panaprium is proud to be 100% independent, free of any influence, and not sponsored. We carefully handpick products from brands we trust. Thank you so much for buying something through our link, as we may earn a commission that supports us.
Cool Graphic T-Shirt
Opt for a colorful graphic Tee featuring a playful pizza design or a humorous pizza-related slogan. It is not just a fun choice; it is also a conversation starter, setting the tone for a relaxed atmosphere.
Remember, choose a darker-colored Tee to hide any potential pizza sauce splatters. Check out the 10 best affordable and sustainable graphic T-shirts we have selected just for you. 
Comfy Sneakers
Prioritize comfort with a pair of reliable sneakers that can withstand standing in line at the pizza buffet. Choose a pair that complements your outfit and is easy to clean in case of pizza mishaps. Meet the sustainable luxury sneaker brand Squamate.
Plain White T-Shirt
A classic white Tee is a versatile choice, allowing you to focus on enjoying pizza and socializing.
Ensure it is not too tight to accommodate the pizza feast ahead comfortably. Pick one from our extensive list of the best organic cotton T-shirts made in Canada. 
Opt for Leggings
Prioritize comfort with stretchy leggings that allow you to indulge in pizza without feeling restricted. Opt for a slightly looser fit to maintain a casual look. Here are the 20 best affordable and sustainable yoga and gym leggings at your disposal. 
Soft Flannel Shirt
Wrap a comfortable flannel shirt around your waist or wear it open over a Tee. The plaid pattern adds visual interest to your outfit and doubles as a cozy layer if the evening gets cooler. Check out the 4 best affordable American-made flannel shirts. 
Baseball Cap
Protect your eyes from the sun and add a sporty touch with a baseball cap. It is functional for keeping the sun out of your eyes during daytime events and adds a touch of style.
Stylish Jeans
For a stylish yet relaxed look, go for a comfortable pair of jeans. Dark-wash jeans or distressed styles add a touch of flair while ensuring you are at ease during the pizza party.
They also hide potential stains well. Check out the 10 best affordable and fair-trade denim jeans. 
Loafers or Casual Slip-Ons
Loafers or slip-on shoes offer both comfort and style. They elevate your look slightly while maintaining a casual vibe, perfect for a pizza party. Pair the slip-on with cute shorts and Tees.
Alternatively, wear slip-on shoes or loafers with your casual and cute summer dress. Mix and match, and do not forget to accessorize for a lovely pizza party look.
Fun

 Shorts
When attending a warm-weather pizza party, casual shorts in a comfortable fabric are perfect. Ensure they are of an appropriate length, so you can comfortably sit and enjoy your pizza.
For denim shorts lovers, we have selected the 20 best affordable and sustainable denim shorts. If you prefer other materials and want to opt for organic and eco-conscious options, check out our wide selection of the best organic cotton shorts both for women and men. 
Canvas Shoes
Slip-on or lace-up canvas shoes provide a laid-back look. They are comfortable and versatile, making them suitable for a relaxed pizza party environment.
Stuck with a pile of unwearable shoes and clothes? Check out our in-detail article on how to deal with them. 
Denim Jacket
Bring a denim jacket for added warmth and style. It is perfect for layering on slightly chilly evenings and complements your casual attire. Allow us to present to you the 20 best affordable denim jackets every woman needs. 
Comfy Casual Skirt
For a more feminine look, consider a casual skirt made from a comfortable material. Ensure it is a style that allows you to sit and enjoy your pizza without feeling restricted.
Sunglasses
Complete your look with a pair of stylish sunglasses to protect your eyes from the sun and add some cool factor. Look for shades that match your overall outfit. Do not forget to check out the 10 best affordable and sustainable sunglasses from Australia. 
Casual Watch
Keep track of time with a casual wristwatch that complements your style. It adds a practical and stylish touch to your look without being overly formal. If you prefer a smartwatch, check out these best affordable and eco-friendly Apple watch bands. 
Lovely Hoodie
If the pizza party is in the evening or during cooler months, a hoodie will keep you warm while maintaining your casual style.
Opt for a hoodie with a lining to stay cozy. For a cool and eco-conscious look, check out the 20 best affordable and sustainable hoodies, we have selected for you. 
Statement Necklace
If you want to accessorize, a bold necklace can be a conversation starter and a stylish addition to your outfit. Ensure it does not hang too low to avoid potential pizza mishaps.
Ensure to pick a necklace that best compliments your total look and helps you look cool. For more inspiration, you should check out our selection of the most affordable and sustainable necklace brands. 
Reusable Tote Bag
Do not forget to bring a reusable tote bag to carry leftovers or extra pizza slices home. It is a practical and eco-friendly choice that can also serve as an accessory to your outfit. Here are the 10 best tote bags made from recycled materials. 
Was this article helpful to you? Please tell us what you liked or didn't like in the comments below.
About the Author: Gohar Davtyan