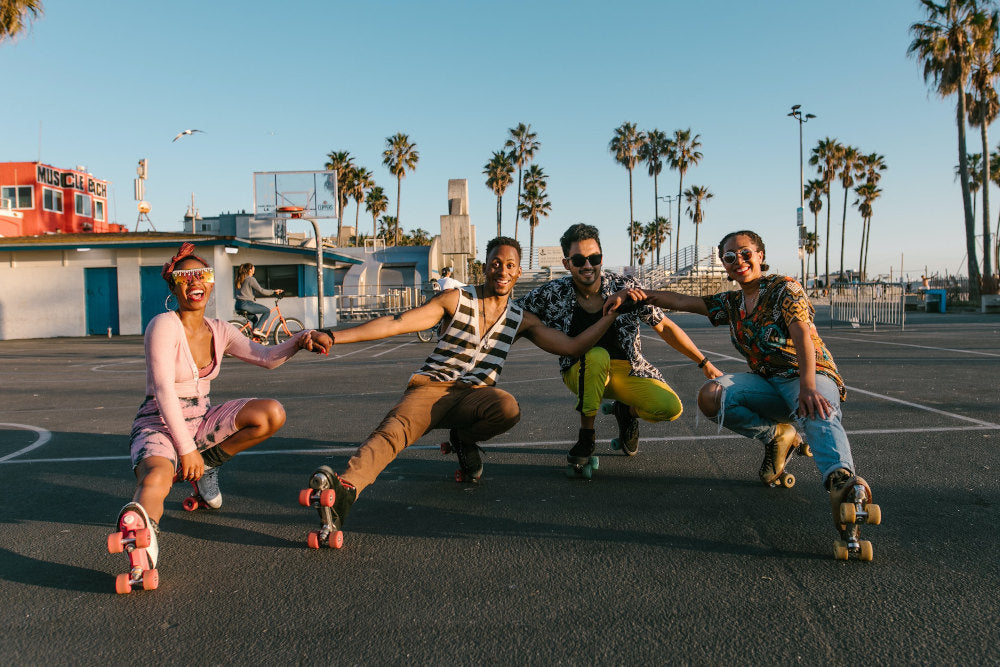 15 Inspiring Outfit Ideas For A Roller Skating Date
A roller skating date is a fantastic experience and a great opportunity to enjoy quality time and share passions with your partner. It combines physical activity with entertainment. But, most importantly, a roller skating date builds a stronger bond between you and your partner as you navigate the skating rink, hold hands, and cheer each other on.
Remember to wear appropriate attire and protective gear. Safety is a top priority when doing sports. Wear protective pads on your wrists, knees, and elbows. Pair them with cute, romantic, and stylish outfits to boost your confidence and feel beautiful and sexy on your date.
Keep scrolling and discover our inspiring outfit ideas to look stunning and nail your roller skating date.
Panaprium is proud to be 100% independent, free of any influence, and not sponsored. We carefully handpick products from brands we trust. Thank you so much for buying something through our link, as we may earn a commission that supports us.
1. Performance Rompers
If you want to rule the date, conquer the ring, and feel yourself the best – then put on cute performance rompers. Performance rompers look awesome and make you feel great because they fit your body perfectly.
Performance rompers are the perfect combination of sexy and comfortable outfits, just what you need for a roller skating date.
Performance rompers have curves defining designs and often feature a built-in bra. They fit your body like a second skin and will make you feel super comfortable during your roller skating activity.
Here is our selection of the most adorable, comfortable, and affordable organic cotton rompers for babies and adults.
2. Mini Skirt And A Tank Top
Spice up your roller skating date by wearing a mini skirt. It is a great idea, especially if you are an experienced skater and skate with confidence. A mini skirt and a tank top will make you look flirty and cute and will boost you with a positive spirit.
Opt for a mini skirt made of elastic fabrics that provides the necessary comfort and allows for a full range of motion. Consider the overall style and design of the mini skirt. We recommend you go for a skirt with a slight A-line shape or a skater skirt, as they can be more flattering and practical for skating.
Buy affordable and sustainable mini skirts made from recycled or organic materials here.
Wear bike shorts or short leggings if you want extra coverage under your mini skirt.
3. Long Lightweight Jumpsuit
Roller skaters love jumpsuits. Not only because they are comfortable and provide full coverage but also because they are very cool looking paired with skates. A long cotton jumpsuit is perfect for a roller skating date, and you will look stylish and adorable in it.
We recommend you wear a jumpsuit made of breathable fabrics, like cotton or linen. Also, ensure that the jumpsuit fits you well and allows easy movement. Consider a jumpsuit with a relaxed or loose fit to provide ample room for skating and bending your knees.
Here are the best organic cotton jumpsuits you need to look fashionable and feel comfortable.
You can make your jumpsuit look more interesting if you pair it with a statement belt, fun jewelry, or a colorful headband.
4. Boat Neckline Top
Choose a boat neckline top for a romantic and flirty look. Boat neckline tops highlight the shoulders and collarbones, giving you a feminine and graceful appearance. 
Boat neckline tops look flattering for all figures but are especially suitable for women with discreet busts and pear-shaped bodies because they help to soften and balance the proportions.
Check out our selection of the best affordable, ethical, and sustainable blouses, and find one that best suits your body shape and style.
Pair it with high-waisted shorts, a skater skirt, or wide-leg pants. Remember to consider the length and fit of the bottoms to ensure they don't interfere with your roller skating experience.
 5. Express Your Personality With Colors
Showcase your unique personality and individual style by wearing bright-colored clothing and outfits with bold patterns or fun designs.
Colors can reveal key personality traits and evoke powerful emotions. They can be the strongest tool in your wardrobe, especially when deciding what to wear on a roller skating date.
Color meaning can vary vastly across cultures, but, in general, green and blue hues help you achieve a sense of calm. Likewise, reds, oranges, and yellows can boost your mood. That said, consider a color palette that reflects your character and boosts your confidence on the skating date.
6. Cute Leggings
Bet on style and comfort for your date by wearing cute leggings. Leggings are stretchy and allow a full range of motion while roller skating. 
Pick up leggings with colors and designs that flatter your figure, and pair them with a tank top or a t-shirt.
Check out our selection of the best organic cotton leggings made under high social and environmental standards.
7. Denim Shorts
Feel stylish and high-spirited on your skating date in denim shorts. Denim shorts are attractive to most guys and are some of the best adorable, cute, and classic clothing pieces during roller skating. 
Go for slack and comfortable models, or choose denim with a good percentage of elastane, to be able to move freely and perform skating tricks. You can choose from a variety of styles, including knee-length, high-waisted, asymmetrical, plus-size, stretchy elastic waist, and more. Check out our list of high-quality and ethically made denim shorts here.
Pair your denim shorts with a tank top or a basic T-shirt.
 8. Flip Dress
Do you love wearing dresses? If yes, go for a stylish flip dress. Look for a dress made of lightweight fabric that offers comfort and breathability during your roller skating activity.
Also, consider the length of the dress. The best choice will be to wear a knee-length flip dress that offers good coverage during movement and is not too long to avoid any potential interference with your skating.
Buy cute and cheap summer dresses made from recycled or organic materials here.
9. Wide-Leg Jeans
Wear wide-leg jeans for a trendy and relaxed look. Wide-leg jeans will visually elongate and streamline your silhouette. Look for high-waisted styles that can help define the waist and provide a flattering fit around the midsection.
Just make sure that the length of the jeans doesn't drag on the ground or interfere with the wheels of your roller skates, as that could be a safety hazard.
Pair the jeans with a fitted bodysuit top. The combination of the fitted bodysuit with the loose and flowing wide-leg jeans creates an alluring and flattering contrast. Here is our selection of the best affordable and sustainable bodysuits made under high social and environmental standards.
10. Knee Socks
Socks are essential, and thick, tall socks are best for skating. Ideally, your socks should come up at least as high as the cut of your skate boots to prevent blisters.
Animate your roller skating date and wear knee socks to add a fun and attractive element to your outfit. Remember to coordinate the socks with the rest of your clothes. The knee socks can add a pop of color or pattern and complement your roller skates or other elements of your attire. They will look best if paired with a skirt or shorts.
Check out our selection of the best sustainable brands and buy organic socks here.
11. Bell-Bottoms
Bell bottoms will add a touch of retro flair to your outfit and create a fun and unique look. Wear them if you want to emphasize and enhance the curves of your figure.
Bell bottoms will give you a 70s-inspired whimsical, far-out, and beautiful appearance, the perfect bottoms to wear to a roller skating date.
Check out our selection below of the best affordable and sustainable bell bottoms and flares made under high standards.
12. Add Motion With Ruffles
Bring a romantic and delicate flair to the skating ring and wear a ruffled dress, skirt, or top. Ruffles are a timeless trend and give movement and volume that elevate every outfit.
Ruffles make a big statement. For a roller skating date, wear a ruffled mini or knee-length dress and create an incredible effect of motion while you move on the ring.
If you wear a skirt, choose one with built-in shorts or leggings underneath. This combination provides the look of a skirt with the practicality and coverage of shorts or leggings, ensuring ease of movement while roller skating.
13. Sweatpants
Those cute and soft sweatpants feel just perfect for a roller skating date. Sweatpants are typically made of cotton fleece and offer a relaxed and loose fit, allowing for a wide range of movement.
Wear a matching sweatshirt or hoodie to create a coordinated and stylish look. This combination will give you both comfort and sophistication without much effort.
Take a look at the best affordable and sustainable sweatpants and joggers that everyone needs to wear to look fashionable and feel comfortable.
14. Lightweight Jacket For An Extra Layer
Choose a jacket that suits your style, provides the desired level of comfort and flexibility, and offers some protection for the weather conditions.

For a stylish and retro-inspired look, consider a lightweight bomber jacket. Bomber jackets are typically made from lightweight materials like nylon or polyester, providing both style and functionality.

A denim jacket is another suitable option. Denim is a sturdy fabric, which means a denim jacket can provide some level of protection against minor scrapes or falls while roller skating.
Here are some of the best affordable denim jackets that every woman needs to have in her wardrobe.
15. Protective Gear
Protective gear is essential during rollerskating. And it is not a question of how experienced in skating you are, because occasional falls happen to all.

85% of the injuries during skating are preventable and occur because of a lack of protective gear. Wrist injuries are the most common skating injury, so we strongly recommend that every skater wear wrist protection.

Additionally, wear knee and elbow pads and, of course, a helmet which, unfortunately, is a very overlooked piece of protective equipment.
Was this article helpful to you? Please tell us what you liked or didn't like in the comments below.
About the Author: Iana Jekova