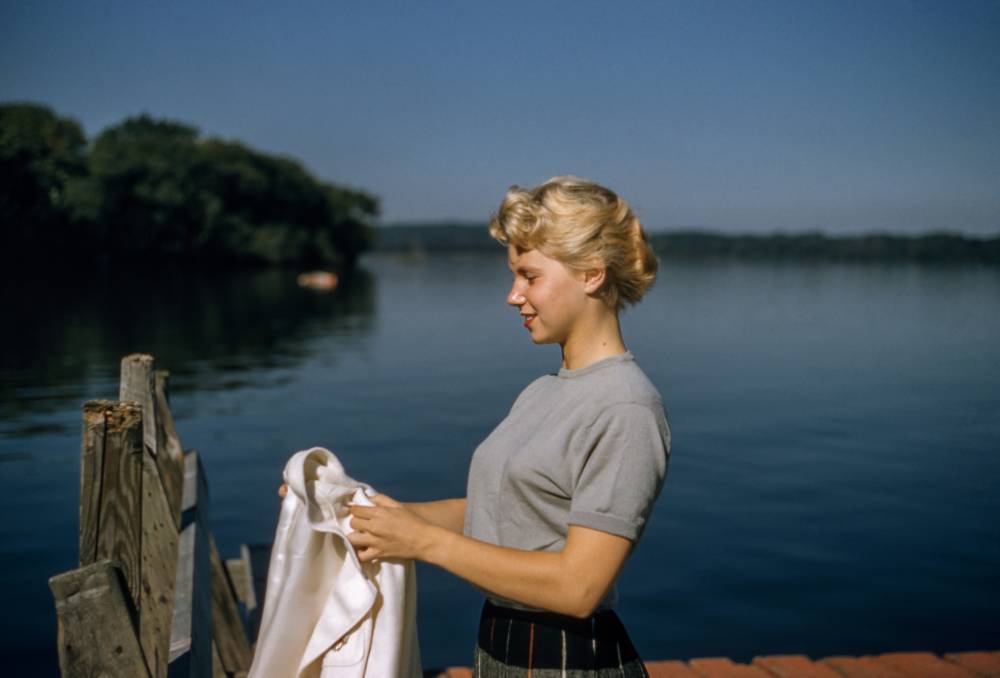 How Old Do Clothes Have to Be to Be Vintage?

The second-hand clothing market is growing quickly. More and more people are buying old and vintage clothing as well as shopping in resale shops. Purchasing used clothes is becoming fashionable again.

Used pieces of clothing have to be at least 20 years old to be considered vintage. But any great vintage store will have a large variety of items from all ages and for any budget.

In some excellent vintage shops, you can find garments from the 1950s, 1960s, 1970s, 1980s, or more, and even antique clothes, offering a wide choice of stylish and affordable clothes to every customer.

Every month, I used to shop for fast fashion a lot and wear several outfits every day. It was not only very thrilling and fun for me to purchase new trends in high-street stores but also convenient and accessible.

After becoming aware of the disastrous social and environmental impact of the fashion industry, I now buy sustainable fashion, second-hand, or vintage clothes regularly.

Let's have a closer at what vintage fashion is and how it helps your budget, your fashion style, other people, and the planet.
Panaprium is proud to be 100% independent, free of any influence, and not sponsored. We carefully handpick products from brands we trust. Thank you so much for buying something through our link, as we may earn a commission that supports us.

What are vintage clothes
Retro pieces of clothing are reproduced fashion items from past time periods and manufactured recently. On the other hand, vintage clothing comes from all ages or specific times in history.

The most popular and expensive vintage fashion styles come from the period between the 1920s and sometime before the end of the 1970s.

How old is vintage clothing is a very common question. Many people wonder what is considered vintage.

The definition of vintage and what clothes are considered vintage are changing over the years. New pieces of clothing are becoming vintage every year.

When an item is at least 20 years old, it is genuinely vintage or antique. Vintage items can be apparel, but also any other textiles and accessories, such as footwear, handbags, hats, jewelry, toys, or furnishing.

Fashion used to be quite slow before the industrial revolution. This time period ended from about 1760 to sometime between 1820 and 1840 when new manufacturing processes in Europe and the United States were installed. They changed the fashion industry forever.

The global textile and apparel industry is increasing at a compound annual growth rate (CAGR) of 7.5% since 2014. It reached nearly USD 758.4 billion in 2018. It's expected to grow at a CAGR of 11.8% to about USD 1,182.9 billion by 2022.

Fast fashion is largely responsible for the exponential growth of the clothing industry over the last 20 years. In the United-States, 88% of consumers prefer shopping for fast fashion, followed by consumers in Europe (46%), India (25%), and China (21%).

Unfortunately, the fast fashion industry, overproduction, and overconsumption of cheap disposable clothing are responsible for tons of carbon emissions, waste, land, air, and water pollution.

Vintage clothing is an exceptional alternative to fast fashion. The second-hand clothing market is also growing rapidly. It was valued at USD 32 billion in 2020 and is expected to reach USD 51 billion by 2023.
Learn more about the other environmentally friendly and socially responsible ways to buy clothes in my article on alternatives to fast fashion.

How to identify vintage clothing
Vintage clothes can be 20 years old up to 100 years old. They are made by either haute couture or quality mainstream fashion labels.

Buying vintage clothing is a great way to purchase very unique, fashionable, and designer clothes (Dior, Chanel, Gucci, Louis Vuitton, and more) at an affordable retail price. On many occasions, old clothes are still very valuable and make a formidable addition to your wardrobe.

When shopping for vintage clothes in resale shops, second-hand stores, antique shops, or vintage fashion boutiques, go through some authentification steps to ensure that the item is truly vintage and not a retro reproduction.

Here are a few things you can do to make sure a piece of clothing is vintage:
make your best estimation for its age
ask the seller for a time period verification
read the labels carefully
check the materials used attentively
research where the clothes were made
lookup copyright, a fashion brand, and its history
identify the sizing numbers
read the care instructions
find lot numbers and other product differentiation
look for certification standards

Reasons to buy vintage clothes
Rather than throwing things away, the resurgent interest in sustainability in the fashion industry is boosting vintage clothing sales. Reusing, repairing, repurposing, recycling, and upcycling are part of the sustainable fashion movement.

Second-hand clothes are helping sustainable fashion grow by making conscious clothing accessible to more consumers and raising awareness of environmental challenges.

The fashion industry is contributing to more than 8% of all global carbon emissions, emitting about 1.2 billion tons of greenhouse gases each year. That number will grow more than 50% by 2030 if the trend continues while accelerating climate change.


Read up my article on the fashion industry's catastrophic contribution to climate change to find out the ecological footprint of your wardrobe.
The textile and apparel industry extracts large amounts of natural resources and sends old clothes to landfills. The United States generates 16.9 million tons of used textile waste each year. The average American throws away 70 pounds of clothing annually.

Buy vintage clothing to reduce the demand for new clothes manufacturing and its impact on the environment. Plus, it gives old clothes a new life and keeps them away from landfills.

Burning used textiles or their decomposition over thousands of years releases massive amounts of toxic gases and carbon dioxide into the atmosphere.

Check out my list of the 10 ways to keep your clothing out of landfills to better understand this issue.
The other advantages of buying second-hand clothes include:
saving money,
a large variety of unique styles,
the thrill of the hunt,
reliving old trends,
supporting ethical brands and local businesses.

Wearing second-hand clothes is an amazing way to protect the planet, have a bigger clothing budget, and a unique fashion style with chic vintage pieces of clothing that nobody else is wearing.

You can create an astonishingly unique wardrobe with a collection of beloved vintage fashion pieces that you can style into many different outfits.

Take a look at the few pieces from your favorite outfits that you wear regularly, including dresses, pants, shirts, blouses sweaters, hats, shoes, jewelry, handbags, and other accessories. These will help you identify your own fashion style.

When out shopping for vintage clothes, choose classic, timeless, and versatile pieces that you can combine easily with your existing current essentials.

Don't wear only vintage pieces. Combine old garments with new ones instead. And don't forget to incorporate vintage accessories into your outfits.

It's also a great idea to love your vintage as well as newer clothes and take good care of them. Buying fewer but higher-quality pieces that last longer is one of the best ways to be more sustainable with clothes.


Where to shop for vintage clothes
If you are new to vintage clothing, you may not know where to start. Vintage clothing can be found in cities locally at boutiques and charities, or on the internet.

Popular places to buy vintage style clothes include vintage clothing stores, second-hand clothing shops, consignment shops, antique markets, garage sales, flea markets, auctions, and fashion fairs.

Excellent local charity-run thrift stores include:

Follow my guide on how to get rid of unwanted clothes for money to get an exhaustive list of amazing places to buy and sell second-hand clothing.


Online marketplaces are amazing global communities where people come together to make, sell, buy, and collect unique items. If you are looking to buy vintage clothes online, visit the following auction-style listings:

Other popular apps or marketplaces to buy and sell designer, retro, antique, or vintage clothing are:
Was this article helpful to you? Please tell us what you liked or didn't like in the comments below.