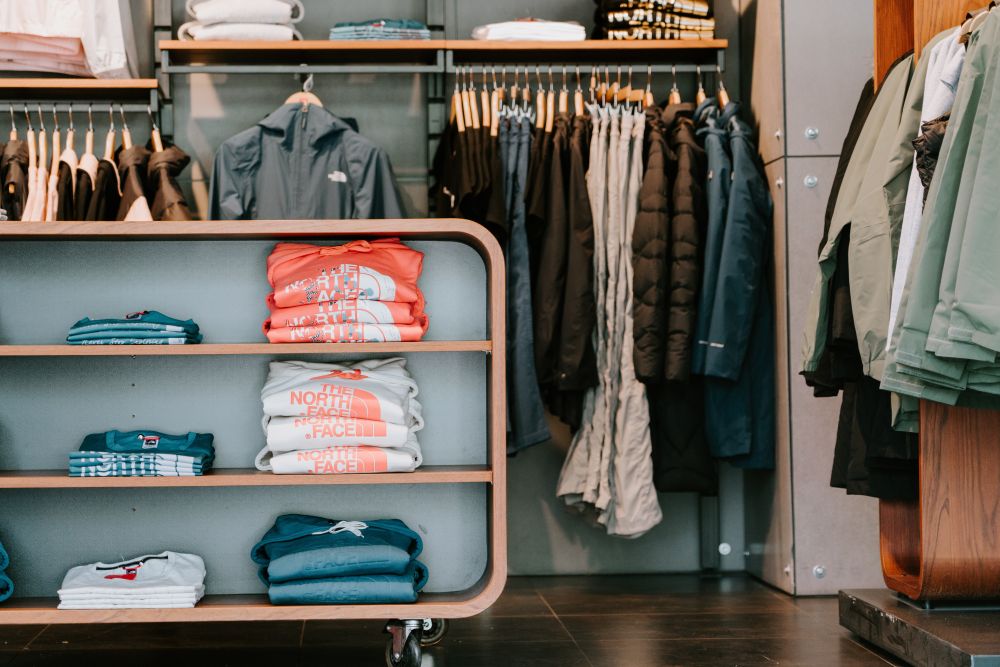 How To Get Rid Of Unwanted Clothes For Money

Getting rid of unwanted clothes for money is one of the best ideas you can have to simplify your life, protect the environment, get extra cash, and make someone else happy.

That's amazing, right? Whether you are trying out the minimalist fashion style or making room in your closet for new clothing purchases, we got you covered. Purge everything that doesn't bring you joy, and keep what makes you confident and comfortable.

If you want to put simplicity first and go back to basics while doing good to your wallet and the planet, read up our Ultimate Guide To The Minimalist Fashion Trend.

It's never a good idea to throw away clothes in the trash. It's not a responsible or conscious way of living.

The U.S. Environmental Protection Agency (EPA) reported that more than 16.9 million tons of used textile waste are generated each year in the United States. And this amount has doubled over the last 20 years.

The average American throws away 70 pounds of clothing every year. And only 1% of all textile waste is recycled into new clothes. This makes textile waste piling up at an alarming rate.

So get rid of unwanted clothes for money instead! This is a great way to have a bigger budget and justify new clothing purchases. Yóu will give your old clothes a new life and make someone who needs it more than you do happier.

Some of your clothes might just be out of style. Some may not fit you anymore or have no place in your new lifestyle. Getting rid of what you don't need helps you declutter your life. You will have more time, more space and less stress over what to wear in the morning.

If you are unsure of what clothes you should be throwing away, our definitive guide 20 Types of Clothes to Get Rid of Right Now might interest you.
There are plenty of amazing places where you can get rid of unwanted clothes for money. You could go to online resale shops or their brick-and-mortar counterparts.

Sometimes, you will receive cash upfront for your unwanted clothes. Oftentimes, you will only get paid after your clothes have been sold.

The second-hand clothing market is booming. More and more people are buying vintage clothing, thrifting or renting their clothes.

Buying used clothing is becoming cool again. You can find unique styles nobody is wearing, save money with each purchase, and protect the environment at the same time. So why not?

Sustainable fashion isn't a trend. It's a revolution. Resale shops are expected to double in the next five years. The more we can save clothing from ending up in landfills, the better.

Online resale shops are the best way to get rid of clothes for money when you are short on time. If you want to maximize your profits, you will need some experience and know when and where to sell your clothes. You can get an idea of how to price your clothes by comparing them to similar items that have sold on the chosen platform previously.

You also have the option to donate your clothes to charity, friends, and family or recycle, reuse, and repurpose into bags or cleaning rags.

Shopping responsibly and buying less is one solution to avoid the problem of having too much clothing. It seems like a simple idea but it's very effective and makes such a big difference.

Buy less frequently and pick high-quality clothing pieces that are durable, that you will want to wear for a long time. This is an amazing way to be responsible with your closet.

I started to care more about the clothes I wear in 2015. Now I try to avoid anything that is wasteful or damaging to the environment.

Letting clothing that doesn't fit me anymore ending up in landfills isn't the way to go. Some clothes take many thousand years to decompose and even release toxic gases when burned.

I place the clothes I don't wear in two large bags away from my closet until I am ready to sell or donate them.

Use the following places to get rid of unwanted clothes for money.


Panaprium is proud to be 100% independent, free of any influence, and not sponsored. We carefully handpick products from brands we trust. Thank you so much for buying something through our link, as we may earn a commission that supports us.

Sell your unwanted clothes to your friends
This one is a no brainer. Show your friends and family what you may want to get rid of and ask for a fair price.

Organizing a clothing swap with your friends is a very fun experience. You can also set up a pop-up shop at your house and invite your friends over.


List your clothing items on eBay, Craigslist, or Gumtree
Many people make a full-time living income on eBay and Craigslist selling used clothing. You can do it as well!

If you have unique and high-end items, it's worth it to list and sell them to a potential buyer on these platforms.

eBay is a great option for selling clothes, shoes, and accessories. You make sales with auction-style listings.

eBay charges you 10% of the total price for every sale you make. This is a relatively lower commission than many other resale shops charge.




Upcycling in three easy steps on ThredUp
Order a cleanout kit on ThredUp. Fil it up with high-quality items from any brand. Send it off and get paid for your clothes when they sell.

This is definitely one of the easiest ways to get rid of unwanted clothes for money. The bag you will receive from ThredUp comes with prepaid shipping.

And all clothing that doesn't sell will be either returned to you for a fee, given away to charity or sent to textile recycling centers.

Use their clothing calculator and how much you will earn for your clothes. Be sure to look up in advance which brands they accept. You might receive up to 80% of your clothing's value as ThredUp charges you 20% for their service.




Use an app like Poshmark
Poshmark online marketplace is also a simple way to sell used fashion. Take a photo of each item and upload it from your phone. Then list it for sale with just a few clicks.

Once you make a sale, package it with the prepaid label you receive from Poshmark. Then drop it off at a USPS mailbox or have it picked up for free from your home.

Middle-range brands often resale faster and for more money than higher-end brands. Buyers will often look online for Anthropologie, Zara, Forever 21 or H&M items they missed in stores.

You can fix your pricing strategy by comparing it to similar items that sold. Filter search results by availability and you will see what sold recently and what the buyer paid for it.

Poshmark takes a flat commission for very low priced clothing and up to 20% for higher-priced items.




List your unwanted clothes on Tradesy
Tradesy is another online peer-to-peer resale marketplace for designer bags, shoes, and clothes.

It's very easy to use as well. Take a few photos of each item and upload it through the iOS or Android app.

Enter details about your item. Tradesy will provide you examples to describe and price your clothes. Then list it for sale.

Tradesy will remove the background of each primary image within 24 hours to remove any distractions and make your items look great.

Tradesy will alert you once you male a sale. Then confirm the sale right away and ship it to the buyer.

You have the choice to select one of three convenient shipping methods: receive a Shipping Kit in the mail, print a label directly from your Tradesy account, or handle shipping on your own. The cost of your chosen shipping method is then added to the item's price, so the buyer pays both your listing price and shipping at checkout.

Tradesy is known to retain the lowest sale commissions. You can transfer your earnings to your PayPal, debit card, or checking account (ACH) for a low 2.9% Safe Transfer Fee.




Sell your vintage clothes via the Depop app
Depop is a peer-to-peer social and mobile marketplace best used to sell vintage clothes.

Depop feels like Instagram but functions like eBay. Wear the clothing you want to get rid of, take a picture of yourself then share it like on Instagram.

This app is very colorful and its users are quite young. It's a great opportunity to revive old trends and styles from the 80s and 90s. But it's not for everyone.

Depop charges you 10% of the listing price before paying what's left to you. Then you have to ship each item to the buyer.

Use the Vestiaire Collective app to sell designer clothes
Vestiaire Collective is a French-owned resale online shop specializing in pre-owned designer clothing and accessories.

It's very easy to use but the fees are quite high. Download the app, take pictures, upload them, write a description and the curation team will take care of the rest.

Once sold, ship your item to Vestiaire Collective for free. They will check quality and authenticity before sending it to the buyer. You will then earn up to 80% of the purchase price.




Sell clothes of the whole family on Swap.com
Swap.com is a great way to sell not only women's clothing and accessories but also plus sizes, maternity clothing, and kids' clothing.

You will have to sign up on the online platform and send your initial items to get accepted.

Then Swap.com handles the rest: processing, pricing, photos, selling, etc.

You can print a pre-paid shipping label at all times and mail items to Swap.com.

Yóu will be charged a flat fee of $11.90 for each package of clothes you send. You can earn up to 70% of the sale price per item.


New clothing account on Instagram or Pinterest
You can get rid of the clothes you don't wear anymore on Instagram or Pinterest.

Both of these social media platforms are amazing for fashion. Take a few pictures of you and share them on a new account there. And let people contact you to purchase them.


Use Facebook Marketplace to sell unwanted clothes for free
Facebook Marketplace is an amazing way to sell unwanted clothes in your local area.

List your item on the online platform and once sold, the buyer will come to pick it up and pay cash in hand.

Local Facebook selling groups are another way to do it. There are no fees so the profit is all yours.




Sell your clothes at your local consignment store
You can do a quick search on the internet and find your nearest local consignment store. There you can sell secondhand clothes.

They won't accept everything you have to sell. But the items they take have a very high chance of selling.

Feel free to contact them regarding their rates and policies, ask about the clothes you want to sell and check if they have an online presence.


Use Buffalo Exchange to sell your vintage and used clothes
Buffalo Exchange is a family-operated resale retailer with many brick-and-mortar locations around the United States.

You can sell your clothes and accessories or trade them in for another outfit via Buffalo Exchange.

Simply bring them into your local Buffalo Exchange without any appointment necessary.

They don't accept everything, but you can get paid right away without waiting for your clothing to sell. You will receive 30% of your selling price in cash or 50% in store credit on-the-spot.

What they are looking for:
Plus sizes
Menswear
Every day staples like Jeans, T-shirts, and Button-Ups
Dresses
Shoes
Sweaters and Jackets
Shorts and Skirts
Designer
Vintage
Jewelry
Costumes
Athletic Wear

Sell your clothes for cash in Crossroads Trading stores
Crossroads has brick-and-mortar stores and an online presence. There are 4 ways you can sell unwanted clothes in Crossroads Trading stores.

You can sell at any of the store locations 7 days a week during store hours without an appointment.

You can also drop off your items at any store with a 24-hour drop-off service. Your cash or trade will be waiting for you in 24 hours.

For high-end designer items, Crossroads offers consignment with payouts up to 70% in cash.

If you aren't near any Crossroads Trading stores, you can still sell with their mail.-in service. Just order a bag with a pre-paid return shipping label.

Crossroads staff members always look through your clothing items and pay you a portion of the list price. You will receive 30% in cash on the spot or 50% in store credit.


Organize a garage sale to sell your items
You can host a garage sale over the weekend to get rid of your unwanted clothes for money.

This isn't always the best option as clothes aren't a very popular item category for garage selling, compared to consumer electronics, or sports equipment.

But you may still be able to find some buyers and make decent cash off your unwanted items.


Donate your unwanted clothes for tax returns
Donating your items to someone that needs them more than you is a great gesture. This won't get you extra cash right away. But Your donations can be used as a deduction when you write your taxes. You will possibly get a larger tax return if you donate your unwanted clothes.

Great places to drop off clothing nonprofit organizations and charities such as:
Women's and homeless shelters

You can also donate blankets, towels, and linens to animal shelters in your local area. Make sure to contact them first and ask if they take donations.

There are also many charities that'll collect your unwanted clothes in a house-to-house visit such as:

Getting rid of your unwanted clothes for money is the way to go for sustainability. It protects the environment as you help upcycle clothes that otherwise would end up in landfills.

Of course, you want to make sure your clothes are all in very good condition. If you want to list your items yourself, take high-quality pictures to have any success selling your items. Also, provide as much accurate information on the product as you can.

Do everything right, and you will earn extra cash while helping others with new pieces they might love for a very long time.

Do you know any other place to sell old clothes?
Was this article helpful to you? Please tell us what you liked or didn't like in the comments below.