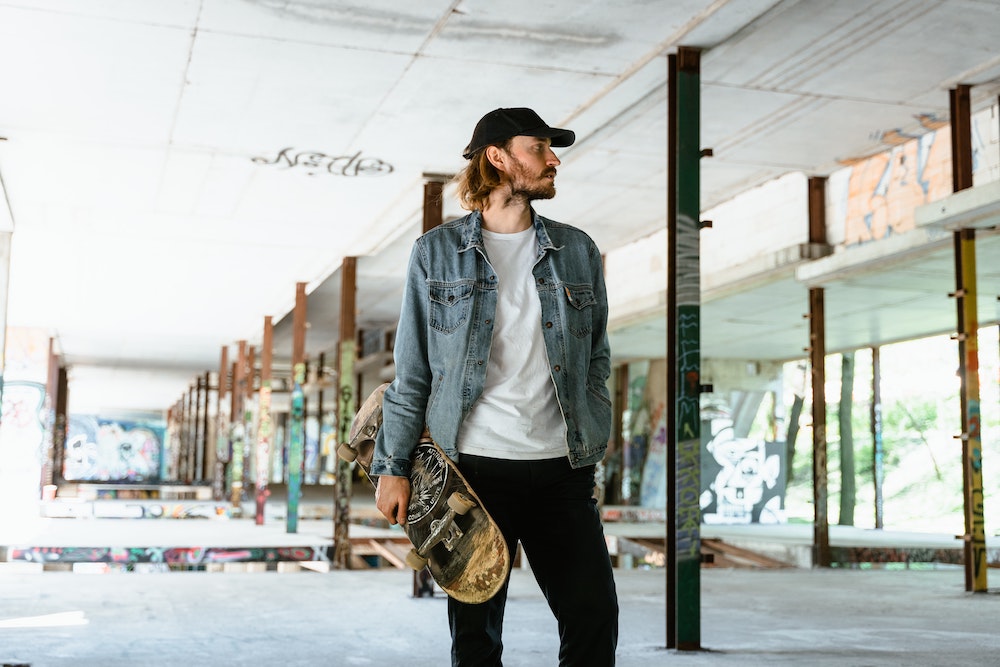 15 Cool Outfits Men Can Wear with Vans Slip-Ons
Vans slip-ons are a timeless staple of laid-back, cool fashion. They're easy to wear, extremely comfortable, and absolutely iconic.
The Vans brand was founded in 1966 by Californian brothers Paul and Jim Van Doren. The brand almost immediately became a classic shoe choice among skaters and other subcultures in southern California. 
Today, Vans are still the go-to sneaker for skaters, cool kids, and adults alike. 
If you're looking for ways to freshen up your wardrobe with your Vans slip-ons, look no further.
Striding into style has never been easier, especially when slipping into the effortless cool of Vans slip-ons.
Whether a skater at heart or just looking to add a touch of laid-back charm, don't miss these 15 versatile outfits guys can wear with Vans slip-ons. 
Panaprium is proud to be 100% independent, free of any influence, and not sponsored. We carefully handpick products from brands we trust. Thank you so much for buying something through our link, as we may earn a commission that supports us.
Vans and a Matching T-Shirt
Vans slip-ons come in a ton of different colors and patterns. Create a coordinated outfit by matching your t-shirt and sneakers. 
Wear a bright monochromatic tee with bold slip-ons or classic black with a matching graphic t-shirt. 
Throw on a faux leather or denim jacket for cooler weather, and you're good to go. 
Check out our selection of American-made t-shirts for men. 
Cuffed Jeans and a Pullover Sweater
Wear cuffed jeans with a simple pullover sweater for an easy, laid-back fall or winter outfit. 
Roll up your favorite pair of jeans to your ankles and pair retro-inspired tube socks with your slip-ons for a skater vibe. If your pullover sweater is a little oversized, even better. 
Explore our ultimate list of sustainable denim brands to find your next perfect pair. 
A Denim Button-Up and T-Shirt
A denim button-up over a classic t-shirt is a great way to create a more dressed-up outfit with your Vans slip-ons. 
Wear an unbuttoned denim shirt with the sleeves rolled up to your elbows for a chill, put-together look. 
Any type of shirt looks great underneath, from a classic white t-shirt to your favorite vintage graphic tee. 
Check out the best sustainable button-ups and men's shirts made in the USA. 
Joggers and a Hoodie
Create an effortless athleisure look with a hoodie, matching joggers, and immaculately clean slip-ons. 
A hoodie and joggers will make you feel comfortable without looking sloppy. Throw on a bomber or denim jacket for a more polished edge. 
Shop our selection of organic cotton hoodies and sustainable sweatpants for men and women. 
Flannel Shirts
A flannel shirt with Vans slip-ons makes an excellent outfit because it's versatile, comfortable, and classically cool. 
Wear a buffalo plaid button-up with black jeans, black slip-ons, and a slouchy beanie, or rock a colorful flannel shirt with distressed denim and your favorite worn-in Vans. 
You can find men's flannel shirts and more by checking out our list of the best ethical men's clothing brands. 
Understated Outerwear
Vans slip-ons have withstood the test of time because they're understated, minimalist, and just casual enough. Channel this same energy into your outfit by wearing understated outerwear. 
Wear a black peacoat with dark-wash denim and black slip-ons, or create a statement with a navy blue puffer jacket and bright red Vans. 
Check out our selection of sustainable brands that make stylish waterproof jackets for men and women. 
Cargo Pants and Layered Shirts
Create a retro 90s vibe with baggy cargo pants and layered t-shirts. 
The key to this look is to layer a long-sleeve thermal under a slightly oversized t-shirt. Wear camo cargo pants or any other neutral color, such as black, olive, or dark gray. 
Check out our selection of sustainable cargo pants. 
A Denim Jacket and Chinos
A denim jacket and chino pants make a great casual outfit with Vans slip-ons. 
The casual feel of a denim jacket and some Vans balances nicely with the more semi-formal vibes of chino pants. 
Complete your look with a short-sleeve button-up or a vintage tee, depending on the vibe you want to channel. 
Don't miss our selection of the best men's chinos and khakis. 
Shorts and Tube Socks
Wearing your Vans slip-ons with shorts and tube socks is the ultimate skater move. This look is reminiscent of California skate culture and works perfectly with slip-ons. 
Wear chinos, cargo shorts, or even basketball shorts to create this casual, chill look. You can wear plain white tube socks with your slip-ons or retro-inspired socks with a colorful stripe along the top. 
Explore our favorite men's shorts made in the USA.
A Black Button-Up and Jeans
The great thing about Vans slip-ons is that they work for almost any occasion. A black button-up with high-quality jeans makes an excellent date outfit. 
Complete your look with an understated windbreaker or cardigan for a laid-back look that's sure to impress any date. 
A Blazer and Chino Pants
If suits aren't your thing, try chino pants and a blazer. When paired with Vans slip-ons, this outfit becomes perfect for casual business meetings, garden parties, or a date night. 
You can wear a matching blazer and chinos or create an eclectic look by pairing a dark-colored blazer with light khaki or gray pants. This outfit would look great with black, white, or gray Vans slip-ons. 
Check out our selection of sustainable hemp blazers for men. 
A Hoodie and Beanie
Vans slip-ons aren't just for the summer. Create a hip fall and winter look with a trendy hoodie and beanie. 
Match your slip-ons with an oversized hoodie and black beanie for a streetwear vibe. Create a monochromatic athleisure look with white slip-ons, a beige hoodie, and a fitted beanie. 
Shop our selection of sustainable beanies. 
A Belt and Trousers
Dress up your Vans with tailored trousers and a chic belt. 
Modernize this classic look by rolling up the hem of your trousers, tucking in a simple t-shirt, and wearing no-show socks. Whichever way you style this look, it's bound to look timeless and masculine. 
Shop our favorite vegan leather belts for men. 
A Casual Suit
Dare to be different by pairing your Vans slip-ons with a casual suit. This look creates an air of professionalism with just the right amount of edge. 
Pair a lightweight linen suit with bold black or white slip-ons for a breathable, comfortable semi-formal look. 
For something a bit more casual, craft an outfit out of dark denim jeans, a tailored blazer, a black t-shirt, and brand-new Vans slip-ons. 
Check out these sustainable men's suits that won't break the bank. 
A Classic White Tee and Khaki Shorts
Try a classic white t-shirt and khaki shorts for a more preppy look. This look is perfect for spring and summer. 
Wear a well-tailored white shirt, earth-toned khaki shorts, and neutral-colored slip-ons for a versatile, casual vibe that always looks put-together.
Was this article helpful to you? Please tell us what you liked or didn't like in the comments below.
About the Author: Liz Flynn