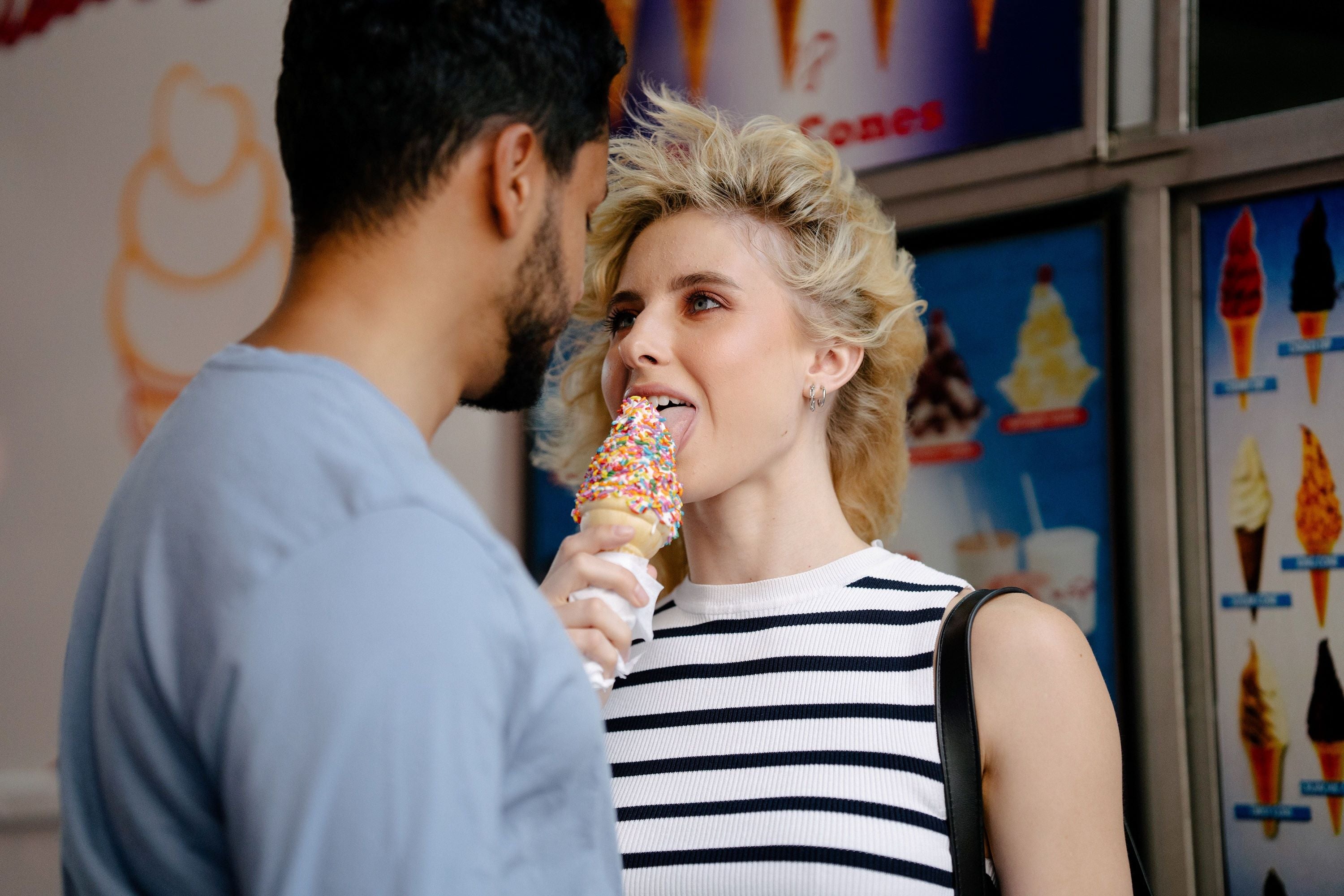 Lovely Outfits For An Ice Cream Date: Ultimate Guide
Have you been invited to an ice cream date? How exciting! Get ready to discover inspiring outfit pieces you could wear for an enjoyable and unforgettable ice cream date.  
Whether your date is in an ice cream parlor, a park, or at home, our article will guide and inspire you. 
Ice cream dates are adorable, and any casual outfit would suffice. You can, however, strive to put in more effort to appear neat and attractive.
Here are our 15 suggestions to help you create the looks you desire.
Panaprium is proud to be 100% independent, free of any influence, and not sponsored. We carefully handpick products from brands we trust. Thank you so much for buying something through our link, as we may earn a commission that supports us.
1. Cami Top
Pair your cami top with denim shorts or jeans for a beautiful date look. Depending on your confidence, you can go with cropped or standard ones.
Add comfy sneakers and lovely jewelry to complete the look.
Check out the 12 best organic cotton camisoles that you will love.
 2. Sundress
A bright sundress is ideal for an ice cream date. It's adorable, summery, and joyful. Put on a sundress and sneakers for the ice cream date in a park.
To look more feminine, wear high heels if your date is at an ice cream parlor.  
Have a look at our selection of 20 cute and cheap summer dresses for more inspiration.
3. Cute Skort
A skort is perfect for an occasion like this: it is practical yet cute. You can create multiple outfits by mix-matching your skort with cami tops, Tees, and crop tops.
Add a light colorful blazer for an ultimate chic yet effortless look.
4. White T-shirt + Jeans +Scarf
Combine jeans, a white T-shirt, and a cute colorful scarf to create the perfect outfit for a fun ice cream date in the park. 
It is a simple ensemble that will make you appear neat and attractive. It is practical, yet the scarf adds a beautiful feminine touch. You can replace the white with another color if that is more to your taste.
Discover the 17 best popular and cheap European jeans brands.
5. Sneakers
If you click with your date, an ice cream date might turn into a long romantic walk hand in hand. Wear sneakers if you want to be comfy and thoroughly enjoy them.
Color match your sneakers with your Tee or purse for a cute look.
Do not forget to check out these 8 easy ways to recycle old shoes and clothes.
6. Cargo Pants
If you are going on an ice cream date in a park, cargo trousers are a terrific option. Cargo pants are cozy and offer excellent mobility.
For a nice style, choose darker hues like khaki or dark green and match them with lighter tops.
Discover our selection of 15 best affordable and sustainable cargo pants.
7. Crop Top + Skirt
Team up a crop top and a skirt to form a lovely feminine ensemble. Select a skirt that is both comfy and fashionable.
Pair the crop top with either a long, floaty skirt or a short, tight skirt. Choose the perfect combination based on your style and mood that day.
Check out the 15 best affordable and sustainable mini skirts.
8. Espadrilles + Sunhat
Combine your gorgeous espadrilles with a cute dress or jumpsuit, and finish with a beautiful sunhat for protection and a cute touch.
If you like, use espadrilles with high heels, as long as they are comfy. Remember that comfort is essential. You want to enjoy your date properly and avoid getting tired quickly.
Discover the 15 best affordable and vegan espadrilles.
9. Straw Handbag
Nothing shouts summer and gorgeous weather like a straw handbag.
It is a cute item that is used to accent and complete a variety of outfits. If you are wearing a lovely little dress, go for a cute tiny one. If you are wearing pants or shorts, choose a scarf and straw handbag to add a feminine touch to your look.
Our selection of the 10 affordable purses made from recycled materials.
10. Comfy Cardigan
If your ice cream date is in the evening, you will want something to keep yourself warm and concentrate on your date instead of the cold. Have a cute light cardigan with you.
Cardigans go well with most outfit items. So depending on your outfit, you can pick a short or long cardigan. A cropped cardigan might be another excellent option.
11. Dungaree
For another stylish look, pair a denim dungaree with a gorgeous Tee and comfy sneakers. You can mix and match your dungaree and other outfit elements in various ways.
Wear a short one if the weather is particularly hot or if you want to get a beautiful tan on your legs.
The 15 best ethical and sustainable dungarees and overalls for more inspiration.
12. Summer Shorts + Cute Top
Combine a lovely shirt and summer shorts. There are dozens of different short types to pick from. Choose the one that helps you stand out and feel at ease.
Pair them with tees, colorful crop tops, or tight tank tops.
Our selection of the 15 best ethical and cheap sweat shorts.
13. Denim Jacket + Ankle boots
If you are wearing a cute little dress, add a denim jacket and ankle boots to create a different yet exciting style. Ankle boots are a brilliant choice for your date at an ice cream shop.
Choose darker colors for your ankle boots and lighter shades for your denim jacket.
Discover the 20 best affordable denim jackets.
14. Summer Jumpsuit
A jumpsuit is an excellent choice for the summer heat. Wear short jumpsuits with comfortable shoes and your favorite accessories.
There are numerous styles and colors to select from, so choose one that makes you stand out while still complementing your body shape. Choose a patterned or brightly colored one for a more summery look.
Check out the 20 best affordable and sustainable jumpsuits.
15. Comfy Loungewear
You can also have an enjoyable ice cream date at home. Get a takeaway or even better cook dinner together, watch your favorite shows, and enjoy that delicious ice cream while cuddling on the sofa.
Lovely loungewear is ideal for such an occasion. Go for soft and comfortable materials. Also, make sure you look neat, even if you are at your place.
Discover the 20 best affordable Australian ethical loungewear.
Was this article helpful to you? Please tell us what you liked or didn't like in the comments below.
About the Author: Gohar Davtyan