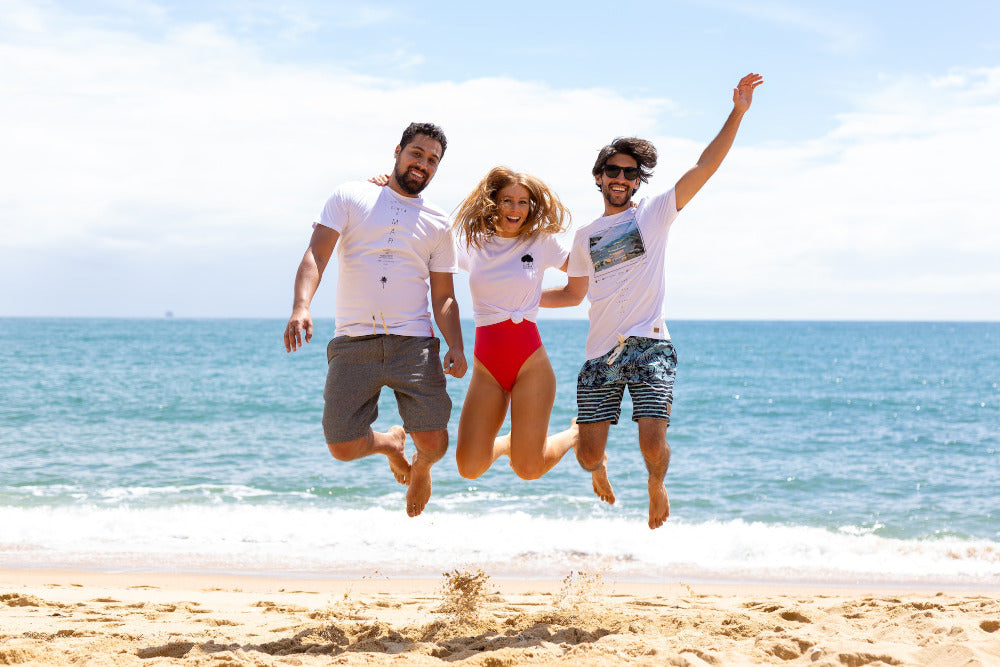 Look Gorgeous In Ibiza With Our Exclusive Outfit Ideas
Ibiza is a favorite vacation destination for people from all over the world. It is known for its beautiful beaches, vibrant nightlife, and rich cultural heritage. Whether you are looking to relax on the beach, explore historic sites, or party until the early hours of the morning, Ibiza has something for everyone.

Ibiza has a relaxed and spontaneous atmosphere, so the dress code is generally casual. However, it is essential to dress appropriately for the various events and occasions you may be part of.

Keep reading and get inspired by our exclusive outfit ideas that will make you look gorgeous while visiting Ibiza.
Panaprium is proud to be 100% independent, free of any influence, and not sponsored. We carefully handpick products from brands we trust. Thank you so much for buying something through our link, as we may earn a commission that supports us.
1. Bikini and one-piece swimsuits
Ibiza is known for its stunning beaches and beautiful nature. You will be spending most of your type on the beach, so make sure to have enough varieties of swimsuits.

When choosing a swimsuit for Ibiza, it is essential to consider the type of activities you'll be doing and your style. Wear swimsuits with bold colors, playful prints, and unique cuts to reflect its trendy and vibrant atmosphere.
To feel comfortable while doing water sports or other activities, you may want to choose a swimsuit that offers more support and coverage. For example, a one-piece or a bikini with a high-waisted bottom may be more comfortable and practical for active pursuits.
Ibiza is known for its daring and unique fashion, so don't be afraid to rock a statement swimsuit such as a one-piece with cutouts or a bold print.
Buy affordable swimsuits made under high standards from the Best Sustainable Swimwear Brands In Europe.
2. Bohemian-style clothing
The island is famous for its boho-chic style, so bring along flowy skirts and dresses, loose-fitting tops, and sandals. Bohemian-style clothing is often associated with comfort due to its relaxed and loose-fitting silhouettes and the use of lightweight, breathable fabrics such as cotton, linen, and silk. The style emphasizes comfort and a free-spirited approach to fashion - a perfect fit for Ibiza life.
Buy bohemian harem pants made from organic cotton and other eco-friendly materials to feel great and dress well for any occasion.
3. Crochet clothing
Crochet dresses, tops, and bikinis are a staple on the island and add a fun and flirty touch to any outfit. Crochet clothing, such as tops, dresses, and cover-ups, can provide a breezy and bohemian look that is perfect for Ibiza summer.

The openwork design allows air to circulate and helps to keep you cool and comfortable, even on hot days. Additionally, crochet can be versatile and can be dressed up or down depending on the occasion.

Wear a crochet top with high-waisted skirts, shorts, or pants. The high-waisted bottoms help balance out the openness of the crochet top and create a chic, retro-inspired look.
4. Slip-on dress
A slip-on dress is a perfect choice for summer attire, as it is easy to wear and provides a lightweight and comfortable option for hot weather. Look for a dress made from a lightweight and breathable fabric such as cotton, linen, or rayon.

You can choose from varieties of styles to match your personality - from short and flirty to long and flowing slip-on dresses. In general, for your days out, opt for a shorter style that allows your legs to breathe and helps to keep you cool. Wear a midi or long slip-on dress during the evening for a more elegant look.
Look at our selection of the best linen dresses made in Italy under high standards to add a natural look to your Ibiza outfits.
5. Denim shorts
A pair of denim shorts paired with a crop top or flowy blouse is a classic Ibiza outfit idea and perfect for hot summer days.

Pair your denim shorts with sneakers or sandals for a more casual look. This combination is cute and comfortable for a day out with friends.

Dress up your denim shorts by wearing heels. Choose a pair of heels with a chunky heel, which will be more comfortable and easier to walk in. Complete your outfit and add some personality by adding a statement necklace or a bold pair of earrings.
Buy high-quality, ethically made, and budget-friendly denim shorts for women and men here.
6. Rompers and jumpsuits
Rompers and jumpsuits are comfortable and stylish and can easily transition from day to night.

A wide-leg or floral jumpsuit will make you feel comfortable and look stylish. A floral jumpsuit is perfect for adding a touch of summer vibes to your outfit. To truly embrace the summer vibe, look for bright colors and large floral prints.


Another flirty option for summer in Ibiza is to wear a short jumpsuit. It is perfect for outdoor activities like picnics or beach trips.
To help you highlight your best features, feel comfortable, and look charming effortlessly, here are some of the best affordable and sustainable jumpsuits.
7. Clothes with ruffles
Ruffles can be a great addition to your Ibiza wardrobe, as they can add a playful and feminine touch to your outfits. When incorporating ruffles into your outfits, remember to keep in mind the style and vibe of the island.

Ibiza is known for its bohemian and beachy style, so light and flowy ruffles made of natural fabrics like cotton or linen would be more suitable than heavy, structured ruffles. For example, a ruffled sundress made of lightweight fabric would look great for a day out exploring the island.

The best way to style clothing with ruffles is to keep the rest of your outfit simple and let the ruffles take center stage. Pair a ruffled top with denim shorts or a ruffled skirt with a plain white t-shirt to create a balanced look.
Take a look at our selection of the cutest and cheapest summer dresses here.
8. Tunics
Tunics look stunning in Ibiza. Wear a tunic with shorts, jeans, or leggings to create a variety of looks. They are also great for layering, which can come in handy if the temperature changes throughout the day.

Tunics with embroidery, lace, or other embellishments can add a touch of bohemian flair to your outfits and are very suitable for Ibiza's relaxed vibe.
9. Rash guards
Ibiza offers a wide range of water sports activities, such as scuba diving, snorkeling, jet skiing, kayaking, parasailing, stand-up paddleboarding, and surfing.
You will undoubtedly find an activity that suits your needs and taste, whether you are looking for a relaxing day on the water or an adrenaline-filled adventure. In order to perform these activities safely and correctly, you will need suitable clothing.


We recommend you pack a rash guard in your luggage for vacation in Ibiza. Rash guards were initially designed for surfing but have since become preferred wear for many other water sports.

Rash guards have different styles and designs, from long-sleeved to short-sleeved, and can be worn alone or under a wetsuit.
Buy conscious surf products for a better future that protect the ocean. Discover the best sustainable surfwear brands here.
10. Tie-dye clothing
Tie-dye is a trend that never goes out of style on the island and adds a fun and playful touch to any outfit.

You can keep it simple and wear it with simple and neutral pieces. For example, you can pair a tie-dyed T-shirt with jeans or denim shorts.

Tie-dyed clothing can be a great layering piece for a pool or beach party. Wear it with a solid-colored blazer to add an elegant touch or under a denim jacket for a more casual look.
Check out our selection of the best sustainable tie-dye clothing pieces.
11. Look elegant in every outfit with a blazer
A blazer is a highly versatile piece that can be dressed up or down. Because Ibiza offers both relaxed beach vacations and great party nights, it's always a good idea to pack versatile pieces that you can mix and match to create different outfits.

Consider choosing a lightweight blazer that won't make you too hot, and pair it with casual pieces like shorts, jeans, or even a sundress to create a relaxed and summery look.
Check out our selection of the best affordable and sustainable blazers made under high social and environmental standards.
12. Printed kaftans
A printed kaftan is a versatile beach cover-up that you can wear as a dress or top when not on the beach.

Style a printed caftan with sandals and a wide-brimmed hat, and you will have a simple yet fashionable outfit for running errands or a day at the beach.

Add statement jewelry like earrings or a necklace for a summer dinner party or a night out with friends. If you want a more polished and put-together look, add a belt. This style will define your waist and add structure to your printed caftan.
Check out our selection for the very best in affordable, sustainable, and organic kaftans to wear in Ibiza.
13. Cute dress for a club night
Ibiza is known for its vibrant party scene, so make sure to bring some party outfits such as dresses, jumpsuits, or dressy tops paired with shorts or skirts.

The party style on the island usually focuses on fun and expressive fashion. Do not be afraid to wear bold prints and bright colors. Whether you choose a maxi dress in a tropical print or a neon mini dress, the key is to have fun and let your personality shine through your outfit.

Opt for a metallic or sequin dress to shine under the club's lights and have a glamorous look. These dresses come in many styles, from mini dresses to maxi gowns, and they're sure to make a statement on the dance floor.
Get inspired by our selection of the finest cocktail dresses for any party made in the USA under high social and environmental standards.
14. Tank tops and crop tops
You can match tank and crop tops practically with everything. They are very versatile and give you the possibility to create new outfit combinations every day.

Get a flirty outfit by matching a crop top with a high-waisted skirt. A crop top paired with a high-waisted skirt can be both comfortable and sexy, and it's a great way to stay cool on hot summer nights.
During the day, you can pair a tank top with denim shorts or layer it over a bikini if you are heading to a beach or pool party.

You can also wear tank and crop tops with a maxi skirt. Always remember to tuck your tank top into the waistband. Complete the look with wedge heels or platform sandals to elongate your legs.
Discover our selection of the best affordable and sustainable tank tops for women and men made under high standards.
15. Wide-leg pants
Wide-leg pants are a great choice for an Ibiza vacation because they're comfortable, lightweight, and stylish. They're perfect for keeping cool in the island's warm weather while still looking chic and put together.

Wear linen wide-leg pants in neutral shades like white, beige, or khaki for a bohemian style, or opt for a bold color like coral or turquoise to make a statement.

Wear wide-leg pants in tropical prints, florals, or geometric patterns to achieve fun and playful look.
Buy sustainable wide-leg pants and jeans made under high standards here.
16. Choose clothes of lightweight fabrics
Summer days and nights in Ibiza are hot and humid, so opt for lightweight and breathable outfits made of cotton, linen, and rayon. Avoid heavy or synthetic fibers like polyester and nylon, as they are insulating and will make you feel sticky and uncomfortable.
Choose fabrics such as bamboo, cotton, or modal for your underwear. They are breathable and moisture-wicking and will keep you cool and comfortable.
Check out our selection of the best affordable and organic bamboo underwear brands.
17. Wear comfortable shoes
Given that you will be walking around a lot, bring comfortable shoes such as sandals, sneakers, or espadrilles. Wedge sandals are perfect for adding height and style to your outfits while still being comfortable enough for walking around.
Here are some of the best affordable, vegan, and sustainable sandals made under high social and environmental standards.

For a night out in Ibiza, it is essential to consider both style and comfort. Dressy flats can be a good option if you prefer not to wear heels. Look for flats with embellishments or metallic accents to add some sparkle to your outfit.


Make sure you also pack a pair of sea rock shoes. On the western and northern coasts of the island, the beaches tend to be rocky, with some small sandy sections. Sea rock shoes provide protection and support for the feet while walking on rocky or uneven water surfaces.
18. Pack a lightweight jacket or a cardigan
If you plan to go out to bars, clubs, or restaurants at night, you might want to bring a lightweight jacket or cardigan with you. Many of the indoor spaces on the island have air conditioning, which can make it feel chilly indoors, even on a warm night.
A light jacket or a cardigan will keep you comfortable and ensure you can enjoy your evening without feeling too cold.
Buy affordable and fashionable denim jackets here.
19. Wide-brimmed hat
Wide-brimmed hats not only protect you from the sun but also add a touch of glamour to any outfit.
Floppy wide-brimmed hats are best for the beach and add a touch of glamour to a casual outfit. They're typically made from lightweight materials like straw or cotton and have a large, floppy brim that provides plenty of shade.
20. Beach accessories
Bring along sunglasses, sunscreen, and statement jewelry to complete your outfits.
Buy eyewear from brands that craft gorgeous and fashionable glasses under high standards.
Don't forget a beach bag, as it is a practical and stylish accessory for the summer. Look for a bag that is spacious, durable, and made from a water-resistant material.  
Was this article helpful to you? Please tell us what you liked or didn't like in the comments below.
About the Author: Iana Jekova