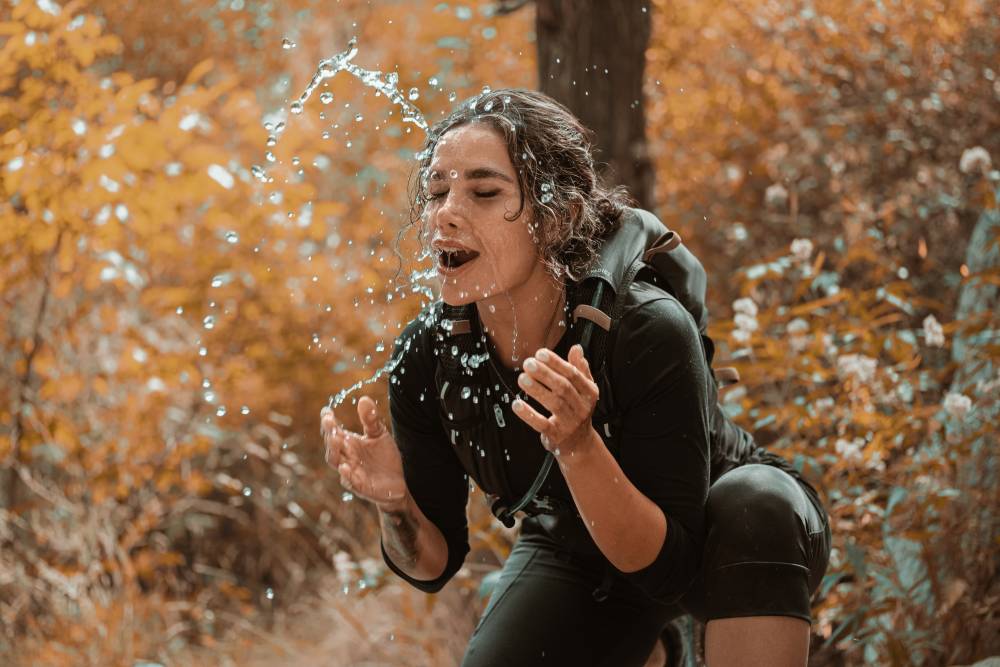 3 Best Affordable And Eco-Friendly Waterproof Fabrics
Can fabrics be waterproof, eco-friendly, and affordable? Well, there is no 100% sustainable fabric. However, the eco-friendliness of materials used for clothing can drastically improve with a few sustainable practices.

The large majority of water-repellant textiles in the fashion industry contain petroleum-based synthetic materials. They have disastrous impacts on human health and the environment.

The fashion industry is one of the largest polluter globally. And most of the pollution, waste, and carbon emissions it creates come from fabric production.

Most dyes, coatings, and finishes used in the global apparel and textile industry are toxic. And fabrics often receive treatments using hazardous substances to make them water-resistant.

One of the best ways to reduce the negative impacts of textiles is to choose eco-friendly fabrics. Unfortunately, natural and organic fibers aren't very durable or waterproof materials for the outdoors.

Instead, look for synthetic fabrics with 100% recycled content. Recycling reduces the environmental impact of textile production tremendously. It diverts waste from landfills and lowers the strain on natural resources.

Additionally, make sure the garments contain only harmless chemicals. Look for textile certifications such as Bluesign or Oeko-Tex that guarantee the highest level of health and safety for consumers.

To help you make better purchasing decisions, here are the top 3 most affordable and eco-friendly waterproof fabrics.


Panaprium is proud to be 100% independent, free of any influence, and not sponsored. We carefully handpick products from brands we trust. Thank you so much for buying something through our link, as we may earn a commission that supports us.

1. Recycled Polyester


Polyester, also known as polyethylene terephthalate (PET), is the most widely used textile fiber in the world. The total production of polyester fibers increased to 55 million tons in 2018 globally, accounting for 52% of all fiber production.

Polyester manufacturing requires petroleum-based chemicals or petrochemical products from the oil industry, which is the most polluting.

Its fabrication involves the polymerization of synthesized polymers compounds made from oil-derived materials.

Recycled polyester (rPET) is a better alternative to polyester. It's more environmentally friendly and manufactured from PET bottles, post-industrial polyester waste, or used clothing.

Recycled polyester has the potential to massively decrease the impacts of textile production on people and the planet.

It reduces energy consumption by 30-50%, water consumption by nearly 90%, and greenhouse gas emissions by about 60% compared to the raw material made from oil.

Turning plastic drinking bottles and their white lids into recycled polyester is very common in the textile industry to make waterproof fabrics for athletic, active, outdoor, fashion apparel, and more.

Plastic waste is sorted, chopped, melted, and reformulated into recycled polyester chips. Chips are then melted and extruded through spinning to form long filaments of recycled polyester fiber.

Recycled polyester is just as strong and durable as virgin polyester. It's a quality material with high technical performance that provides thermal comfort and moisture-wicking properties.

Recycled polyester is affordable, durable, lightweight, water-repellant, and resistant to abrasion, chemicals, UV, sunlight, moths, molds, insects, and fungi.

A common brand name for recycled polyester fabrics is Repreve by Unifi, a leading global textile solutions company, and the world's number one brand of recycled performance fiber.

Look for certifications such as the Global Recycled Standard (GRS) or the Recycled Claim Standard (RCS) that ensure social and environmental best practices and chemical restrictions.

Here are some of the best ethical fashion brands that create waterproof clothes out of recycled polyester to inspire sustainable change:

2. Regenerated nylon


Nylon, also known as polyamide, is a large contributor to global plastic waste and ocean pollution. Polyamide fiber production rose to 5.4 million tons worldwide in 2018, representing 5% of global fiber production.

Total annual plastic production exceeds 300 million tons, and less than 10% of all plastic is recycled. Nylon waste pollutes the air, water sources, and entire food chain, threatening human health and wildlife.

On the other hand, regenerated nylon support a circular regenerative fashion industry and the cleaning of our oceans. Nylon can be recycled, recreated, and remolded to become brand new again to save resources.

Regenerated nylon saves about 7,000 barrels of crude oil and 5,700 tons of CO2 equivalent emissions for every 1,000 tons of raw material produced. It reduces the global warming impact of nylon by up to 80% compared to the material from oil.

Regenerated nylon manufacturing uses waste materials such as fabric scraps, carpet flooring, fishing nets, industrial plastic, ocean, and landfill waste.

It's widely used for tights and stockings but also commonly found in active and outdoor apparel, swimwear, footwear, tents, ropes, sleeping bags, and more.

Regenerated nylon is water-repellant, stiff, strong, elastic, and lightweight. It has excellent resiliency, tenacity, resistance to many everyday chemicals, and attacks from insects, moths, molds, fungi. It has low absorbency, wicks away moisture, and dries quickly.

Common brands of regenerated nylon are Econyl by Aquafil and Q-Nova by Fulgar, manufactured exclusively from regenerated raw material, and meeting high standards of traceability and sustainability.

These European manufacturers comply with the EU Ecolabel (EC Regulation n. 66/2010) or the Registration, Evaluation, Authorisation, and Restriction of Chemicals (REACH, EC 1907/2006).

Here are some of the best sustainable fashion brands that use regenerated nylon to make waterproof clothing:

3. Recycled polytetrafluoroethylene


Polytetrafluoroethylene (PTFE) is a synthetic fluoropolymer of tetrafluoroethylene widely used in the textile industry. It makes quality, durable, performance, and waterproof fabrics.

PTFE is a strong, stiff, waxy, versatile material made of carbon and fluorine atoms. Its production involves the polymerization of tetrafluoroethylene, a colorless, odorless gas manufactured from chloroform.

Commonly known brand names of polytetrafluoroethylene include Teflon by Chemours and Gore-Tex by W. L. Gore & Associates, which are waterproof, lightweight, and breathable fabrics.

You can also found PTFE in coatings such as Scotchguard or Silverstone to make other types of fabric heat, corrosion, and water-resistant.

Recycled PTFE makes many products that are highly resistant to moisture, gas, heat, chemicals, acids, and solvents. It's easy to clean and has exceptional mechanical resistance.

It has similar properties to virgin PTFE and is applicable for long-term use.

But many manufacturers often mix recycled polytetrafluoroethylene with virgin PTFE to reduce costs, depending on the application. Make sure to look for waterproof materials with 100% recycled content.

Gore developed a recycling technology to collect, recycle, and reuse post-consumer Gore-Tex garments in 1993. But it stopped soon after as consumers weren't willing to return these garments for recycling in the past.

Similarly, look for garments with fluorine-free finish treatments. Avoid fluorinated DWR (Durable Water Repellent) because of their disastrous environmental impacts, as they often contain perfluorinated compounds (PFCs).

The best eco-friendly waterproof fabrics use almost no water in production. They require no hazardous chemicals and produce no waste and no off-gassing.

Water and waste-free non-toxic fashion is the way forward. Look for certifications like Bluesign and Oeko-Tex for heat, wind, cold, and water-resistant fabrics.

Here are some of the best companies you can support as they make ethical outdoor clothing using eco-friendly waterproof and fluorine-free fabrics:
Was this article helpful to you? Please tell us what you liked or didn't like in the comments below.